Alaska Guide Creations binocular harnesses are possibly the most sought after binocular carrying systems on the planet.  There are a million and one reasons why the Alaska Guide Creations is the top dog in the industry and we strongly believe the biggest reason why is that there are different options for your own hunting style and that each and every pack is sewn together here in the USA! Most manufactures only have one are very few Bino Harnesses, but AGC has four different harnesses: the K.I.S.S, C.U.B., Classic & Denali and then we also had them design one specifically for us called the Hybrid. Four of them also come with the option to add a max (basement) pocket to the bottom of the harness. The beauty of it all is that we sell them all!  Let's start at with basics.
Kodiak K.I.S.S. – (Keep It Simple Secured) - Available in Standard & Max
Kodiak C.U.B. – (Compact Utility Bag) - Available in Standard & Max
Hybrid – (BlackOvis Custom Design) - Available in Standard & Max
Alaska Classic – The "Original" - Available in Standard & Max
Stalker Hydration Pack – adding Versatility to your A.G.C. - Available Here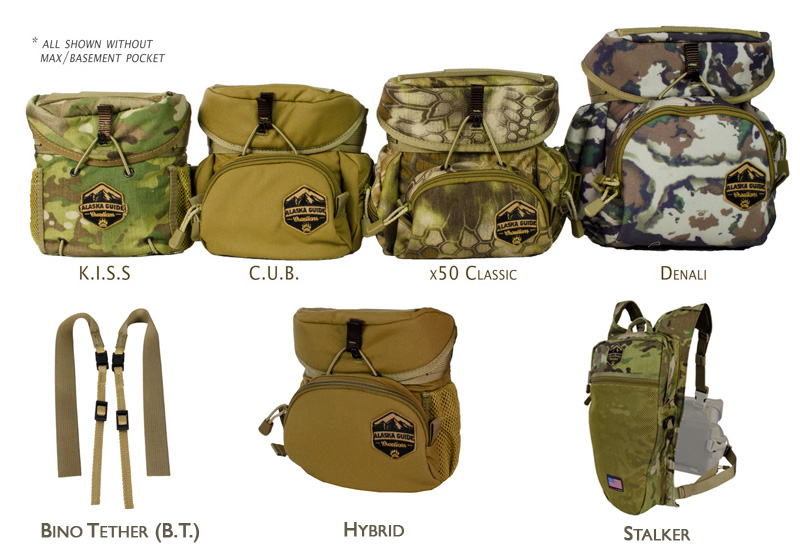 One of the biggest things Alaska Guide Creations(AGC) has been known for is having so many different options and versions, with that being said, it might be a little confusing of what "WE" carry.  What we did here at BlackOvis was picked the best and had them all made the way "WE" wanted!  To start off, We offer the B.T (Bino Tether) on each and every pack that we sell.  We work it into the price instead of having you purchase it as an "add-on".  If you've already purchased an Alaksa Guide Creation from someone else or just happen to be one of the "lucky ones" who have more than one pair of bino's and want to be able to easily switch back and forth then we also sell the Bino Tethers Seperately Here . Out West, it's also all about stealth, so every AGC pack that we have also uses the H.B.S. (Hook and Bungee System), which allows quick and easy one-handed opening and is completely silent.  A great feature about AGC that is commonly overlooked on other harnesses in the industry are the shoulder straps.  All of Alaska Guide bino packs utilize an extremely breathable mesh that utilizes no foam, no padding, and allows you to wear your harness comfortably with backpacks. Since it's so thin, the pack pretty much vanishes so you won't be messing with your straps as you hike.  Be sure to test this out when you pick up your own and you will immediately notice the difference compared to other harnesses.
Binocular Fitting Guide
The best way to figure out what optics fit best in each pack is to think of the following:
K.I.S.S. | C.U.B. | Hybrid – 8X42/10X42 (Some 12X50) 
Classic – 12X50
Denali – 15X56
For the most part, you can use this as a reference for what fits best but also keep in mind if you have wider bino's w/ built in rangefinders, it's suggested to order the next size up.
Suggested Packs depending on style of hunting:
The K.I.S.S. is the lightweight, minimalist answer for wanting to carry your bino's while keeping them protected from the elements. This pack is the only harness that has elastic/mesh side pockets. These pockets are great for open reed calls and wind-checkers.  This is the lightest, simplest and cheapest of the packs available.
Binocular Compartment Measurement: 6.5" x 6" x 3" (Tall x Wide x Deep)
The C.U.B is the exact same size as the K.I.S.S. but features an added pocket out front, which is great for Rangefinders.  This is a must have for any Archer no matter if you're a hunter or 3D fanatic.  The AGC CUB pack is will fit up to 10X binos with ease and is a great choice for the average hunter on a budget. The C.U.B. also uses zipped pockets on the sides instead of the mesh/elastic featured in the K.I.S.S., which keeps anything you put in them concealed and protected.
Binocular Compartment Measurement: 6.5" x 6" x 3" (Tall x Wide x Deep)
The Hybrid fits the exact same size of optics as the K.I.S.S. and the C.U.B. but give you the option of having side mesh pockets over the standard Zipper Side Pockets. This was a design that we worked directly with Alaska Guide Creations to create for us. Besides the Mesh Pockets it's everything you still know and love about all the other bino packs made by A.G.C.
Binocular Compartment Measurement: 6.5" x 6" x 3" (Tall x Wide x Deep)
The Classic is the "Original" bino pack and the first pack that Jaret produced.  This pack looks exactly like the C.U.B. but is a little taller and wider which makes this pack a great choice for anyone rocking up to 12X binos.  The Classic is the ultimate all around pack that is great for all sorts of Big Game.  The side pockets are a little bigger and also feature a bigger MAX pocket (on the MAX version), which can hold even more gear.
Binocular Compartment Measurement: 6.75" x 6.5" x 3.5" (Tall x Wide x Deep)
The Denali is named after the highest mountain peak in North America.  This is the harness that was built for the "big boy" optics and is the ONLY bino harness in the industry that is capable of holding 15X binos.  This pack is the dream harness for Sheep Hunters and will give your optics the protection they need no matter what altitude. This pack does not come in a MAX pocket version.  
Binocular Compartment Measurement: 7.75" x 7" x 4" (Tall x Wide x Deep)
The Stalker Hydration pack is a second alternative for the standard Shoulder Straps that are included on your Alaska Guide Bino Harness.  This pack snaps into the pre-existing buckles on your AGC and give you a small day pack which is a great choice for early season scouting or when setting up Trail Cameras where you need just a little more room but don't want the bulk of taking a huge pack. The Main Compartment has a drawstring to hand your bladder of choice and a couple of outer pockets to store your gear, snacks, or more. If you're a serious gear head, be sure to check this addition out!  **Please keep in mind, this does not come with an Alaska Guide Creation pack and is just an "Add-on".  You still need to purchase a Bino Pack**
What is MAX?
The MAX versions of the packs utilize an extra pocket on the bottom of the pack, also known as the "Basement" which is great for knives, tools or any other gear that you'd rather have in reach instead of in your pack.  You can also utilize the MAX pocket for bigger items such as the Rangefinders, GPS's, your wallet and other bigger items.
MAX Pocket Sizing:
K.I.S.S. MAX – 2" x 5" x 3" (Tall x Wide x Depth)

C.U.B. MAX – 2" x 5" x 3" (Tall x Wide x Depth)

Hybrid. MAX – 2" x 5" x 3" (Tall x Wide x Depth)

Classic MAX – 2.125" x 5.125" x 3.125" (Tall x Wide x Depth)
Be sure to check out all of the packs that we offer and feel free to contact any of our Gear Experts for fitting questions and we would be more than welcome to test out the fitting before we ship your pack!  Choose your bino harness, select your color, and experience the protection and fit that a bino harness is supposed to feel like.