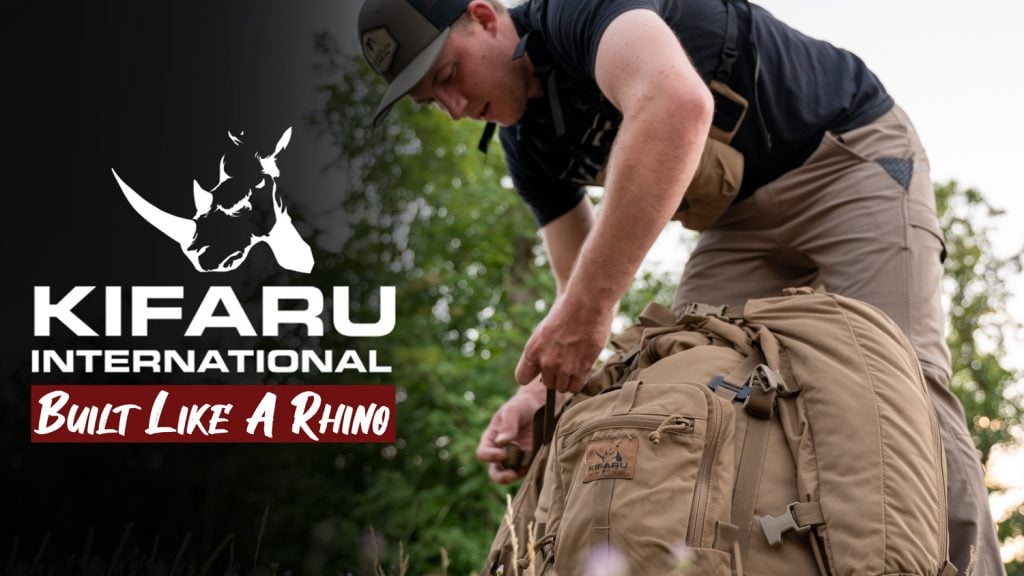 As hunters, we all have the "never-ending" list of items that we need, want, and HAVE to have. Over the course of a two-year period, a Kifaru pack slowly worked its way to the top of the list. After reading a handful of articles, watching review after review, and especially the referrals and reviews from satisfied hunting friends, I decided to pull the trigger… and man, am I glad that I did.

Established in 1997, Kifaru (which stands for rhino in Swahili) International manufacturers a variety of extreme hunting gear.(Learn more of the history of Kifaru, here https://kifaru.net/history/) Although they are most commonly known for their bomb-proof packs, Kifaru also manufactures sleeping systems, shelters, and stoves, giving hunters great options to gear up for even the coldest hunts throughout the year. Their customer service team is top notch, Kifaru employees have replied to my questions about their products in a very timely manner, whether it was through email or social media platforms.

There are a couple reasons why I purchased a Kifaru, and will continue to use one in coming seasons. Those reasons are:
Customizability
Comfort when heavily loaded
Customer Service/Durability
100% Made in the USA
#1 Customizability

The number one factor that influenced me to purchase a Kifaru backpack, was that the layout and accessories of the pack were EXACTLY what I wanted and needed for the types of hunts I go on each year.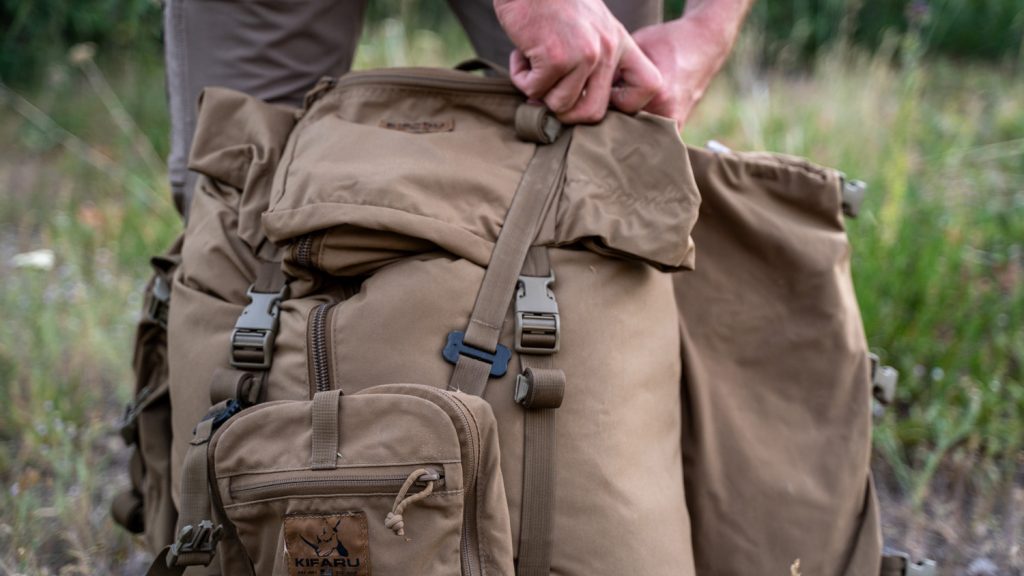 Kifaru offers 24 unique bags that attach to their Duplex Lite or Duplex Ultralight frames, as well as the internal framed Shape Charge, and the newly released Kutthroat. Each bag has unique features that cater to everyone, from the treestand hunter, the day hunter, the short trip hunter (2-4 days), as well as the expedition hunter (7-10 days). They also offer lighter backpacks, such as the Door Gunner, for hiking trips, and the Checkpoint (add that one to my never-ending list of gear) for a carry on and camera bag.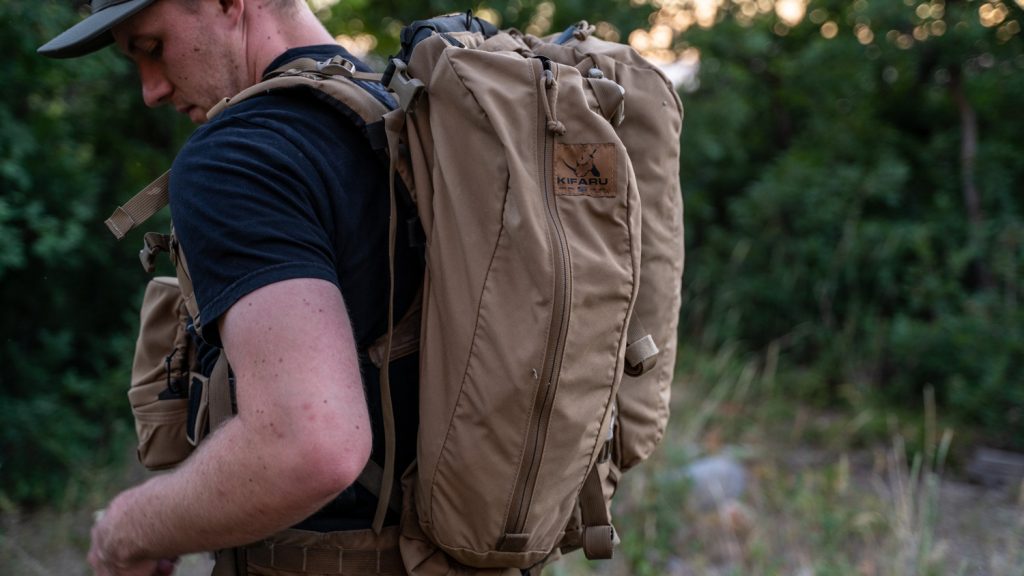 While sorting through the endless amount of bag choices, I came to the conclusion that I needed a backpack that would compress down and be small enough for a quick day trip, and when needed, would expand and store enough gear for a longer hunt. I also wanted external locations to put my tripod and spotting scope for quick and easy access, which led me to the Fulcrum. When compressed, the Fulcrum has 1,800 cubic inches/ci of storage in the two side wings, and when fully expanded can hold up to 7,800 ci worth of gear. And we haven't even talked about accessories!

For shorter trips/hunts, I would also recommend the 22 Mag, the 44 Mag, or a pack from the Muskeg line, which is also made of waterproof X-pac fabric (2800 ci, 5000 ci options). Longer trips would call for bags such as the Muskeg (7,000 ci option), the MaDuece, or the Hoodlum.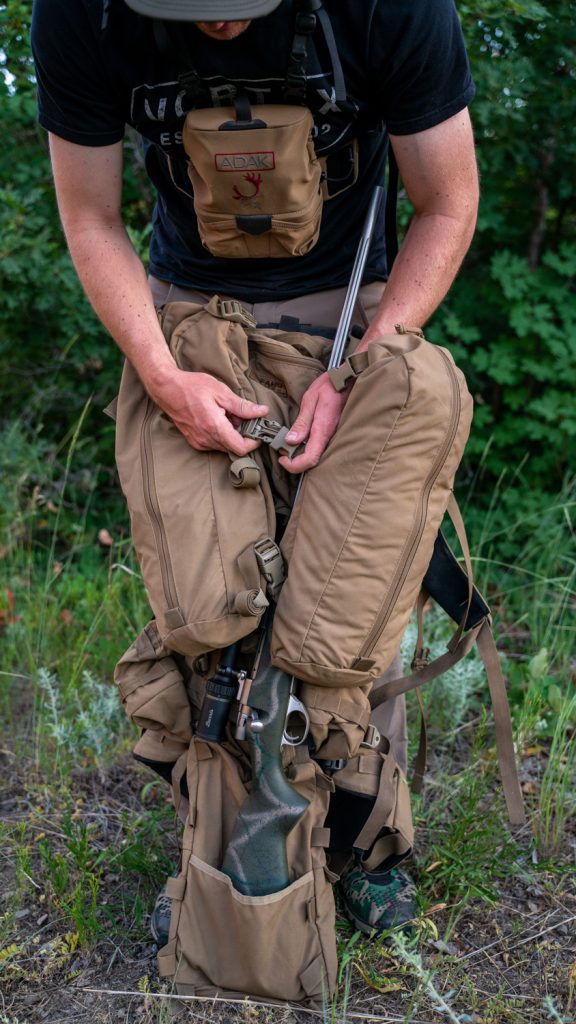 After deciding on the Fulcrum, I bought a large belt pouch, a water bottle pocket, as well as a Sherman Pocket, which can be used as a rifle carrier when attached to the pouch, or as a stalking pack when removed from the main bag, holding a knife, headlamp, tags, and a bottle of water. I can also leave my tripod and spotter together, and secure it back to the main bag with the Sherman Pocket as well.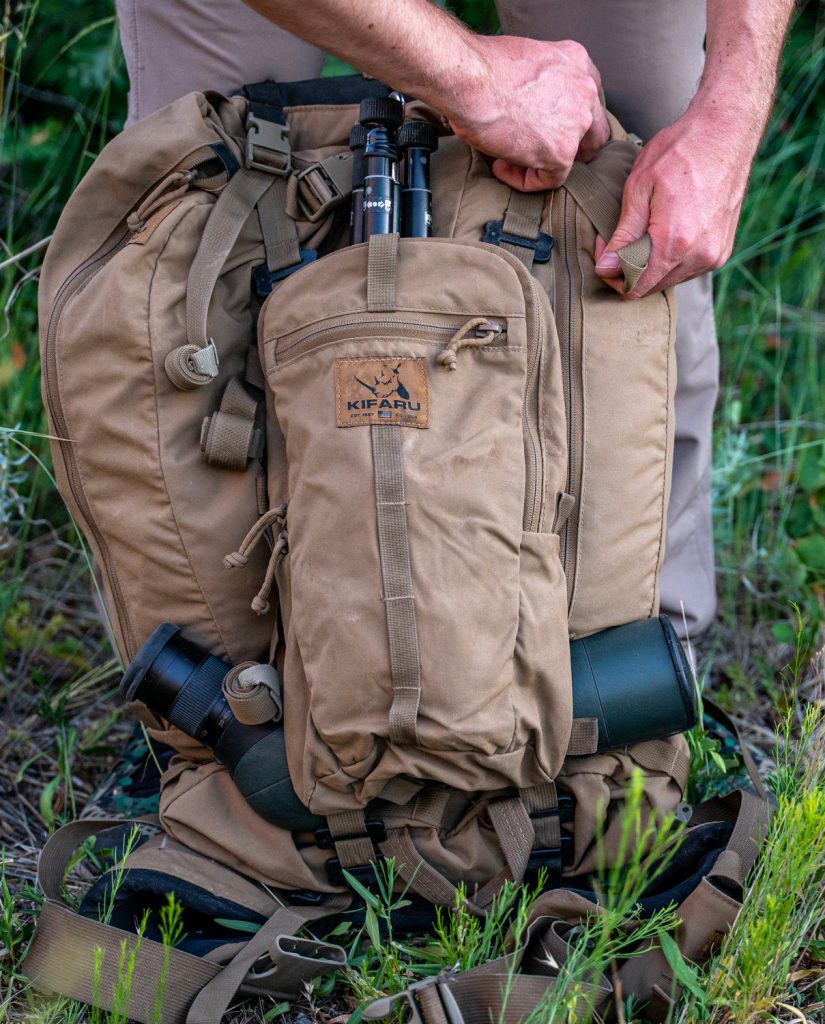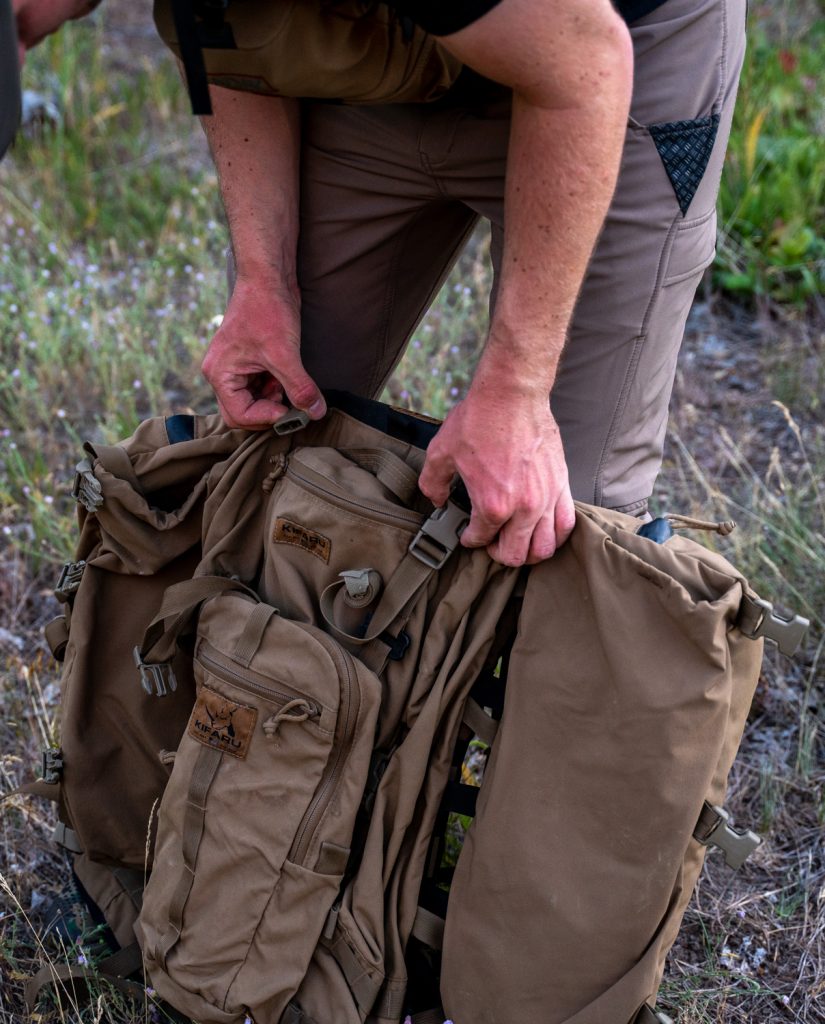 For hunters looking for a bigger possibles/stalking bag, the Bane would be the ticket (you know it, I already have it added to my list!)

Kifaru has a FANTASTIC lineup of bag and frame combinations, and when you add accessories to the mix, I can guarantee you will find a bag and accessory combination that will fit your exact needs.

#2 Comfort Under Heavy Loads

Throughout the course of this hunting season, I was most impressed with how comfortable I felt while packing heavy loads. Most packs are fairly comparable with a load of 30-40 pounds, however, after hauling out a whole deer, as well as 90 pounds of bear bait, my other packs don't even hold a candle compared to the Kifaru.

The thing I was most frustrated about with other brands, was that even when I had them fully loaded, compression straps completely cinched down, and the load "secured", I could still feel the main bag sway back and forth, throwing me off balance on hikes that already had uneven terrain. Even more frustrating, were frames, straps, seams, or buckles that would give out under heavy loads.

How did the Kifaru compare, you may ask? Rock solid. Kifaru also uses a well padded lumbar pad, providing comfort and padding to the lower back, with the waist belt sitting securely on the top of my hips. Kifaru may not be the lightest pack on the market, however, they are built "rhino tough" and are 100% worth their weight in gold.

#3 Customer Service/Durability

Kifaru pack systems are customizable when it comes to bag and frame choices, however, they are very customizable as well when it comes to fit. Anywhere from frame curvature, to thickness, waist belt sizing to height, Kifaru has you covered.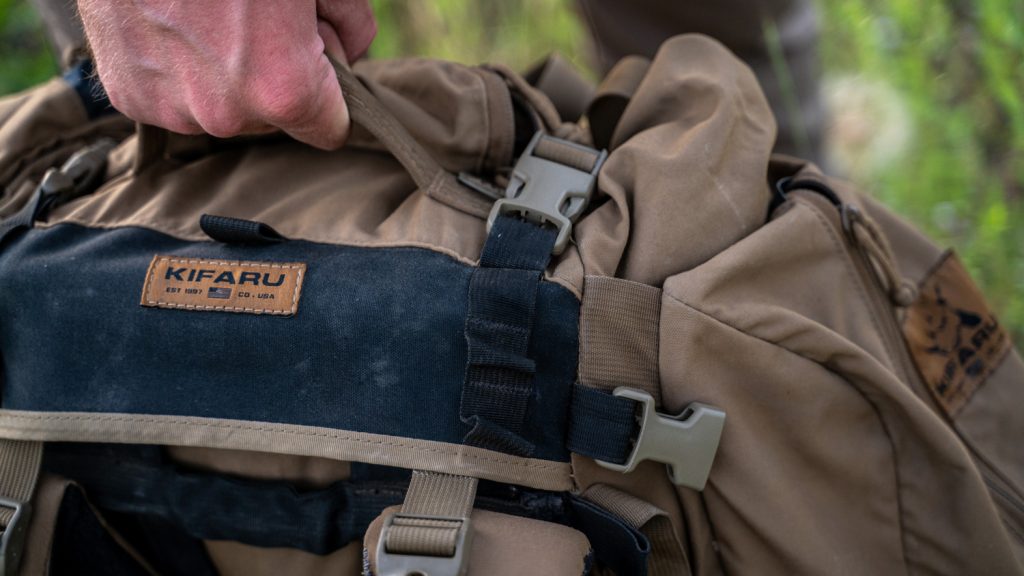 When I am faced with making purchases of products with "Lifetime Warranties", I've tried to live by the phrase of "the best warranty is the warranty that is never used." I have been extremely impressed with the durability of my bag over the last year, having hunted over 45 days, ranging from the Wasatch Mountains in Utah, to the desert of Arizona, where everything is super dusty, and wants to either tear, scratch, or snag on your clothing. I have not had a single issue with any zipper, seam, buckle or strap. If there ever is the case that a warranty needs to be made, Kifaru Customer Service is extremely helpful, with a quick turnaround time, taking great care of each of their customers.

#4 100% American Made

Last but not least, I am content with my Kifaru purchase, as I know that each Kifaru product, from the thread used for stitching, to the buckles used on the pack, each component is 100% made in the USA.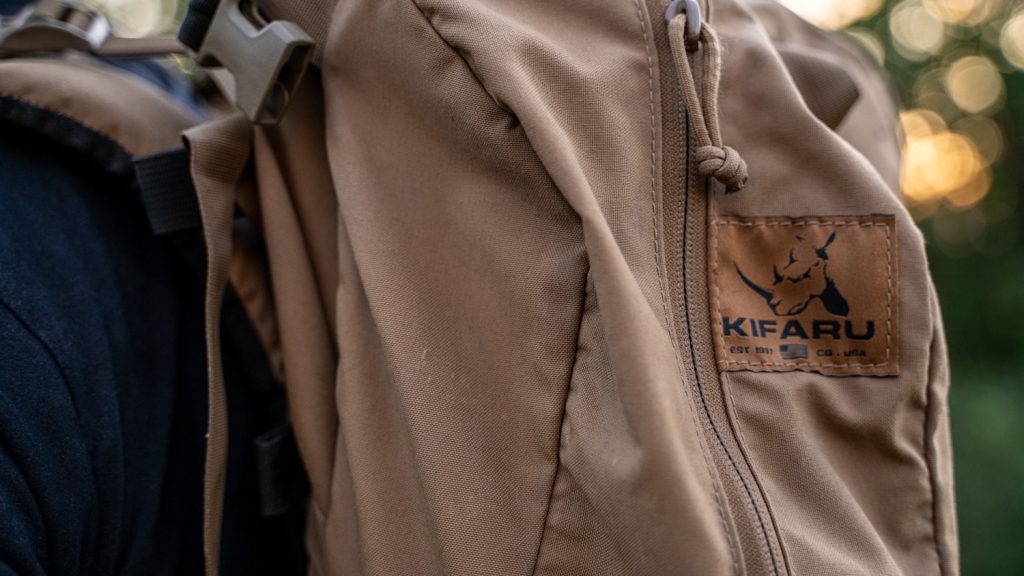 Conclusion

If I could look back and tell my younger self one thing, it would be "Buy Nice or buy twice". I've made the mistake of trying to get away with a less expensive product, whether it was boots, optics, or a pack, but ended up selling those items in order to upgrade to bigger and better things. After having used my Kifaru for the last year, I've come to the conclusion that not only is it nice, it's a necessity.