I've owned my Kifaru pack since 2014. I've taken it on many adventures, from scouting the high country for mule deer to hunting Dall sheep in Alaska, and it has never let me down. It's been able to handle everything I've thrown into it. I always feel confident taking it on trips with me, whether it's a day trip or a week long hunt.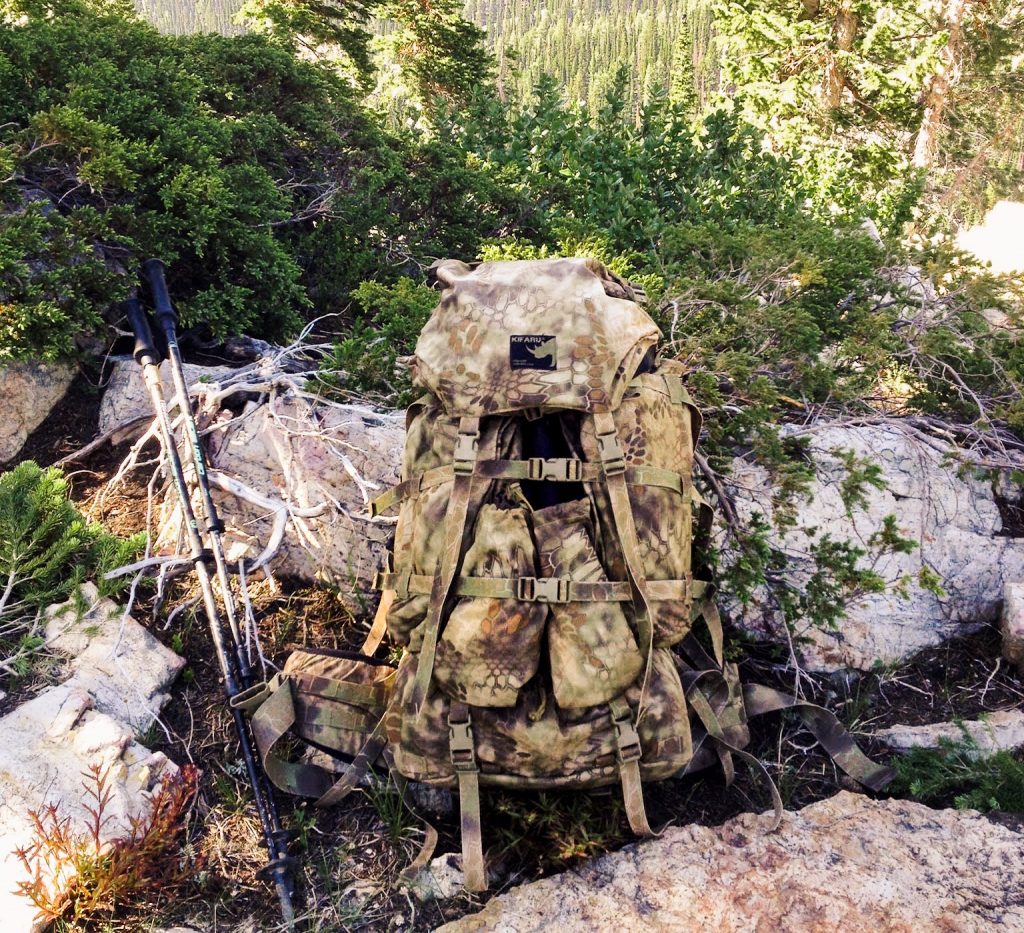 When I first started researching high end packs, I decided to 'buy once, cry once.' I knew that I wanted to make an investment in my gear that would last as long as possible, and I wanted to start out with the best available. I researched a lot of high end pack companies such as Mystery Ranch, Kuiu, Stone Glacier, and Kifaru. When I was researching packs in 2014, Kifaru seemed to check all my boxes: the pack had to be durable, functional, and as lightweight as possible. Their frames also really caught my attention, along with their wide hip belts. I read a lot of pack reviews, and Kifaru stood out to me as the best choice. I decided to buy the EMR II pack with a bikini frame for it to ride on.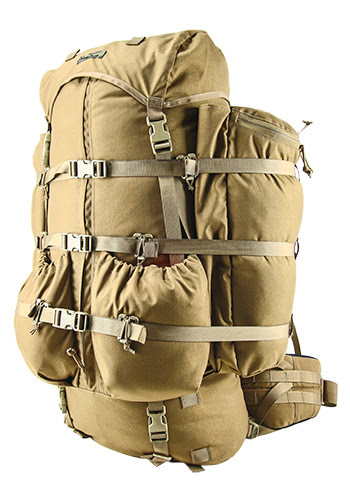 The EMR II is comprised of a large main bag (6000 cubic inches) with an external vertical zipper that runs from about 6" from the bottom of the bag all the way up to the top, and it has a zipper on each end so you can zip from the bottom up or the top down. This was something that appealed to me as it would make accessing and packing the main bag easy. The top of the main bag has a ~14" diameter opening with a drawstring closure. The bag has two small pockets on the outside that have drawstrings on them. I don't typically use these pockets for much unless it's something I'll frequently need access to, such as a tripod or a set of lightweight waders and crocs for creek crossings.
The pack also has two batwing pockets (1200 cubic inches each) that have a zippered closure around the top and are held in place with 3 horizontal straps that attach to the frame, wrap around the pockets and are secured via buckles over top of the main bag. I've found these batwing pockets to be perfect for storing a spotting scope, rain gear, puffy gear, tents, and many other items. The horizontal straps also help to compress the main bag and keep things from shifting. I also purchased a lid with another 1000 cubic inches of space. In the lid I usually keep things I want to have quick access to such as rain gear, a light merino top, my bag of food and snacks for the day, and possibles pouch.
It may seem like an excessive amount of space, but it compresses down very well for day hunts, and I've never found myself wishing I had less pack space.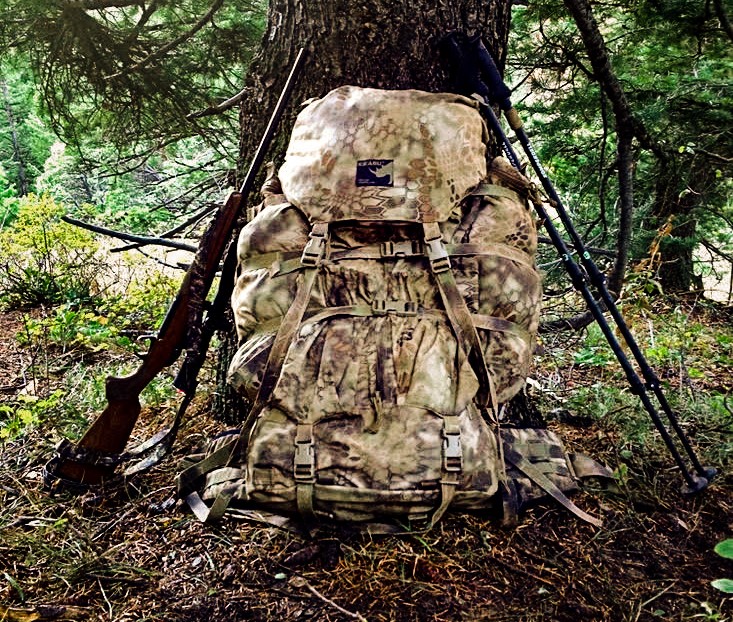 At the time when I was researching packs, I envisioned myself using the pack on multi-day backcountry hunts. I wanted a pack that could handle 5+ days' worth of gear, but that could also compress down well for day hunting. It had to be able to carry all my gear and food on the trip in, compress down well and not be too baggy or bulky while I was hunting, and be able to carry my gear plus hopefully meat/horns/antlers on the way out. The difference between a high end pack like Kifaru and a mid-quality pack is not very evident under lighter loads of 25-30 lbs and under (think day hunting loads). The difference in capability and comfort under load becomes much more apparent as the load increases, and once you hit the 80-90+ pound range, those mid quality packs quickly get to a point where their lower quality construction and frames just can't handle the weight. But as a disclaimer, even high end packs are not completely comfortable under heavy load; heavy loads just plain suck. The difference maker is that a high end pack like a Kifaru make the heavier loads as comfortable as possible.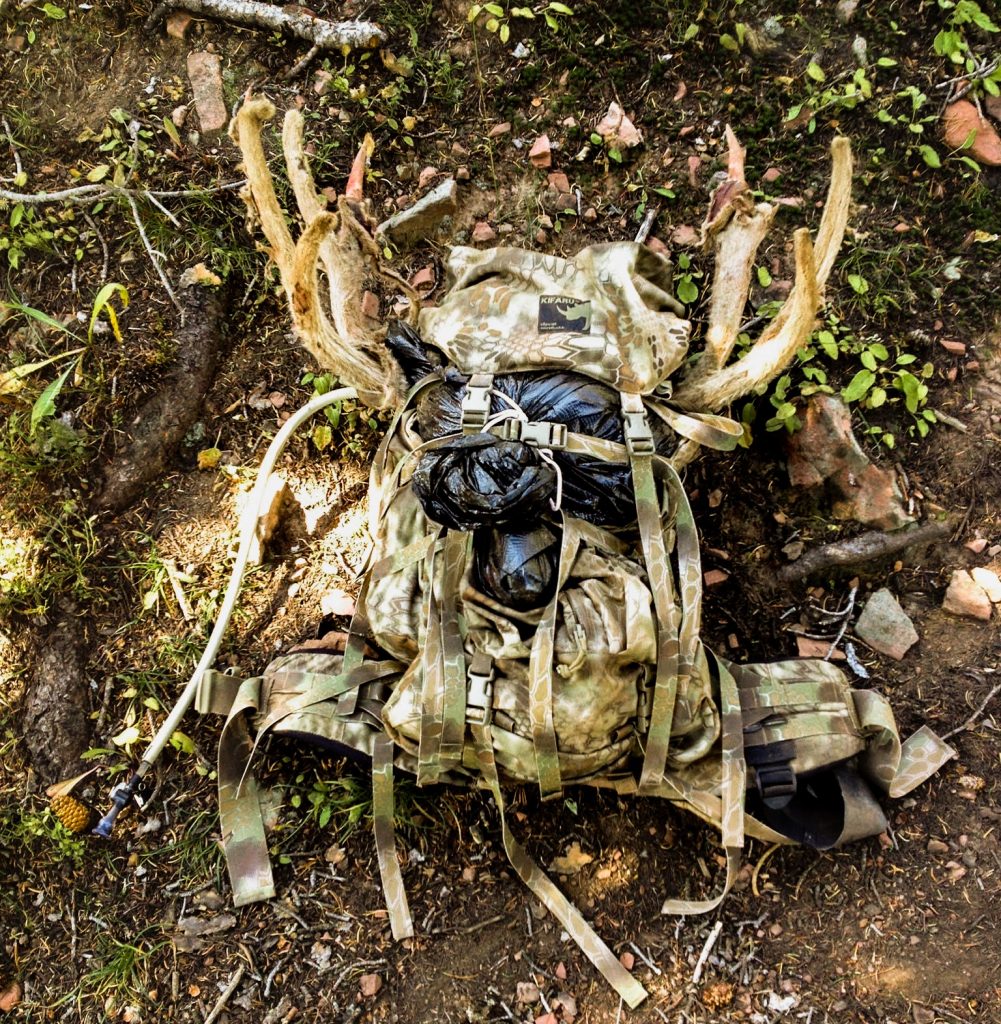 When I bought my pack, I chose to pair it with Kifaru's bikini frame with ultralight composite stays; this was the lightest frame option they offered at the time. After a few trips I realized that I didn't like the frame as much as thought I would. One thing I didn't like was there was no material between the two stays for the shoulder straps, and if I had a really full pack, the contents of the main bag could bulge through the stays and press against my back. I also expected a frame that was advertised to carry 100+ pound loads to feel sturdier. It didn't take long for me to order one of their heavier duty frames: the duplex frame. I made the change purely based on preference, not because one outperformed the other. I enjoyed how the duplex felt over the bikini frame, and I knew I'd made a worthwhile upgrade.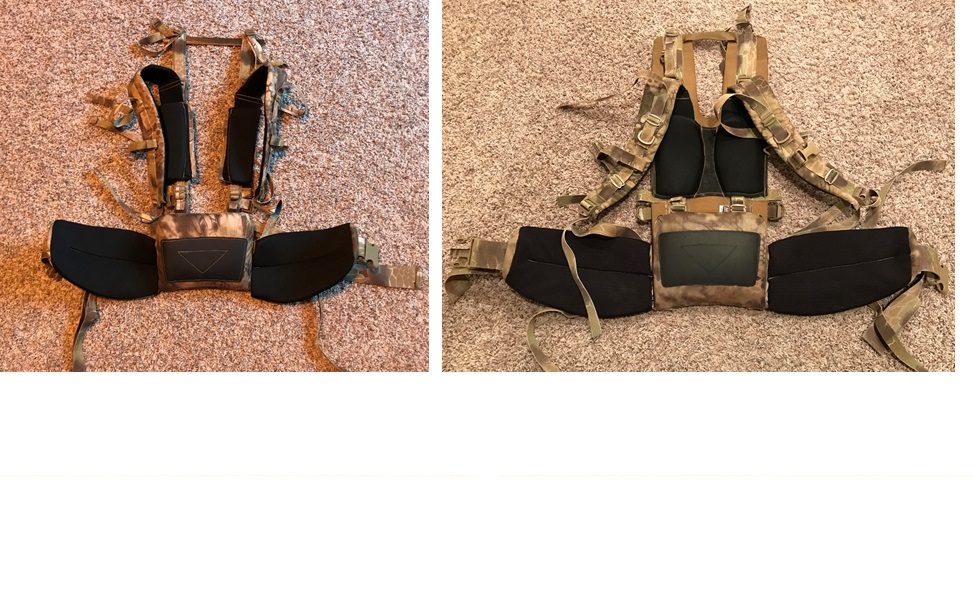 A while after I got my duplex frame, Kifaru started coming out with more frame options. At the Western Hunting & Conservation Expo I was able to try on a new version of the duplex frame called the duplex hunter. One thing that immediately got my attention was the added padding in the shoulder straps. I ended up selling my old duplex frame online and almost covered the cost of the new frame. Kifaru products really hold their value because they're so tough and well built. Below is a comparison of the duplex vs. duplex hunter shoulder strap pad thickness. It may not seem like much but I've noticed a difference, especially with heavy loads, and I'm happy I upgraded.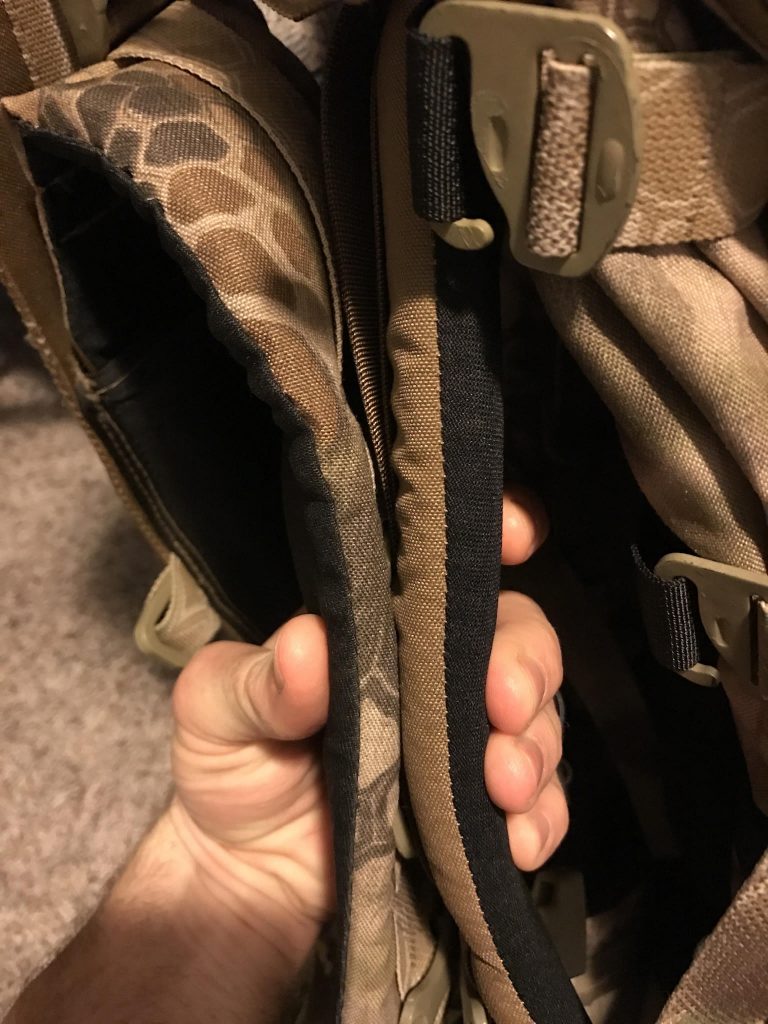 One thing that has been consistent with each Kifaru frame I've worn is how comfortable their waist belt is. Before buying my Kifaru pack and frame, I'd tried on other packs (I always tried to test with some weight in the pack to see how it really felt), but nothing was as comfortable under load for me as the Kifaru frames with their big waist belts. Kifaru has changed their inventory over the last few years, but I think they still have arguably the best waist belts out there for hunting packs. They have the widest belts I've ever tried on and they cover so much surface area of your waist, which really helps when carrying heavy loads of 90+ pounds.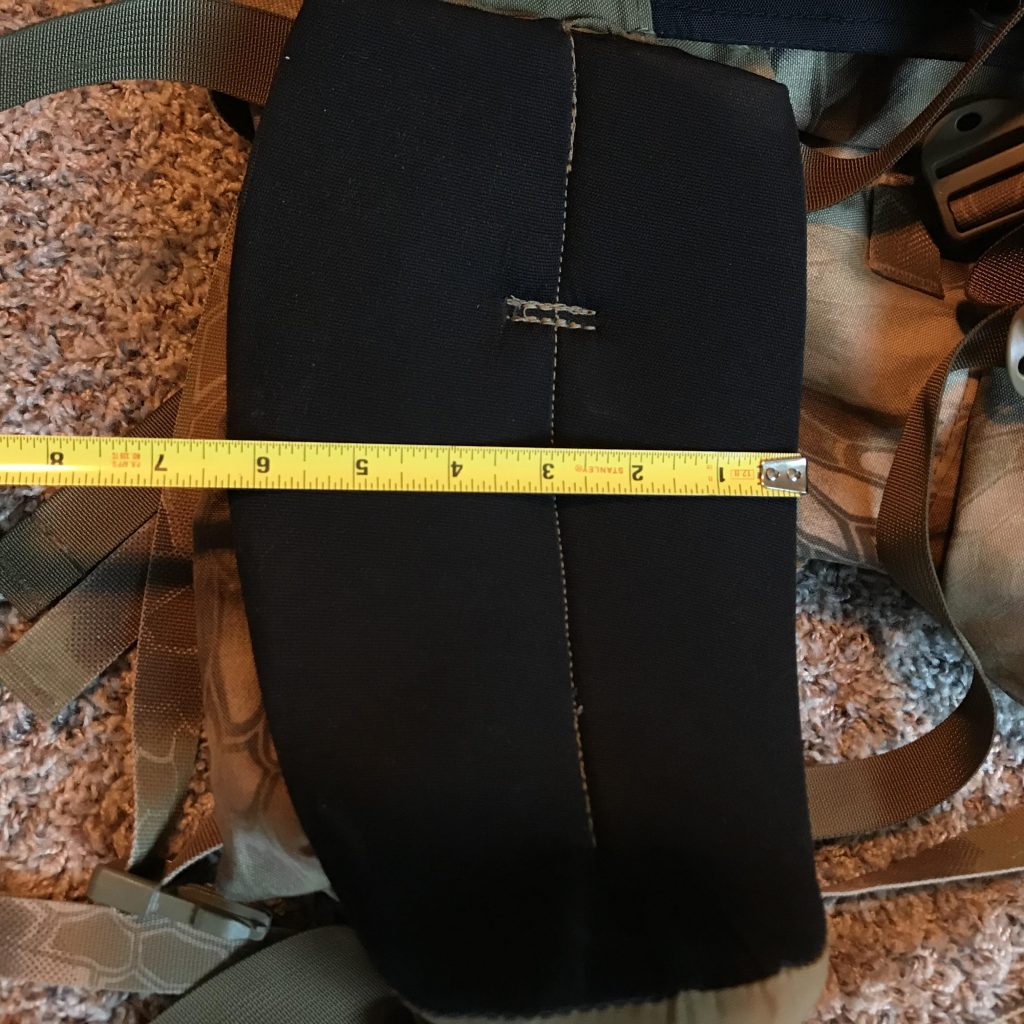 Kifaru has several different accessories you can get to attach on the waist belt such as zippered pockets and water bottle holders (my two personal favorites). I like to run a medium zippered pouch on the left side where I keep some snacks, a head lamp, a small Allen wrench tool, my release, and other small things I want quick access to without having to take the pack off. On the right side I run their water bottle holder. It fits a Nalgene bottle perfectly, and I sometimes just use a Powerade bottle since they're lighter. I used to use a water bladder and hose a lot, but now I tend to opt for a water bottle instead. During hunting season, I also use their Gun Bearer to hold my rifle so it's quickly and easily accessible. I was skeptical of the gun bearer at first, but once I tried it, I was hooked. I was surprised at how unobtrusive it was to carry my rifle this way while hiking, and it's the fastest method of carry to draw from that I've come across. When I bought mine, they only made the gun bearer to attach specifically to their waist belts, but now they also have a universal gun bearer that can be attached to any brand/style of waist belt by looping around the belt instead of being attached to it.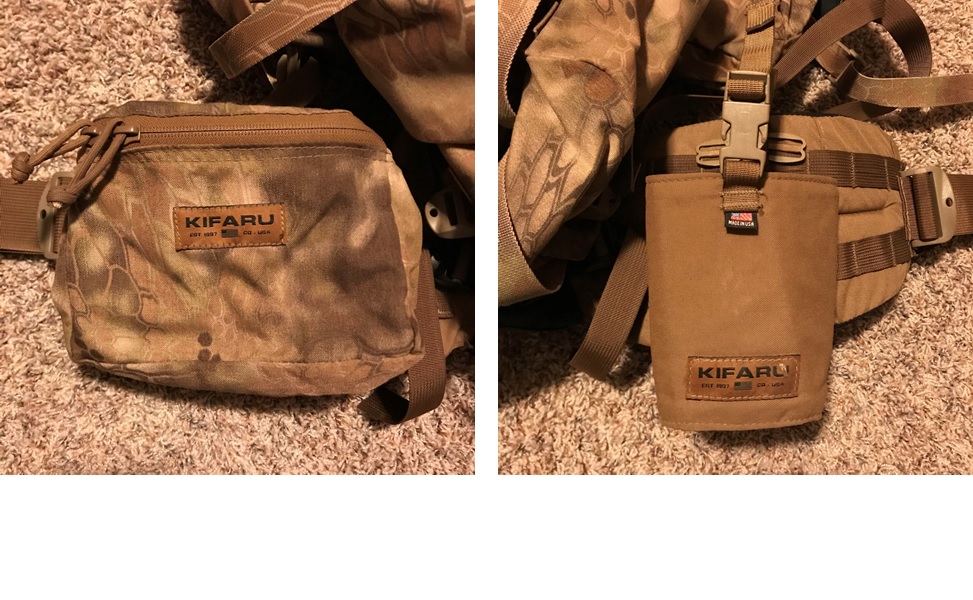 When I first got into back country hunting I was fascinated with the idea of backpack sheep hunts, even though I'd yet to go on one. I read every article and review I could find about sheep hunting, paying close attention to any mention of what packs were used and the pros and cons of each brand and model. Now, I have the opportunity to go on sheep hunts each year. Looking back I'm glad I did a lot of research on different packs, and I'm really glad I made the choice to buy once, cry once and get a Kifaru.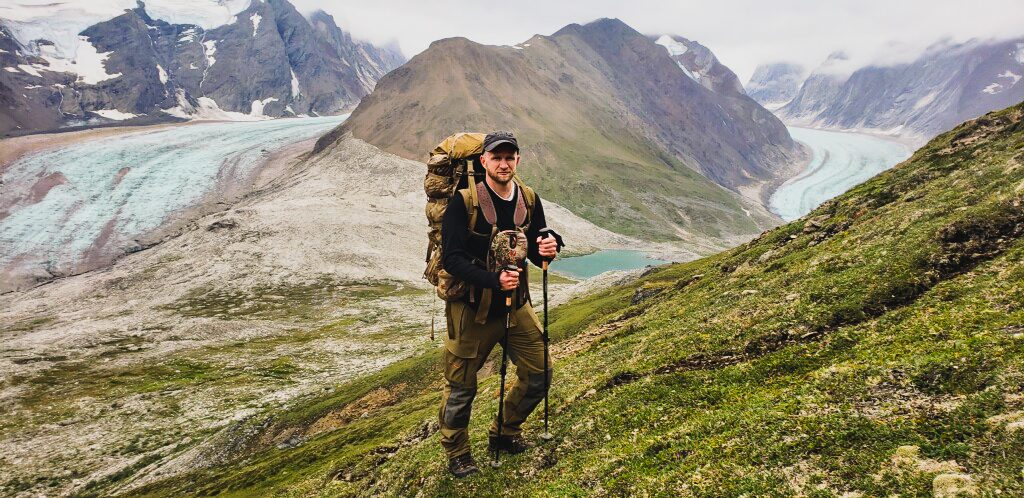 The EMR II is out of production now, but Kifaru still has many other pack options available, both big and small. They have really expanded their lineup and improved their selection. If I was in the market for a new pack, I'd be looking at Kifaru's Muskeg 7000, the AMR, or the Crater. They have a pack for everyone's style of hunting and every occasion. They've convinced me as a user because their products have proven themselves time and again. Do yourself a favor and invest in a Kifaru pack; you won't regret it.