BOLD STATEMENT ALERT! When used properly, Sitka Gear is the best hunting clothing around. Now, of course I am biased since I always love wearing my "Opti-Fad" while I trick those huge 16" bucks into thinking I am just a blurry spot on their eye. But in all reality, my journey to discover the system which is Sitka did take a long time. A "journey" that led me to realize that Sitka has developed the best hunting clothing in my eyes. Unless you understand the layering system behind Sitka, you won't truly come to love their system and everything that it can do for you. Since Sitka is designed to be layered, you cannot simply buy a Coldfront Jacket and think you have the best camo on the market. The backbone of Sitka is layering, and when we layer we'll be comfortable, no matter what Mother Nature can throw at us. We all want to stay in the field longer, away from real world responsibilites, and by layering you can stay out longer, go further and be more successful since you are spending more time in the field. Check out this video on the Sitka layering system:
Since you now know why you should layer, you need to know where to start! The Core Series is where it all begins.
The Core Series is part of Sitka's "Next to Skin" system, obviously meaning it goes on first! The clothing you put next to your skin needs to have characteristics that wick that stinky moisture away all while keeping you smelling fresh and provide comfort and warmth. No that does not mean you can be out hunting for 5 days and come home and expect a snuggle sesh with your wife. Sadly, you will need to shower before that happens, trust me I know. Sitka utilizes a 4-way stretch fabric to allow you to move and stretch so that you can make it up to the top of that peak without having your clothing slow you down. The Core Series is made up of a 100% polyester bi-component technological fabric that actively moves sweat away from the skin, ultimately keeping you warmer or cooler, longer.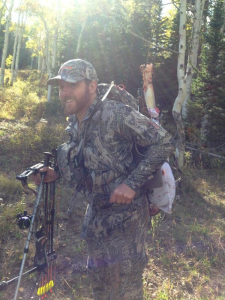 There are a lot more experienced hunters out in the industry that will tell you that you must layer. A concept that I had not learned fully until this year. I personally use the Core Series in each of my hunts. I used the
Core Zip T
all during the archery season, and I will continue to wear the Core Zip T under more layers this weekend on the opener of the rifle deer season. During those earlier hunts, I typically will only wear the Core Zip-T (of course in Optifade Open Country) and it is by far one of the most comfortable shirts I have worn in the field. What has really sold me on Sitka is the way their clothing fits. I don't want my camo to be too baggy, but also I don't need it to be skin tight (ahem Under Armour Base Layers.) Sitka has truly designed the Core Series to be your first line of defense, the necessity of your hunting clothing. Sometimes I even wear my
Core Crew Short Sleeve
underneath my Core Zip-T as an extra layer of defense when it is not quite cold enough for a jacket, but one layer does not quite cut the cold.
Sitka has designed the Core Series to be used at all times, and with a variety of either synthetic fabrics or merino wool, you will find the one that works best for you. Personally I like the synthetic fabrics since they tend to dry out a little faster, but merino is much better in scent elimination. So really you will need to decide based on the hunting situation you are going to be in and your personal preference whether the merino or the synthetic works better for you.
Here are the 3 main key points of all items in the Core Series:
4 way stretch - Making it, oh so comfy!
ATB-100 Silver Scent Inhibiting Technology - Keep that stinky BO to a minimum.
Moisture Wicking - I don't want to be soaked when the wind kicks up!
Here is Dale Pearson, Sikta Athlete, explaining why he loves the Sitka Core Series.
So now you need the Core Series right? Well guess what, you can get it right here on BlackOvis.com!
Check out the Core Series on BlackOvis HERE or each piece below, remember it will always ship free: