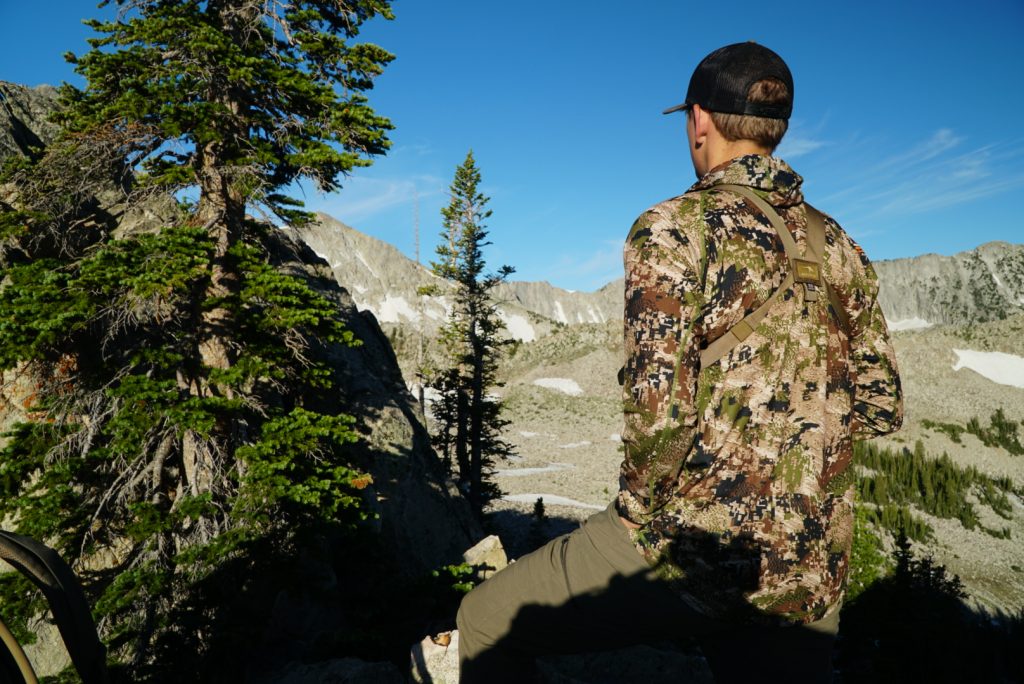 Spring bear is one of the best times to test and try out new backpacking gear for the year. I am always eager to test all the gear that I have upgraded during the winter. Below is my gear that I use for my backcountry spring bear hunt. Typically, I will try and be in the mountains for 5-7 days and follow a nomad style of hunting for spring bears. This style of hunting allows me to be light and mobile which is critical to find bears in rugged terrain. My bag weight will depend heavily on the weather forecast but I will try and keep it as light as possible for this style of hunting. I will be glassing most of the day during this hunt so a glassing chair will be worth its weight in gold. Depending on how stable the weather is, I will leave clothing at the truck or pack more clothing in my pack.
Gear List Weight Summary
| | | | | | | |
| --- | --- | --- | --- | --- | --- | --- |
| Base | Food | Water | Wear | Weapon | Full Pack | Trailhead |
| 480.1 oz | 114.5 oz | 3.50 oz | 93.81 oz | 163.2 oz | 594.61 oz | 786.31 oz |
| 30.01 lb | 7.16 lb | 0.22 lb | 5.86 lb | 10.55 lb | 37.16 lb | 49.14 lb |
Hunt Details: Spring Bear
Duration: 7 Nights
Weather: Cold and Rain Predicted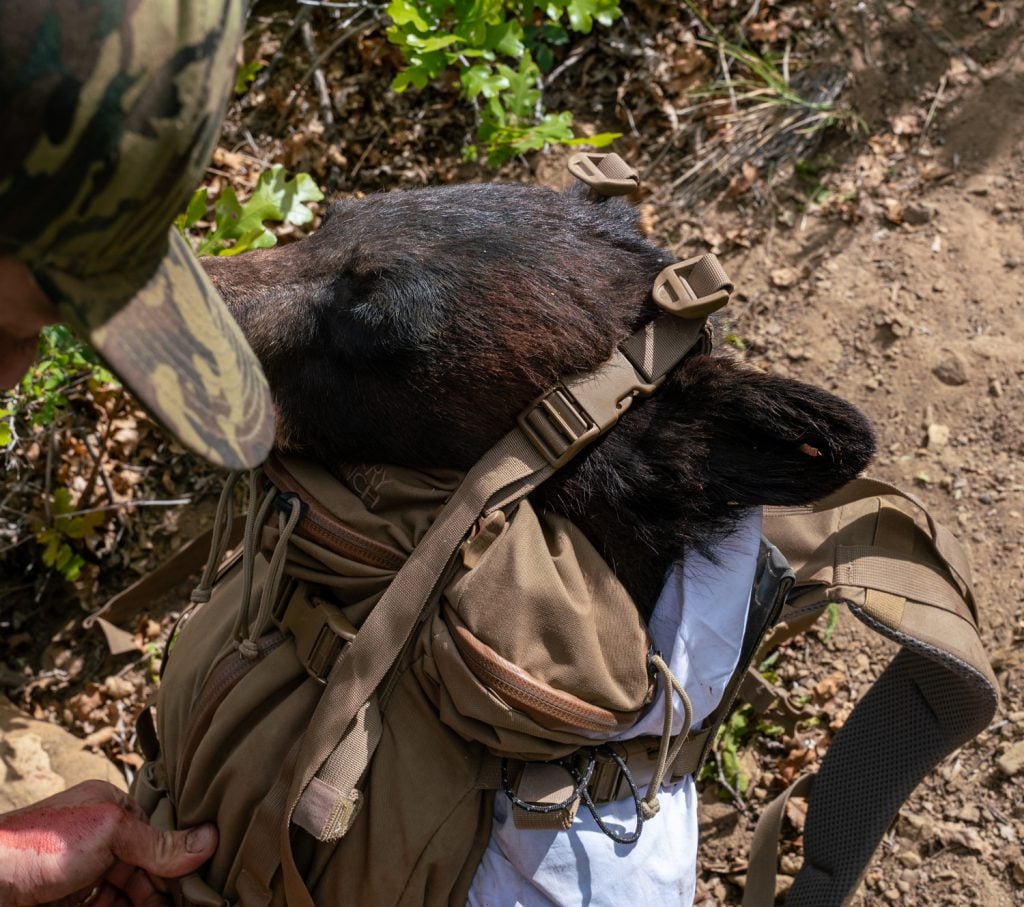 Backpack
The Kifaru pack is great for all seasons and types of hunts with interchangeable bags with the same frame. The Muskeg bag allows me to pack all my clothes and gear for 7 days.

Function
Description
Ounces
Pack Frame
Kifaru Duplex Lite Frame
48.00
Pack
Kifaru Muskeg Pack
40.80
Subtotal:
88.80 oz
5.55 lb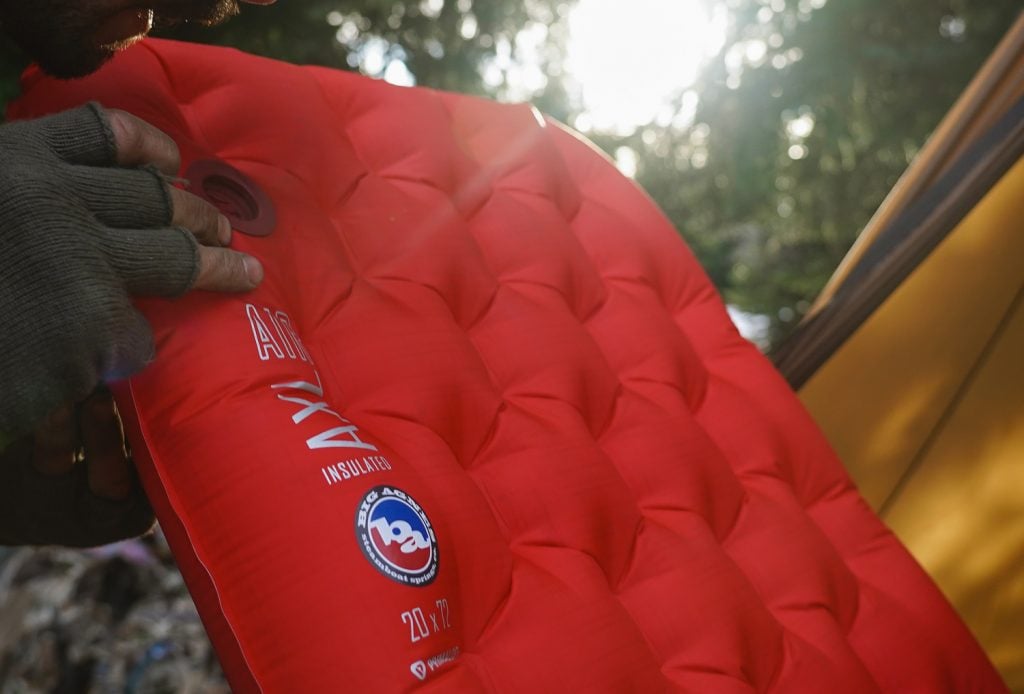 Camp / Sleeping Gear
I choose the Big Agnes Tiger Wall UL2 because it is super light and full enclosed. A fully enclosed tent is great for bugs and ticks during bear hunting. The stone glacier chinnock 15 degree is a little warmer than I need but with changing weather and sometimes snow it is great to have.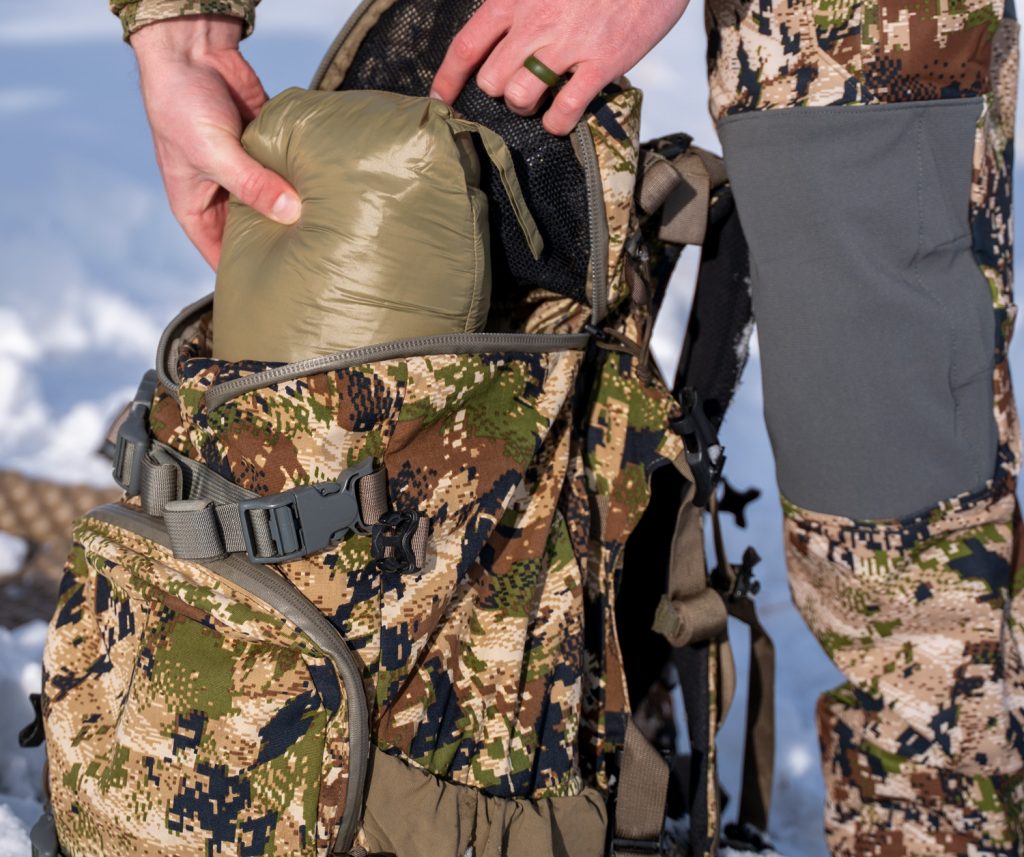 Clothing (Packed)
My packed clothing will be all of my heavier and insulating layers. The Sitka layering system is great for all the different weather that you might see during your hunt. I always have rain gear in case of rain or a great windbreaker for colder days.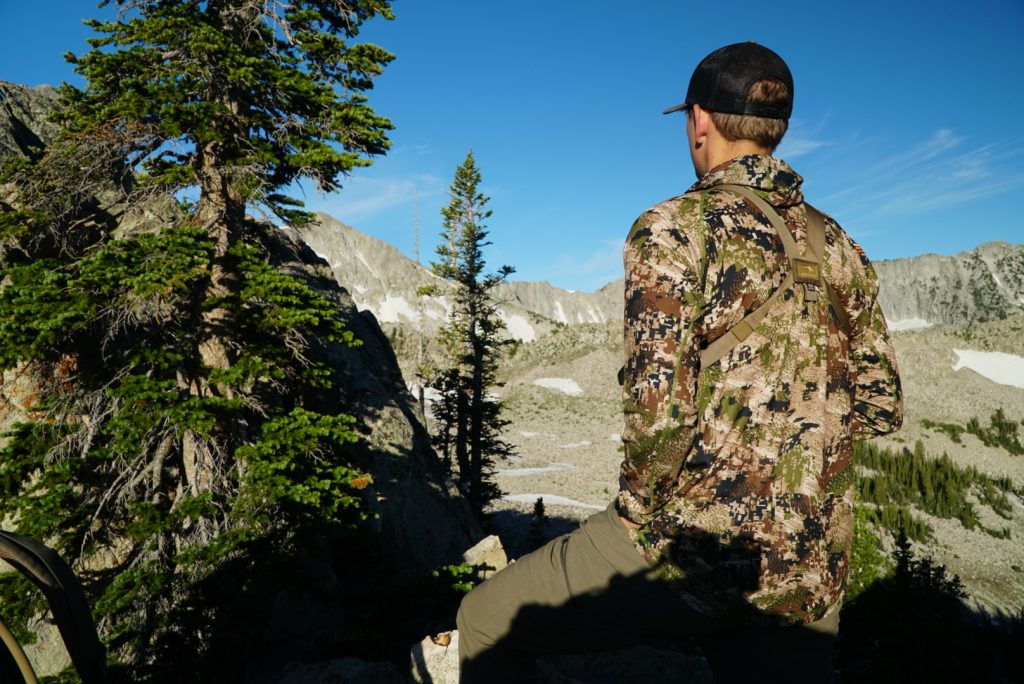 Clothing / Gear (Worn)
My worn gear is what I will wear the most throughout the day and hiking. I want gear that will be versatile and interchangeable during the day.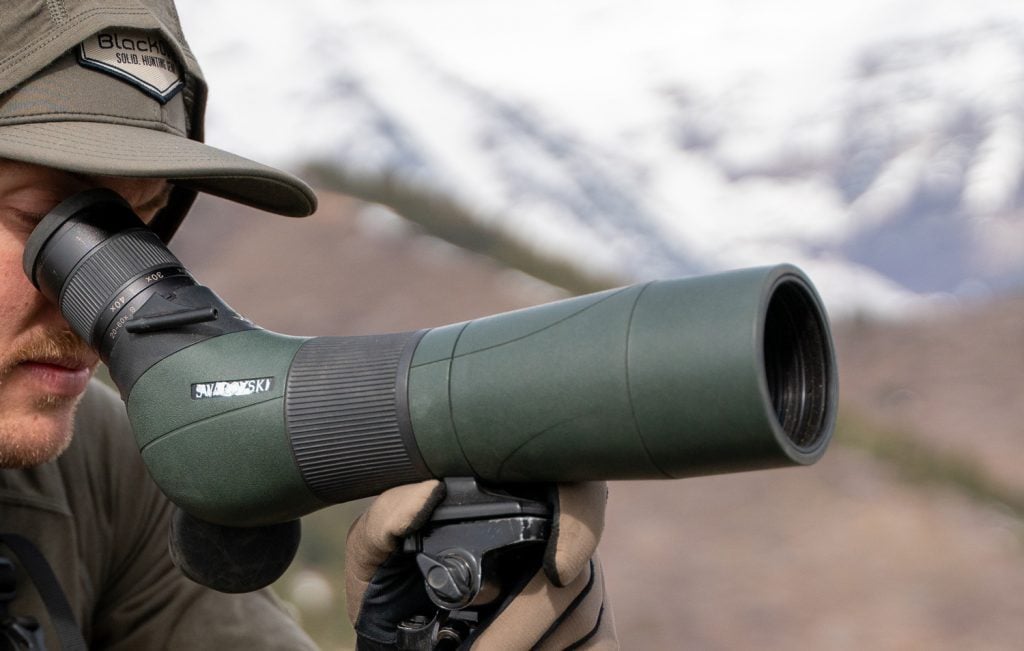 Optics
Optics are your best friend during bear hunting. I choose a 65mm spotting scope because I know I will be hiking a ton and the lighter weight version was a better option for this hunt. The NL Pure binos are great for glassing and a wider field of view. One area I could upgrade is my rangefinder.
Weapon
The Christensen Arms MPR is a great backpacking rifle due to the foldable stock. This option makes the overall length smaller during hiking and can quickly be deployed when shooting. The 6.5 PRC is a great caliber for bears because it is flat shooting and has long range ballistics for cross canyon shots.
Function
Description
Ounces
Rifle
Christensen Arms MPR 6.5 PRC
128.00
Scope
Vortex Viper PST Gen II 5-25X50 FFP
31.20
Bipod
Atlas Bipod BT46-LW17 PSR
13.61
Sling
Magpul MS4® Dual QD Sling GEN2
5
Scope Cover
Vortex Scope Cover
1
Ammo
Berger 156 EOL bullets with RL26 powder
Subtotal:
163.20 oz
10.20 lb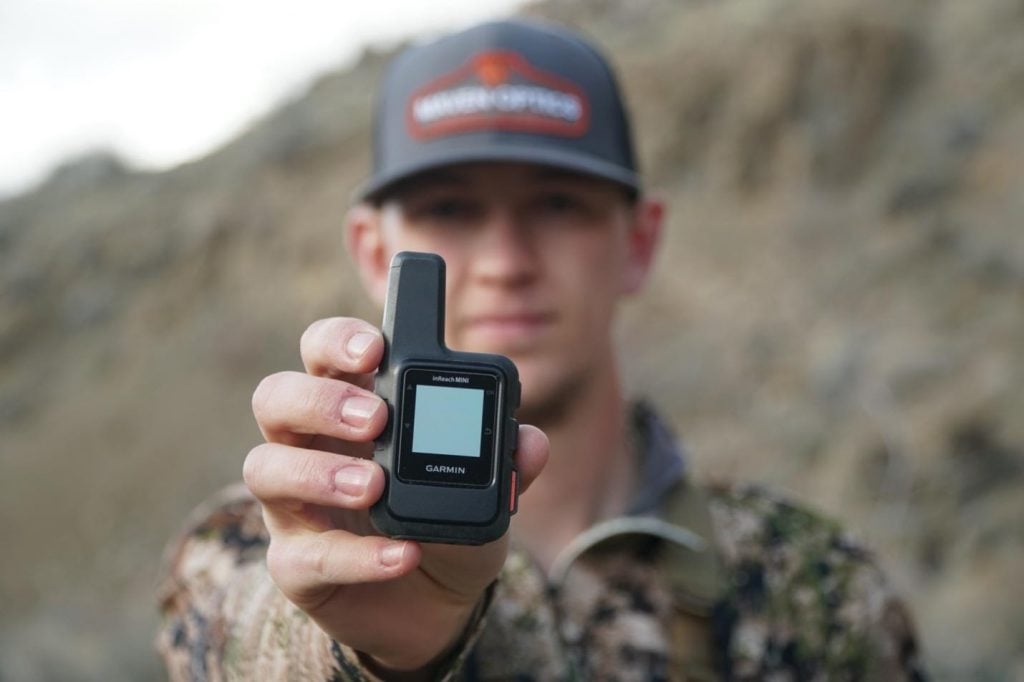 Gear
There are two gear items that I want to highlight. First is the Helinox Zero Chair. This is an absolute game changer for long hours glassing. It is just under a pound and makes a huge difference. The second item is my Garmin InReach Mini that allows me to communicate with other hunting partners and my family when in remote country.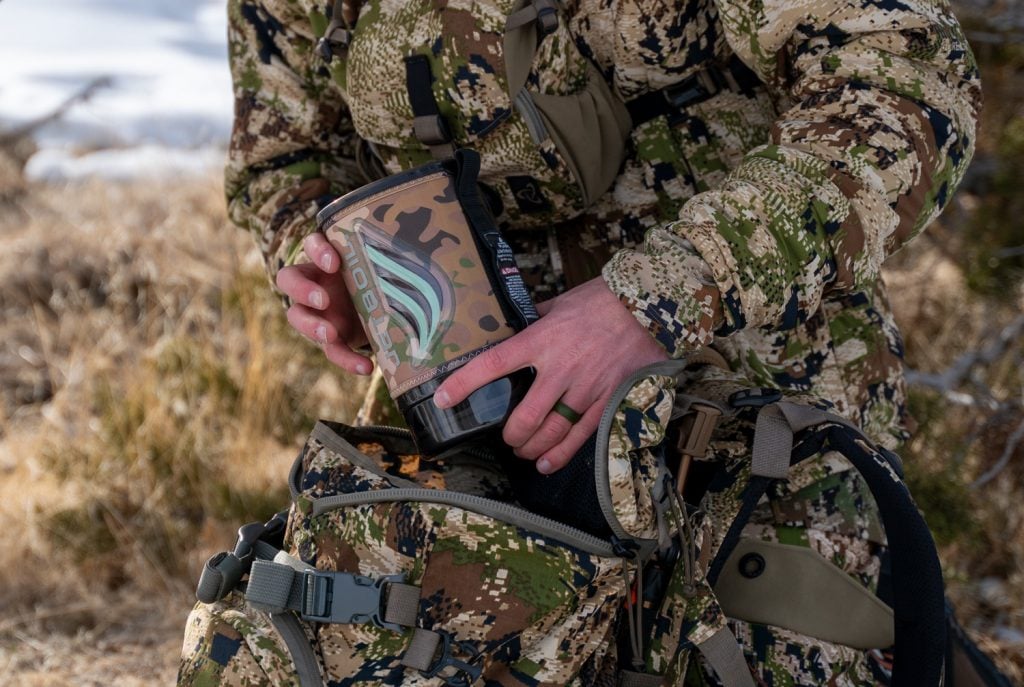 Cook Kit
There are lighter options because the MicroMo allows you to change temperatures to simmer or sear food. I like the versatility that the stove gives me to cook different food.
Safety Gear
My headlight has died one to many times on the mountain and there is nothing worse than traversing sketchy terrain in the dark with no light. Also keep a spare light and batteries for backpacking.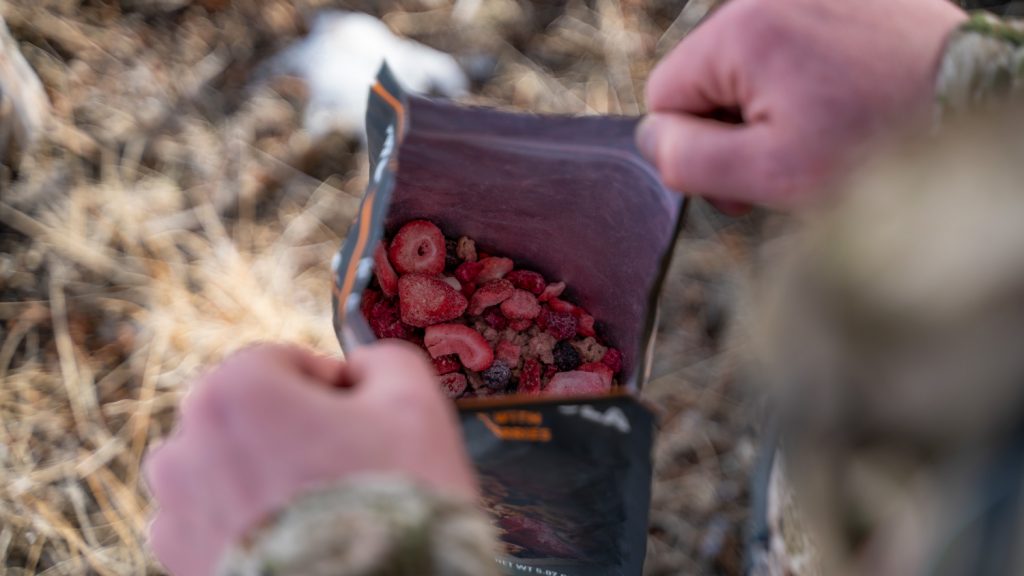 Food
Food for backcountry hunts has two purposes. The first is to fuel your body and give you enough energy to hunt hard and feel good. The second is to taste good. I have packed great food on paper for a hunt but it tasted so bad that I could not even eat it. Make sure you try your food before going in the field.
Function
Description
Qty
Ounces
Breakfast
Protein Shake Mix
7
2.00
Breakfast Fat Content
MCT Oil
7
0.35
Lunch
Peak Refuel
7
5.90
Afternoon snack
Honey Stinger Waffle
7
1.06
Afternoon snack
Justin Maple Almond Butter
7
1.15
Dinner
Peak Refuel
7
5.90
Subtotal:
114.52 oz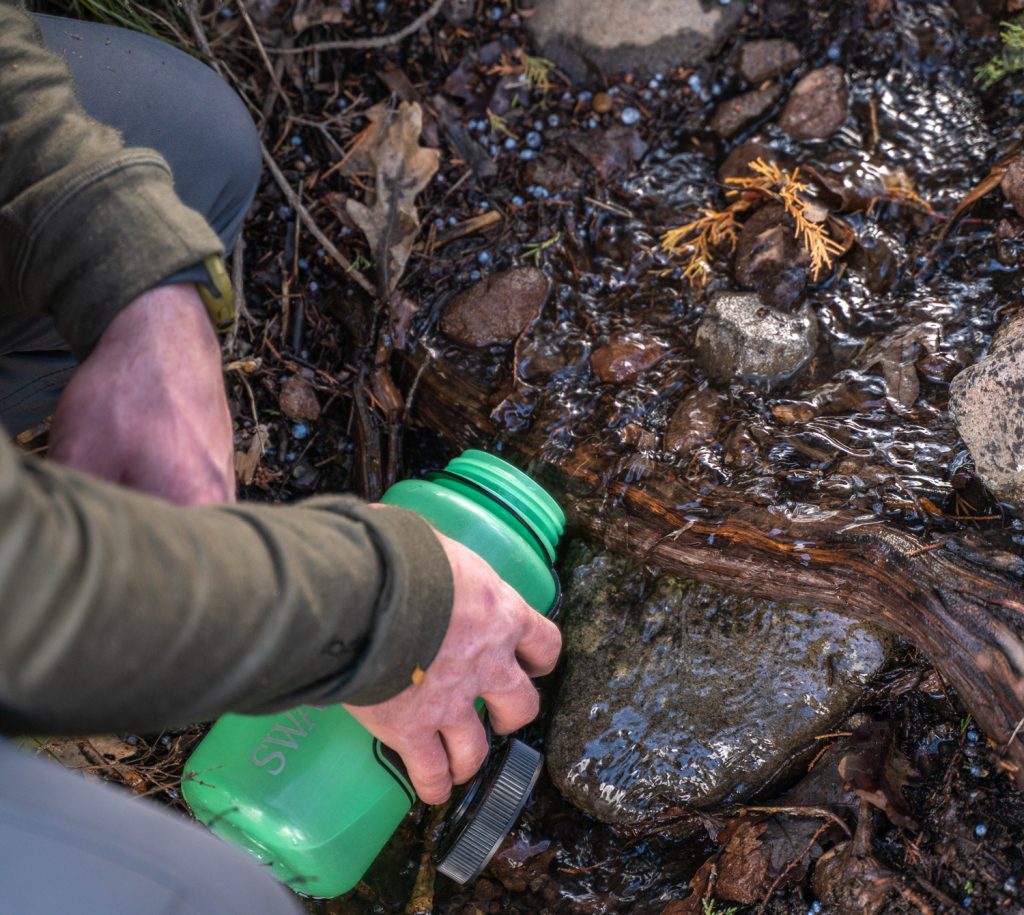 Water
Gear List Weight Summary
| | | | | | | |
| --- | --- | --- | --- | --- | --- | --- |
| Base | Food | Water | Wear | Weapon | Full Pack | Trailhead |
| 480.1 oz | 114.5 oz | 3.50 oz | 93.81 oz | 163.2 oz | 594.61 oz | 786.31 oz |
| 30.01 lb | 7.16 lb | 0.22 lb | 5.86 lb | 10.55 lb | 37.16 lb | 49.14 lb |