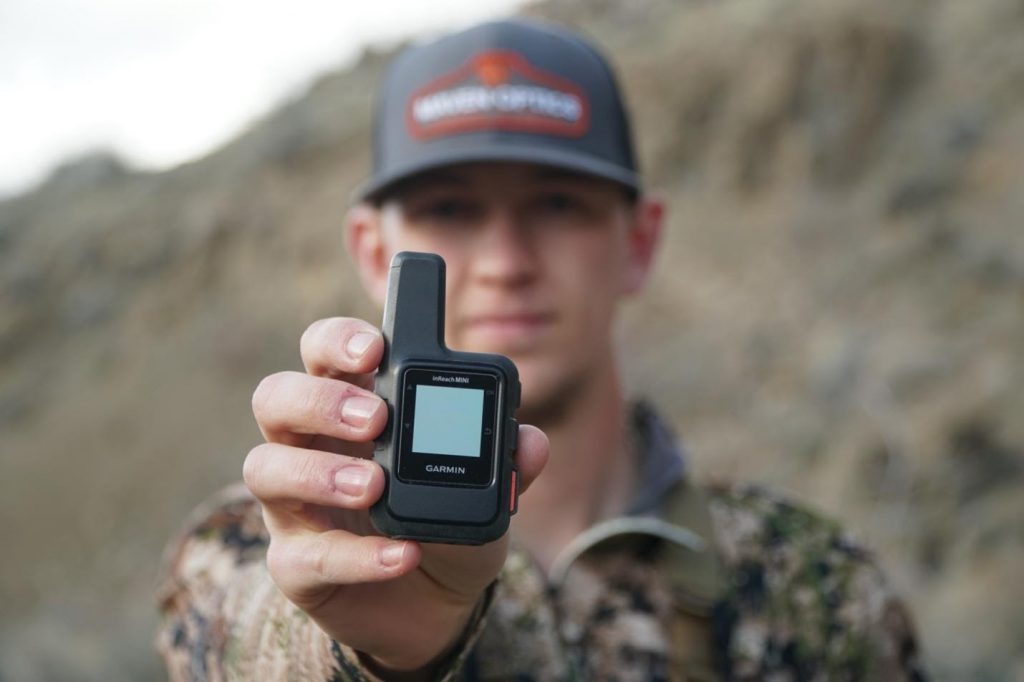 As the upcoming season approaches many of us are planning hunting trips, scouting trips, shed hunting and spending time outside. I spend a lot of time by myself on solo trips. Communication has become essential for my safety and peace of mind for my family. Luckily with the rise of modern technology satellite communicators are affordable and practical. Garmin inReach is at the forefront of handheld communication devices.

What is the Garmin inReach
The inReach devices have become an essential piece of gear for myself and hunters around the world. In this article, I will mainly be covering the inReach Mini and briefly talking about the Explorer+ and the SE+ models. The Garmin inReach is a two-way satellite communicator with pole-to-pole coverage. The three models have the same basic functions with different options offered by each model.

inReach Mini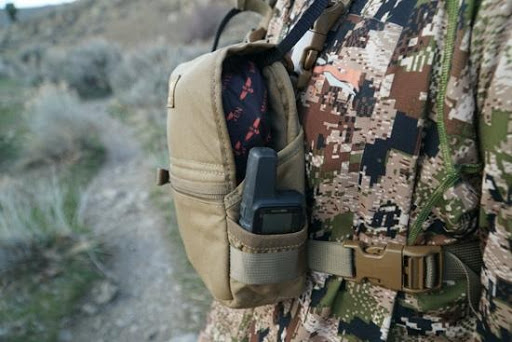 The inReach Mini is 2.04" x 3.9" x 1.03", has a rubberized feel, is waterproof up to 1 meter, has a 0.9" x 0.9" screen, a few buttons for navigation, and the SOS button which is protected with a cover. It comes with a nylon strap for a carabiner clip, as well as a mount for other Garmin accessories. The screen is easy to read, and device navigation is simple. It is also worth mentioning that the Mini is less than half the weight of the Explorer+. It fits in the side pocket of my marsupial gear binocular harness.

inReach device comparison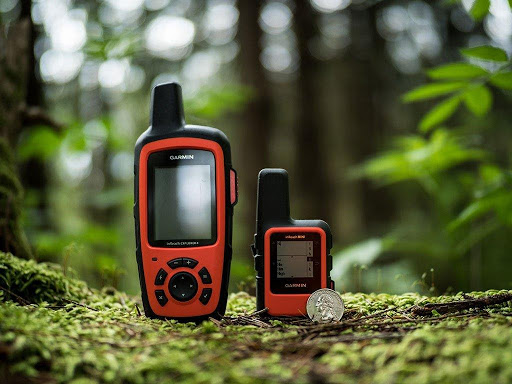 Although this article mainly talks about the inReach mini. Garmin offers a few other devices that work and function the same. Below is a breakdown of similarities and differences between the three models.

| | | | |
| --- | --- | --- | --- |
| Function | inReach Explorer + | inReach SE + | inReach Mini |
| MSRP | $449.99 USD | $399.99 USD | $349.99 USD |
| Size | 2.7" x 6.5" x 1.5" | 2.7" x 6.5" x 1.5" | 2.04" x 3.9" x 1.03" |
| Weight | 7.5 oz (213.0 g) | 7.5 oz (213.0 g) | 3.5 oz (100.0 g) |
| Display Size | 1.4" W x 1.9" H | 1.4" W x 1.9" H | .9" W x .9" H |
| Display Resolution | 200 x 265 pixels | 200 x 265 pixels | 128 x 128 pixels |
| Memory | 2 GB | 2 GB | NA |
| Maps | Yes | Yes | NA |
| Altimeter | Yes | NA | NA |
| Compass | Yes | NA | NA |
| Battery Life | 100 hours | 100 hours | 50 hours |
| Water Rating | IPX7 | IPX7 | IPX7 |
| Bluetooth | Yes | Yes | Yes |
| Interactive SOS | Yes | Yes | Yes |
| SMS & Email | Yes | Yes | Yes |
| Track & Share Location | Yes | Yes | Yes |
| Weather Updates | Yes | Yes | Yes |
| Keyboard | Yes | Yes | Yes |
| Waypoints | Yes | Yes | Yes |
| Send Route | Yes | Yes | Yes |
| Mapshare | Yes | Yes | Yes |
| ANT + Compatibles | Yes | Yes | Yes |
S.O.S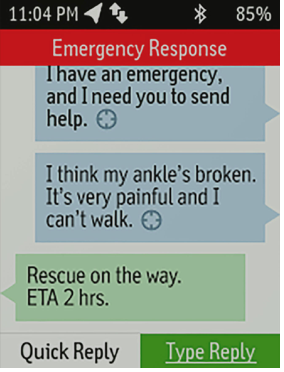 One of the main reasons that I carry a inReach device is the SOS capabilities. It provides global, interactive SOS capabilities — and that means you're able to trigger a distress signal, receive delivery confirmation that help is on the way and maintain a 2-way text conversation with the GEOS emergency monitoring center. GEOS is standing by 24/7 to assist with your emergency, track your location and notify the most appropriate emergency response for your unique situation. The GEOS team will stay in communication with you until your situation is resolved.

Messaging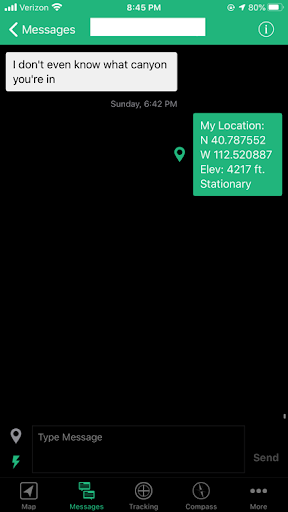 When it comes to sending messages directly from the device you basically have to scroll letter by letter. There is a quick list messages that you can type beforehand to cover a few general responses. Both custom messages and the quick list messages count to your message limit in your subscription. You do have the ability to set up 3 preset messages that are completely free and can be sent anytime. The preset and quick list messages all have to be set up beforehand.
When it comes to sending custom messages through the Mini is inconvenient. But by utilizing the Earthmate app you have access to a full keyboard and the format resembles that of a typical text message app.
A couple of things to consider regarding messaging: this is not the same as texting. The device checks in with the satellites in regular intervals. One tip: add the time sent to every message. This makes it easy for the recipient to see when you sent it since messages are not always received at the time they are sent. How fast you can receive and send text messages depends on your line of sight to the sky. Although I did find that even hiking in thick cover, my messages would send but requiring more time. A nice feature is that each message you send can include the location you are sending from. (as pictured above)
Garmin Subscription Service
In order to use all the messaging capabilities of the inReach devices you need a paid subscription. For me, the small monthly fee is worth it for the peace of mind. When you consider that this device can save your life, $15/month doesn't seem too expensive.
Here are the current service tiers. I use the cheapest Freedom Plan option, which lets me send unlimited preset messages and use the SOS, and it works great. If you get the Freedom Plan, you can turn it off and on at monthly intervals. You can also just get an annual plan for less. Garmin charges a $20 "activation" fee that you pay once. You can always upgrade your account for free, and if you downgrade, it costs you $25.
Earthmate App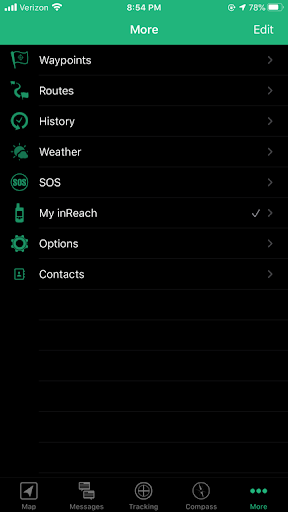 The Earthmate app is available for both iOS and Android. For messaging the app is critical no matter the device you are using. The apps also includes various extra features that boost the capability of the inReach devices. There are five tabs: Maps, Messaging, Tracking, Compass, and More. The picture shows what is included in the More tab. Many of the device settings can be changed through the app. You can use the app to modify settings, as well as a way to sync the preset and quick step messages from the web.
Tracking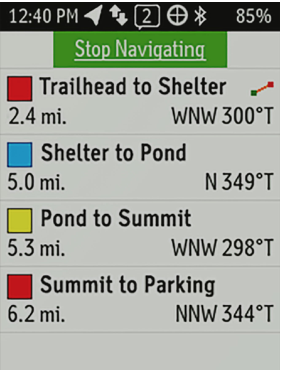 The inReach devices can also track your progress and publish that information which is viewable online to anyone with the link. Your location can be viewed in real time and share with selected people. People who have access to this map can also message you from the map while you are active. The inReach device will send waypoints at preselected time intervals, so followers can track your whereabouts online. Tracking is great for family back home to see if I made it to camp, glassing points, next camp or back to the truck.
Weather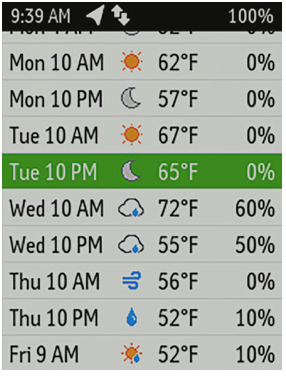 Receive weather forecasts directly on your device enabled with inReach technology, so you can make educated decisions based on local conditions or the destination ahead. Choose from 3 forecasts on your inReach device: basic, premium nonmarine and premium marine. When using premium handhelds, you can use the device's weather functions — such as animated radar and rain alerts — without tapping into your satellite subscription.
Which inReach Is Right for You?
As satellite communicators, the three inReach Mini, SE+ and Explorer+ offer identical messaging capabilities. However, it's on the GPS navigation side that their differences become apparent. While inReach SE+ uses GPS to provide basic grid navigation and allow you to drop waypoints, mark key locations, track your progress, and follow a breadcrumb trail back to base — the inReach Explorer+ goes a step beyond, providing full-fledged GPS on-map guidance with preloaded TOPO mapping and waypoint routings viewable directly on the unit. Plus, a built-in digital compass, barometric altimeter and accelerometer are included with Explorer+ to help you get and maintain accurate bearings on or off the beaten path. The Mini offers many of these but in a less functional system but about half the size.
Conclusion
The main reason that I carry the inReach Mini is personal safety. Solo hunting is intense and this small device give one more layer of protection. If any injury were to happen they improve your likelihood of being rescued in a timely fashion and allow you to communicate your status when cellular coverage is not available. As hunters, I think we underestimate the importance of having a device such as this, potentially due to most of our excursions being not more than a day. There is also a price barrier, both with the upfront cost, as well as the required monthly subscription. That said, these costs pale in light of the benefits that having a satellite communicator provide.