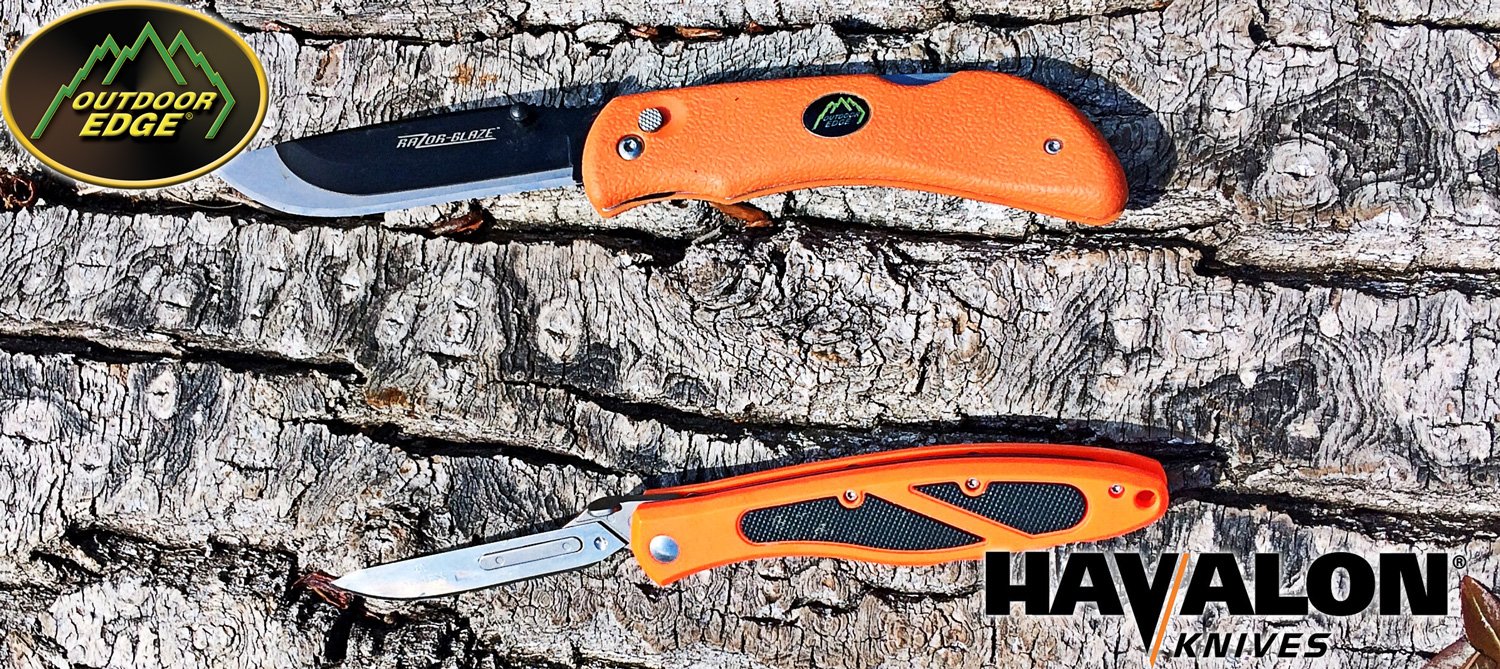 I'm a bit of a brute. My friends & family call it "The Howard Syndrome". If there's a weakness or a design flaw in anything that I use, that item simply will not survive. This is important for you to know, because it affects the way I approach my gear choices. I am really, really rough on my gear. It isn't intentional. I pay good money for my gear & I would never ruin my stuff on purpose. Destruction just sort of happens…
Additionally, I primarily hunt the mountains of Montana. This requires a lot of effort including large swings in elevation everytime I go into the woods. So, when it came time to choose a knife, I had three main criterion:
1) It needs to be lightweight
2) It has to hold its edge
3) It must be durable!

Size & Weight:
Both the Havalon Piranta Edge & the Outdoor Edge Razor Blaze are incredibly compact. They will essentially disappear in your pack if you fail to put them in the same pocket every time. Unfortunately, I had to empty my entire backpack more than once. I eventually learned my lesson & I now have a designated knife-pocket.
Even though these knives are small, their efficiency is impressive.
The Razor Lite is "bigger" with an advertised weight of 6.4 oz with the sheath, 3.6 oz without.
Most specifications give the Piranta Edge an advertised weight of 3 oz., but don't be fooled. The savvy gear hound will quickly discover that the advertized 3 oz. weight actually includes the knife, the nylon case & the extra blades. The bare knife & a single blade alone only weigh about 1.5 oz. I chew gum heavier than this knife! Basically, both knives will easily meet the standard of even the most conscientious, ounce counting hunters.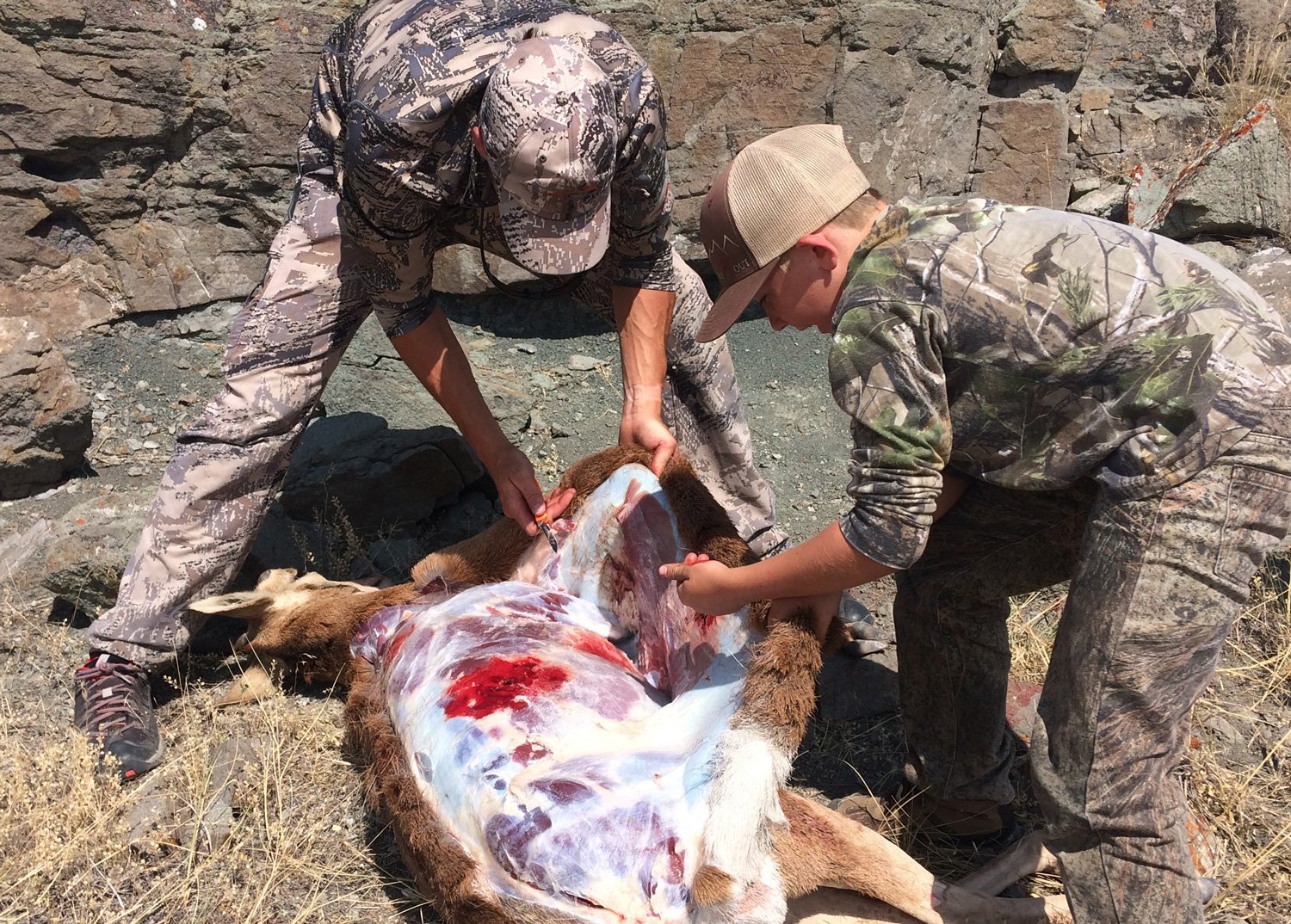 The Blades:
Their second most popular feature is their stainless steel, razor sharp blades.
The Piranta Edge is literally a folding scalpel. According to their website, Havelon's parent company, Havel's Inc., has made surgical blades since the 1980's. After receiving feedback & prompting from taxidermists & sportsmen, they brought their experience in surgical edge technology into the outdoor industry. The downside, is that their blades are extremely thin. They won't tolerate torque of any kind. As a natural brute, it took me almost an entire mule deer to figure this out, but the solution is simple: don't side load the blades & they don't break.
The Piranta Edge blades are ultra sharp & perfect for detailed field work like separating out the hip sockets & other delicate tasks such as caping around the eyes, lips, & antler bases. If you have ever experienced the great frustration of fleshing coyote feet, then you will certainly appreciate this blade!
The Razor Lite worked great for skinning & initial deboning. It is my experience that the sharpness of both knives greatly helps avoid waste & increases thrift while deboning, trimming, & butchering. This also resulted in a cleaner cut of meat with less hair, fat, & tallow.
I like the thicker feel of the Razor Lite blades & appreciated the heavier blade's ability to torque on the joints. While they can certainly handle more twisting, they simply do not hold their edge nearly as long. The hard truth is that they go dull much quicker than the Piranta Edge. I was pretty disappointed with the difference.

The Blades: Side Note.
There seems to be some confusion regarding the blades that can & cannot be used with the Piranta Edge. The short answer, is that the Piranta Edge currently fits all available Piranta blades. As newer blades have come into production, Havalon's website & older packaging labels have become outdated. At the time of this review, Havalon's website stated that the Edge only fits 60A & 60XT blades. However, when you look at the packaging on their more recent knives, the labeling states that the Edge also accepts the 22, 22XT & 70A. After a quick call to their customer service, it became clear that all Piranta blades fit the Edge.
The Blades: In The Field.
What do you do with the used blades? Obviously, you can't leave the blades in the field or on the mountain. Surely, we all know better than to randomly toss the old blades into our backpack, right? My solution is to place the used blades in a protective case of some sort. Havalon replacement blades come in a hard plastic, rectangular container. This makes a great storage option. I have also used the nylon knife case itself to store the used blades while safely placing the folded knife in my pocket. It really is a non-issue if you think ahead a little bit. I, however, did not think ahead, & my first time using replacement blades was a little irritating.
The Handles:
Both of these knives have incredibly tough, blaze orange handles. I greatly appreciate these features! About halfway through my field dressing process, the immediate vicinity begins to look a lot like a yard sale. When I'm surrounded by meat sacks, backpacks, headlamps, & bugles the "loud" handle helps me quickly locate my knife & get back to work. Since these knives are ultra compact, I strongly recommend setting them on something so they are easier to find. Even with the blaze orange, they tend to disappear into their surroundings. I either set mine inside my upturned hat or on my backpack.
Both handles are stain resistant. Both knives are easy to clean.
Both have easily survived many rounds in my dishwasher. The Piranta Edge has a large gap in the middle of the handle which makes it a bit easier to clean than the Razor Lite.
In reality, both knives are incredible. You really can't make a wrong choice. The technological jumps in the knife industry have been phenomenal. Both Havalon's Piranta Edge & Outdoor Edge's Razor Lite are exceptional knives that met all three of my criteria. I hope this helps you make an educated decision & you choose the best knife for your task.
Good luck on the water & in the field!
-Howard Mee