Kenetrek Mountain Extreme 400 Review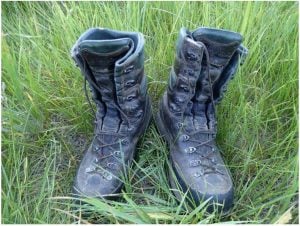 The picture above was taken a few weeks ago right before I hiked up a fairly steep bush-covered hill to a water hole to set a trail camera.  The Kenetrek Mountain Extreme 400's have taken me many such places, and I've logged hundreds of miles in them, from hunting and scouting the high country, backpacking in to new areas to get the lay of the land and try to find a big buck, shed hunting in the snow and mud across several states, and everywhere in between.  I have worn these boots for any and all outdoor activities for over 2 years now, and while the wear and tear is starting to show, they're definitely still going strong.
Instead of starting out by listing the manufacturer's specs on the boots (you can find these pretty easy with a quick Google search), I'll get right into my personal experiences with them.
Initial fit and break-in
These have been my first 'high-end' pair of hunting boots.  Prior to these, I had Asolo boots, and while they were pretty decent boots, I figured if I'm going to hunt/backpack/scout in all sorts of terrain and weather, I needed a pair of boots that can stand up to whatever I'm going to encounter.  The Asolo's I'd been using had many of the qualities that I wanted, but they definitely weren't water-proof, they weren't insulated, and the sole wasn't as stiff as I'd like and resulted in my foot shifting in the foot bed and getting sore while side-hilling or hiking in extremely uneven terrain.  I remember one general season deer hunt I used them on, it had snowed early, and while that is what most people long for so that the bucks will be moving more, I simply remember having cold feet for most of the hunt.  So after that season, I determined that my next gear upgrade had to be a better pair of boots.  There were two main reasons I selected the Kenetrek Mountain Extreme 400's:
A local sporting goods store had them in stock so that I could try them on and see how they fit before buying (this is crucial!).

A recommendation from a friend who'd used them for years and really liked them.
Now, I would highly recommend that when making such an important decision such as what new hunting boots to buy, that you put more into your research and selection of boots than I did at the time!  But, as luck would have it, I feel that I ended up with a definite winner with these boots.   I will say that for me personally, I've found over the years and through trying on many different pairs of shoes/boots for running, basketball, and hiking, that my feet aren't very 'picky' for lack of a better term; I've never had a pair of shoes or boots that I can remember that I just couldn't wear due to extreme fit or discomfort issues.  Call it luck or call it ignorance, but I feel I've been pretty lucky in that respect.
Anyway, trying on the Kenetreks was really important to me.  My general rule back then and still to this day is that if I put a boot on straight out of the box, lace it up and walk around in it and feel any immediate discomfort, this is not the boot for me.  Now, I have since modified this test to take it even a step further in order to mimic a real life situation on the mountain: the first thing I would do after buying a new pair of boots is lace them up and walk up some stairs.  If you feel painful amounts of pressure on your heels, take them back, because these are not the right boots for you.  That pressure and pain you feel on your heels will not go away even after a long break in period and will always be there when you climb.
Although I didn't have any discomfort right out of the box, I did have some fear about the heel box of the boot as I'd read several reviews that said that Kenetrek boots had basically shredded some people's heels. No matter what they tried from special thick socks, to heel inserts, to moleskin or leukotape, nothing seemed to work.  I'm guessing these people thought the heel pressure they felt straight out of the box would break in.
Right after buying the boots, I did remove the factory insoles and replace them with a pair of Superfeet Orange insoles, and I have had no complaints so far.   I've also have had no issues with the heels either, but that could have been due in part to how I broke them in as much as anything.  After purchasing them, I did not wear them out in the hills once for quite some time.  I started wearing them to work and around town every day for probably about 4 weeks straight.  After that, I would go on short hikes with as little incline as possible.  Over time, the amount of incline I would hike and also the length of the hikes (both distance and time) would slowly increase.  To some this may seem like overkill, but I wanted to make sure I did my best to break these in right.  This break in regimen seems to have worked perfectly for me.  Over the two plus years since I've had these, I have gotten a hot spot or two from time to time in the first year I had them, but luckily these boots have been great for me.  Everyone's foot is slightly (or drastically) different, and each pair of boots will fit everyone differently.  I would highly suggest that you base your initial opinion of a new pair of boots off of how comfortable/uncomfortable the boot (and especially the heel) feels when you put the boots on right out of the box, lace them up, and walk up the stairs.  If you feel extreme pressure or discomfort in the heels, remember this will not go away or break in and will always be there with you when you're climbing the hills.  Also, it's much better to err on the side of caution and spend some extra time breaking your boots in before you hit the mountains.
I also debated over getting the on the non-insulated version of the Mountain Extreme's.  I was worried that the 400 grams of Thinsulate insulation would be too much for summer scouting and early season.  I have been pleasantly surprised and they have never seemed uncomfortably warm.  I have also tended to usually go with a thinner pair of merino wool socks due to this, and this combination has seemed to work very well for me.  The times when the insulation has really shined has been whenever I'm hiking in the late season and there is any snow, as well as shed hunting in the spring.  I like having a do-all pair of boots, and I can honestly say that these boots definitely fall into that category.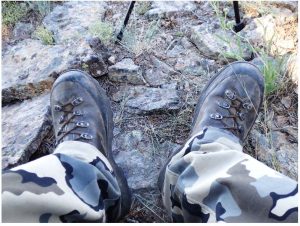 Kenetrek Mountain Extreme 400s on a scouting trip at 9500' looking for Mule Deer in mid-July.
Another feature I really like about these boots is how stiff the soles are.  Some like a softer sole, but I've found that I prefer a stiffer sole.  I know for me personally, a stiffer sole definitely helps in preventing hot spots and blisters, because as I traverse uneven terrain, my foot shifts less in a stiffer boot.  Something that really adds to the soles' stiffness is the steel shank in the sole.  When researching the boots before buying, I honestly thought that this was overkill and would just make the boots heavier and more awkward to wear.  If you've never worn a very stiff mountain hunting boot like I hadn't prior to buying these, they do definitely feel different (and heavier) the first few times you wear them, but now I love the stiff foot bed and I don't think I could go back to a much lighter, flexible pair of boots; it just wouldn't feel right to me.  And to be completely honest, I don't even notice the weight difference between these boots and my Asolo's I used to wear (and still have actually) once I put them on.  So in the end, it's basically a trade-off: do you want a little heavier, stiffer, more supportive boot?  Or do you want to go the lighter route and risk your foot 'sloshing around' in your boot when you're on uneven terrain because the sole flexes so much and you feel all those little rocks and bumps in the dirt?  To me, a stiffer boot is by far the better option, and every time I'm on a steep hill with a pack on, it reconfirms my decision as I'm able to traverse the hillsides with very minimal shifting or hot spots on my feet.
Boot care, wear, and tear
 The Kenetrek's wind-tex waterproof material really is completely waterproof.  I've waded many creeks and streams in them, hiked in snow, and sloshed through mud in them and never once had any water penetrate to my feet.  I like to think this is largely due to how I take care of them.
One thing that I am convinced helps to prolong the waterproofness of the boots is to regularly wax them.  When I purchased the boots, I also purchased and have used their boot wax regularly and have been pleased with the results.    By regularly waxing the boots, you not only prolong the life of the boot leather and its water repellency factor, you're also preventing any additional 'water weight' to accumulate in the leather, which can slightly increase the weight of the boots while simultaneously reducing the leathers ability to repel additional water.  
I try to wax my boots periodically, and do so more frequently in the winter and spring when I encounter more moisture while out hiking.  I also make sure to remove as much of the mud and grit as possible after every time I take them out hiking.  After recently returning from a scouting trip, I decided they were due for a waxing.  I have been using an old toothbrush and a rag to apply the wax.  I apply it very thickly to all the leather parts of the boot and let it sit until the next day before wiping off any excess wax.  Below are some before and after shots.

I thought I'd also include a picture of the soles to show how much they've got left after over 2 years of hard use.  I've heard of people getting their boots resoled, but I have had no need to yet.  I think the boots will wear out before the soles do.  As I stated earlier, I've logged several hundred miles on these boots and the soles still have plenty of traction left.  I have yet to notice any spots where the sole might be coming unglued or detached from the foot of the boot itself, and I check pretty regularly as it still impresses me how well they've held up.  I'm always thankful for their aggressive grip when I'm traversing a steep hillside with a loaded pack.  Below is a picture I took just the other day of the soles.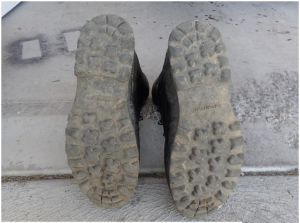 Now this wouldn't be an honest review if I didn't include at least something that wasn't all roses and sunshine about the boots.  If I could change one thing about them, it would probably be their height.  The Mountain Extreme 400s top out 10" up your leg.  While I do really like the ample ankle support these high-top boots provide, I think 10" might be a little much for me.  I think that a lower height would also help with how warm they can feel on summer scouting trips or when the weather's pretty warm.  I think if I don't end up getting another pair of the Mountain Extreme 400s for my next boot, I would go with something very similar in terms of stiffness and added insulation, but in the 6-8" height range.
So, in conclusion, if you are looking for a boot to protect your feet from the elements, won't give you blisters or even hot spots after a respectable break-in period, will keep your feet ready to continue hunting the high country day after day of going up and down steep hills, and will be in excellent condition even after many miles of hard use, look no further than the Kenetrek Mountain Extreme 400 boots.  I have been very pleased with mine, and I think you will be too if you break them in right and care for them.  But don't just take my word for it, go try them on and make sure they'll agree with you from the get-go.  It could be the start of a very long lasting relationship!