Goal Zero YETI 1400 Lithium Power Station V2
Features
Weight: 45.6 lbs (20.7 kg)
Dimensions: 10.1 x 15.3 x 10.4 in (25.7 x 38.6 x 26.4 cm)
Operating Usage Temp: 32-104 F (0-40 C)
Battery - Cell Chemistry: Li-ion NMC
Peak Capacity: 1428 Wh (10.8V, 132Ah)
Lifecycles: 500 Cycles to 80% capacity
Shelf-life: Charge every 3-6 months
Ideal for phones, cameras, tablets, computers, fridge, tv
Product Description
Description
Award-winning and engineered from the ground up, the Goal Zero Yeti 1400 Lithium is one of the most versatile and innovative power stations on the market. Its built-in surge allowances and multi-stage protection means great compatibility with more devices ranging from lights to laptops, refrigerators to power tools, giving you the confidence to power anything, anywhere.
---
Video
---
Highlights
With no gasoline needed, the Goal Zero Yeti 1400 operates with zero fumes and zero noise for an easy-to-use, plug-and-play way to power all your essential electronics and appliances at the push of a button. It's safe enough to store inside your home or apartment for running lights or appliances during an emergency power outage, and still durable enough to take along to your next outoor project.
Features 1425 watt-hours (132,000mAh/10.8V, 396,000mAH/3.7V) and versatile outputs (2.4A USB, AC and 120W 12V) for charging up to 10 devices at once. From phones to fridges, laptops to power tools, power it all without noise, fumes, or gasoline.
Starts with quality lithium cells, known for stability, monitored by a state-of-the-art battery management system that prevents over-charge, over-current, and short circuiting. The battery pack is enclosed in a water-tight enclosure that seals it from the elements and allows for a user-replaceable system, lending to the overall longevity of the product.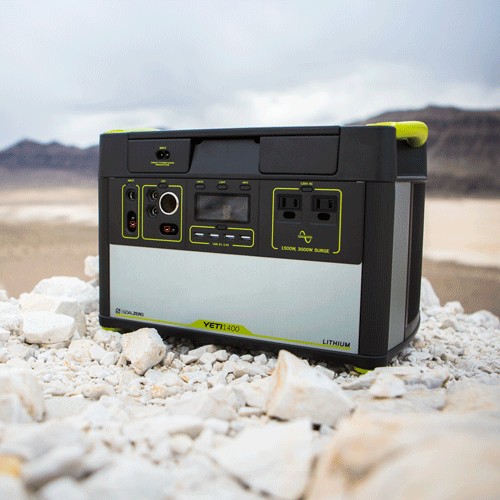 ---
Two Ways to Charge Yeti 1400
Recharge from the sun by connecting a compatible solar panel. Charge time is dependent on the size of the solar panel. The Boulder 200 Briefcase will fully recharge the Yeti 1400 Lithium in about 14-25 hours.
Plug it into the wall. Fully recharges in about 25 hours. Pro Tip: Purchase an additional wall charger to cut charging time in half
DO NOT ATTEMPT TO CHARGE YOUR YETI LITHIUM FROM A 12V SOURCE. Doing so may cause damage to the unit.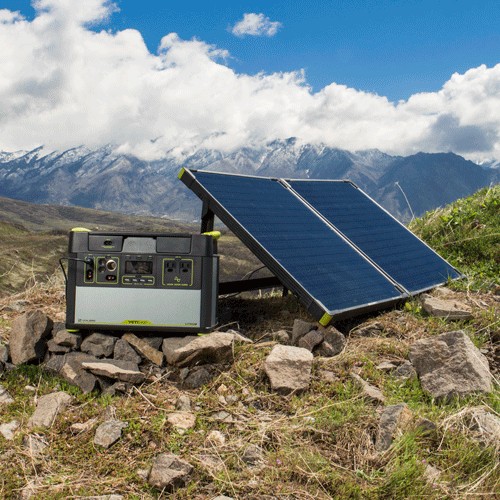 ---
The Yeti 1400 Lithium is great for all your larger sized or multiple device power needs.
Smartphone 70+ Recharges
POV Camera 230+ Recharges
Headlamp 230+ Recharges
Tablet 52+ Recharges
Laptop 23+ Recharges
Light-a-Life 465+ Hours
Mini Fridge 23+ Hours
32 LCD TV 14 hours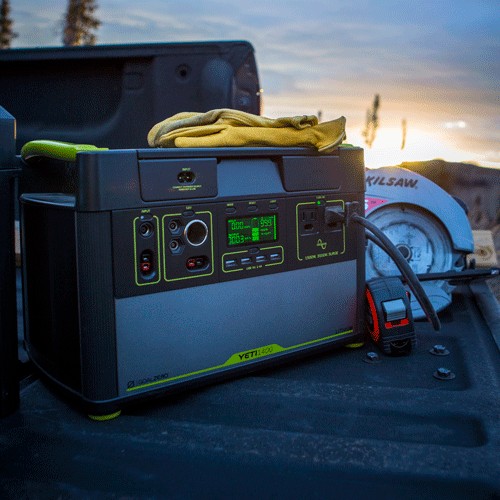 ---
---