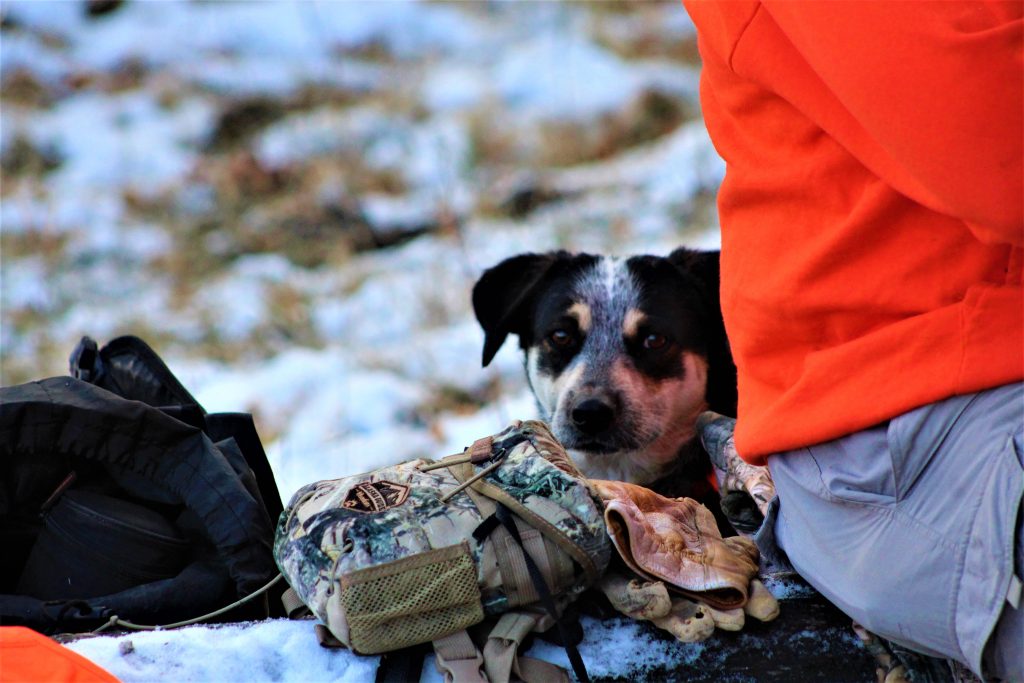 Who is Alaska Guide Creations?
Recently, there was a viral video of a Utah man being escorted out of a canyon by a mama-mountain lion. While watching the video I could not help but think, "where is this guy's gun?". Whether that would have been the right decision or not is up for debate, but regardless of views, my .38 Special would have been at my side. Or my front. Or my back. How? The Alaska Guide Creations Holster.
But first, who is this? The name says it all. Inspired from the backcountry of the Alaskan wilderness, the bino-harness was born. While the many terrains and challenges that Alaska provides, the creators at Alaska Guide Creations innovated a simple, yet extraordinary, product that gives you more room in your pack, quick access to optics, and now the availability of easy access to your side arm proves the importance of simple innovation. Alaska Guide Creations' products give you the ability to be ready for anything.
I first came in contact with the AGC Bino-Harness on the side of the highway in Northern Arizona. We purchased it used from the fellow hunter we had met and even with 5 years of hunts in it, it was in pristine condition. Now, 3 years and many snowstorms later, it still looks brand new and performs like it just came out of the box. When you think about the most used item in your hunting pack, your optics must be number one. There is nothing worse than a swaying pair of binoculars that rub your neck too much, make too much noise, or even end up on the ground. Same goes for your rangefinder, your radio, and even your side arm, which is what we have been testing over the last few months…
This thing is Tactical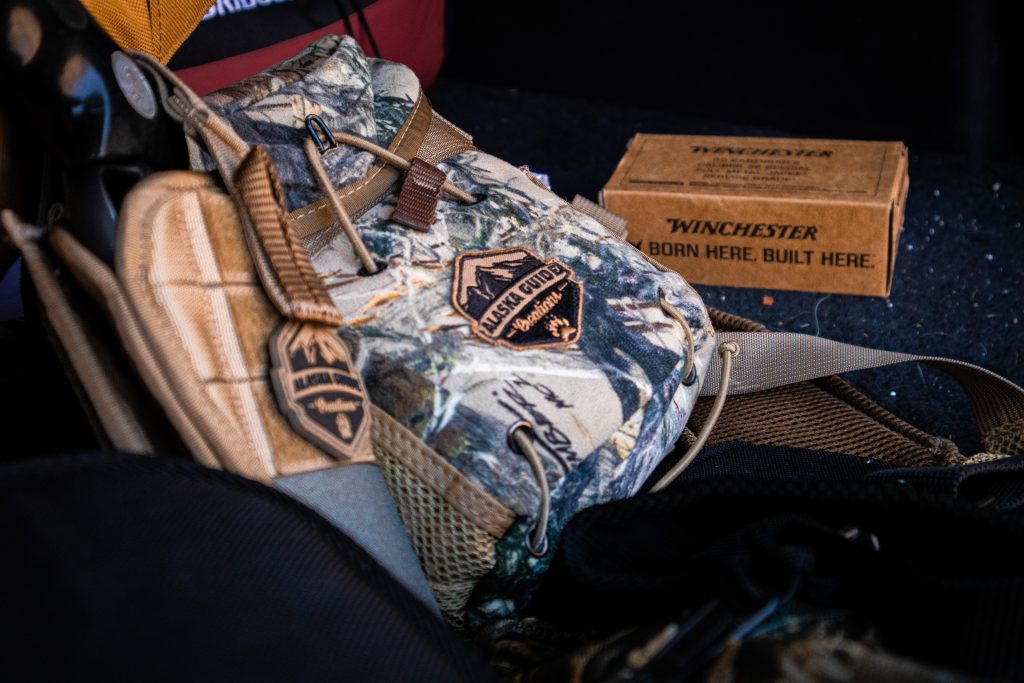 With a tactical advantage in how to "strap-up", this holster can lock on anywhere you need it. With the connection provided, it pairs perfectly with any bino-harness for immediate access at any time. I am equipped with an older version of the Alaska Guide Creations Bino Harness and the Gate Keeper makes it a solid attachment. As a photographer and filmmaker, I use a Lowepro ProTactic BP 450 AW II. With tactical modular exterior attachment capabilities, the Alaska Guide Creations Holster can go anywhere on it.
Anywhere? Well, yeah, anywhere. This gives a crazy advantage to almost any other holster but could prove problematic. I carried my Smith & Wesson .38 Special Revolver in the holster, while attached to my camera backpack for a quick hike. It hung proudly next to my tripod and camera accessories bag, but if there was a moment where I needed to draw quickly, I was out of luck. Of course, I knew better than that and knew that would be an issue from the start. While this is incredibly tactical, that does not mean you should put it just anywhere. Utilize the tactical nature but remember to be smart.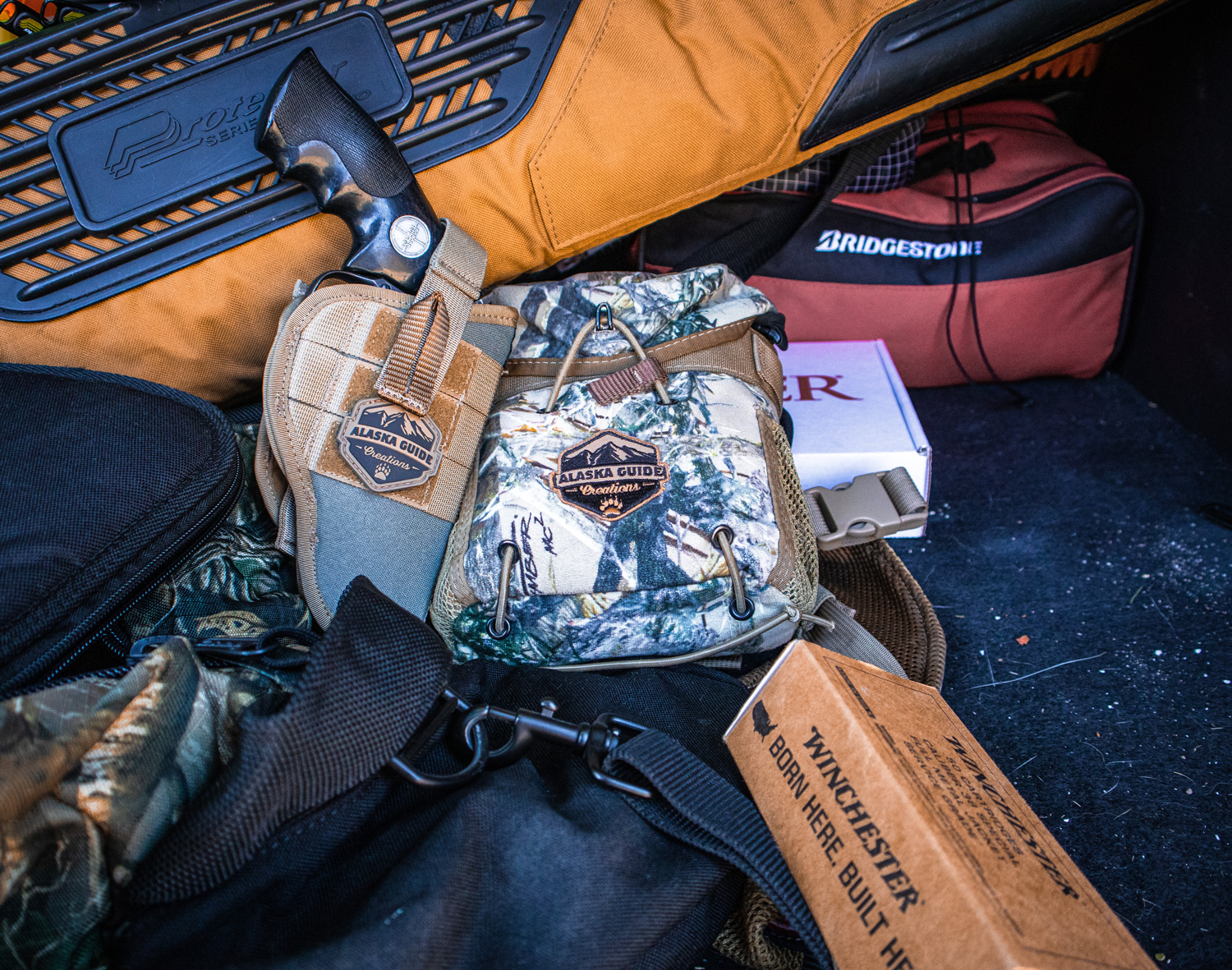 This thing is Versatile
Like any outdoorsman, I have a few different calibers of handguns to choose from. In my testing of the AGC Holster, I used my Ruger EC9s, Smith & Wesson .38 Special Revolver, and my Smith & Wesson Bodyguard .380. A good range of test subjects with a sub-compact, a compact, and a large revolver. All three fit and were totally usable within the AGC Holster. With my 9mm Ruger as my daily carry, I have a molded holster that is always with me. Adding the AGC Holster to my equipment line-up gives me the versatility I need to go from the office to the mountains with a quick switch.
Even better, was how comfortable and solid my .38 Special Revolver fit inside the holster. Saying "I love this gun" is a simple understatement. While it is the perfect mountain sidearm, I have never been able to carry it due to the awkward and uncomfortable generic holsters. The AGC Holster provides a solid, but flexible material that will stay flat on your side and snug on the gun. Even after leaving my large revolver in the holster for multiple days, trading it out for the semi-auto compact pistol was no problem. It was still snug and secure.
This thing is For Real.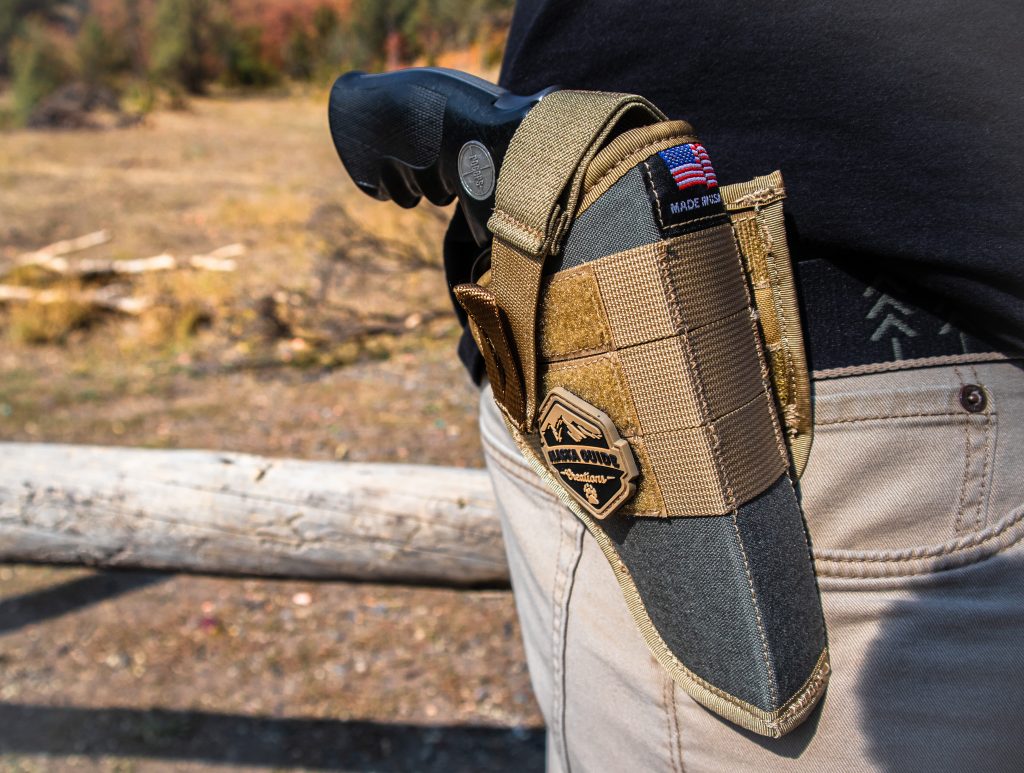 Even with the tactical advantages of being able to be placed literally anywhere and the versatility of multiple caliber and size options, the Alaska Guide Creations Holster is for real. The use cases are endless, and you can be confident that your sidearm is not only protected, but accessible enough to protect you when you need it. However, with all things based in reality, there are the downsides. With any holster, it comes down to preference. What are you doing, where are you going, how are you going there? These are questions that must be asked when considering how to transport your handgun. Should it be molded? What is your personal preference on how to carry? Ultimately, there are hundreds of options and hundreds of different use cases that a holster is needed. What advantage does the Alaska Guide Creations Holster give in the realm of reality? It can be used in the most ways, for the most people, for real.