One of the first things you learn as a mountain hunter is that if your feet aren't happy, you aren't happy. Your boots can literally make or break your whole hunt (or scouting trip, shed hunt, etc). A quality, durable, well-fitting and broken-in boot is an overlooked necessity that should be one of the most sought after items in your gear list. I refuse to let something like poor choice of footwear keep me out of the mountains!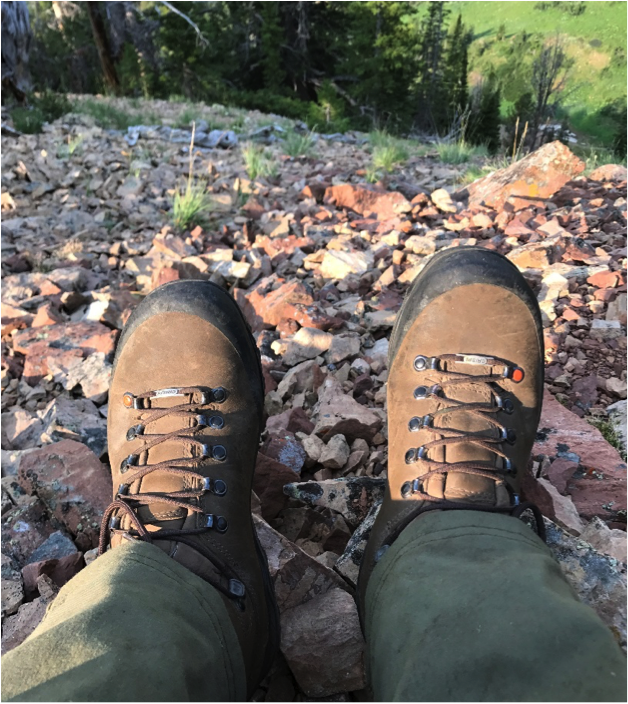 Comfortable feet at 9300'
After wearing and really enjoying the Kennetrek Mountain Extreme 400's for the last 3+ years, they were nearing the end of their useful life and needed to be replaced. As I'd been searching for my next pair of boots, I almost decided to go with the Mountain Extremes again: they're tough boots, waterproof, have great ankle support and I really liked how stiff the soles were since that helped keep my foot locked in place when side-hilling across steep slopes – in other words, if it ain't broke, don't fix it! My biggest issue with them, though, was that they went 10" up my leg. This could make for some hot hiking in the summer and early fall, and this extra heat sometimes led to hot spots on rare occasions, but mostly it just resulted in extremely hot and sweaty feet. Also, it took me quite a while to get them broken in to my liking. Even though I was happy overall with the Mountain Extremes, I decided to branch out and give something else a try. I'd heard a lot of good things about Crispi boots, and when BlackOvis started offering them, I decided to jump on the opportunity to get some. I went with the Nevada Legend GTX Insulated Hunting boot because I wanted my boots to keep my feet warm and dry when it gets cold out, like during a late season hunt, hiking in the snow, or during creek crossings. I like my boots, and just about all my gear, to be functional in as many different environments and situations as possible.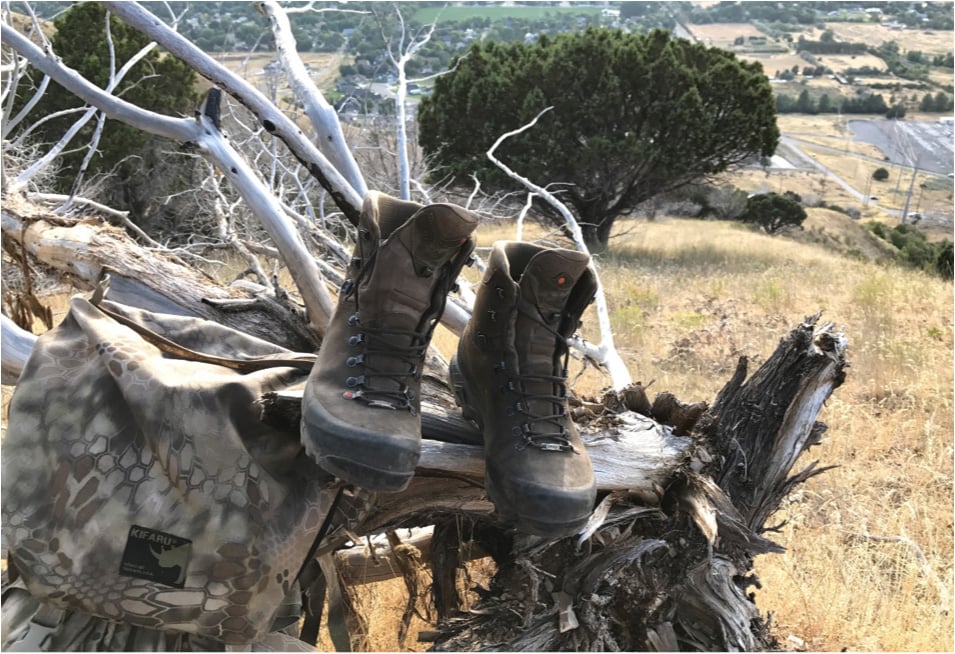 Training hike with 30+ pounds in the pack
When I got the Nevada's and tried them on for the first time, I was impressed by their comfort and support. One of the main things I noticed right out of the box, was that the sole wasn't completely stiff like in the Mountain Extremes. I knew this would be the case though, since the Mountain Extremes have a steel shank in the sole that maintains complete sole stiffness. The Nevada's were not far from feeling completely stiff though; the only part in the sole that had any flex at all was right under the balls of my forefoot. After having hiked in them, I like how they flex just slightly in that area as it has helped me with balance and gaining a good foothold as I'm going up steep hills. I also noticed, even while walking around my living room in them, that I really liked how they only went 8" up my leg versus the Mountain Extremes that went 10" up my calf. You may think 2" may not be a huge deal, but I could tell a noticeable difference in comfort even in my living room.
One of the first things I did, as I do with every new pair of boots I get, is I laced them up tight and started walking up and down the basement stairs. I would highly suggest that you base your initial opinion of a new pair of boots off of how comfortable/uncomfortable the boot (and especially the heel) feels when you put the boots on right out of the box, lace them up, and walk up the stairs. If you feel extreme pressure or discomfort in the heel area, remember that this discomfort will not go away or break in and will always be there with you when you're climbing the mountain.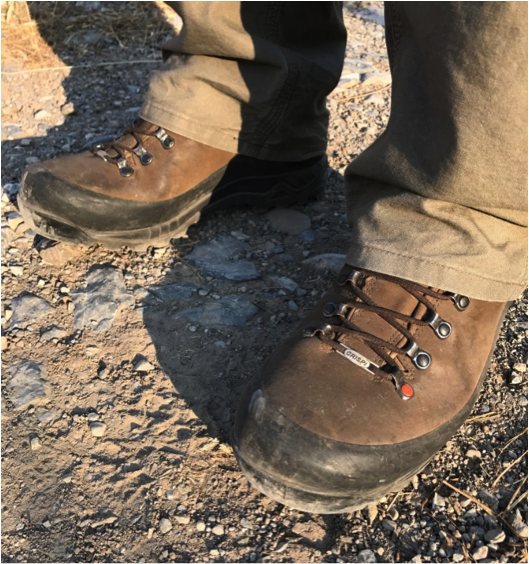 Evening at the archery range
Before buying, I'd heard from the majority of Nevada owners that they ran very true to size, and the general consensus was to order them in whatever size of every day shoe you wear. For me, that would be a 10.5. But, being the skeptic that I am sometimes (since no two peoples opinion of gear is exactly the same), I ordered two pair (10.5 and 11) to try both and see which fit me best. After several hours of walking around the house and doing laps up and down the basement stairs, I decided that the general consensus had been true, that they ran very true to size, and I kept my 10.5s. Thanks to BlackOvis's awesome return policy, I had my money back for the size 11 pair I'd returned within just a few days.
I'd also read and heard that some people had worn the boots on a hunt right after buying them, with no break-in and surprisingly no problems they claimed, but I was not going to be one of those people. I've made it a habit to always break my boots in by wearing them to work and around town before ever wearing them on a mountainside, and I think this has saved me a lot of pain. I wore them around town for a few weeks, and I am a firm believer that this really does help with initial break-in.
The Nevada Legend GTX are insulated with a Gore-Tex lining that Crispi claims is roughly equivalent to 200 grams of Thinsulate insulation, but they say that because of how they apply the insulation it allows the boot to breathe better than it would if it had Thinsulate. In my experience with the boots, I honestly didn't notice any difference between the insulated Nevada's and my old Mountain Extremes which have 400 grams of Thinsulate. This may be due to the fact that the Gore-Tex lining may retain heat a little differently than Thinsulate does, or it could be just me. Everyone's body manages heat slightly differently, but I found the Nevada Legend GTX's to be plenty warm, even when I was sitting on a windy mountainside and it was 40° F while waiting for some bucks to get out of their beds for the day.
On a recent hike I went on in the Nevada's, I was hiking up an incredibly steep hillside while on a scouting trip. I could feel my right heel starting to get a little hot when I got to the base of the last steep hill before camp. By time I made it to camp and took my boots off, I noticed I had a roughly dime-sized blister on the back of my heel that had burst. This is not the boots fault by any means, this was operator error as far as I'm concerned; first off, it was probably in the high 70s when I was hiking in at 4 pm, and I was going up some very steep inclines, so my feet were sweating more than normal, and I had a medium weight merino sock on – not a good combination to keep your feet from perspiring profusely. Also, I came to the realization that I probably hadn't broken them in by wearing them to work and around town as much as I thought I had.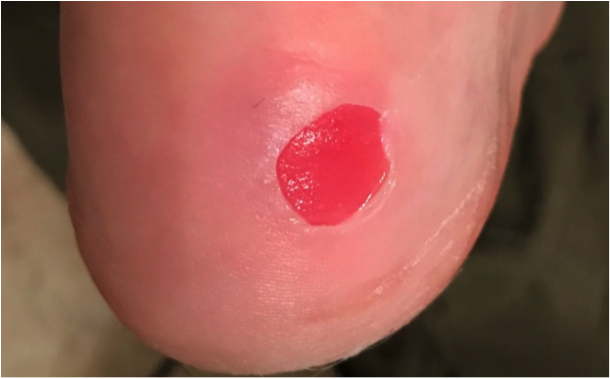 Most claim no blister problems with little to no break-in; I was not one of these people
I'm not recounting my blister experience to deter anyone from getting these boots by any means, but simply to make the point that while some people may have been able to use the boots with no break in time at all and come out just fine, that won't be the case for everyone (case in point: me) since no two sets of feet are exactly the same. This is merely meant to be a reminder to always break your boots in as best you can prior to field use in order to try and mitigate any potential problems. If you don't, you may end up wishing you had.
Waterproofness is also something that is very important in a mountain hunting boot. I was able to test the waterproofness of the Nevada's while doing some stream crossings. I stood in water up to and over my ankles for a few minutes and never felt a drop of water hit my feet. I also took the boots off after one of the stream crossings and checked my socks for any damp spots, but didn't find any.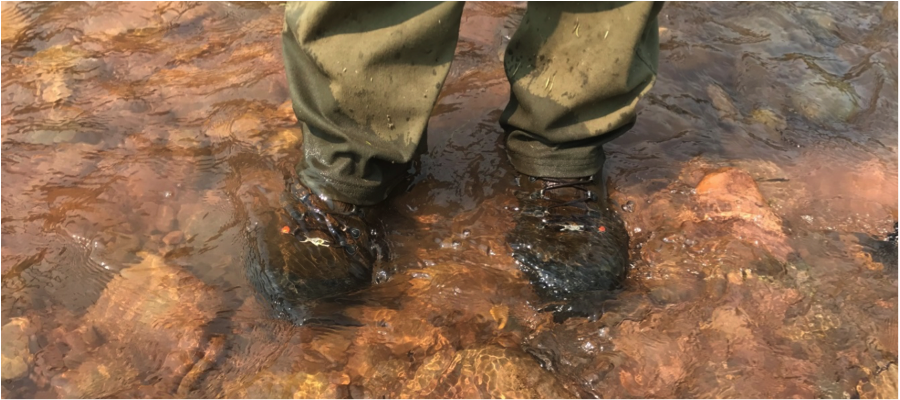 Dry feet
The ankle support that the Nevada's provide is excellent. Crispi's A.B.S.S. (Ankle Bone Support System) is a support system comprised of a combination of materials that contour to your ankle when you lace the boots up. The ankle support system is designed to support your feet in steep terrain by limiting fatigue and providing excellent sprain protection. I can attest to the truth of these claims made by Crispi as I've taken the Nevada's into some incredibly steep terrain and experienced no issues with my ankles, even with a fairly heavy pack on.
If there's one thing that surprised me about the Nevada's, it's that the toe box was on the big side compared to what I'm used to. This hasn't been an issue at all for me, just more of an observation. So if you prefer a small or tight toe box, you'll want to make sure to try the Nevada's on first to make sure it's not too big for your liking.
I'm happy I decided to try the Crispi Nevada Legend GTX Insulated Hunting boots, and I would highly recommend them. If you're in need of new boots, you can't go wrong with these. They offer excellent support, waterproofness and protection from the elements, and they're extremely comfortable. They will definitely help keep your feet happy so that you can continue to enjoy the mountains!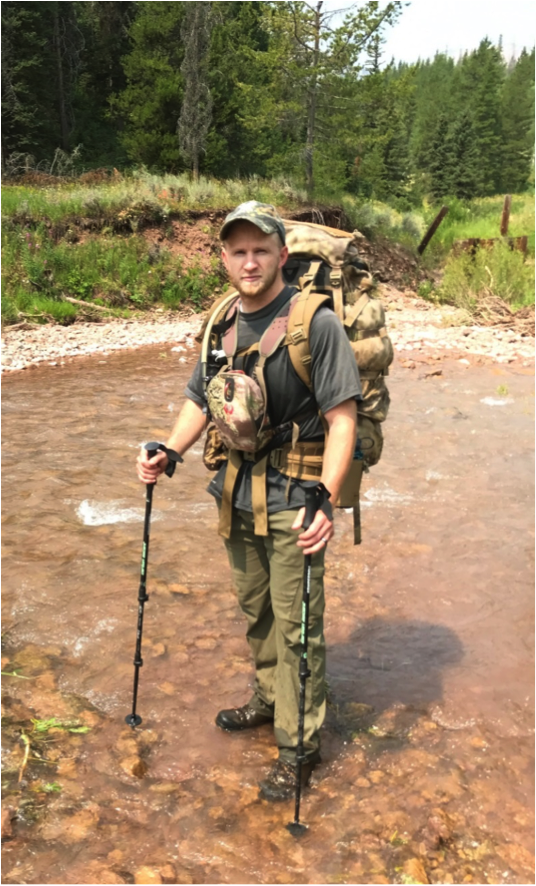 Photo credit: Skyler Arent