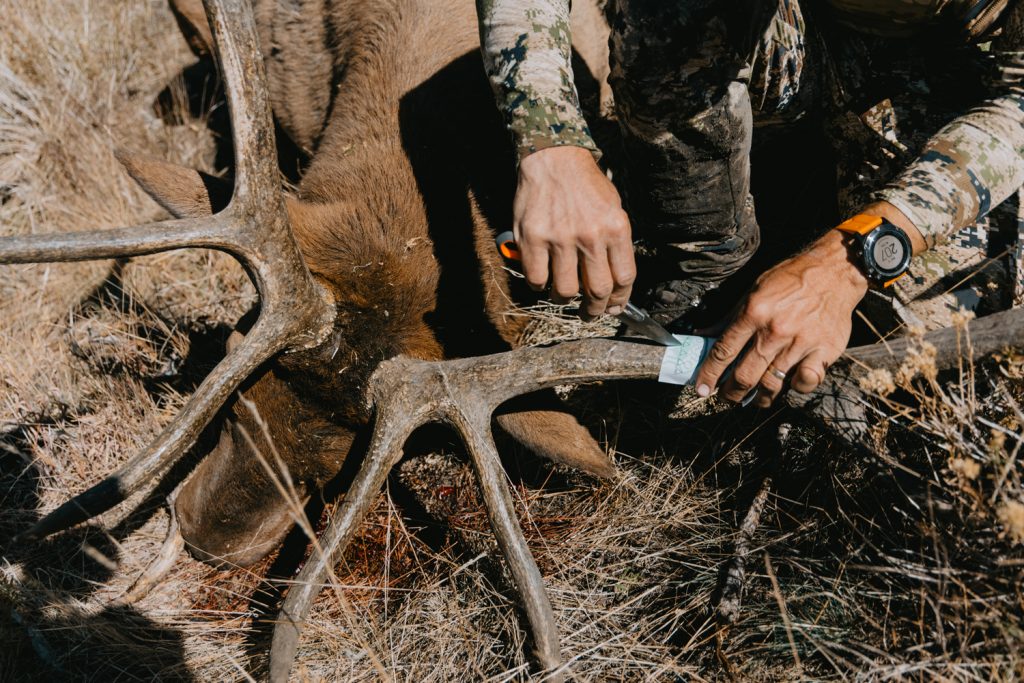 The purpose of a kill kit is to have all the essential items organized in one place to process an animal in the field. This list can vary a bit based on personal preference but in my opinion, there are some critical items that should be considered for every kit. Here is a breakdown of what is in mine.

Marsupial Gear - Zipperoo Pouch
This is a relatively new product on the market and to be honest, this will be my first year using this pouch. My initial impressions are very positive because it is large enough to carry all the contents of my kill kit and has a stretchy orange material that only weighs 1.5 oz for the large. Size of the large is 7.5" x 12".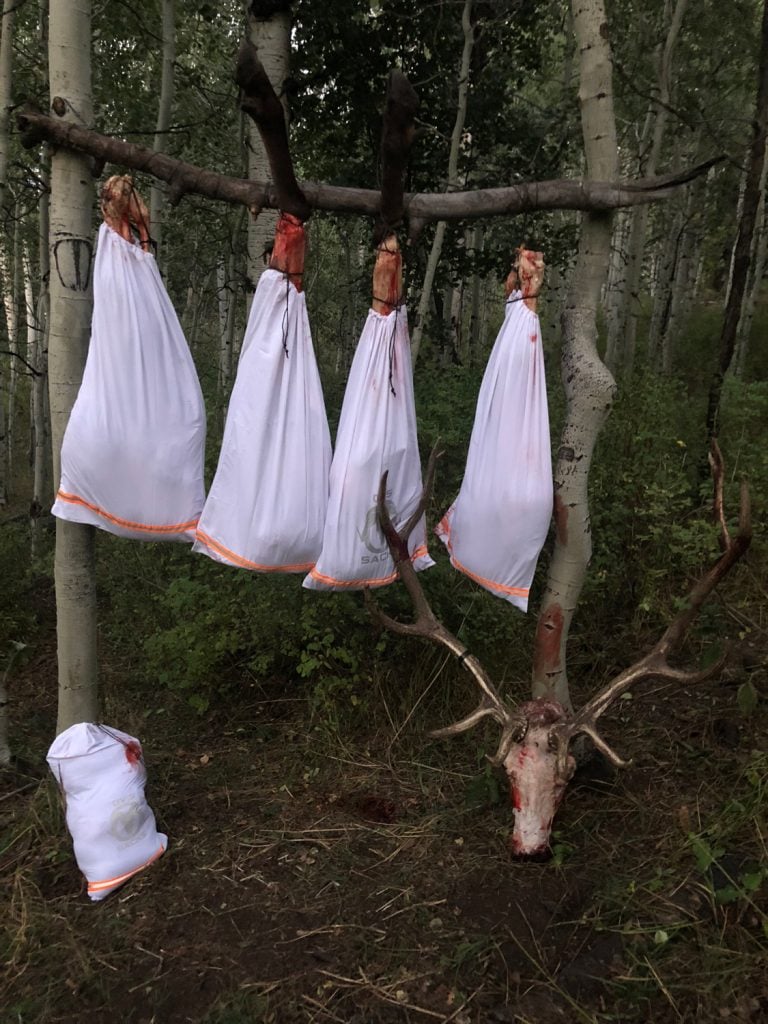 I frequently have friends over to have elk steaks and I'm often asked why my wild game meat taste so good. I'm a firm believer it is a result of how I take care of my animals when I'm in the field. One of the key factors is to have really good meat bags. I've found that Ovis Sacks provide a great balance of durability and breathability. The sooner you can get meat into a clean game back the better that meat will be protected from flies, dirt and other bacteria. Ovis Sacks are lightweight weighing in at 1.65lbs for the XL. Dimensions for the XL quarter bags are 21" X 38". Perfect for elk and even moose quarters. The kit also includes a smaller meat bag, flagging tape, 2 pair of latex gloves, and a plastic sheet to lay meat on once you cut it off the animal.
Fluorescent Reflective Cord
You will need some sort of cordage in your kit to hang quarters, tie a leg off, or construct a meat pole. This cord needs to be lightweight but strong enough to hold an elk quarter. Any kind of nylon paracord should work but I like this 1.8mm cord because it is strong, lightweight and reflective.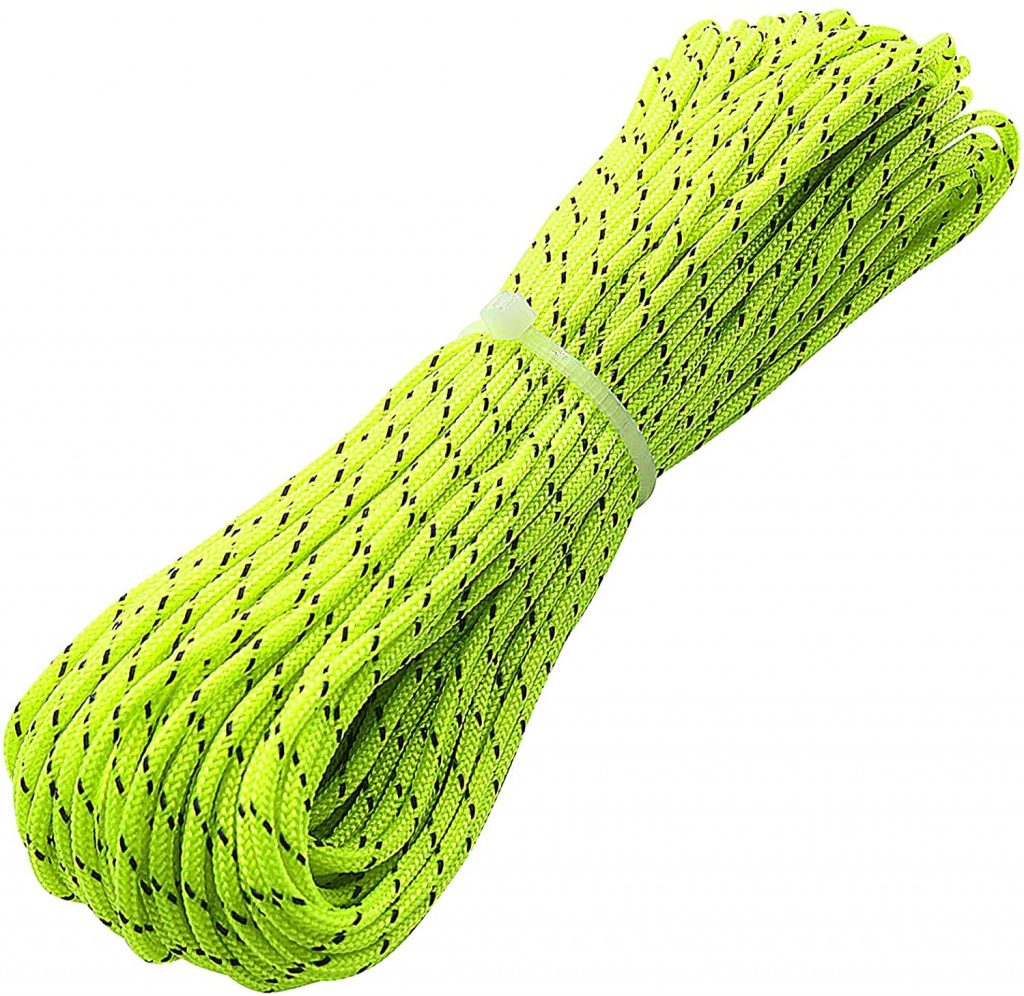 For me a knife is a tool to perform a certain task. Not all knives are created equal and need to be suited for the intended task. I'm a big fan of replaceable blade knives. I always use the gutless method to pull the quarters off the animals I harvest, so for me having a really sharp replaceable knife works great. For the past couple seasons, I have used the Gerber Randy Newberg EBS. This is a heavier duty replaceable blade knife that comes in a quiet carry blade box. This system gives me a few extra blades in the kit in case one accidentally breaks.

For more meticulous work, like caping an animal, I also carry the Havalon Evolve Multi-Tool with replaceable blades. I like this set up because I get the benefit of surgical sharp 60A blades, but it also has pliers/wire cutters, universal bit driver that includes Philips and Flathead bits, gut hook, etc. This gives me several applications using the same tool.
Miscellaneous
Other items I include in my kit.
A pen wrapped with black electrical tape. Purpose is to sign a license and secure the tag to the antlers or carcass.
A couple pair of disposable gloves. Makes the cleanup of your hands a lot easier
Small roll of florescent flagging tape. In case I need to mark a path to my kill site. Make sure you remove the flagging when no longer needed.
Small pack of wet wipes. Great for cleaning up knives and hands once the work is done.
Wyoming Saw. I carry this in my pack if I know I need to cut antlers off the skull.
Large contractor bag. Has multiple uses. Can be opened to lay meat on the ground but I mainly use it to line my pack in the event I can't let the quarters hang overnight and I have to pack out blood-soaked meat.
License and other state specific required documentation– Don't forget it
My total kit weighs in at around 2lbs 4oz. Included in my kit is all the goodies I have mentioned above. You can personalize your kit with other items you deem necessary but for me these items have been key for me to successfully breakdown an animal in the field.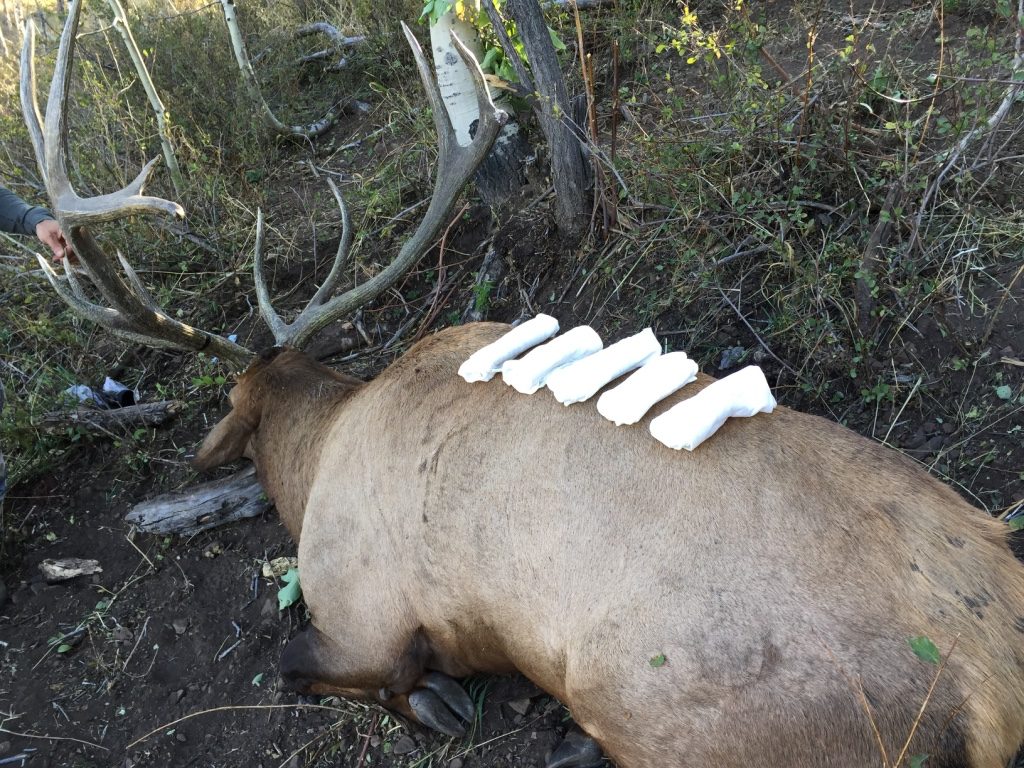 This is a topic for another article but the key for tasty meat in your freezer is to get the animal quartered out quickly to start the cooling process. I remove any hide and get the meat in game bags as quickly as possible and if conditions permit, I like to hang the meat on a meat pole overnight before transporting in a pack. Get your meat to a cool dry environment as soon as possible.

The hunts are upon us. Don't forget your kill kit!
Mark Skousen