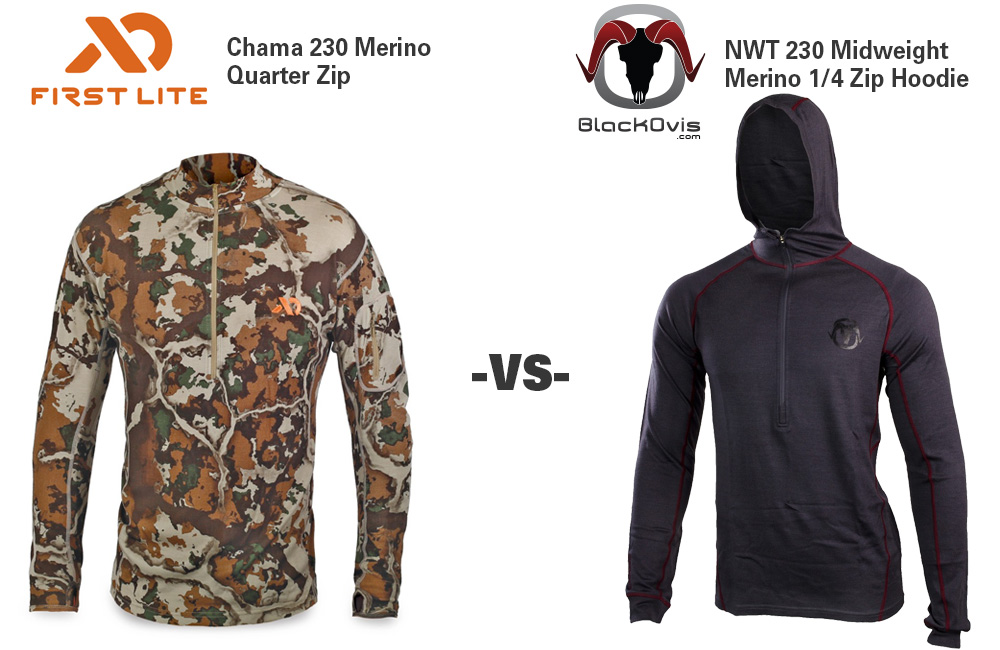 If you love spending time outdoors, I'm sure you've come to realize how vital your base layers are to the quality of your overall experience. Base layers provide warmth and comfort, and a good base layer is probably one of the most underrated pieces of equipment we have at our disposal as outdoorsmen. When the guys at BlackOvis mentioned to me that they were interested in comparing their BlackOvis brand of base layer with one of the industry leaders in merino base layers - First Lite - I was all over the idea. I don't think you can have enough base layers, because as the temps drop you can just throw one on over top of the other and layer to keep warm. From late October on, if I'm out in the field, I almost always have at least 2 light to midweight base layers on.
What base layer you use may depend on a variety of criteria such as comfort, price, durability, value for the money paid, brand loyalty, appearance, even peer/celebrity recommendation, or possibly a combination of several of these factors. To me, the most critical factors are comfort, durability, and value for the money paid, but not necessarily in that order. Now some people may think that the criteria of price and value for the money paid are the same thing, but I would argue that price is strictly the dollar amount you have to shell out, regardless of how much use you get out of it, while value for the money paid refers to price AND how long it stays functionally usable. A base layer piece may cost $100+ and last through several seasons of hard use; or on the other hand you may find a piece for $40 that only holds up for one season (or possibly vice versa). Even though the more expensive one carries with it a higher price tag, you also got more use out of it since you wore it for multiple seasons, whereas the cheaper one did cost less, but also performed for a much shorter time frame. In this case, I would say that the more expensive piece provides better value for the money paid, even though its price was higher. Of course, it's completely possible to find pieces of clothing and gear that are the best of both: low price and good value for the money paid. I know I have a base layer set that definitely fits that criteria.
Out of the box, my first impression of the two pieces was that they were extremely comfortable and I honestly thought that either would work great as a next-to-skin layer. I was anticipating both to feel a little thicker to me than they did since they're listed on their manufacturers' websites as "midweight" layers, but I think this was just my pre-conception of what they'd be like. As the pictures at the top indicate, I got a 1/4 zip hooded version of the BlackOvis NWT 230 top, and a 1/4 zip hoodless version of the First Lite Chama 230. This was strictly due to available inventory at the time I made the purchase as I wanted to get my hands on them ASAP since hunting season was already in full swing at the time.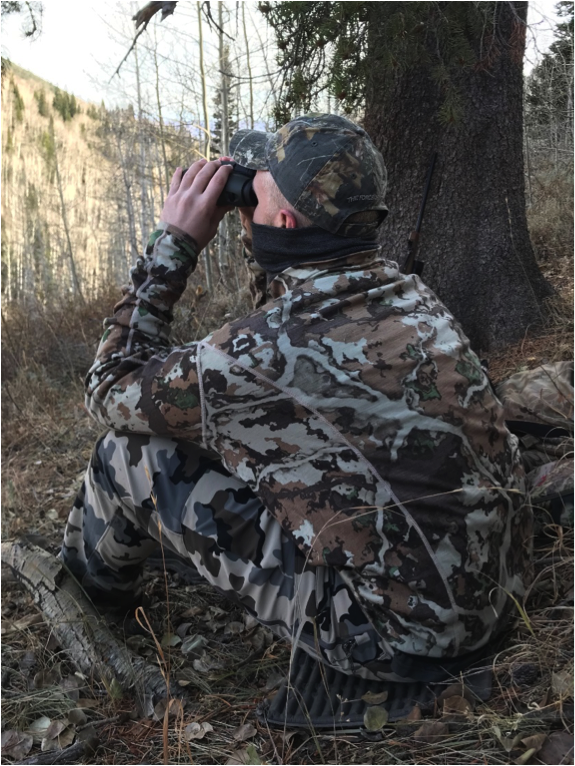 I was able to put in a lot of time in in the field using both pieces, individually at times as well as used together at other times. Overall, I was impressed by both pieces, but also noticed some things that I thought would be helpful to pass on to others who may be trying to decide between the two. While both are made of 100% merino wool, the un-hooded Chama, listed as weighing 10.2 ounces (size large) compared to the BlackOvis NWT at 10 ounces (size large), definitely feels thicker to the touch and seemed to keep me a little warmer than the NWT when I wore each piece by itself. So why are they listed in the same class of 230 midweight base layers? It's because the number 230 is a metric measurement of the weight of the fabric itself, and is measured in grams per square meter (gsm). This means if you took a square piece of fabric one meter wide by one meter tall and weighed it, it should weigh 230 grams. Both have a similar diameter of wool fiber, the Chama claiming 18.5 micrometers or microns, and the NWT claims 19.6 microns. Both pieces also seemed to resist odor well. I sweat a lot when I'm hiking hard, and I did notice a faint wet wool smell sometimes after hiking hard with a pack on and my back was soaked. I've also used cheap wool from discount clothing stores in the past and I can attest to the fact that merino wool in general is much better at odor management than normal wool, and both pieces did help manage the odor of a sweaty hiker such as myself pretty well.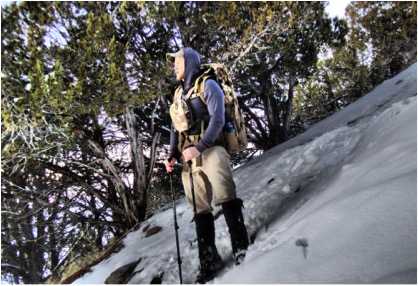 One thing I did notice about the BlackOvis NWT top is that it was a much more athletic fit than the Chama. That's not to say the Chama was baggy by any means, but the BlackOvis NWT top is definitely the more form-fitting top of the two. Whenever I wore the two pieces together, I would always put on the NWT top first, then the Chama over top. Another thing I noticed was that the sleeves were very form-fitting on the NWT top. I don't have huge guns for arms, and the sleeves were still snug on me.
A feature of the Chama that proved beneficial more than a couple times was the thumb loops, along with the fact that the sleeves were cut just a tad long. The longer sleeves made it so that if you put your thumb through the loop you could cover your hands up over the knuckles to help prevent them from getting overly cold and stiff when the temps drop. The slight drawback to this feature was that when you don't have your thumbs through the loops, it can feel like there's a lot of extra material in the sleeve area and they may seem a tad baggy.
Another added feature of the Chama was the small zippered pocket on the left arm between the shoulder and elbow. I personally don't seem to ever use pockets in base layers that are in this location, but that's not to say they may not be useful to some people.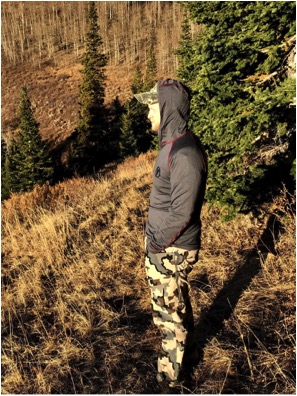 I can't give any feedback on the hood on the First Lite Chama since the version I got didn't have a hood (again, simply because there wasn't one in inventory at the time so I went with the hoodless option), but I did notice a few qualities of the BlackOvis NWT hood that stuck out to me. First off, the hood fit just like the rest of the top: form-fitting without room for much underneath. But I liked that it wasn't overly baggy and was just deep enough to accommodate my head comfortably without obstructing my field of view at all. I was fine to wear a hat underneath, and a light beanie didn't break the bank either, but I wouldn't wear any kind of thick beanie in conjunction with the hood on the NWT. Also, I thought the zipper was very well thought out in that it has a little cover that it slides underneath when you zip it all the way up so it can't flip up and hit your face at all. The Chama didn't have this little zipper nook at the top; not a huge deal at all, but hey this is a gear review! When zipped all the way up, the neck portion of the NWT top hugs your neck and the top of the zipper landed on the front of my chin, which actually helped to lock the hood in place. This allowed me to turn my head from side-to-side while the hood stayed locked in place on my head and shifted with me rather than allowing my head to turn inside the hood and have my field of view obstructed by the material on whichever side I was turning to. I liked how the hood fit on the NWT top, I thought it was a very ergonomic and functional hood.
Both tops seem to be holding up very well so far. I haven't noticed any pilling at all in either top and I hike a lot with a pack on, which has led to pilling in other garments I've hiked in. Both tops have also been run through the wash at least 4-5 times (I typically don't wash them after each time out) and I haven't noticed any stitching coming undone or other undesired wear.
So which top would I choose? Both really did work well when worn together. But if I had to choose one, my decision would most likely be dictated by 'what type of conditions do I expect to encounter most?' If you're expecting warmer, dryer conditions typical of archery season dates, or if you intend on being fairly active and not doing too much sitting, I'd recommend the BlackOvis NWT 230 top. If you're planning to hunt later in the season and are expecting chilly mornings and evenings and/or more stationary time, then my recommendation would be the First Lite Chama 230 top. Also, consider how much you sweat when hiking, and also how warm your body typically runs. If you sweat a lot and get hot easily, go with the BlackOvis NWT 230; if you run cooler then go with the First Lite Chama 230. I really don't think there is a wrong decision to be made if you're deciding between these two tops, but there could be a better choice depending on conditions and climate. Also, one thing that the BlackOvis NWT top definitely has going for it is its price. On Blackovis.com, the NWT 230 is listed at $79, and on firstlite.com the Chama 230 retails for $120.00 (and that's for the unhooded version; the hooded version is $135.00). While not always the top criteria when it comes to gear choices, let's face it, price definitely plays a big factor.

Whichever top you choose to go with, rest assured that your money will be well spent on a comfortable and durable layer that won't disappoint.