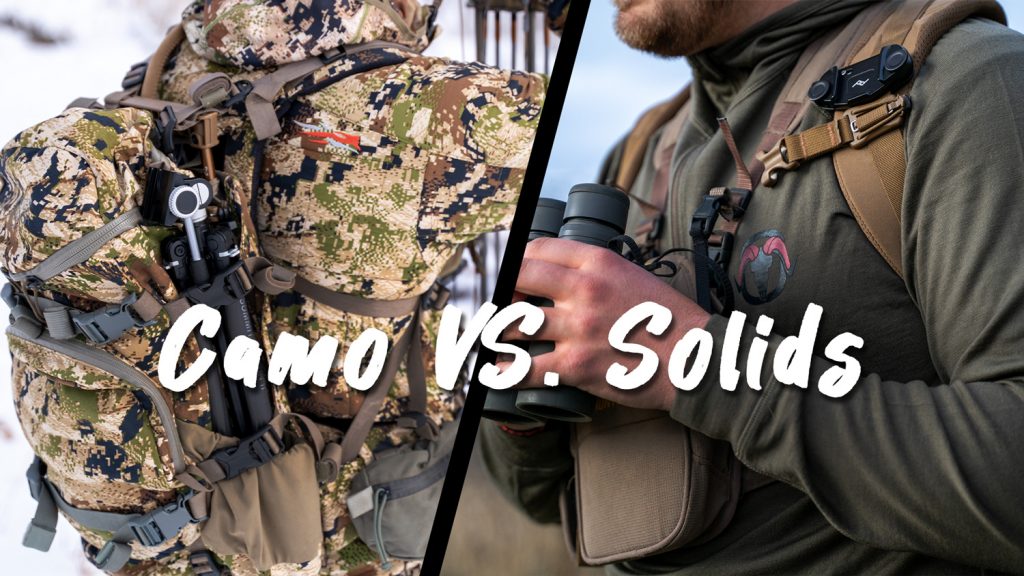 Is camo really necessary to harvest animals? This is a question I have had running through my mind over the last couple of years. Recently I have noticed that more and more hunters, including myself, wear solid earth tones and camo apparel. I have hunted in full camo, full solid earth tones, a mix of camo and solid colors through various types of hunts and environments. Throughout this article we will look at historical data, personal stories and the science behind camouflage.

What has History shown us?
Historically our grandfathers and great grandfathers never wore camo and were very successful in the field. My grandpa, Frank Cooley, is a perfect example of never wearing camo. He would hunt in blue jeans and red or solid orange shirts and jackets. He killed more animals than I can even dream of. Generally, three items will greatly decrease how hidden you will be from animals. First is movement, second is your human silhouette and third is the human face. These three factors will greatly increase or decrease your hunting success and camouflage is a modern way of minimizing these three factors.
18 yards away
I have hunted in full camo and full solids and everywhere in between. Here are some personal stories of the different combination of patterns I have used and how successful they were.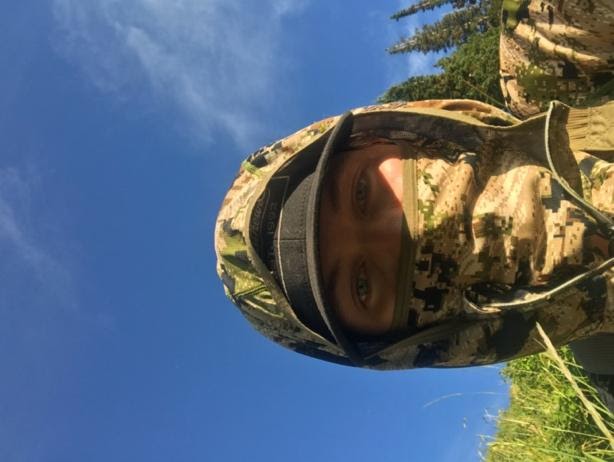 In 2019, on a high-country archery mule deer hunt I was wearing earth tone pants and a Sitka subalpine long sleeve hoody. I spotted a bedded buck across a basin and started my stalk. Over the next 1.5 hours I worked my way to get within 40 yards from the buck in an open meadow with waist high bushes. The buck was on high alert and looked my direction multiple times. However, he continued feeding my way and ended up 18 yards away. I drew my bow when his head was down and he never knew I was there until I released my arrow. I was blown away that the buck did not spook and fed right to me despite being high strung. I contributed this buck to the camo top that I was wearing. The tall bushes hid my lower body and the solid color pants and the Sitka top hid my silhouette and my face, even at under 20 yards.

A year later during the 2020 season, I found myself 95 yards away from two mature bucks on a wide-open hillside with 6-12 inch tall grass. At this time, I was wearing a complete Sitka subalpine outfit. Over the next 30 minutes I crawled to within 50 yards of the two bucks' and was able to draw my bow with both deer looking at me to try and figure out what I was. Even though both saw me neither buck spooked. I did not harvest either buck but it was an eye-opening experience to test camo and see the effectiveness of the subalpine pattern.

Camouflage Science
The entire goal of camouflage patterns is to conceal a person from animals that we are hunting. Dr. Jay Neitz, an animal vision expert at the University of Washington Medical School did extensive research with Sitka on studying ungulate vision. Dr. Jay Neitz and Sitka came out with the following ungulate visual data.

They said "Understanding ungulate visual processes means camouflage must work in two ways: First, it must avoid stimulating the ambient system. Essentially, that means breaking up the hunter's 3-dimensional shape, not just the silhouette, which must be achieved with an effective macro pattern. Second, if the hunter is detected, the camouflage must prevent or delay recognition by making the hunter appear to have a completely different texture, which is where the micro pattern comes into play." Camouflage is created to give you an extra edge in the difficult pursuit of hunting.

Type of Hunting
The need for full camouflage depends greatly on the type of hunting that you will be doing. I like to break based on the type of weapons, the differences in terrain, and the different seasons. Generally, I will always wear full camo for archery and muzzleloader and mixed camo and solids for rifle hunts. I make this decision based on the distance I will be from the animal I am hunting. If I will be 200 yards or less, I will wear full camo. I will be 200 yards or more I will wear a mix of camo and solids. Although there are exceptions, I generally follow these guidelines. In addition to these guidelines, it is important that a hunter obey the rules/laws in regards to clothing and wear the required hunter orange, etc. For example, in an open terrain above tree line rifle hunt, I would wear full camo along with a hunter orange vest and hat.

If we think about our grandparents' style of hunting, they mostly hunted with rifles. As I mentioned before they wore solid colors. This included red shirts/jackets and hats. Once hunter orange became available and required they switched to it.. The type of hunting and development and improvement of camo have changed the way hunters dress when pursuing big game. As archery became more popular in the 60's and 70's a lot of camo was based on military patterns, or was military surplus.
What pattern to choose?
Choosing the right camouflage pattern can be difficult, but most brands offer a variety of patterns depending on the terrain that you will be hunting. For example, Sitka offers a pattern specifically for tree stand hunters (Elevated II), rocky terrain above the timber line (Open Country) and tree-covered and vegetated terrain (Subalpine). I personally use subalpine because of its versatility and the terrain that I typically hunt it. I can use subalpine from early archery hunts to late season rifle hunts.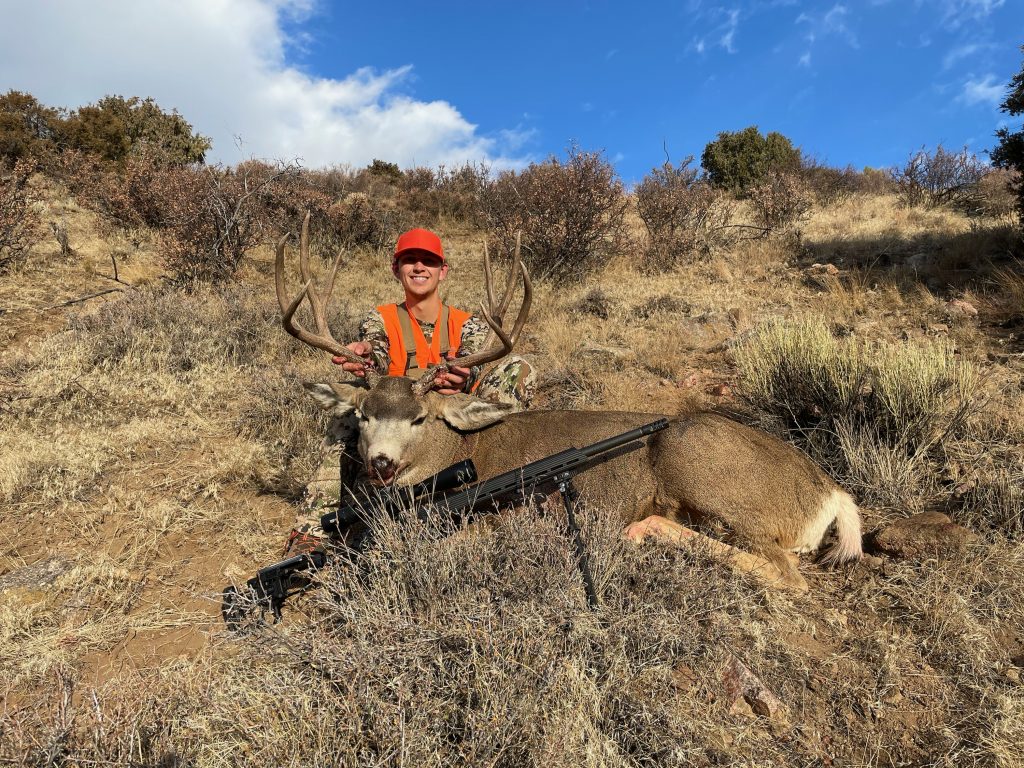 Dylan Cooley, Colorado 2020

Overview
In conclusion, I believe that camouflage is not 100% necessary, but it can definitely make a difference. At a minimum if you are archery hunting you need a camouflage top and something to cover your face. This will eliminate your silhouette and obscure your face so that it doesn't stand out. You can get away with solid pants, like I did, if the terrain you are hunting has high brush or grass. In my opinion I like to take advantage of anything that will give me any extra edge. With how much money you spend on tags, gear, travel and time for a hunt you do not want to ruin an opportunity on a deer because they spotted you. Give yourself every advantage that you can.