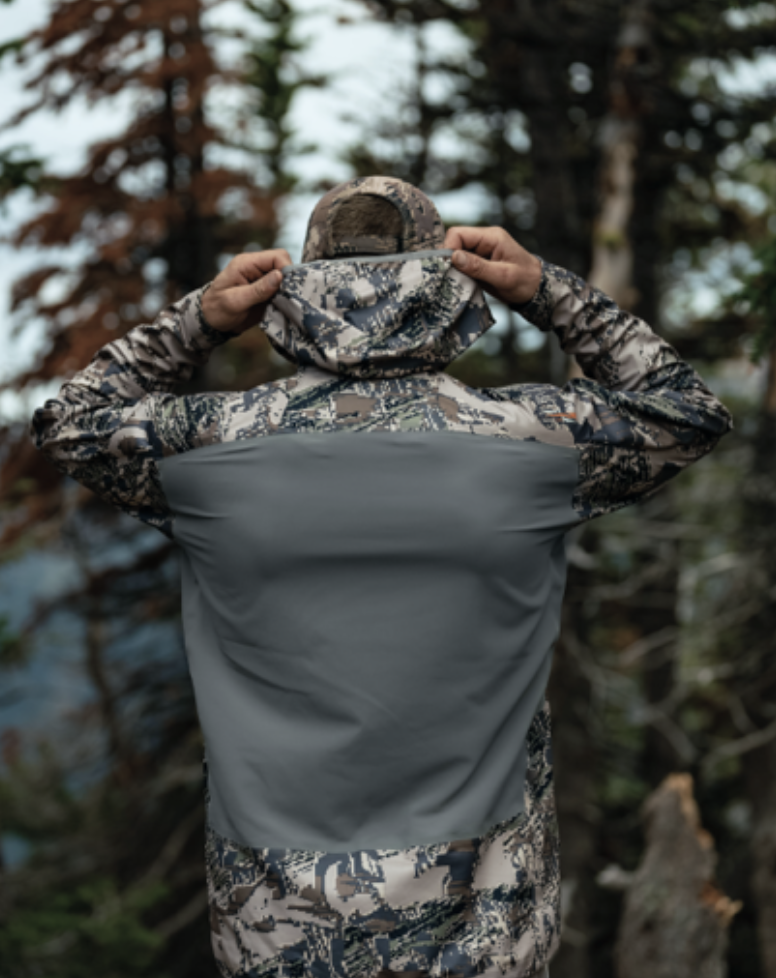 I have been running Sitka clothing for over 10 years now, and one of the many attributes I respect about Sitka Gear is there seems to be a significant amount of thought and testing that goes into new gear before it is ever introduced to the market. I've found them to be very innovative and thought leaders in the industry. The recent introduction to the Sitka Mountain Evo Jacket is no different. After having put the Evo Jacket through some initial testing, I was continually thinking, oh this is why they did this or did that. So far it has been brilliant; so, kudos to John Barklow and the rest of the Big Game development team for thinking outside the box and developing a piece of technical gear for all types of outdoor enthusiast.
Sitka Mountain Evo Jacket Review
The tag line for the recently introduced Sitka Mountain Evo jacket is "Windproof where you need it, breathability where you don't." Many of us have run the traditional Mountain Jacket for years and it quickly became one of my favorite gear items because of its amazing WINDSTOPPER technology. When I received the Evo Jacket to test, I did notice some cosmetic differences to my trusted mountain jack but similar in a lot of ways. My initial impression was Why? Here is the WHY statement from Sitka:
"We needed a solution that would shield us from heat-sapping wind while offering enough breathability to keep us dry and comfortable throughout active pursuits—essentially, we needed a layer we could put on in the morning and not think about for the rest of the day. So, we made the Mountain Evo 100% windproof in key areas such as the chest and hood to prevent the wind from sapping precious core warmth and energy. Meanwhile, carefully mapped 4-way stretch panels at the back and underarms let you dump heat quickly and move without restriction. By strategically combining these elements, we created a jacket that maintains comfort through changing weather conditions and varying activity levels—a jacket you never have to take off."
Features of the Sitka Mountain Evo Jacket
WINDSTOPPER - 100% wind protection while remaining light and breathable
Body-mapped 4-way stretch panels to maximize breathability and mobility in key areas
Ultrasonic welded seams minimize weight and bulk
Contoured hood offers wind protection and concealment without inhibiting peripheral vision
Zippered hand and chest pockets
Weight 13.6 oz
In the Field Application
I recently tested the Evo jacket on a spring bear hunt in Idaho. I was using this jacket to pedal about 5 miles on a bike from a base camp to my hunting area. What I love about this jacket is that the front panel protects you from the wind and chill, but the back breathes well, especially when you are hauling a pack. I never got uncomfortably hot with the Evo jacket over the top of a lightweight synthetic or merino base layer. Temperatures ranged from upper 30's to low 70's in the heat of the day. Obviously, I would remove the jacket during the day, but I felt like this jacket did a very nice job regulating heat over a wide temperature range. While not in use, it created a nice pillow for a quick afternoon nap.
My test jacket came in SubAlpine camo. SA is my preferred camo pattern, but for spring bear hunting, I think I prefer a solid as there were so many ticks, I couldn't see them crawling up me as well on the camo pattern. The Evo jacket comes in Optifade SubAlpine, Optifade Open Country, and Sitka Black.
This jacket will definitely be in my layering system this fall. Pairing it with the Sitka Ambient Hoody is going to be literally a killer combination.