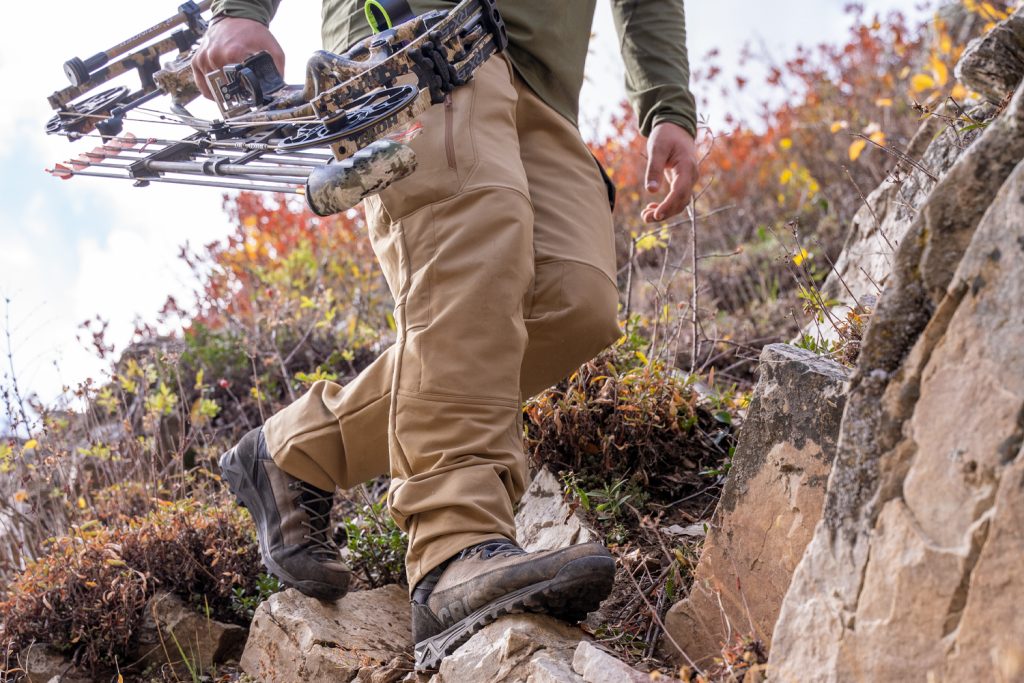 I love the off season because it's a chance for me to test gear in preparation for next year's hunting season.  For the past several months, I have been testing three, high-quality, midweight pants.

Sitka Mountain Pant – $199
King's XKG Preacher Pant - $169
As part of my review for each pant, I've listed a general description from the manufacturer's website including their highlighted specs. As well as a summary of my initial impressions of fit, function, durability, noise and intended application.

Sitka Mountain Pant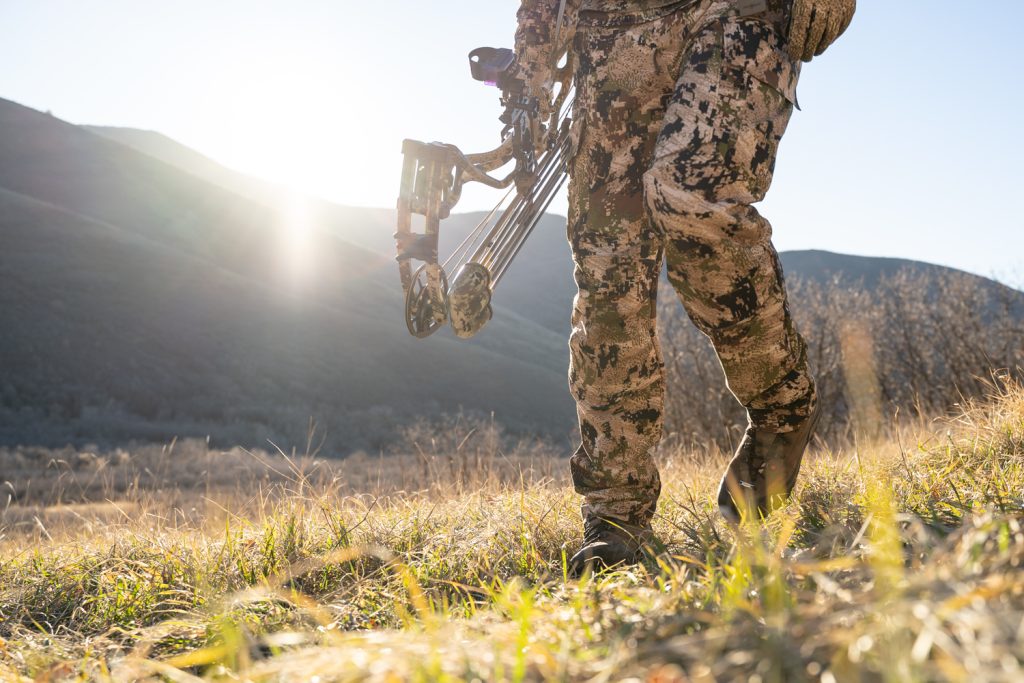 The Mountain pant is hands down the swiss knife of big game pants.  Designed to deliver the highest performance in the widest range of conditions from chasing bugles to the last day of the rifle season.  As the name implies, the Mountain Pant will be your go-to across multiple seasons and pursuits.  Mid-season hunting is known for its constantly changing environmental conditions, and it's difficult to find a pant that can perform at a high level within such unpredictability.  Sitka sought to deliver a versatile and fully-featured, mid-season hunting pant that will perform in these varied situations.  Sitka built the Mountain pant to be durable, breathable and harder-working so that when you're trudging uphill, you can focus on the hunt and not your pants.  

Weight: 26.2 oz/ size: L
Fabric: 4-Way Stretch-Woven Polyester
Durable Water Repellent finish resists light precipitation and prevents the face fabric from wetting out.
Articulate Fit: Delivers a maximum range of motion with minimal bulk
Removable Knee Pads: Removable knee pads offer additional protection whether you're scambling through talus in the Northern Rockies, picking your way through cactus in the Sonoran Desert, or field dressing an animal.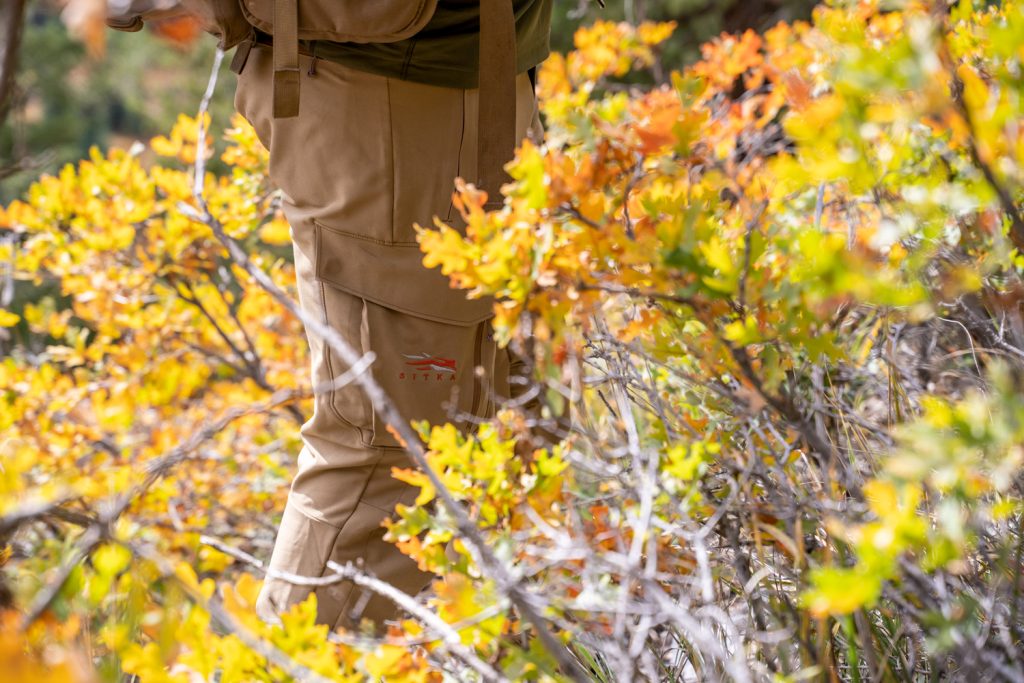 Summary:
The Sitka Mountain pant is arguably one of my favorite multi-season hunting pants.  I'm 5'10" with a 32" waste and the 32T is a perfect fit.  The material has a nice DWR and it really does repel light rain and water on vegetation.  In addition, it is very durable but the fabric also very quiet.  I'm not a knee pad guy so I just took those out but I'm sure they would come in handy if you were crawling around on your knees a lot.  The pants are a little on the heavy side and are too warm for me before about mid-September.  But if I had to choose just one pair of pants to hunt elk in during September, I would take the Sitka Mountain pant. And they come in three cool colors as well; sub-alpine, open country and a brown solid.  

BlackOvis Desolation Pant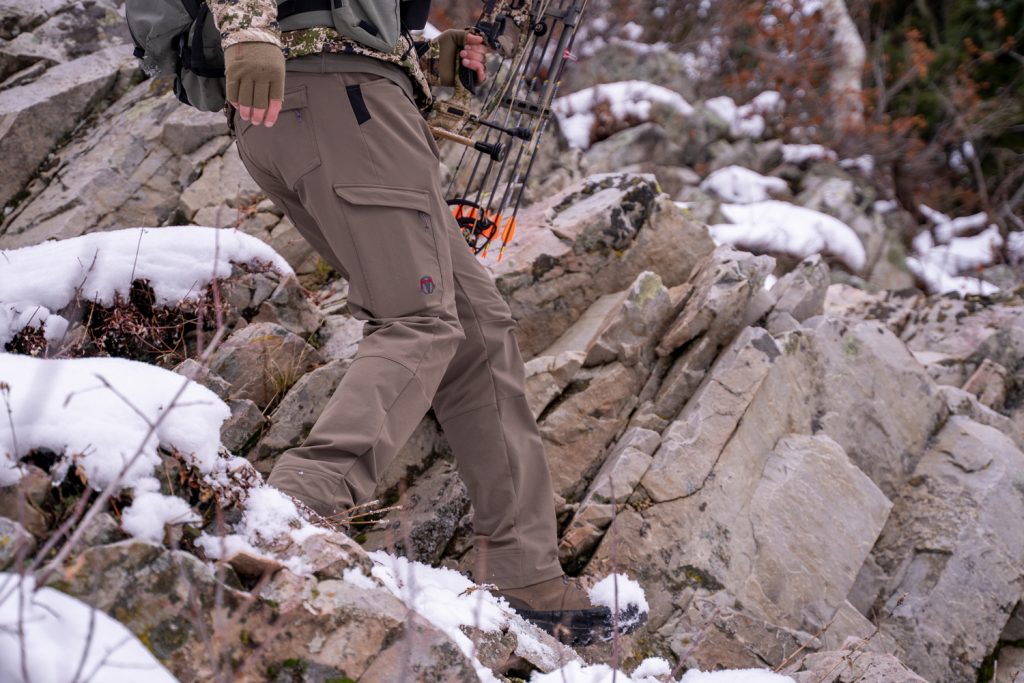 The BlackOvis Desolation Midweight Pant is a true mid-season pant for Fall hunts. Its extreme durable polyester fabric is great for busting through thick timber and brush during those long days on the mountain. This pant was designed for rifle type weathered hunts where the temperature doesn't get above 55-60 degrees during the day and is still comfortable down into the 30s without putting on a base layer. Because of the added durability, it's a little on the noisy side and might not be the best for stalking in close on a bow hunt.  

There's plenty of room for organization with its ample cargo pockets on each leg designed to fit your snacks, headlamp, gloves or anything else you might take on a hike without your pack. Additional features on the BlackOvis Desolation Pant are the mesh hand pockets designed to breath during the hotter day temps, reinforced leg cuffs to keep your pants in good condition for years to come, and both back pockets and cargo pockets come with zippers to ensure nothing falls out during your hikes.

90% Poly/ 10% Spandex
Zippered Cargo Pockets
Mesh hand pockets
Zippered back pockets
6 total pockets
Articulated Knees
Reinforced cuffs on the legs
Designed for Fall hunts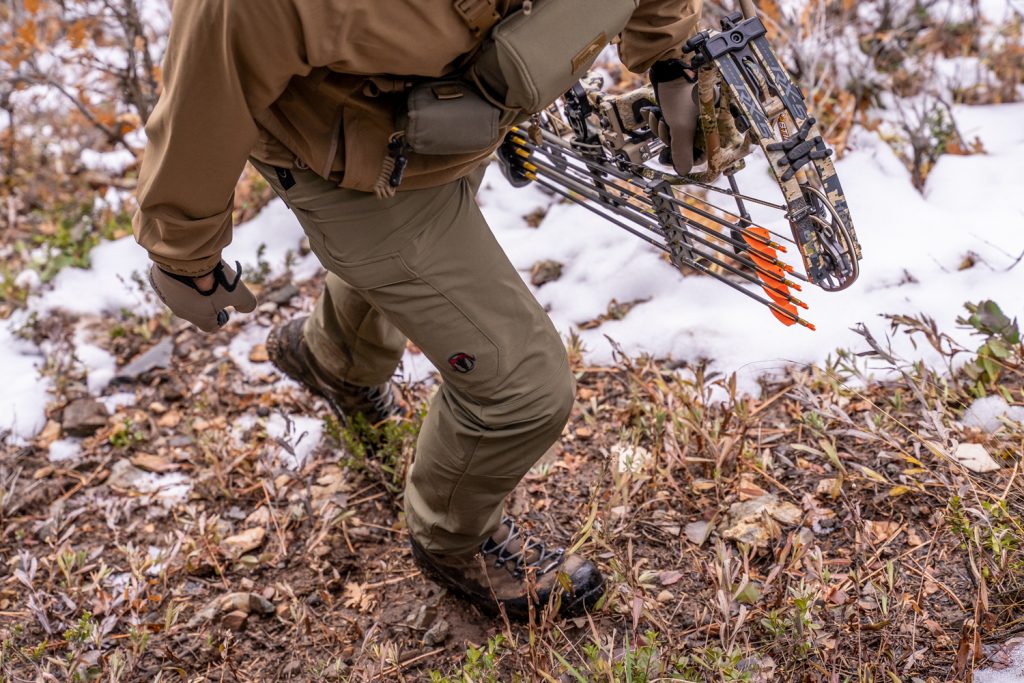 Summary:
Based on my experience and praise with two of the lighter weight versions of the BlackOvis pants, I decided to give the Desolation pant a try.  This pant has a really nice athletic fit.  There is plenty of room in the thigh and the 32 fits me really well.  It might be a little more snug in the waste than the mountain pant but definitely the right size.  These Polyester pants are bullet proof.  They repel water really well and I've hiked around a lot in the snow and nothing sticks to these pants.  But I agree with the description BlackOvis put on their website.  These things are noisy and thus I could only recommend them for hunting situations where noisy pants aren't an issue.  These have been great to tromp around in the snow with a good set of gaiters.  I have used them a dozen times snowshoeing in sub 10-degree weather and there is no need for a base layer.  These are good to go for cold weather hiking.  At the price point, I think everyone should have a pair of these pants for late or later season outdoor activities.  
Kings XKG Preacher Pant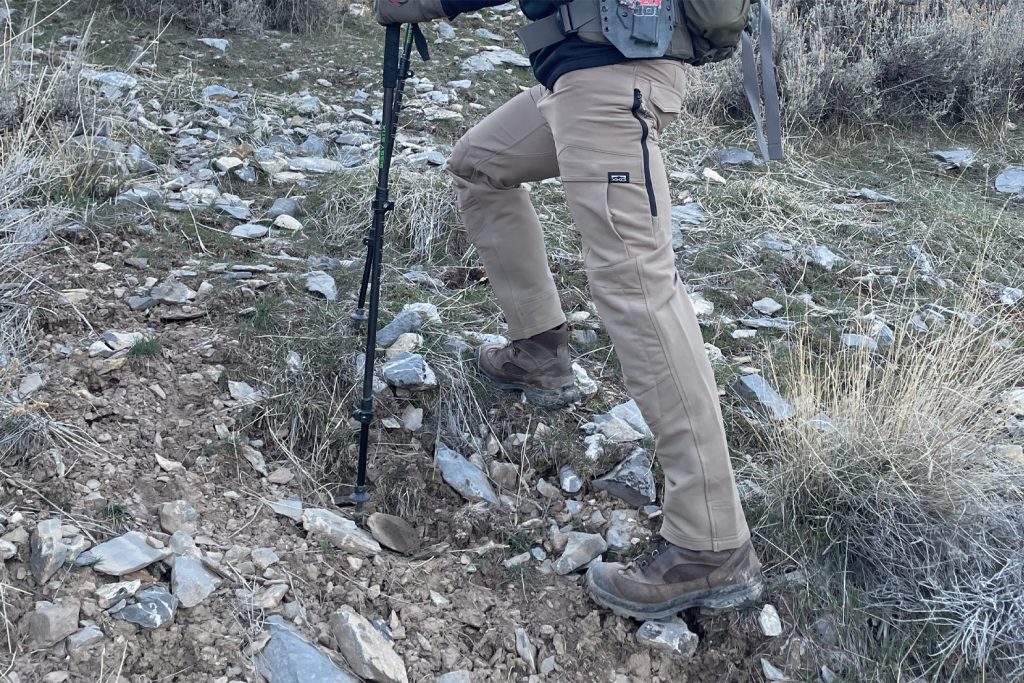 New improved design with lighter, quiet four-way stretch fabric. Modeled for the active hunter, the XKG Preacher Pant includes hip vents to regulate body temperature, six easily accessible pockets, and articulated knees with removable knee pads. You'll conquer rugged stalks over sharp rocks and brush, getting you even closer for the shot.
Weight: 24 oz with knee pad/size - Large
Polygiene Odor Control Technology
4-Way Stretch Polyester
Removable Knee Pads
275 Grams Fabric Weight
Grip Strip Waistband
Articulated Knees
Two Vented Side Zippers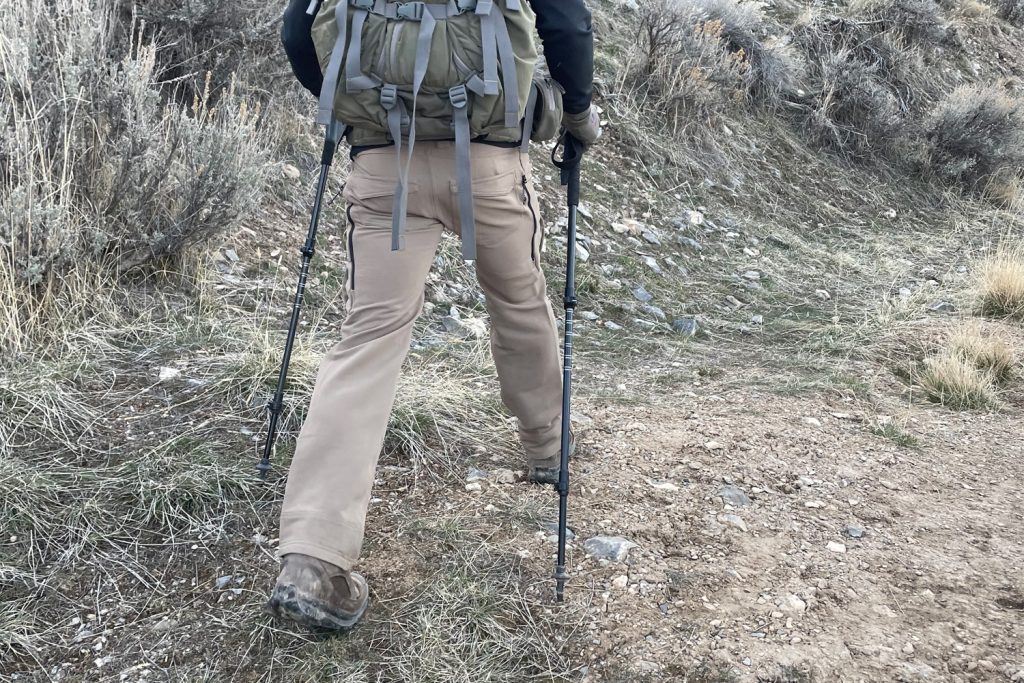 Summary:
This was my first experience with XKG pants.  The material is very sturdy and the look bulletproof.  My first impression of the fit was tight in the waist and thigh area.  I also got the 32 and probably would need to size up to get the right fit for me.  The material of these pants is really durable and quiet.  Much quieter than the BO Desolation pant and similar to the Sitka Mountain pant.  This pant also have knee pads which I removed but if you need to do a lot of kneeling or stalking, they would be great.  I wanted to test out the odor control of these pants so I wore them several times without washing and they do stand up to the test and didn't get stinky.  The weight is similar to the Mountain pant but heavier than the Desolation.  One thing I noticed when hiking hard is that these don't breathe as well as either the Sitka Mountain or Desolation pants, hence why they included the two vented side zippers which do work well.  There is a lot of technology in these pants they just didn't fit as well for me in the normal size that I wear.   These pants come in four different colors, two solids (Charcoal and Dark Khaki) and two camo patterns (XK7 and Desert Shadow)
Which one would I choose?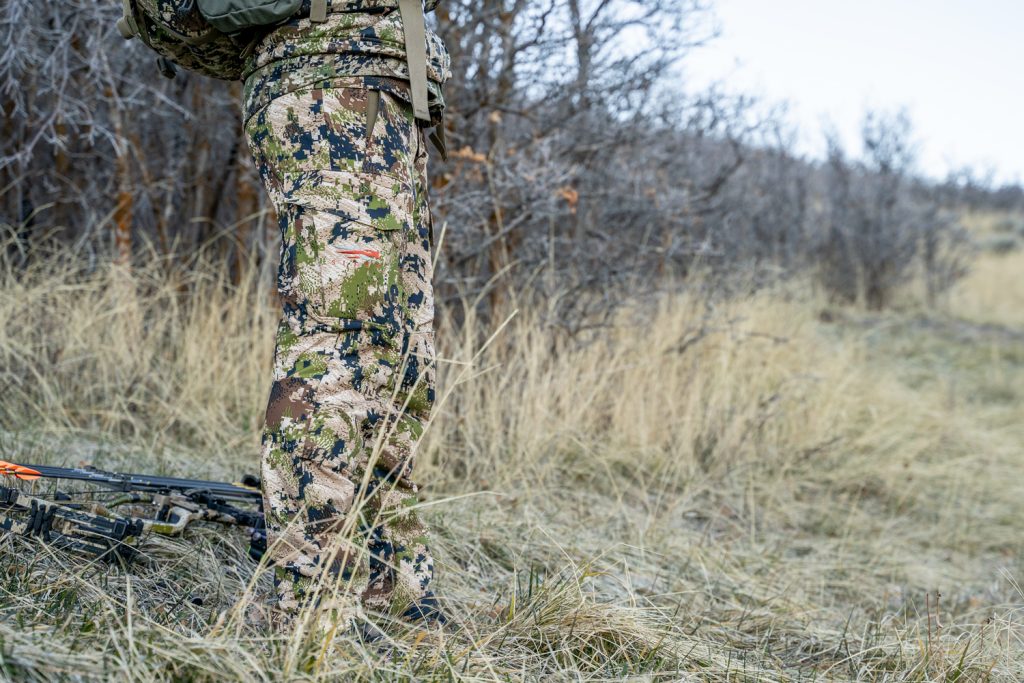 Overall, these are all high-quality pants and if you have a chance, you should try them on and see how they fit you.  They all have quality materials and will hold up to a lot of pounding.  The cost of the Sitka is higher than the others but the value is there and they are worth the money.  If I had to buy two, I would get the Mountain pant to hunt in and grab a pair of the desolation pants to do everything else outdoors during the colder months of the year.  

- Jeff
---