ORIGINS
For years Sitka's 90% series ruled the game in terms of comfortable and quiet technical hunting apparel. However, with advancements in textile development and consumer demand, the 90% series was overshadowed over the course of a time and consequently discontinued. Many fans of 90% were very sad to see it go and wondered what could possibly replace it.
For 2018 Sitka answered that question with their new APEX series. Designed for the spot and stalk hunter who demands silence and performance out of their gear no matter what.
The APEX series features the APEX Hoody, APEX Pant, and APEX Pack. All are purpose built to be extremely quiet, comfortable, and practical for hunters that prefer to sneak up on their intended quarry. I was lucky enough to put these pieces to the test on an OTC Arizona Mule Deer hunt in January of this year and I was very impressed.
The APEX Hoody is constructed with a 230gm durable nylon face material backed with merino. This combo will give you the temperature control benefits of merino without the fuzzing or piling you get with a normal merino/nylon blend garment. To add to the durability the shoulders and backs of the arms are built using two layers; an exclusive, quiet but tough polyester face with a micro grid backer on the inside. The Apex Hoody also has included removable elbow pads that make uncomfortable stalks much more bearable. Add to that a built-in facemask and a zippered and subdivided "kangaroo" pocket to help carry calls, rangefinders or other items without them clanking together.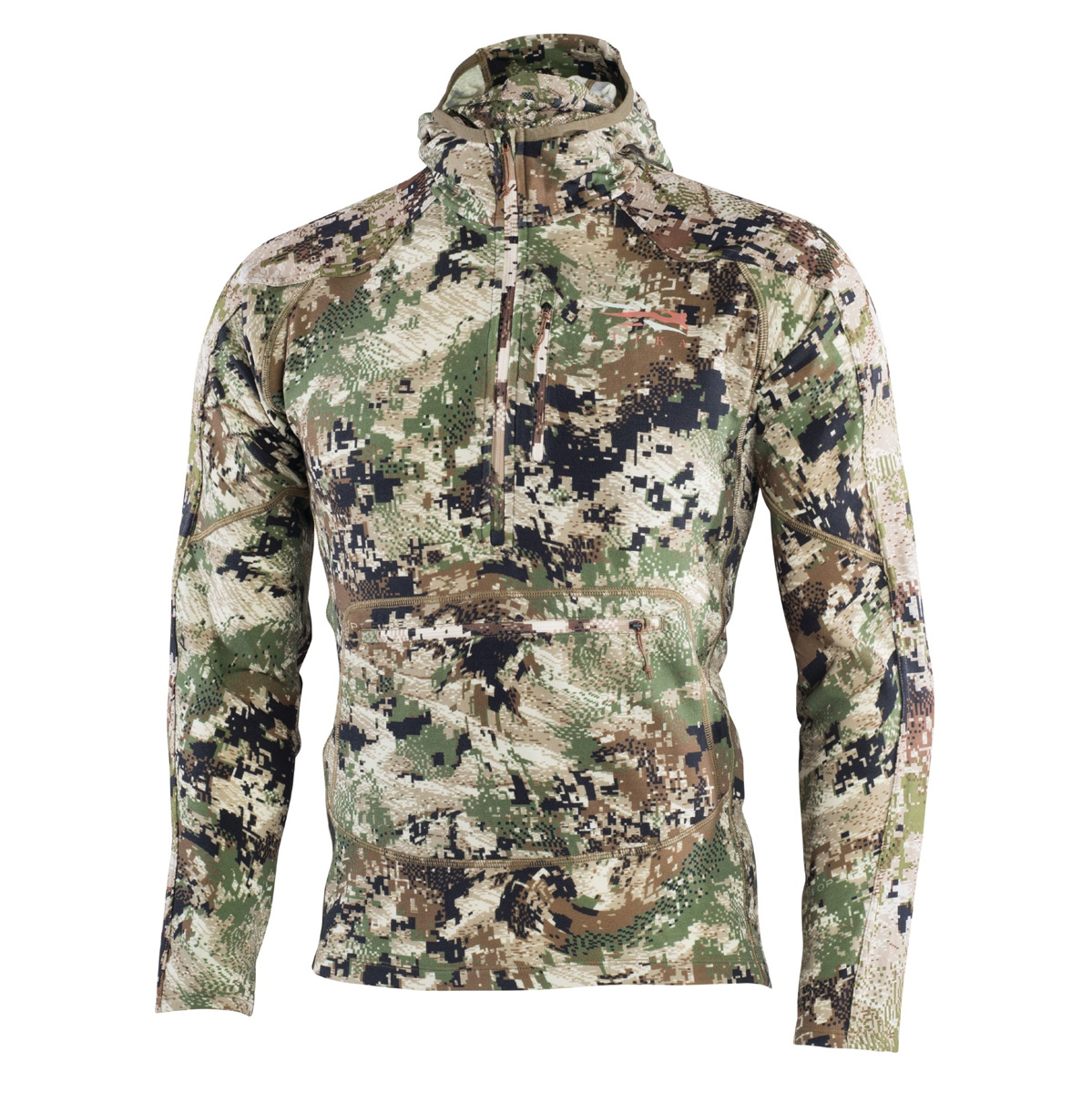 I found the Apex Hoody to be very comfortable in wide range of temperatures while on my hunt in Arizona. I wore it combined with a lightweight merino top underneath when glassing the cold early mornings the desert is known for. When the temperatures rose (happens quickly) I would wear just the Apex Hoody and was very comfortable even at 60-70 degrees.  I'm not used to having elbow pads but these were very comfortable and really helped when crawling in on rocky ground. If you decide you don't like them they are easily removed. When not in use the built in facemask was unobtrusive but when needed it proved to be comfortable and effective. I'm not much of a hood guy but I found myself using this one both for added warmth while glassing and concealment while stalking. The kangaroo style pocket worked perfectly for smaller items and kept them from rattling/banging together as Sitka intended.  I'm a huge fan of the Core Midweight Zip-T but this Apex Hoody is quickly becoming my new favorite top!
The APEX Pant was made using the same exclusive Polyester textile and micro grid fleece combo. The Micro Grid fleece gives enough warmth for brisk September mornings but still breathes exceptionally well and is further assisted by mesh lined pockets. Like the rest of Sitka's big game line it features removable knee pads which are very comfortable and provide added protection while crawling or kneeling for extended periods. They also feature Polygiene technology in every fiber which prevents bacterial growth therefore sixing odor buildup.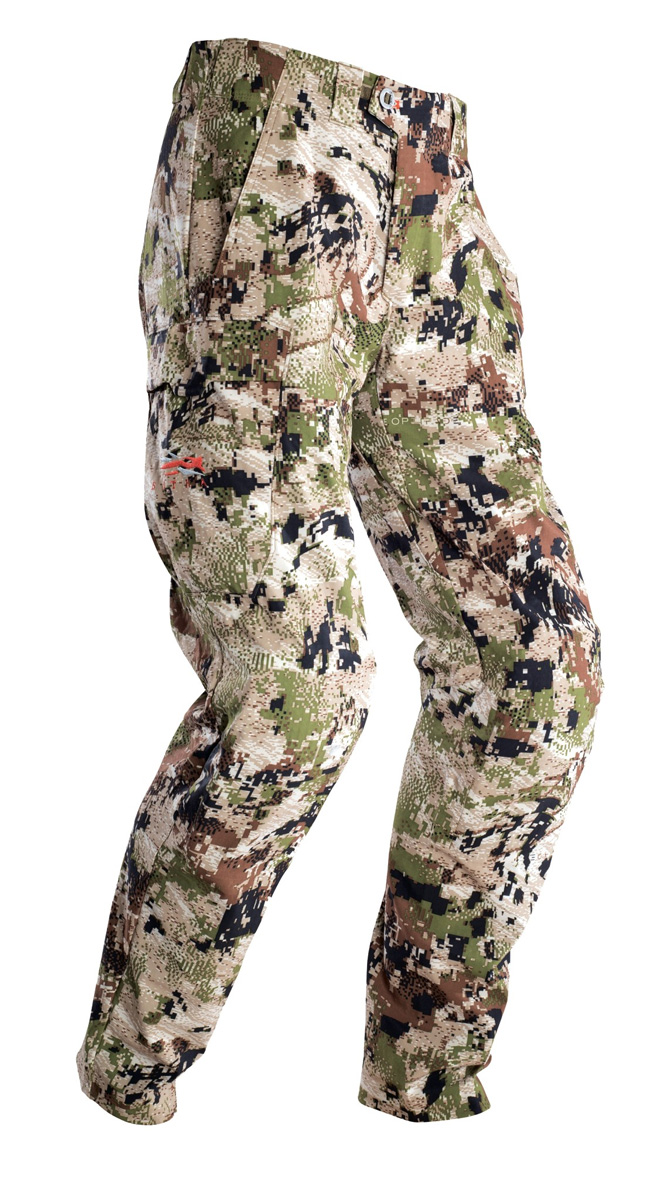 I learned quickly that the Apex pant is not just another pant. It's ridiculously silent but still durable enough to hold up in rough terrain. I was very impressed with how the pant performed in the heat of the day, I would compare the breathability to the Ascent pant but in a quieter package. The knee pads did a great job of cushioning against sharp rocks and the occasional cactus spine. The tapered legs are a huge advantage while stalking since there isn't a ton of excess material snagging and making noise. These pants are truly incredible and are well worth the investment. I love all of Sitka's pants but these are going on all my early to mid season hunts.
The APEX Pack sticks to the same stay silent mantra as the Hoody and Pant. The material is very durable but whisper quiet. There are no frame stays or sheets to squeak or otherwise create noise while in use. It has more than enough pockets to easily organize the gear you need yet keeps essentials readily accessible. The hip belt is unique in design and fits comfortably around the waist. It has a easily accessible pocket on either side and also 2 extra large pockets built in to the belt itself for even more storage. One of the most unique features is the integrated silently retractable bow cam holder loops. These are perfect for resting your bow to steady your binoculars on or just to relieve your bow arm while waiting for a bedded animal to stand.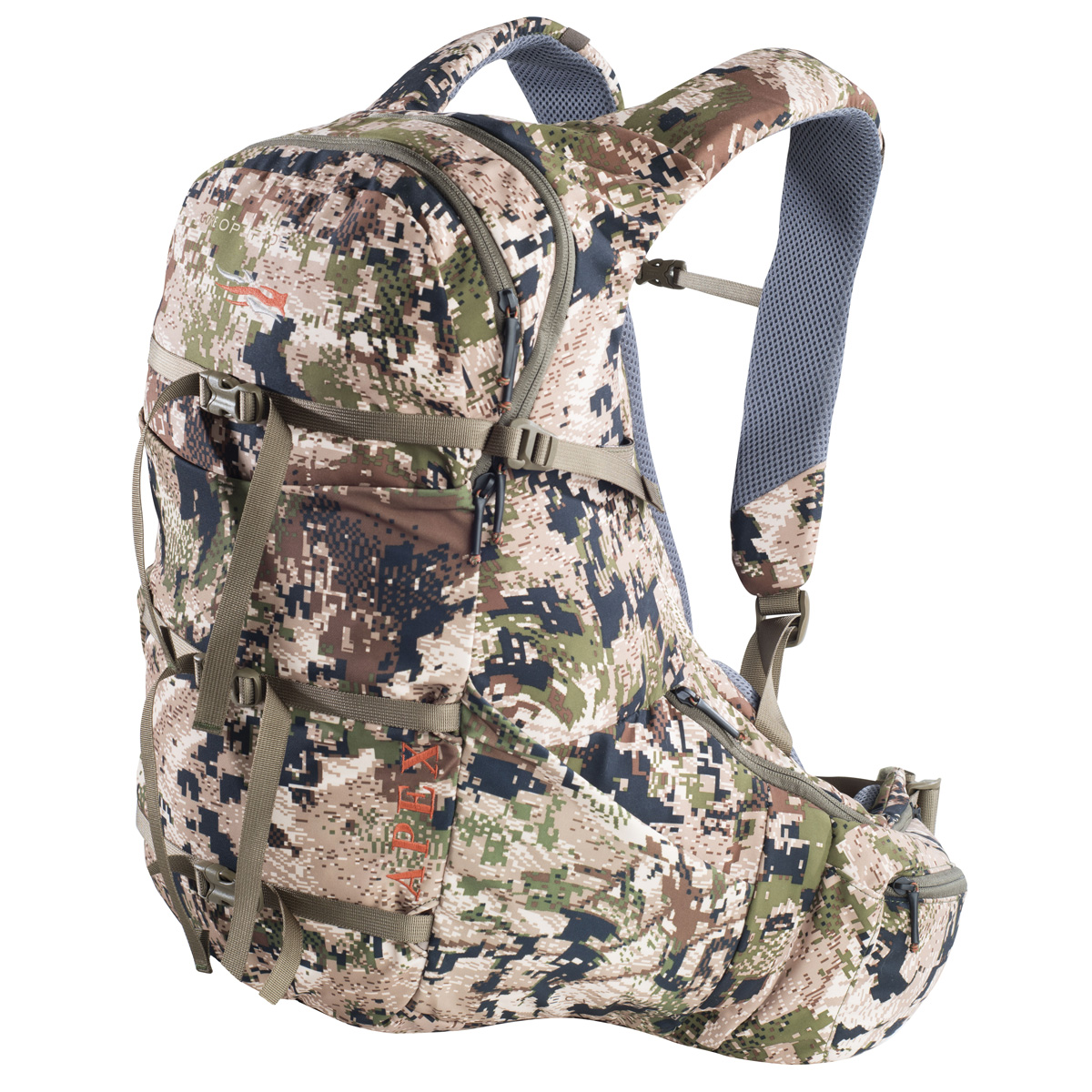 After using the Apex Pack in Arizona I think it may be the perfect run and gun backpack I've ever used. I did a lot of shorter hikes to vantage points where I didn't need a framed pack. I was able to carry all my optics, water, and gear for a day of spot and stalk hunting with no issues. The pack was very comfortable and eerily quiet. Organization was great and every pocket was easy to access. The material on the pack made virtually no noise when walking through brushy tangles and seemed to be plenty tough. I really liked the compression straps that can be tucked away in the back stretch pocket until they are needed. This pack isn't designed to haul a lot of weight since it is a frameless design, but I found it did very well with 20-30 lb loads. Overall I think Sitka did an excellent job designing this pack for the niche that it fills. If you are mostly day hunting from the rig or camp and demand organization and stealth, this is the pack for the job.
I truly feel that Sitka has created the best in ultra quiet, yet technical gear for the spot and stalk hunter. If you have any questions on this or other gear please give me or any of our other Gear Experts a call at 801-559-7556.