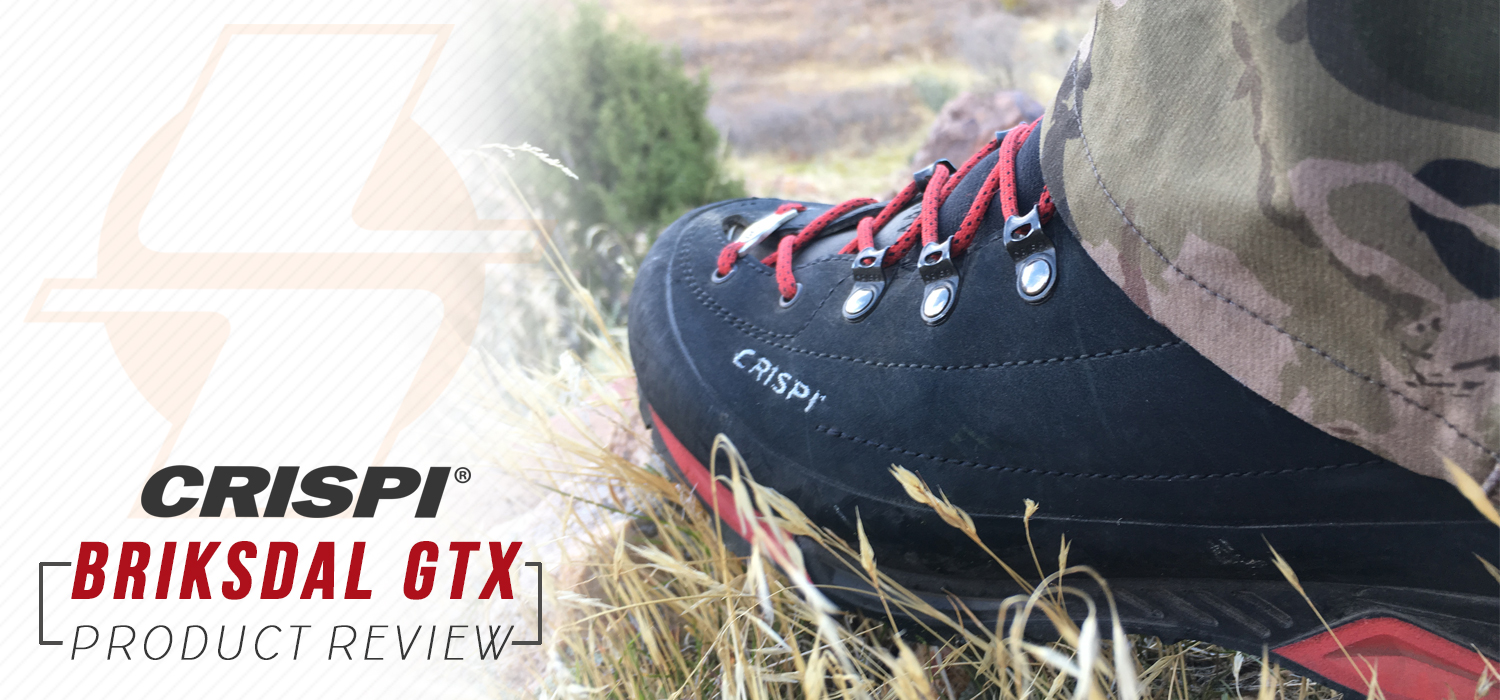 The Briksdal GTX was one of the new additions that Crispi US made to the lineup this year. Reason being is that they would give hunters the option of getting into a stiffer boot than the Nevada's but not quite to the extreme as let's say..a Scarpa.  That way you maintain that comfort level that Crispi is well known for. This boot was really designed to fill the need for those hunting at extreme elevation where they need a bit of Insulation (200 g), a stiffer board last, and a boot that will take a beating in the extreme terrain without getting into a pure mountaineering pack boot.
Before I dive into the full Review, let me explain a little about my own hunting style. First and foremost, I'm a day hunter. I don't usually hike more than 10 miles or so in a single outing but I do however hunt in some pretty rugged terrain here on the Wasatch Front (Utah). I dream of one day chasing a Sheep in the backcountry with these on my feet but for now I'll keep putting these boots to the Extreme Use that they were designed for on a local level.
Being packed with features is a reason why this is such a well sought after boot.  Instead of building a list of them all, I figured I'd highlight a couple of the major hitters that might make this different than a typical Hunting Boot.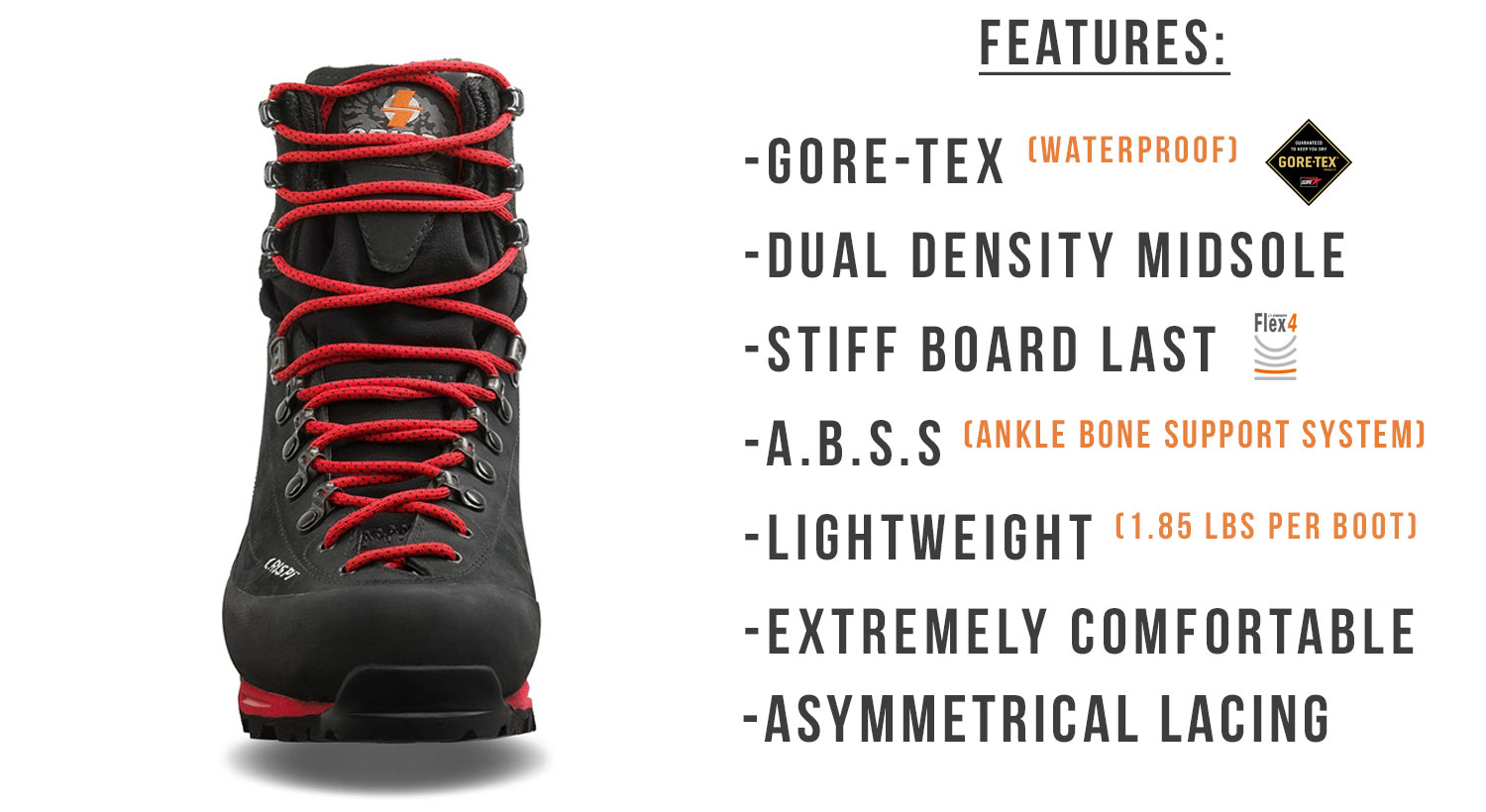 GORE-TEX | No matter what the conditions are, having a Gore-Tex lined boot is a must. Very rarely do I ever have to submerge these boots past the ankle locks but the pure fact that I can without having any water leaking in is phenomenal. Not only that but when you're hiking up a mountain at 5 AM and the hillside is covered with dew that's frozen over the night before, it's a sign of relief knowing that your feet aren't going to get wet step after step, resulting in wet, frozen feet on the mountain. As I head into these later months chasing Mule Deer here in Utah and snow begins to fall, I'll probably for surely pull out my gaiters but mainly because this is a 7" tall boot and to keep the snow from coming through the top. A couple competitors might have their "version" of Gore-Tex but nothing in the industry protects your feet + breathes as well as Gore. Period!
DUAL DENSITY MIDSOLE & STIFF BOARD LAST | While these two things are very different, to me they work in perfect tangent with one another. You can get the stiffest board last in the world but that won't amount to anything unless you have a solid foundation to mount it on. The Briksdal GTX comes in at a Flex Rating of 4 which means it's about the same as the Thor but slightly stiffer than the Nevada, Wyoming and so forth. This is awesome because it allows a little more security in those extreme conditions but isn't so stiff that you get that "ski boot" effect, which I love! The Midsole is going to be made out of a Dual Density PU. What this gives you is stiffer support in those heavy stressed areas such as your heel or toe cap while also giving you that softer comfort through mid-section of the boot. The PU material that they use is incredibly strong and with allow you to retain that same out of box comfort for miles and miles when compared to EVA which breaks down faster and starts to loose that shock absorbance that your body needs.
A.B.S.S. | Think of this as a memory foam wrap around the heel of this boot, giving you that true "custom fit". This is essentially the only thing you have to break in on a Crispi but typically takes around 5 or so miles before that contours to your ankles shape and size.
This system is truly outstanding and is the main reason why I continue to use Crispi. I have really boney ankles so it's pretty much a standard of wrapping my heel in moleskin before I go out but since utilizing my first pair of Crispi's last year I hardly come across any sort of hot spot or rubbing issues and I strongly believe that the A.B.S.S. is keeping my ankle in place and where it needs to be. Not to mention it also gives you an incredible amount of support to your ankle when side hilling or going through some nasty terrain but you'll quickly notice that in any of the Crispi Boots that feature this system.
LIGHTWEIGHT & COMFORTABLE | This is my 4th pair of Crispi Boots (throughout all the different styles I own) and it is hands down the most comfortable I have ever owned and it was pretty hard to beat my Nevada's. One of the main things I love so much about this boot which I noticed immediately was not only the comfort aspect but the pure fact that it didn't feel like a boot… It sounds crazy but I hardly get any of the "boot effect" where you clunk up and down stairs.  They come in at about 1 ¾ lbs each boot (size 9) which is maybe only a couple ounces less than my Nevada's but something about them just felt lighter, and more easier to hike and hunt around in.
ASYMMETRICAL LACING | The Lacing system is also completely different on the Briksdal compared to the other Crispi Hunting line.  They have incorporated this lacing style on much of their Hike Series on the Crispi IT product selection but by using this Asymmetrical lacing style you get a better secured Anatomical Fit because the laces are moving inline with your natural foot shape.  Doing so can make the toe-box a little narrower depending on how tight you lace up the base so just keep that in mind if your typically in the wider footbeds.  For the Briksdal though it's perfect because it works hand-in-hand with that stiffer board last giving you an almost "custom fit".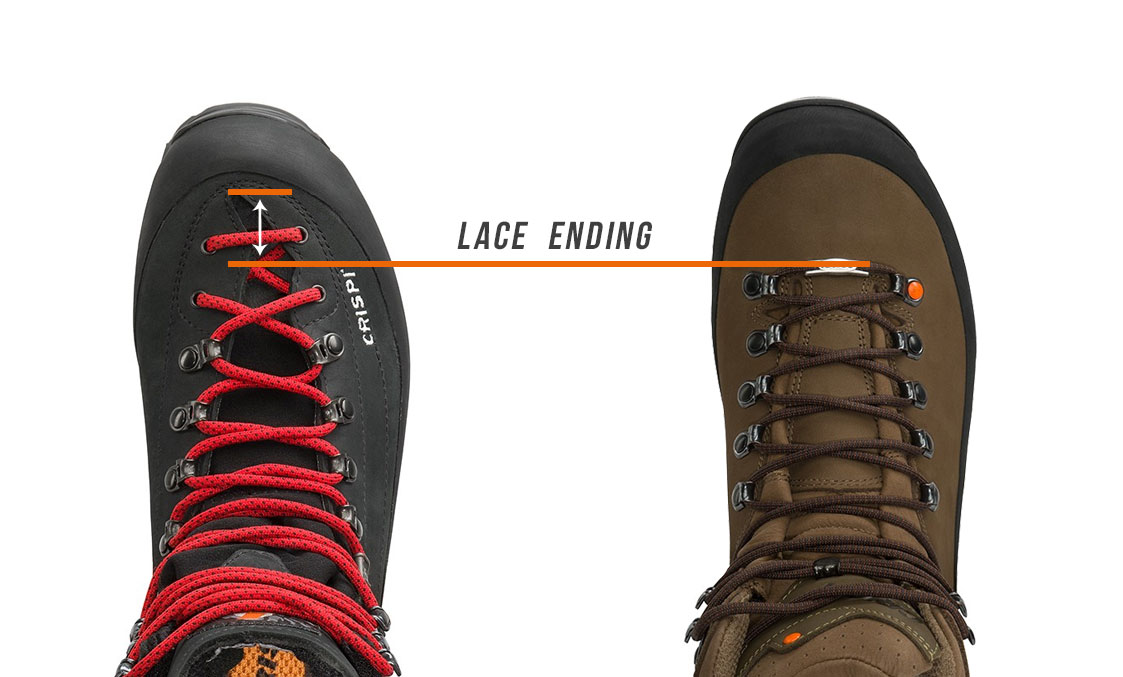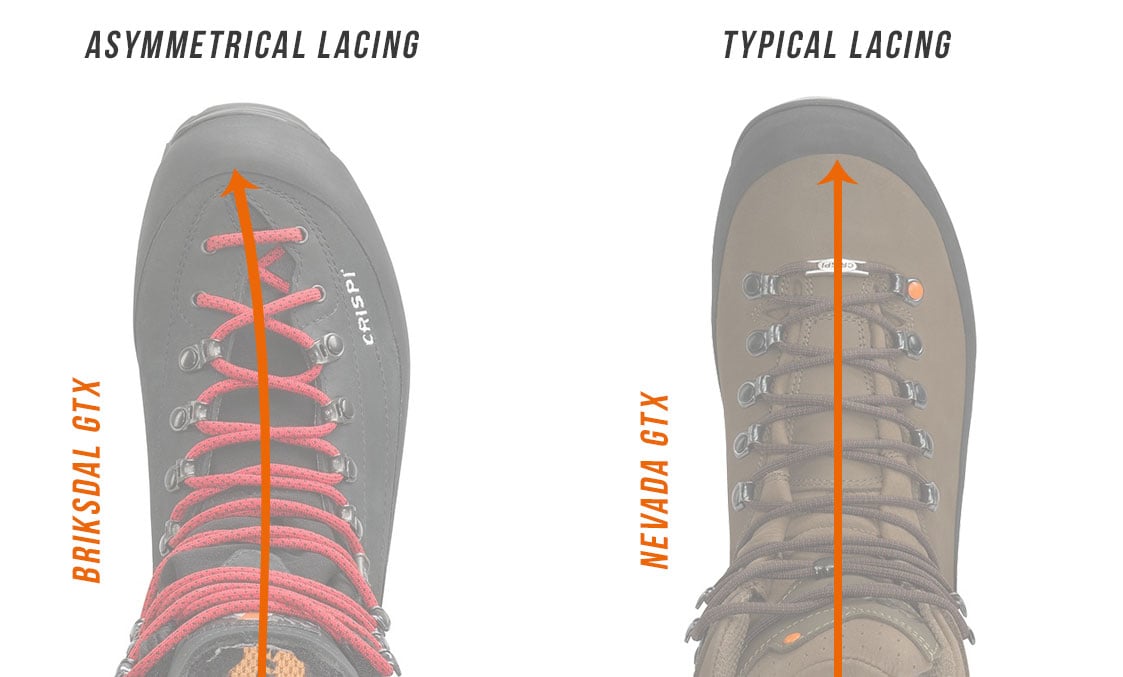 ---
Review:
When it comes to breaking in a new pair of boots, Crispi's are notorious for their little-to-no break in period and I definitely experienced that in my Briksdal's also. I wore them here around the office for about a week in a half to allow them to settle in, while also giving the memory foam in the A.B.S.S. some time to learn my ankle shape. That way the second I put them to use on the mountain they were exactly how I wanted them to be. They actually settled in after about 2 days but I would say that you typically need to go anywhere from 2-3 miles to get that break in effect. The fact that you can break in a boot in that little amount of time is pretty awesome, especially for the last minute guys.
As for the fit compared to my other Crispi's I actually ordered this in a half size up. Reason being is that the unique lacing system that runs down the base of the boot allows you to cinch up the boot a little tighter in the toe box and I felt like in doing so makes the toe box a little narrower than your typical Crispi.
Also, I like to have a little room up in the front of my boot so when I go downhill I don't smash my toes in the front of the boot. Luckily Crispi has an Ankle Lock Lacing System in just about all of their boots but in the Briksdal it's a little different because you get a Nylon lace loop instead of the metal.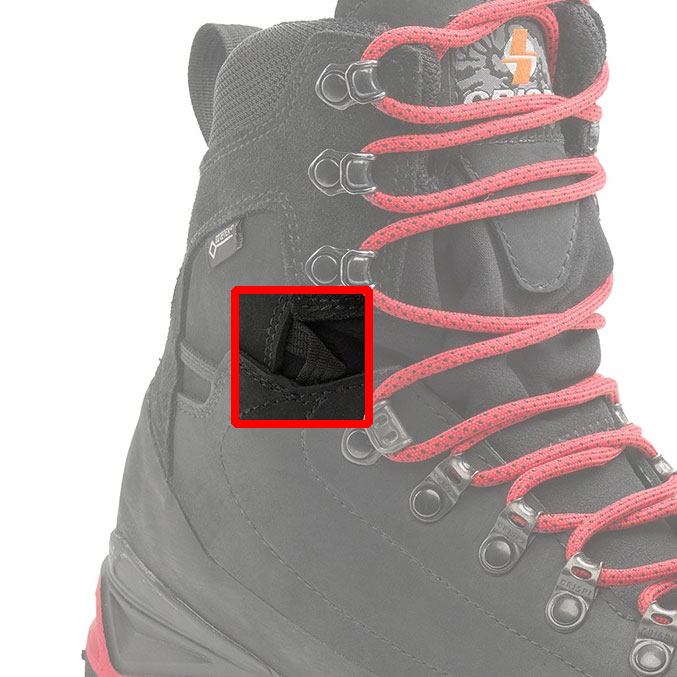 They actually moved the metal one at the top of the mid-section of the laces which I was a huge fan of when lacing up without the Nylon Loops but to be completely honest I wasn't a huge fan of lacing through those the Nylon Loops. When I laced them up the first morning I skipped the Nylon Loops, my reason being is that I felt like I had enough ankle support for going uphill but wanted to save it for going down hill. However, at the end of the day when we started to venture down, I unlaced the boots and fed the laces through those Nylon Loops and cinched the boot down securely but after walking a couple hundred feet I ended up having to stop and actually lace the boots back like normal because the laces were actually digging into the top of my foot. The Briksdal utilizes a Neoprene style tongue and after looking a little further there is no extra padding where those laces go across so the tongue so that's why I was able to feel it so drastically. The good thing though is that they are actually changing that for 2018 after getting that response from a couple of other hunters as well, so on the next model you will see some sort of leather strip or padding that goes across that section of the tongue which will make it perfect!
When comparing this to my Nevada's I definitely felt like the stiffer board last made going uphill or through sketchy terrain a lot easier and more worry free. Strangely enough, I feel like it worked different muscles in my legs so right at the get go my thighs and glutes were feeling the burn but my calves (which are typically the first to get tired) were chugging along like never before! I'm sure it's because the boot is flexing less which is allowing me to work muscles I typically wasn't using as much as before and then my calves weren't being so overworked as my foot flexed through each stride. I was definitely blown away at how less tired by body felt after every push. On my first outing I probably put about 5 or so miles on them so nothing too extreme when it comes to distance but in that 5 miles we did however gain a couple thousand feet of elevation and went through some pretty nasty cliff sides and slate shelves.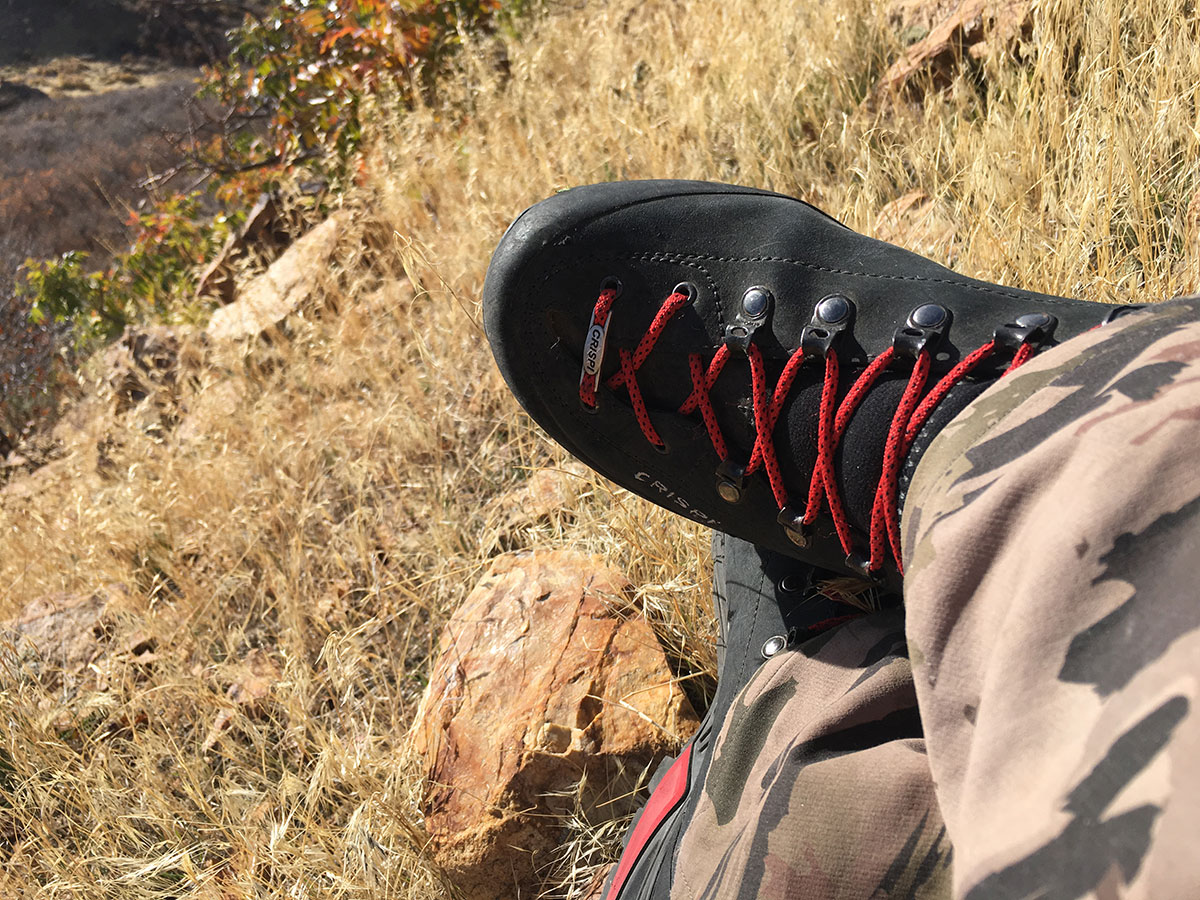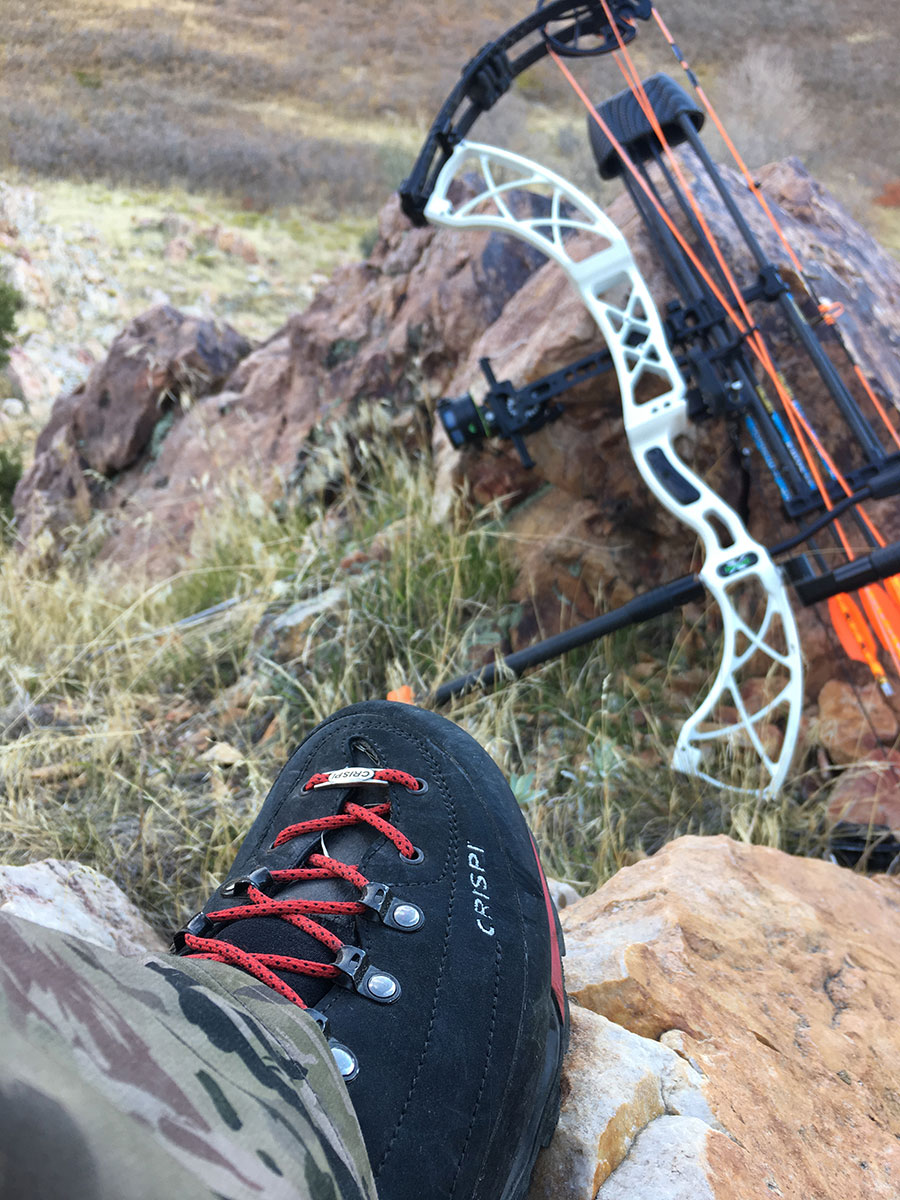 The Briksdal GTX exceeded all of my expectations and more and will definitely be my go to boot through the Late Season hunts. They're lightweight, extremely comfortable, and I really look forward to putting more miles and use out of them as the rest of the Extended Season progresses here in Utah. If you're looking for a boot that is insulated, has a ton of ankle support, and want to venture into the stiffer boot market without going extremely stiff, the Briksdal is a powerhouse and definitely worth a second look! Be sure to check it out don't hesitate to give me (Chris) a call and I'd be more than happy to answer any questions you may have. (801) 559-7556
---
Personal Profile
Height: 5' 10"
Weight: 175 lbs
Typical Boot Size: 8.5 (Ordered 9)
Sock: GORE ¾
Pack Weight: 35 lbs (including Bow and all)