Similarities and Differences between the Garmin Fenix 5 Plus and 5x Plus Smartwatch
---
---
Click here to see the Fenix 5 Plus without Sapphire
Click here to see the Fenix 5 Plus with Sapphire
Click here to see the Fenix 5x Plus
---
Differences
The difference in price is effected most by two key factors:
1) Sapphire glass vs. chemically strengthened glass lenses. - The 5 Plus offers both lens material variations, while the 5x is only offered in sapphire.
2) Pulse Ox Compatibility. - The Fenix 5x Plus is Pulse Ox compatible while the Fenix 5 Plus is not. With that said, Pulse Ox is what you should look into when considering the Fenix 5 Plus or Fenix 5x Plus, as its an exclusive difference between the two models. Wrist-based Pulse Ox Acclimation sensor provides awareness of your blood oxygen saturation levels — especially useful when you're adjusting to higher altitudes.
The video below will give you an understanding of Pulse Ox and if its a difference maker to you.
---
Similarities
Features
Ultimate multisport GPS watch with wrist heart rate technology and color TOPO maps featuring Trendline popularity routing to help you find and follow the best paths - (video provided below)
Fit for adventure with rugged design that features scratch-resistant domed sapphire lens plus stainless steel or diamond-like carbon (DLC) titanium bezel, and rear case
Easily store and play up to 500 songs on your watch, and connect with Bluetooth headphones (sold separately) for phone-free listening - (video provided below)
Garmin Pay contactless payment solution lets you make convenient payments with your watch, so you can leave your cash and cards at home
Trendline Popularity Routing on Your Garmin Device
Loading and Listening to Music on Your Garmin Watch
---
Your Roadmap to Success
Whether you're in the city or on the trail, your fēnix sport watch's mapping and navigation features help keep you oriented and on course. Full-color TOPO mapping comes preloaded, with map data optimized for at-a-glance navigation and location tracking. The maps feature Trendline popularity routing, which uses billions of miles of Garmin Connect data to help you find and follow the best trails and routes. Especially helpful when you're away from your home turf, this feature lets you quickly see the most-used, locally validated pathways.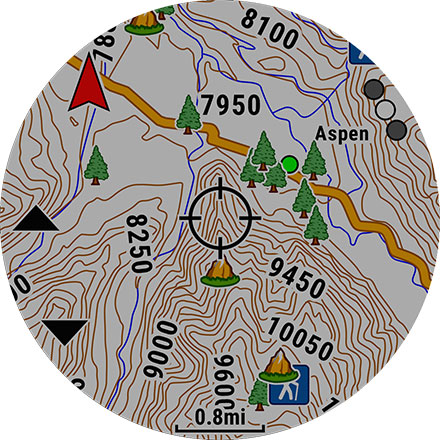 ---
Multinetwork Navigation
Every fēnix 5 Plus Series watch features multinetwork (GPS, GLONASS and Galileo) satellite reception to track in more challenging environments than GPS alone. In addition to map-based guidance, each watch also provides a set of ABC (altimeter, barometer and compass) sensor capabilities for outdoor navigation. The built-in altimeter provides elevation data to accurately monitor ascent and descent for activities such as hiking, while the tilt-compensated three-axis electronic compass keeps your bearing — whether you're moving or not.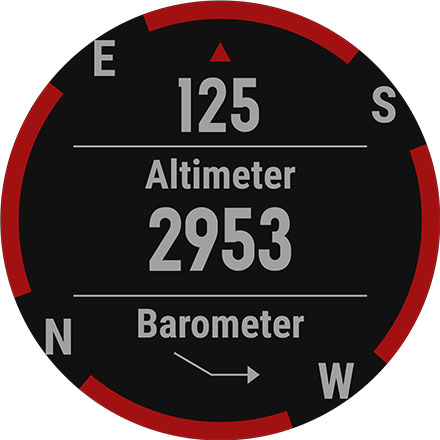 ---
Advanced Performance Metrics
All fēnix 5 Plus Series watches are packed with sophisticated training features to help monitor your form and performance. Tap into physiological metrics, running dynamicsand more to track your workout stats, measure your progress and fine-tune your form.Training status automatically evaluates your recent exercise history and performance indicators to let you know if you're overtraining, maintaining or peaking. An anaerobic training effect metric helps you see how your training is improving your ability to push the limits. You can also view your overall training load, training load which measures your exercise volume from the last 7 days and compares it to the optimal range for your fitness and recent training history. Special preloaded activity profiles are provided for swimming, running, biking, hiking, skiing, rowing, paddle boarding and more. For added motivation, download advanced workouts and training plans from Garmin Connect.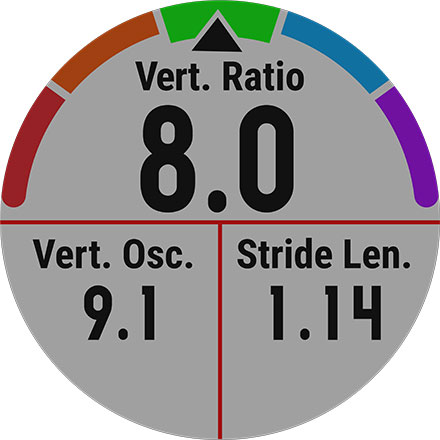 ---
Wrist-based Heart Rate
On another upbeat note, Elevate wrist heart rate technology lets you monitor your heart rate without wearing a chest strap. In addition to counting steps and monitoring sleep, the watch uses heart rate to provide calories burned information and quantify the intensity of your fitness activities. It also measures your heart rate variability to calculate a stress score that helps you assess what level of activity your body is ready for.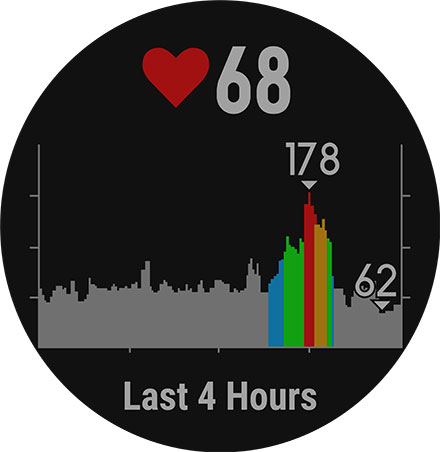 ---
A Little Traveling Music
Now with fēnix 5 Plus, you can enjoy phone-free listening on the go, with up to 500 songs stored right on your watch. It's easy to download music and queue up your favorites so you can enjoy them anywhere, anytime through wirelessly connected Bluetooth headphones (sold separately). You can even sync your carefully crafted playlists from select music streaming services to your watch for more ad-free listening. So leave your phone behind when you head out for a run or a ride, because the music that keeps you moving is right there on your wrist.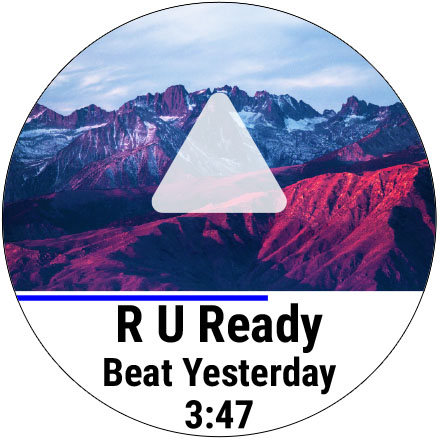 ---
Pay with a Wave of Your Hand
To help keep pace with your active lifestyle, fēnix 5X Plus features our Garmin Pay contactless payment solution. Use it to pay for purchases so you can breeze through checkout lines while leaving your cash and cards at home. It works just about anywhere there's a scanner for contactless payments.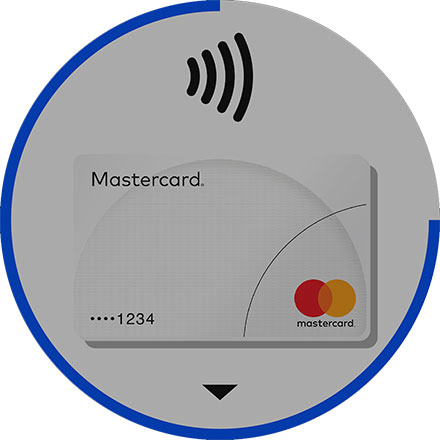 ---
Stay Smartly Connected
All fēnix 5 Plus Series models support smart notifications when paired with a compatible device. Receive emails, texts and alerts right on your watch - whether you're on the trail, on the golf course or simply away from your desk. Other connected features include automatic uploads to our Garmin Connect online fitness community, live tracking, GroupTrack and social media sharing.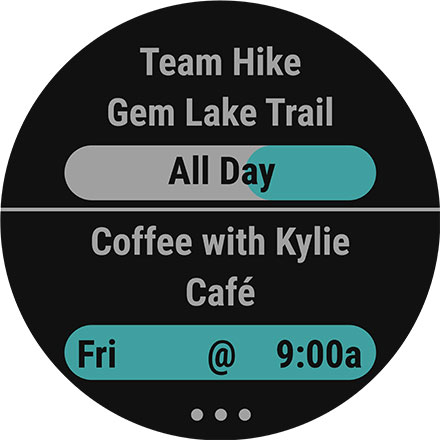 ---
Premium Materials, Robust Performance
Crafted of premium-grade materials, the fēnix 5 Plus Series is available in a variety of finish choices, including PVD-coated stainless steel bezel with treated silicone watch band, or — for those who want the comfort of a lighter weight metal that's 30% stronger than steel, and — there's a deluxe titanium bezel version with brushed titanium bracelet. On either version, a bright, high-resolution, full-color Garmin Chroma Display with LED backlighting assures great readability in all ambient conditions. And transflective technology that reflects and transmits light at the same time enables the watch face to become even more readable under intense sunlight. For added scratch resistance, all fēnix 5X Plus series models incorporate a high-strength domed sapphire lens.
---
Custom Apps, Watch Faces and Bands
You can customize any fēnix 5 Plus Series watch with free downloads from Garmin's Connect IQ Store. Change your watch face, add data fields or get apps and widgets for information at a glance. There's also a wide selection of QuickFit bands in your choice of premium leather, metal or silicone — so it's easy to mix and match styles to go with any sport or activity. No tools are required to make the transformation. Just swap, click and go. With Garmin, you can add personality to your watch that's uniquely you.
---
General
Water Rating: 10 ATM
QuickFit watch band compatible
Bezel Material - Stainless Steel and Titanium
Case Material - fiber-reinforced polymer with metal rear cover
Display Type - sunlight-visible, transflective memory-in-pixel (MIP)
Display Size - 1.2" (30.4 mm) diameter
Display Resolution - 240 x 240 Pixels
Memory - 16 GB
Bluetooth, ANT+, Wi-Fi connectivity
Connect IQ, Garmin Connect Mobile, Garmin Pay, Basecamp compatible
Smart notifications
Time, Date, Calendar & Weather
Watch, store, control, play music
Find My Phone & Find My Watch
VIRB Camera Remote
iPhone and Android compatible
GPS Time Sync
Automatic daylight saving time
Timer, Stopwatch, Alarm clock
Sunrise & sunset times
---