Sitka 90% Series Explained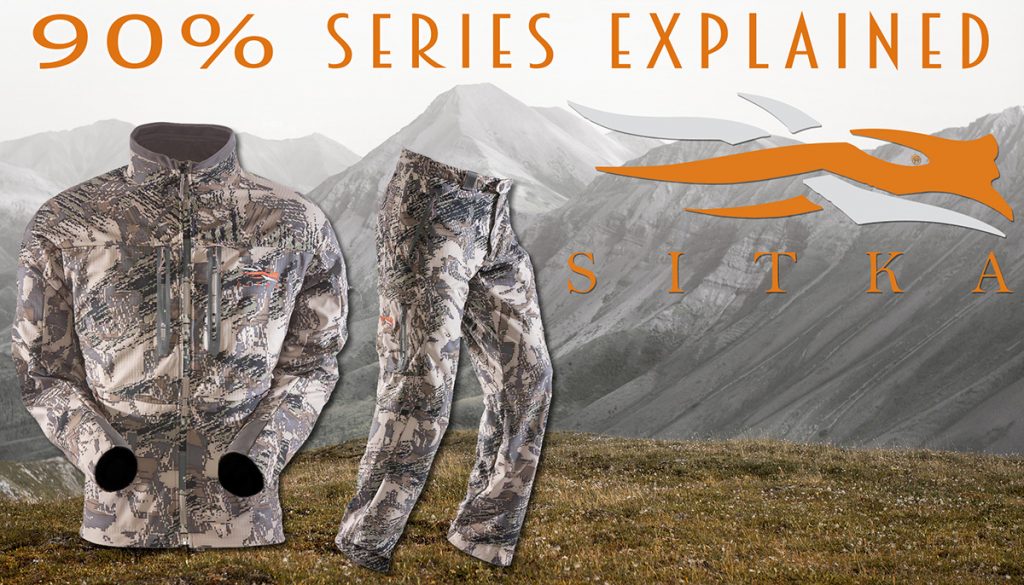 In our world of remakes, remixes and new models, occasionally you find that somebody got it right the first time. That the original is still the best. Willie Nelson, Ghost Busters, Pre 64 model 70's and the Sitka 90% series. This was the idea that started it all. High quality, technical fabrics made into clothing, designed and built specifically for hunters. The days of an old pair of jeans and a flannel shirt, baggy cotton camo, and heavy one size fits most army surplus stuff are officially gone and we never have to go back. When Sitka came out with the first 90% series it really did change the way we viewed our hunting clothing. Hunters realized that they could hunt longer, smarter and more efficiently than before. We found that by choosing a few specific pieces and using an intelligent layering plan we could be comfortable, mobile and safe for longer periods of time further away from a home base. Clothing was now gear. We have come a long way since then and our options for high quality clothing seem to be growing every day, but the 90% series from Sitka just may be the best of the best!
Before I get too far into the specific features of the 90% series I thought I would take a moment to go over a couple of terms that you often read in product descriptions. These are terms I believe most people just skim over. Understanding what these phrases mean will help you make better buying decisions and be happier with your gear.
---
First, Body Mapping Insulation. The basic idea behind this is that your core is a major source of heat for your body. Having a jacket with more insulation across your chest will allow you to harness that body heat to keep you warmer. Conversely your back being covered by a pack most of the time and your arms being in motion you would need less insulation. Finally your armpits and under arms generally don't need much insulation at all. By utilizing this body mapping technology, Sitka can make an extremely warm jacket without unneeded bulk or weight.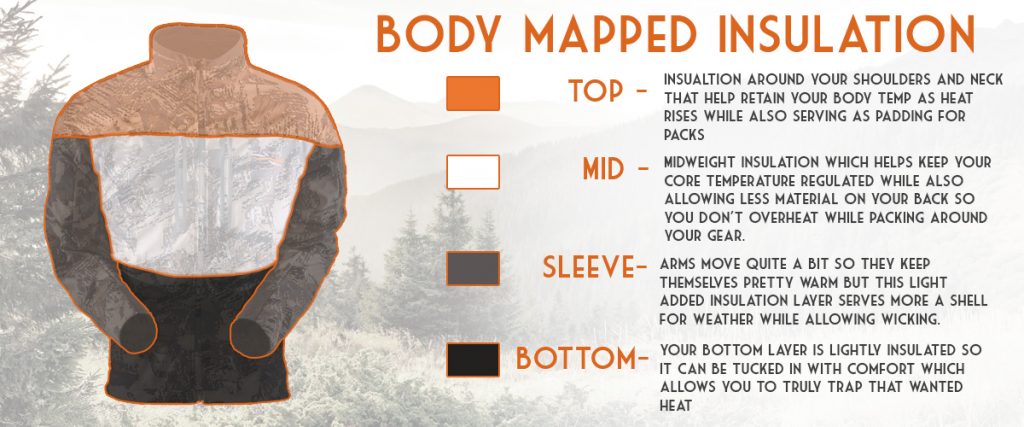 ---
Second, Microgrid Fleece. The science behind Microgrid Fleece has been around for decades, but Sitka's use of state of the art, proprietary fabrics has taken it to a new level. Microgrid fleece is a low pile micro fleece with a grid pattern woven through it. This grid pattern in addition to the fleece creates more surface area which in turn captures more body heat before it can escape. This style of insulation is lighter, less bulky, and ultra efficient.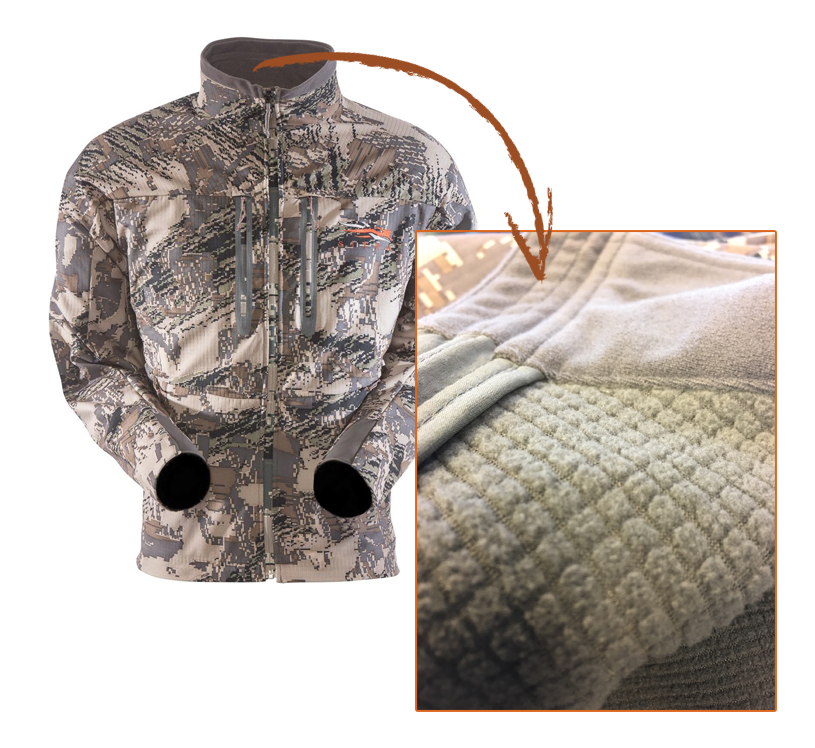 ---
Finally, third is Soft Shell. Soft shell is a fabric that is actually two or more fabrics laminated together. It has a Durable outer layer generally a Polyester or Nylon blend fabric, often times with lycra or spandex woven in to help the material stretch with you rather than restrict your movements. This outer layer is then treated with a water resistant agent which allows it to be very water resistant yet more breathable than a normal waterproof piece would be. The inner layer is generally fleece of one variety or another. This inner and outer layer are then laminated together, sometimes with a Windstopper or Gore-tex liner in between. This combination gives you the water resistance of a rain jacket with the insulation of a fleece jacket all in one. These three pieces of technology have made it possible to cut down the bulk and weight of a piece of clothing without sacrificing any of the insulating properties. It's smarter, more efficient and it can help you considerably in the field.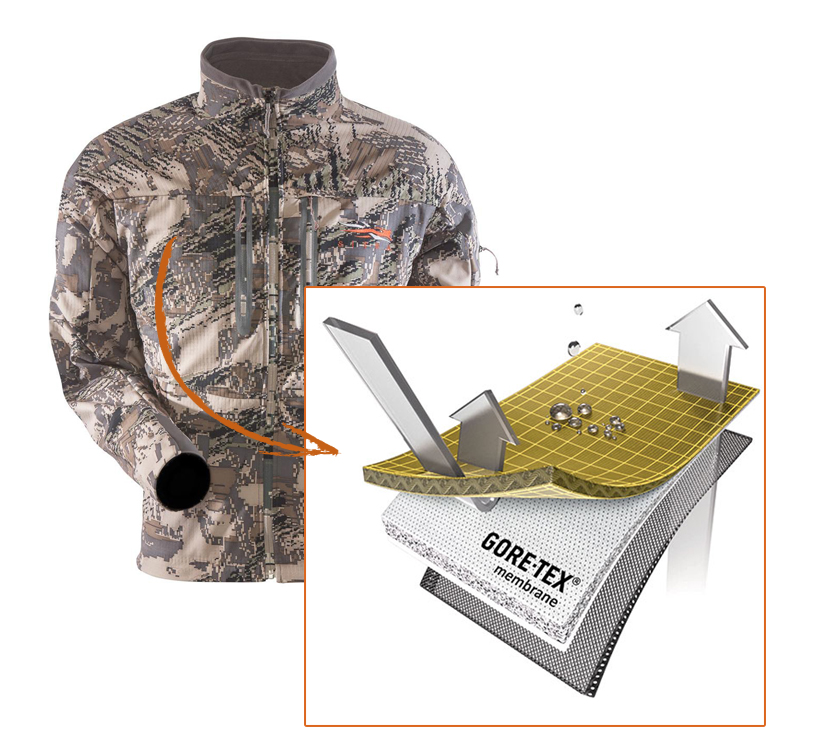 ---
The Sitka 90% Jacket by Sitka is an athletic cut, ultra quiet, highly durable soft shell. Body mapped, Micro-grid fleece interior will keep you warm, active and bulk free. The body mapping insulation removed the need for, and bulk of pit zips. The DWR finish will keep you dry in all but the heaviest of downpours and all without any noise from the fabric. With two zippered hand pockets, two zippered chest pockets and a zippered pocket on the sleeve, finding a place for your hands, a call or whatever else isn't hard to do. The athletic fit of this jacket helps cut even more bulk, however if you are in between sizes I would recommend going up one size.
The Sitka 90% Pants boast many of the same features as the jacket. Durable, quiet, and water resistant. Depending on the time of year, and physical activity level of your hunt you could realistically wear these pants from late September through January just by adding or changing your base layer. Most people would be comfortable in these from highs in the 70's to lows in the teens. They have two cargo pockets along with a zippered back pocket and two front pockets.
The proprietary fabric used in the 90% series is by far the quietest material in Sitka's line. Sneaking through oak brush or crawling through the sage you won't have to worry about a noisy fabric giving you away. Unlike most ultra quiet fabrics that have a fuzzy or fleece like texture the 90% fabric has a smooth finish that helps rain bead off and will not collect burrs. It also resists fading extremely well. I have had my 90% jacket and pants for almost 7 years and they look the same now as when I bought them. The quality of construction and durability of the fabric means that by investing some money now you will have a high quality set of clothes for years!
Although it was the first, it definitely has not been the last and it is not the last piece of camo you will ever buy, but like the name says for 90% of your mid to late season hunts this jacket and pant combo is perfect. I have worn mine from mid September on high country elk and deer hunts through December and January, with a few early spring turkey hunts thrown in. It has always served me well and it is my go to set when the temperature starts dropping.