There are so many different brands of stabilizers out there in the market today, so what makes Stokerized so different? For starters the company is 100% Made in the USA with its facility based in Annville, PA, not only is it made here on our shores but every single stabilizer is hand-made and looked over multiple time for quality and defects before it leaves the door which means this company has the quality that our customers are looking for, hence why we decided to dive further into Stokerized.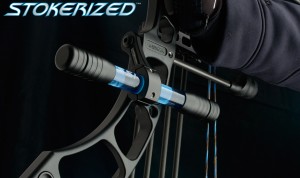 When I called the company to get our account up and running, I actually ended up talking with one of the big shots over there Shawn Lutz, which turned out to be an hour long phone call about the company, what they stand for, and how they stand out from the crowd. Stokerized is a company with plenty of innovative and practical solutions to common misconceptions about how FORCE, TORQUE, MASS AND WEIGHT affect a bow's dynamic stability. They believe in having sound scientific data behind the products they engineer; which is why they utilize proven physics concepts related to vibration and balance in their stabilizer designs. All of their technologies are extremely effective in eliminating both static and dynamic torque on a bow while providing excellent balance, stability, and vibration reduction. When utilizing Stokerized's proven stabilizing systems you can be confident that you will hold and aim your bow like never before.
I have been shooting Stokerized stabilizers for the past 4 years personally and never know that there was so much thought, technology, and background data into their product, I honestly first choose them because I could get it in whatever color I wanted. Being able to pick what color the sleeve and the acrylic were was a huge deciding factor when I was first checking these guys out because when it comes to my Bow Set-up I want everything to match. Since this was a huge factor to myself we wanted to give our customers that same capability so when you hop onto our product page you can click on any of our custom products that we list where it will show the colors of the sleeves and acrylics that they use so you can pick and choose, resulting in a fully custom stabilizer for your set-up. With the custom option, Stokerized will be drop shipping then right to your door so please keep in mind if you do select this option if might take an extra 3-4 days for them to build it and get it to you.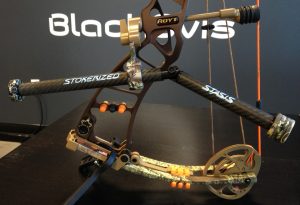 This year I decided to go with their brand new for 2015 Stokerized Stasis 15". They also make a 19" which would be great for 3D season but so far I have been beyond amazed with the shootability and the functionality to be able to place my stabilizer where "I" want to, resulting in a bow that is level the second I set into my anchor point. A lot of people overlook the value of shooting with a stabilizer but by being able to draw back my bow and have my bubble level the second I rest into my anchor point, give me the ability to get my shot off quicker and enables me to take one more error out of the equation and it has definitely made me a better shot both on the field and at home.
We're so glad to have them on board with us here at BlackOvis.com and if you're looking for one of the highest quality stabilizers on the market for an affordable price, release your creativity and shoot a Stokerized.