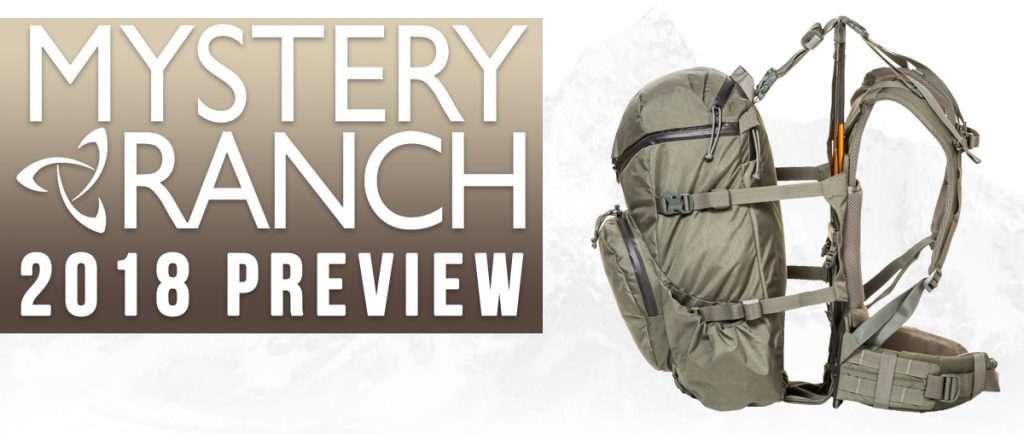 We know that keeping up with gear can be a little cumbersome and finding out what's the latest and greatest year over year can be a little tricky. Today I wanted to go over everything Mystery Ranch for 2018 including the additions, what's going away, and why you need to pack out with a Mystery Ranch this season!
Let's start with what's discontinued. Starting as of this year (2018) Mystery Ranch is going away from the Multicam pattern. While it might be an awesome pattern, Mystery Ranch is eliminating it from the Hunting lineup and is keeping the pattern focused on the Military side. They are also going to be fading out some of their small day packs like the Crest.
---
What's New!
The biggest news for Mystery Ranch's 2018 lineup is the addition of Optifade Subalpine camo in their major selling packs. This includes the Marshall, Metcalf , Pintler, Cabinet as well as the new Mule Pack which we'll cover below.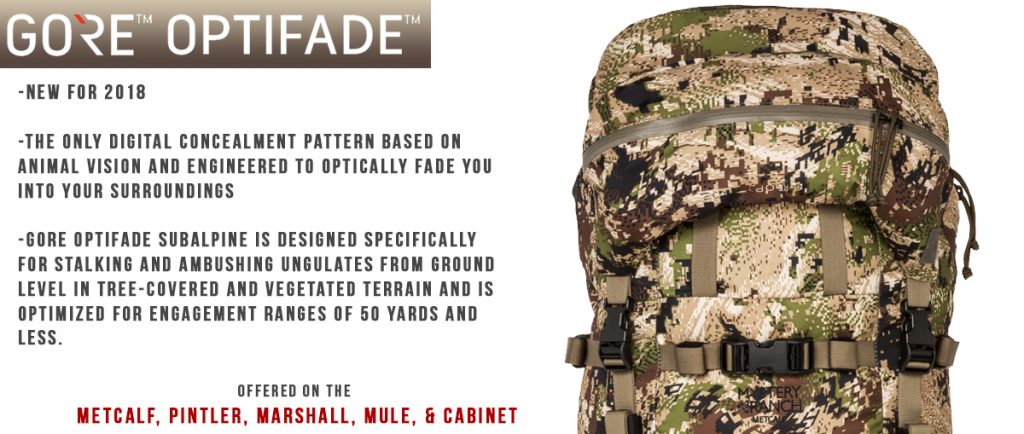 Ladies first
This year Mystery Ranch wanted to branch out it's product selection and added on a Women's Version of the Metcalf and Pintler. In previous years, ladies were unfortunately limited to having to choose a men's size that wasn't exactly made to fit a women's body. It had no account for their chest, their hips, or smaller torsos. What this did was take away the structured design for packing loads and pretty much wasn't putting them to their full potential. Now for 2018, you have a complete women's size run from XS - Large (which will cover about 90% of you ladies). In shirt, you get smaller waist sizes but most importantly a redesigned shoulder strap that has a bit more curvature to give you that true fit by taking bust into account. We will have a sizing chart available on each of the women's packs product pages so if you're unsure about which size to get, be sure to click the Sizing Chart button.
Now for the Men's
The three big things to note for the 2018 men's line is the Pop Up Series Packs, the Mule, and then the new Bag Only option for the Pintler and Mule. That last key point is going to be huge for all of you and I'll explain why in a little bit. First let's explain the new packs. There's also a new Whitetail pack called the Treehouse as well as a couple new accessories.
---
Pop Up Series - 18 & 28
The Pop Up series are really unique packs; the first of their kind. They utilize a new frame system that Mystery Ranch calls the "Pop up Frame" that consists of two high quality aluminum poles that are normally tucked away in the overload shelf, but when the time comes and you need to pack out your animal or extra gear, you simply "pop up" the poles which gives you a frame pack and load lifters. If you're a die hard spot-and-stalker but want the ability to keep your pack on instead of ditching it, while still having a frame pack option, the Pop Up Series is your choice hands down.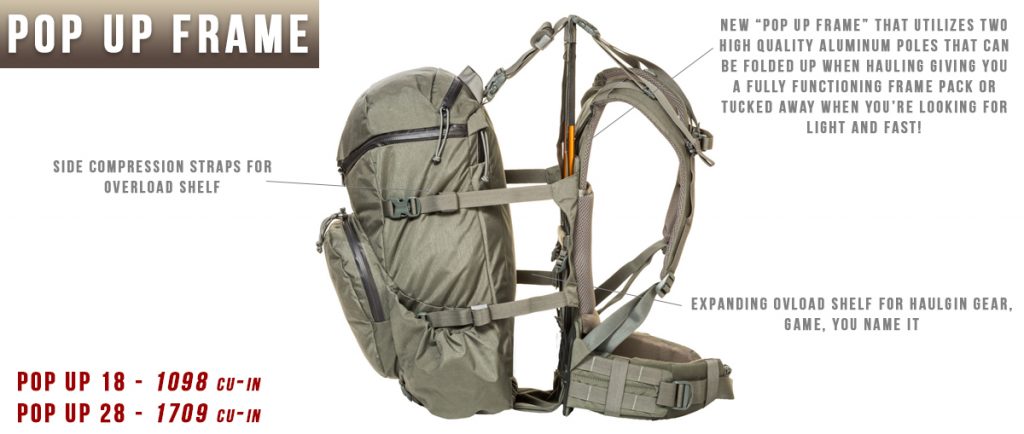 Intended Use: Backpack Hunts, Load-Hauling

500D CORDURA®

Volume: 1098 cu-in (18 L)

Weight: 4.5 lbs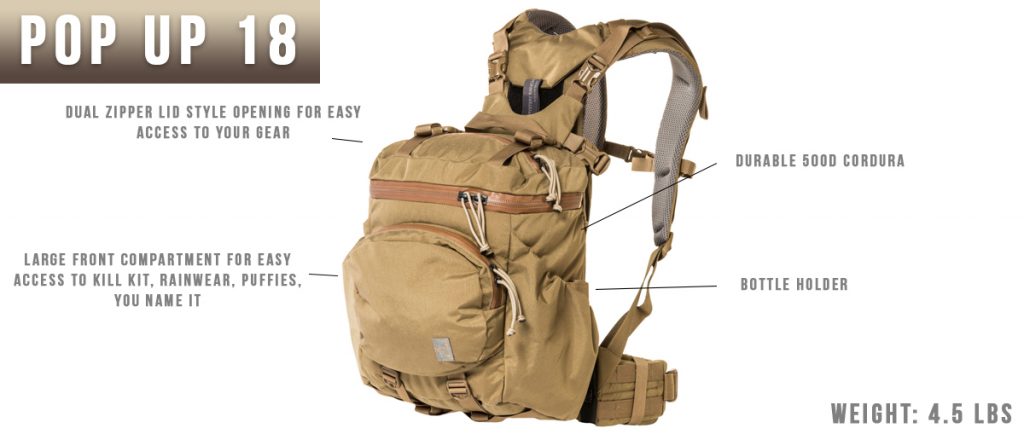 The Pop Up 28 bumps up your gear storage from 18L to 28L which still isn't really that big but is for those who like the thought of the Pop Up but just want a bit of extra gear or tend to hunt more in the later season where they'd like to pack a stove and some extra outwear.
Intended Use: Backpack Hunts, Load-Hauling

500D CORDURA® (solids) / 610 HP CORDURA® (camo)

Volume: 1709 cu-in (28 L)

Weight: 4.8 lbs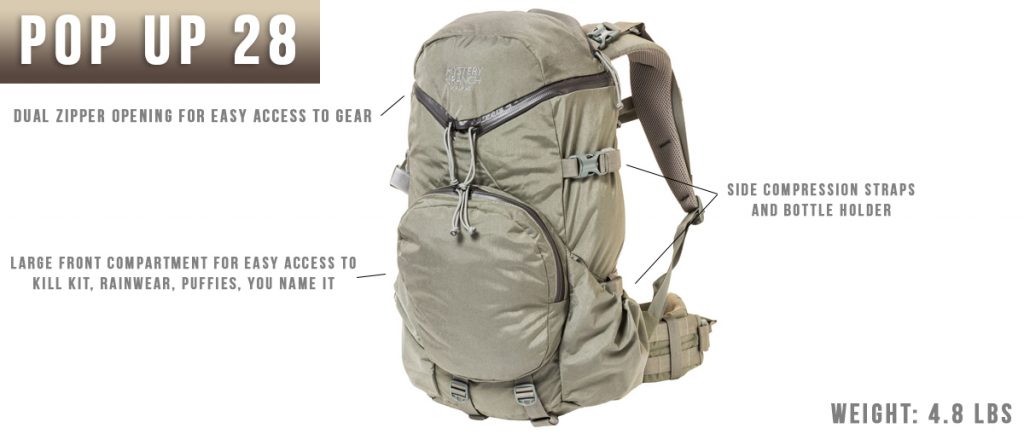 ---
The Mule
Designed for Day Hunts and more, the Mule is a pack built for those wanting to have the Guide Light Frame with needing room for only the necessities. Maxing out a little over 1400 cu in, the Mule is extremely versatile and lightweight, coming in at about 4.5 lbs! If you're looking for a frame pack but aren't taking the whole world on your back then the Mule is a solid choice. Plus, this is one of the packs that will be available in a Bag Only Option!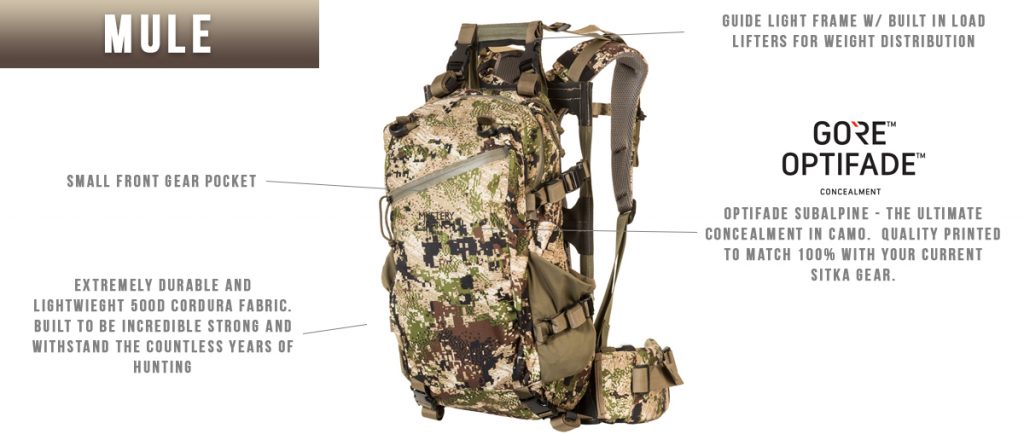 Building off the Guide Light Frame, Mystery Ranch wanted to take the thought and design of the Cabinet but in an ultralight version. The Mule is simply put, the simplest and minimalist Guide Light Frame pack that Mystery Ranch has developed.
Intended Use: Backpack Hunts, Load-Hauling

500D CORDURA® (solids) / 610 HP CORDURA® (camo)

Volume: 1404 cu-in (23 L)

Frame System: Guide Light Frame

Weight: 4.4l bs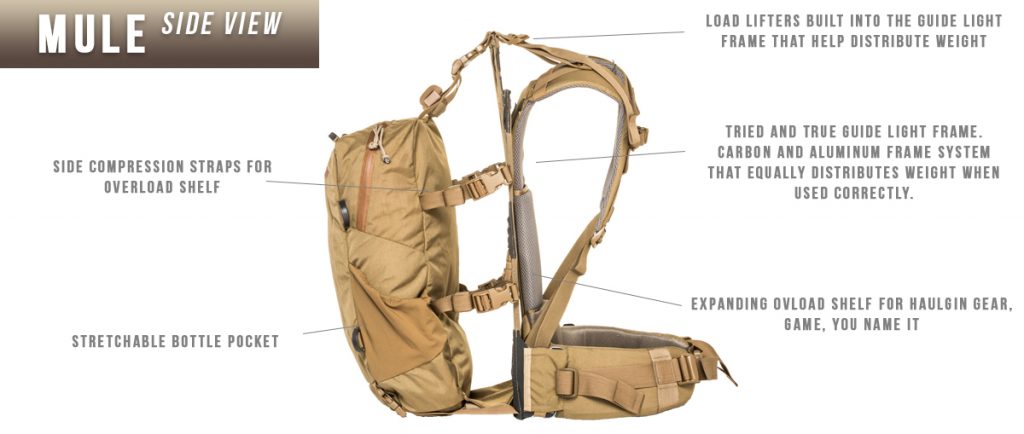 Not only do you get the Guide Light Frame system but also the Overload Shelf capability. This opens up a whole new world for gear storage capacities and allows you to turn this small pack into a Load Hauler in minutes.
---
New for 2018 - Bag Only Options for the Pintler & Mule
To some of you this might not seem like a huge deal but for the hardcore hunter this just made building your dream of building a pack system a reality. Now you can purchase two pack bags, the Pintler and the Mule in a Bag only option which can be used on any pre-existing Guide Light Frame. Maybe you hopped on the Mystery Ranch hype when they first came out and bought a Metcalf. An awesome pack, but maybe you'd like to use your frame on a day hunt but don't want all the unnecessary room of the Metcalf. Now you have the option of picking up let's say a Mule Bag where you're focus then changes to Light and Fast instead of Load Hauling. Now you can build a system that specifically caters to you without having to fork out the cash for a complete frame and pack system.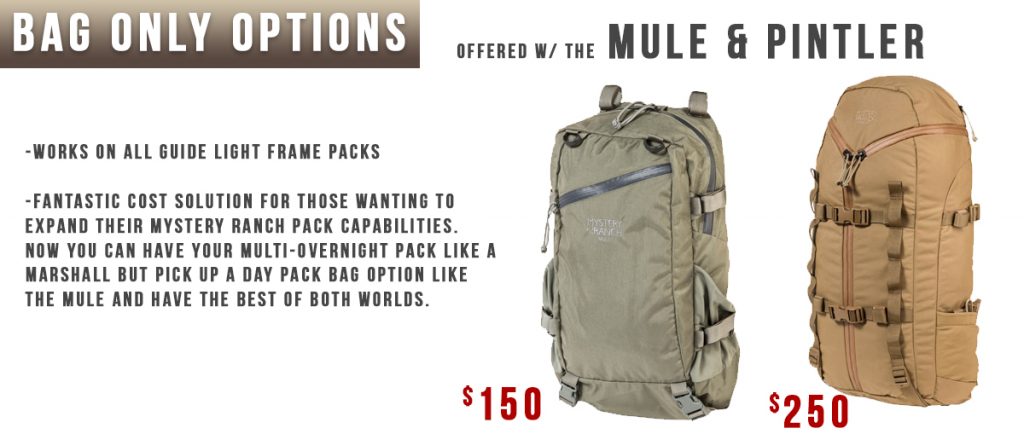 ---
Treehouse - Dream pack for Treestanders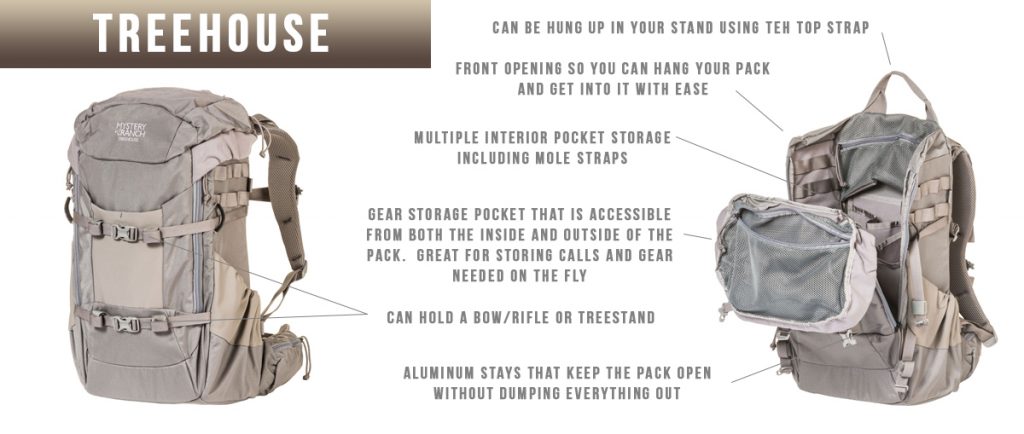 The new Treehouse is a hanging gear quiver designed for tree stand hunters. Featuring quiet, interior fabrication and a rigid structure, the two-zipper access allows the face panel to open to 45°, securing its content from falling out and allowing for one-handed access. Multiple interior sleeves and pockets for organizing, as well as MOLLE webbing (inside and out) for customized accessory attachment. Front compression straps provide secure attachment for a bow or lightweight stand and side water bottle pockets and compression securely fit tripods, bow hangers, or other tree stand gear.
If you live in a treestand during the season and need a solution for all of your gear, the Mystery Ranch Treehouse Hunting Backpack is the pack for you!
---
New Add-on Accessories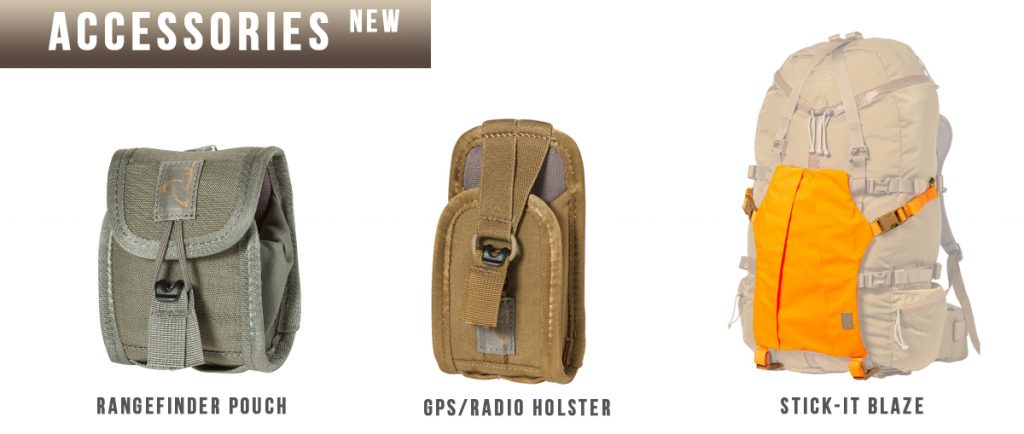 The major Pack Accessories for 2018 are the Rangfinder Pouch, GPS Holster and their unique approach with your orange visibility by using the Stick-it. The Rangefinder Pouch and GPS Holster are pretty straight-forward, they can be attached to your pre-existing Mystery Ranch Pack or Bino Harness or your waist giving you the ability to carry the essentials within hands reach.
The Stick-it is a really cool addition because it attaches to your Mystery ranch pack and gives you the High Visibility Orange for Rifle Season but it can also double as an extra storage piece. The Stick-It expands somewhat so if you have a puffy or a woobie, you can stuff that between your pack and the Stick-it, saving more room for the interior of your pack.
---
That covers just about everything.  With the addition to Optifade and the new key pieces we're really excited to see how 2018 unfolds and we can't wait to bring you more exclusive content during the coming year.  Be sure to stay tuned for more info and as always, feel free to contact any of our Gear Guides if you have any questions about use, fit, or recommendations.