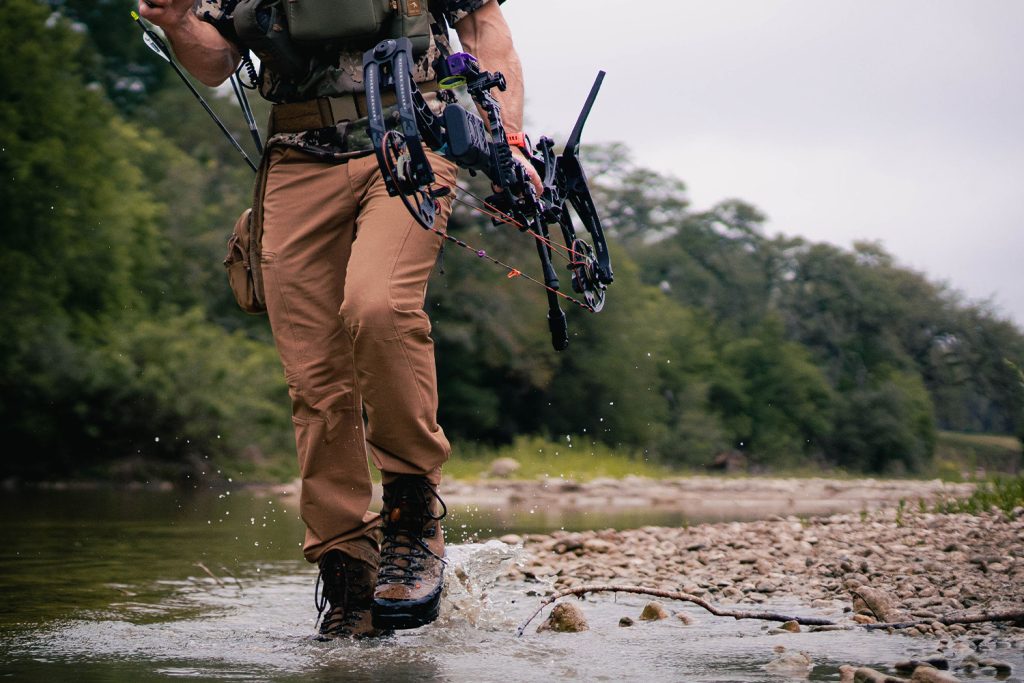 My brother Jeff recently wrote a review on Midweight pants. I will use the same format he used. Most of our scouting and hunting is done in the early season when temps are a little warmer. On an early season archery elk hunt, in September for example, temps can range from 30 degrees in the morning to mid 70's and 80's in the day. Choosing a pant that is lightweight and breathable yet still durable is key to making these hunts more enjoyable. I had the opportunity test and put the following lightweight pants through the ringer.
Sitka Ascent Pant – $199
Kings XKG Ridge Pant - $119.99
As part of my review for each pant, I've listed a general description from the manufacturer's website including their highlighted specs. As well as a summary of my initial impressions of fit, function, durability, noise and intended application.
Sitka Ascent Pant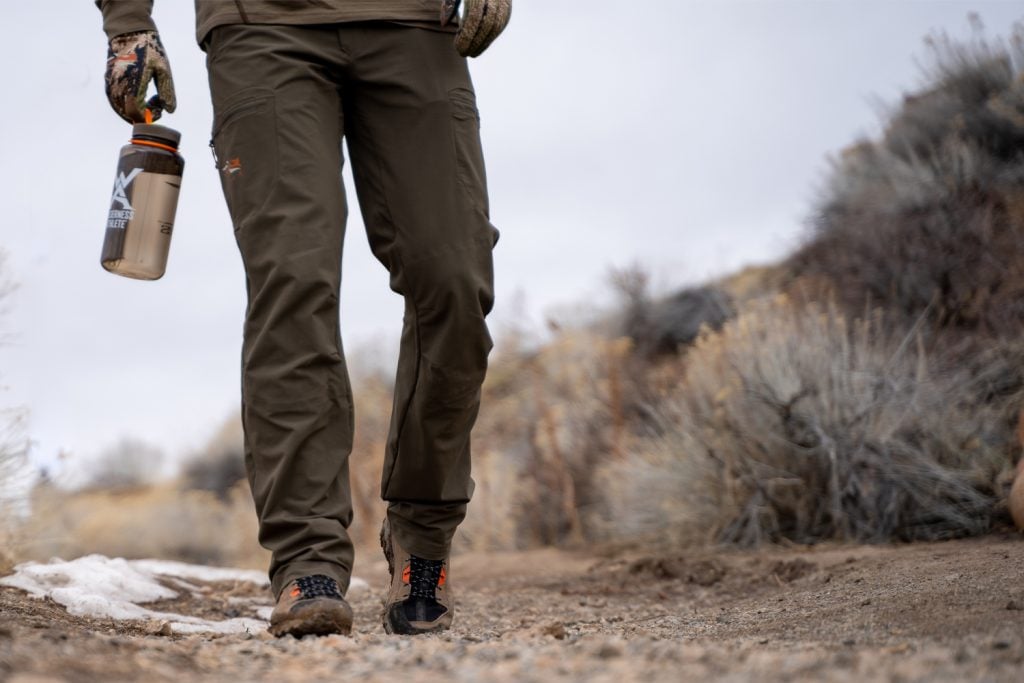 Lightweight and breathable, the Sitka Ascent Pant will keep you cool and dry for those hot days charging in the mountains. Advanced 4-way stretch synthetic blend moves with the hunter and stands up to heavy abrasion in the scrub and scree. Mesh-backed hand and cargo pockets deliver extra ventilation, and an internal mesh knee pad pocket provides added protection when field dressing an animal.

Weight: 12 oz/ size: L
Fabric: 4-Way Stretch
Fabric: Cordura/Nylon/Spandex Blend (60% Cordura, 30% Nylon, 10% Spandex)
Polygiene Scent Control: Neutralized odor caused from sweat.
Mesh knee pad pockets
Articulate Fit: Delivers a maximum range of motion with minimal bulk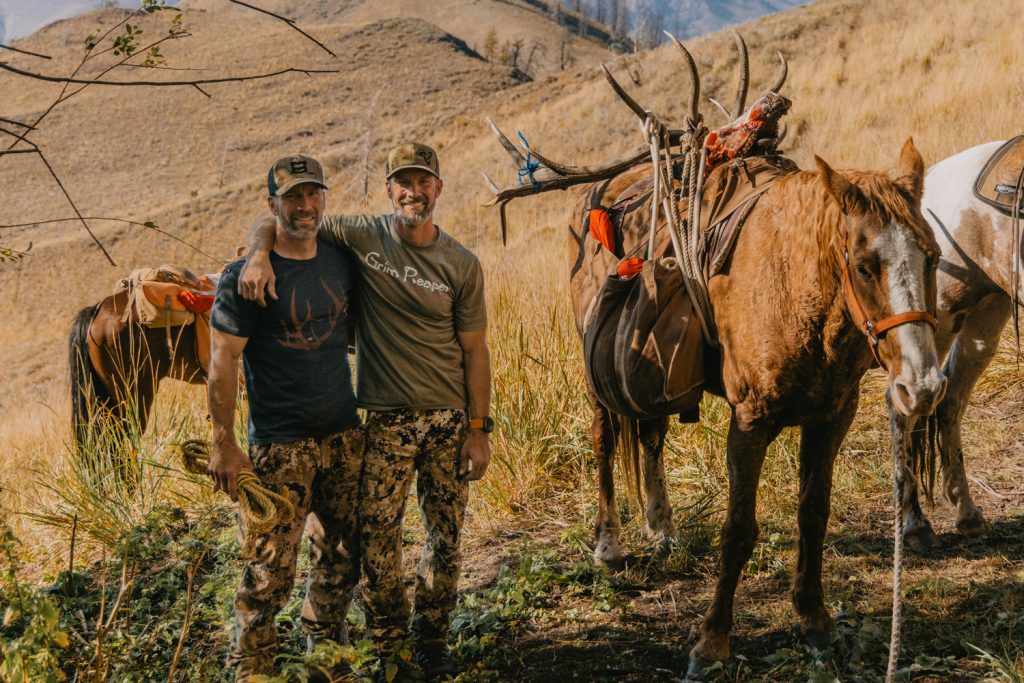 Summary:
At 12oz, the Sitka Ascent pant feels really light, so I worried initially about durability. After about 5 years of using this hunting pant, I've never had a durability issue. These pants articulate well when climbing the mountain and do a good job of dissipating heat. I'm 5'10" with a 32" waste and the 32R is a perfect fit. If you like a little longer cut, to drop down lower on your boots, then they have a tall version that adds a couple inches to the inseam. The material is very comfortable but is not designed to repel water. The good news is these pants dry very quickly if you do get wet from morning dew or a mountain thundershower. Overall, the Ascent pant is hard to beat for its intended purpose. Light and fast. These pants can be worn to hunt bears in the spring to elk in the fall and everything in between. My only criticism of this pant is the belt loop system. The loops are wide, but the threading depth is narrow and there are a lot of them. You will need to get a Sitka Stealth or Bomber Belt or something similar to fit through the loops. They come in three colors; Optifade Subalpine, Optifade Open Country and a Pyrite Solid.
BlackOvis Granite Peak Pant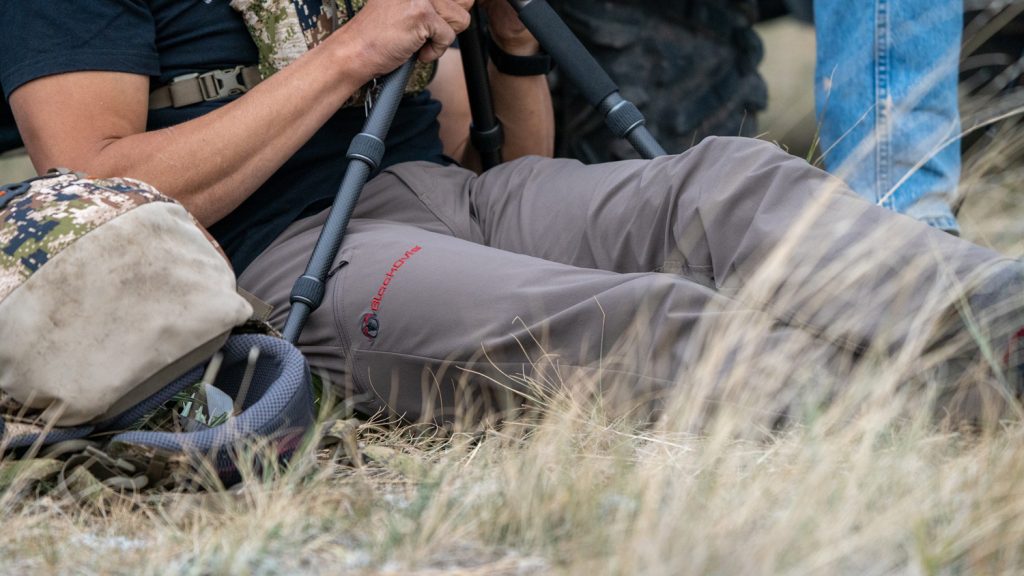 Designed and built by hunters, the Granite Peak Pant is a lightweight Polyester blend pant that is as comfortable for early mid-season hunts or during a summer scouting trip as it is heading out to your local pub on a Friday night. The BlackOvis Granite Peak hunting pant was built with the primary need to be tough, yet with a clean design and features that make you want to put it on day in day out. It utilizes a stretch polyester fabric woven with 10% spandex to create a highly comfortable 4 way stretch pant that is ready for any mountain terrain or obstacle that comes your way. Deep hand pockets feature soft stretch mesh on the top of the hand as well as an essential reinforced EDC knife carry option on either pocket. Right side deep cargo zip pocket, left side zip stash pocket and rear zip pocket will keep extra items secure as you cross ridgelines and head up mountain trails. Say hello to your new favorite lightweight hiking and hunting pant regardless which direction you're headed from the trailhead.
90% Poly/ 10% Spandex
Weight: 15oz
DWR treated fabric
YKK Zippers
Fly zipper features YKK lockdown zipper
Deep hand pockets have stretch mesh on the top of hand side to increase breathability and comfort
Vertical zip stash cargo pocket on left leg
Deal rear pockets
Double stitch hem
Gusseted crotch
6 total pockets
Slightly tapered pant leg
Summary:
I discovered the Blackovis Granite Peak pant a couple years ago and I'm glad I did. From the first time I tried on this pant I knew it was going to be a winner. I love the athletic fit of this pant and the slight taper in the legs. They still have plenty of room to fit over the top of hunting boots but there is not a lot of extra fabric to bunch up and snag on things. Again, I'm 5'10" with a a 32" waist and the 32W 32L fit perfect. The fabric is a nice blend of polyester and spandex, so they are comfortable and quiet yet durable. They also come with DWR treated fabric which will repel a fair amount of water. If they do get wet, I have found they dry quickly. Not only do I love this pant for hunting, but this is also a great everyday wear pant. The Granite Peak only comes in the following solid colors; Dirt, Juniper, and Lead. Therefore, if you think you need a camo pant for hunting, there is currently not an option in this pant. I personally hunt in solids and don't think any animal knows the difference. This pant is a tremendous value at $80 bucks a pair. It would be a mistake to not have a couple pair of these pants in your arsenal. As I write this review, I have packed two pair of my Granite Peak pants for my Alaska bear hunt next week.
Kings XKG Ridge Pant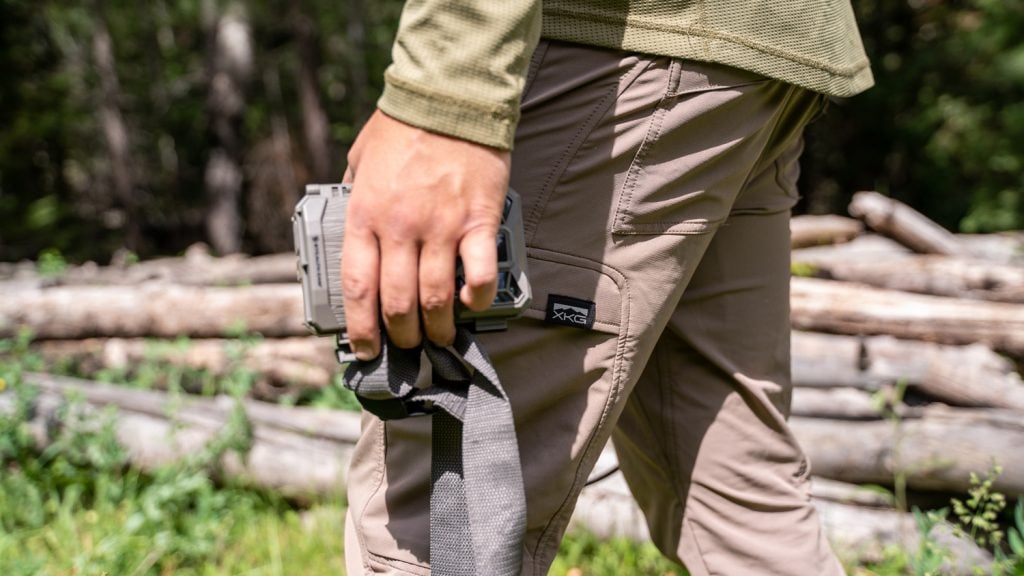 The XKG Ridge Pant is designed for performance, comfort, and durability and is the highest performing lightweight pant in our XKG series. With four-way stretch polyester, water resistant treatment, and superior breathability, we built this pant to be a highly functional piece during every phase of the hunting season. It is equipped with articulated knees for comfortable walking, grip strip waistband, reinforced pockets for knives, snapped cargo pockets for secure storage, and roll up pant snap loops to keep your pants dry while crossing streams or to stay cool during the hot early season months.

Weight: 18.7oz - Large
4-Way Stretch Polyester Blend (90% Polyester / 10% Spandex)
Water Resistant Treatment
Articulated Knees
Grip Strip Waistband
Extra Thigh Zipper Pocket
Flap Over Back Pockets
Snap Loop (Roll Up Pant Leg)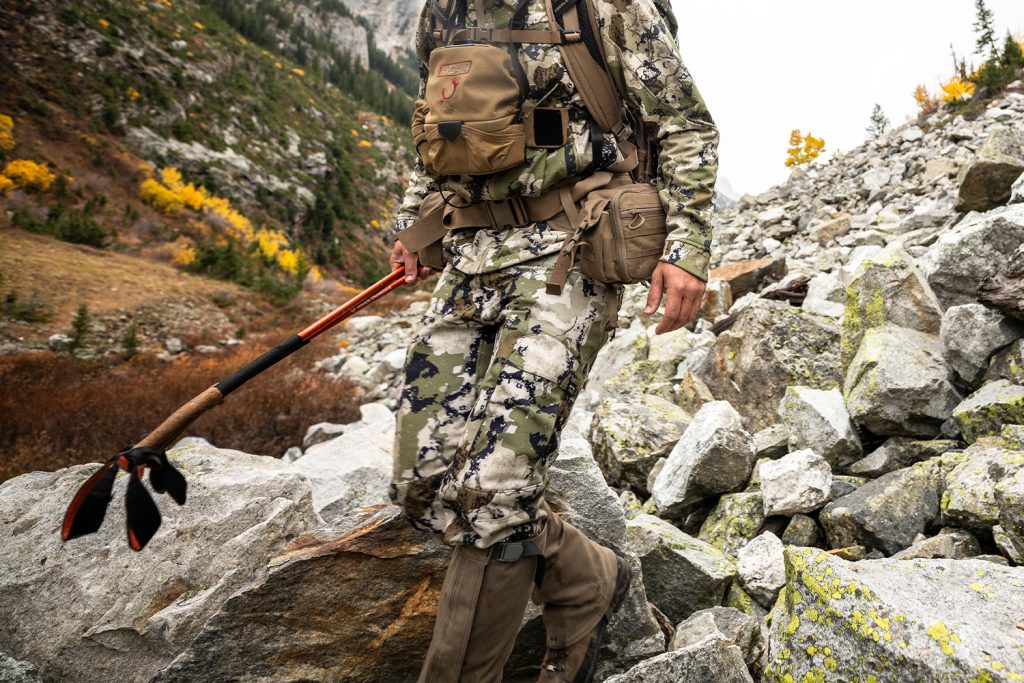 Summary:
I have buddies that swear by the XKG series of Kings clothing but this was my first experience with XKG pants. The material is very sturdy and has held up to some good miles this spring as I have tested this pant. The fit of the Ridge pant is a little loose fitting for my liking. There is plenty of room for articulation but seem to be roomier in the crotch and don't have much taper to the leg. Not a big deal but just something I noticed when wearing them around the hills. I like the fact that the material is treated with some water repellency. Like all of the lightweight pants that I reviewed, these pants have the right blend of polyester and spandex so they dry quickly when wet. The XKG Ridge Pant comes in XK7, Desert Shadow® & Mountain Shadow®, Realtree Edge®, Dark Khaki, Bark and Charcoal.
Which one would I choose?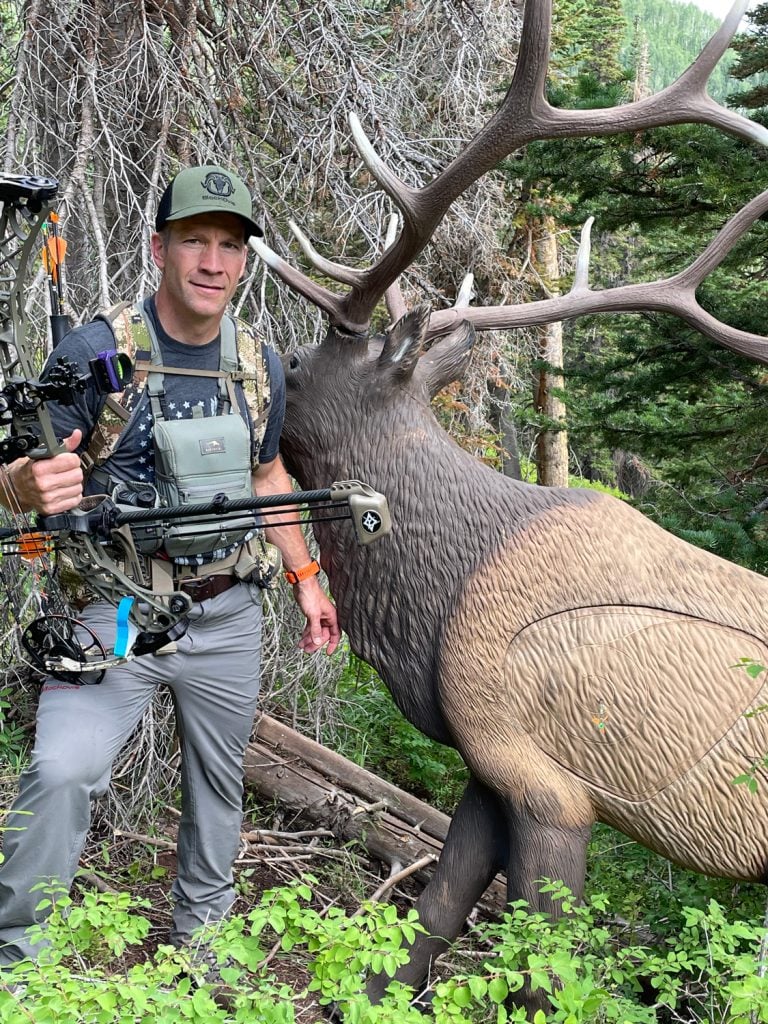 All three of these lightweight pants are solid options and you won't go wrong with any of them. While trying to make this review as impartial as possible, my current preferred pant is the Blackovis Granite Peak. The fit is amazing, and I find myself wearing them several times a week even when I'm not scouting or hunting. The value of this pant is also an added bonus. I love the Ascent pant and have the most miles wearing them. The Ascent Pant is also the lightest pant and if I knew the temps were going to be above 75 degrees, this would be my go to. The XKG is the heaviest pant of the three I tested and didn't fit me as well. I like the fabric and this pant has some cool features like extra pockets and snap loop to roll up the pant leg. Pick up any one of these options at Blackovis.com for your next scouting or hunting adventure.
- Mark