There has been a huge increase in the popularity and use of leg gaiters in the last few years in the hunting community. I personally had never used a gaiter until 4 years ago. However once I bought my first pair and started using them in wet and snowy conditions, I instantly realized their value. High gaiters will help prevent the bottoms of your pants from getting soaked by wet vegetation or snow while also keeping your boot uppers protected from the elements. They can also help keep out water in brief and shallow (below the top of the gaiter) stream crossings. They are not waders so don't expect them to keep your feet dry while crossing a raging river!
I had the opportunity to personally go through and try out several of the most popular and newest hunting gaiters on the market and give my 2 cents about each of them. Below you'll find the features of each according to the manufacturer and then my own personal experiences using them. Some of my opinions may differ from others but they are based on my experience using gaiters while chasing everything from high country Mule Deer in the heat of August and September, to late season elk hunting in the bitter cold of January.
First Lite Brambler Gaiters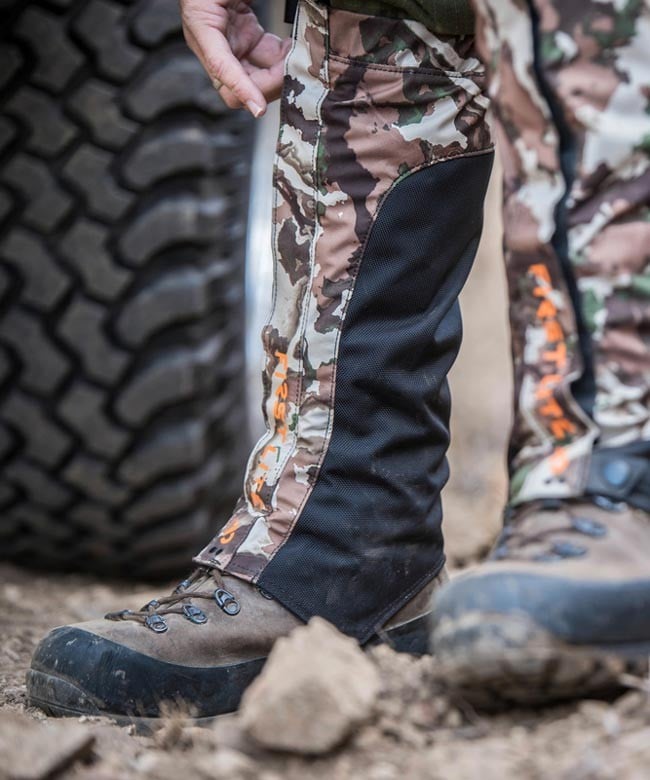 The First Lite Brambler Gaiters are built to take a beating with their coated Nylon straps, Cordura constructed insteps, and insanely tough seams. They will keep you dry and comfortable no matter the conditions or terrain. They utilize the same 37.5 by Cocona Technology which breathes like no other but is also extremely waterproof. They are currently only available in the Fusion camo pattern but I would like to see them in a solid color in the future. They are available in a S/M or L/XL. I have  16.5" calves and the S/M fits me perfectly.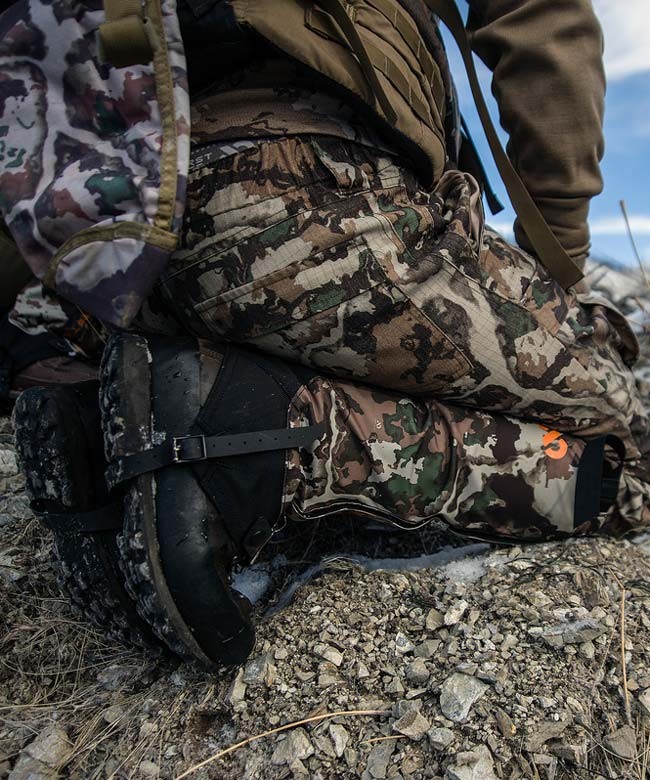 When I first tried these on I was impressed with how comfortable they were overall compared to some of the others. They just fit me well overall and didn't feel stiff or baggy like most gaiters I've tried. I was also very pleased with the overall construction and materials they used. The inner part of the gaiter (or instep) is Cordura Nylon which is extremely strong for it's weight. I know from experience and I'm sure most of you do too, that the instep of pants or gaiters will take a lot of abuse which will wear a lesser material out in that area. The top cinch strap works well and is easy to adjust as well. I like that they kept it simple but very functional.
The coated Nylon boot straps are extremely durable and in my opinion it is the best material for the job. I found these gaiters to be extremely waterproof and kept my pants and boots dry in snow and wet vegetation. They weren't noisy in comparison to some of the other gaiters in my testing, but every gaiter tested had some noise to it which is to be expected due to the materials needed to perform day in and day out in wet conditions.
There was only a few things I didn't like about the Brambler gaiters. I wish the front of the gaiter would come down lower on the top of the boot, preferably to the first lace cross to give a bit more protection there. I didn't particularly like how the end of the boot strap stowed, it was a tight fit and tended to be a pain to get in or out. It did however keep the end out of the way and it stayed there all day. These are definitely not deal breakers just some minor things that would in my opinion improve this already excellent gaiter.
Kenetrek Hunting Gaiters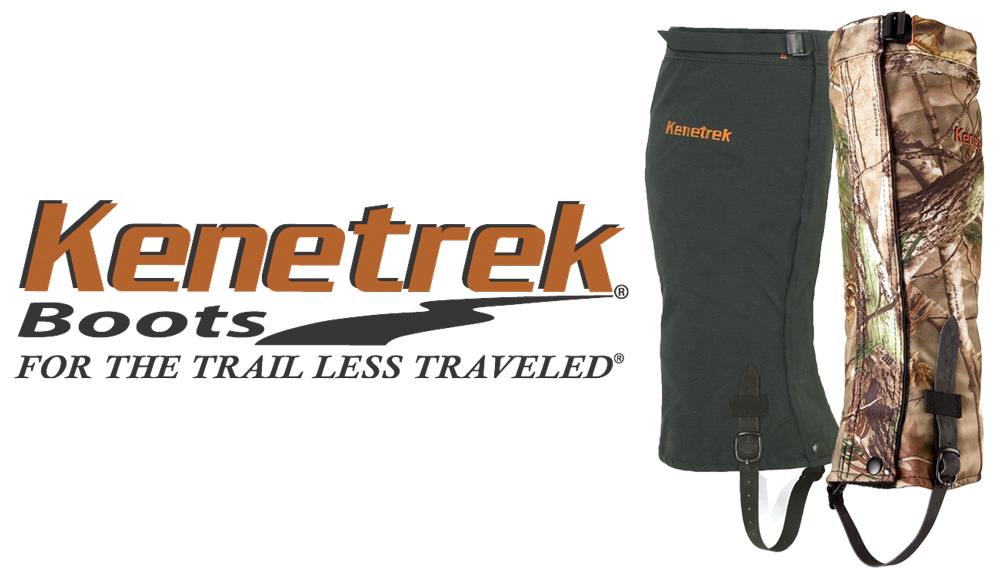 Kenetrek pretty much paved the way for the rest of the hunting industry to start manufacturing and selling gaiters. Their Hunting Gaiters feature a StormBlocker membrane which allows sweat vapor to escape while remaining completely waterproof.  The wide front hook and loop closure with secure snaps makes sure the gaiter is easy to put on and is probably the most imitated design on the market. They use a replaceable heavy duty Hypalon rubber boot strap which won't collect snow and ice like some other strap materials. The bottom portion is reinforced with a 1000 denier coated nylon. Probably the greatest feature is the tricot micro fleece exterior on the camo version which is very quiet in the woods. The solid colored gaiters (black and loden green) use a  durable nylon outer fabric which creates a bit more noise but is more resistant to snow/ice sticking to it. Top adjustment is done via a tunneled sliding nylon strap and cam buckle to help keep snow and debris out and gives a nice snug fit. These are available in 3 sizes to fit Men's shoe sizes of 5-15; M (5-8), Large (9-12), and XL (13-15). They come in a variety of color options to match your situation or personal preference. We currently carry them in Loden Green, Black, and Realtree Xtra. Kenetrek also offers a snow camo option on their website as if you are interested.
The first thing that stood out to me during the review was the dead quiet material that is on the camo version. It is much quieter than any other gaiter I've seen and that can be very important while stalking in close to your quarry. I also tried on of the black version that has a nylon material outer which I didn't find to be overly noisy but definitely not as quiet as the camo. I really like the fact that you can replace the Hypalon straps if they do decide to fail at some point. None of the other gaiters have this capability, at least not easily or without sending them in to be replaced. The fit is spot on with their size chart and they are nicely contoured to fit your leg comfortably. They are easy to put on and take off and the top adjustment strap works great.  The overall construction of the gaiter seems to be plenty sufficient for long term durability. An awesome gaiter for $59.99 when most others are pushing $100.
My only concern with these gaiters is the single stitching across the bottom, I'm sure it's probably fine but I would feel more at ease if they were double stitched. Honestly though I'm probably counting hairs here because they are a lot less expensive than other options and will probably still last several years for most users. Another thing I noticed with the brushed material on the camo version is that snow, burs, and ice tend to cling to it more than the nylon or polyester material used on the solid color gaiters. Again not a deal breaker but just something I noticed while using them.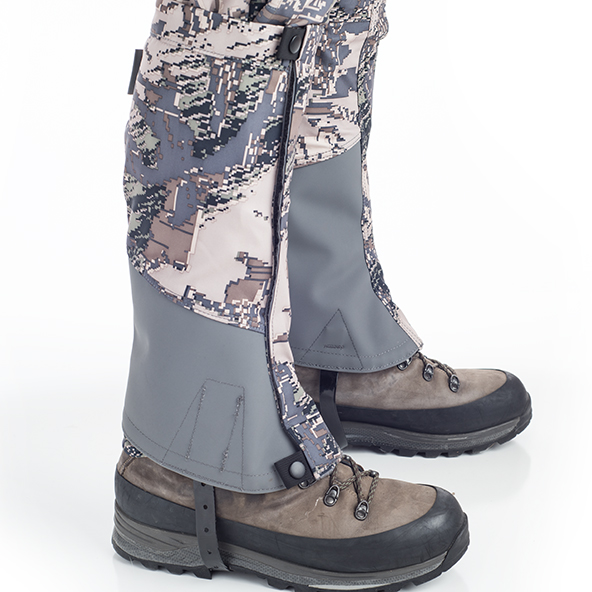 Sitka has a reputation for designing and building the best hunting gear out there and the Sitka Stormfront Gaiters are no exception. They are built to withstand whatever you or Mother Nature can throw at them. The upper portion is constructed with Gore-Tex Fabric which helps maximize breathability while remaining completely waterproof. The lower part of the gaiter is a full Hypalon that can handle insane amounts of abuse in the most extreme conditions. They are the only gaiter in the comparison and one of the only models out there that use a heavy duty zipper along the seam and a Velcro storm flap for easy on-and-off access. The top adjustment is a cinch shock cord that is contained inside the gaiter so it will never catch on brush. These also have an extra heavy duty boot strap which is adjusted by an internal hook system which eliminates the buckle entirely and is easy to adjust. They are available in two sizes to accommodate all but the largest and smallest of legs/boots. The M/L fits me perfectly which is on par with what their size chart says, so I would order based on that. Currently Optifade Open Country is the only color option available.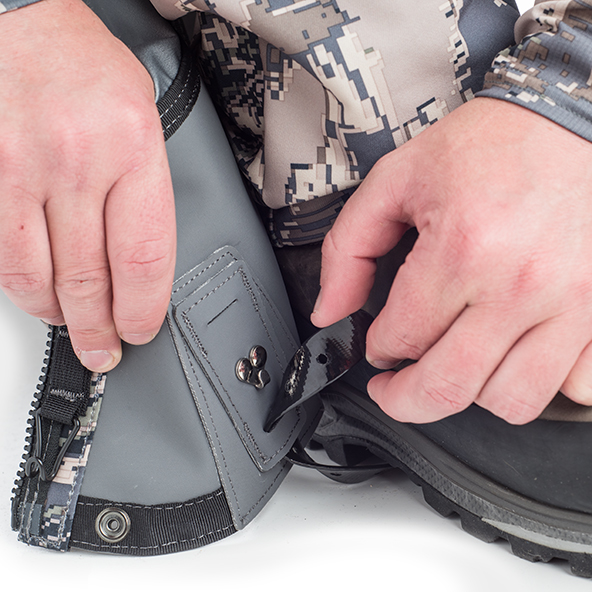 I was excited to see how well these worked and to be able to pick them apart. I am extremely shocked at how well these are built and the quality and thought they put into the design overall. The biggest thing that jumps out it is the Hypalon material on the lower portion of the gaiter. It truly feels like it could sustain anything you could throw at it. It is a fairly stiff material and with that does come with some extra noise as well. More on that later though. They are really easy to put on and take off thanks to the zipper/Velcro in the front. The boot straps are robust and are probably the strongest out of every gaiter out there. The hook adjustment for the straps is located inside the gaiter which is only adjustable with the gaiter fully or partially off, however it is simple and you typically only adjust it once anyway. I like that their isn't a buckle at all which could fail or get caught up in the thick brush or be broken against a rock. The top adjustment is located inside the gaiter and is the shock cord type which works well to keep out debris/snow that happens to go above the gaiter. I also like that they put it inside the gaiter rather than on the outside where it would be exposed to potential snagging or breaking.
As much as I really like these gaiters there are a few things that could hold some people back from buying them. The first is the noise that the Hypalon lower can make when in use. It's not extreme and I expect it would probably dissipate with more use if the material softens over time. The noise is almost a popping sound that stems from the stiffness of the Hypalon. I don't think this is a deal breaker because the durability and strength of this feature overrides the slight noise in my opinion. The only other thing that can make people cringe is the price tag. They retail for $149 when most hunting gaiters range from $59.99-$99.99. Honestly if you want the most bombproof gaiter out there I think the extra cost is marginal. This is a gaiter I would trust 100% in the coldest, wettest, and snowiest places in the world.
Under Armour Ridge Reaper Gaiter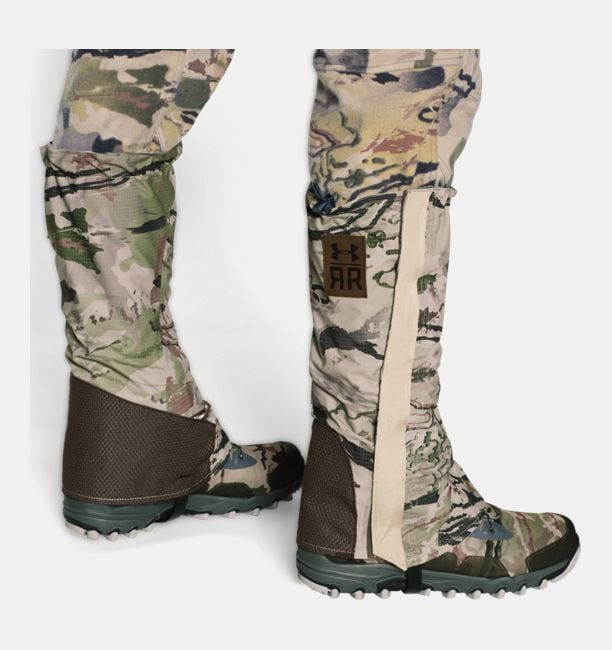 I was glad to see Under Armour finally stepped into the hunting gaiter market with it's Ridge Reaper Gaiters this year as well. They are a little different than most with the velcro seam being on the outside of the leg rather than the front. They are only available in "one size fits all" and the Velcro is also the adjustment for calf/boot size.  Under Armour uses their UA Storm DWR to resist water but still allows the gaiters to breathe very well. The inside appears to be lined with a waterproof membrane also. The boot strap is a coated Nylon which is a definite plus in terms of durability. The top adjustment is done via an adjustable shock cord like most jackets and hoods. They also utilize a stronger material on the instep and back of the heel to increase durability in this high-wear areas.
My first impressions are that they seem to be well built overall, the materials are of good quality, and they are very comfortable. They fit me well (16.5" calf, size 10 Crispi Idaho GTX boots), I would probably say the max calf size would be around 18". It was different trying to put them on with the Velcro being on the side of the leg, but definitely not difficult once you get the hang of it.
There are a few things that concern me with the Ridge Reaper gaiters however. The way the lace hook is attached to the gaiter makes me wonder how long it will hold up under heavy use. The material used in the instep and heel area can be quite loud if you happen to rub them together while walking. My only other complaint is that they do only come in the one size which won't work for people with larger legs/calves (18" plus). Hopefully they will come out with a larger size in the future but that is yet to be determined.
Kryptek Petra Gaiter

The Kryptek Petra Gaiters are constructed entirely of a polyester material which is doubled up on the lower portion for added durability. They utilize Velcro that attaches like many other gaiters, on the front of the leg/boot. The boot straps are also a coated nylon like all of the top gaiters that are built to handle whatever you can dish out. The overall design of these gaiters is simple but effective. They also utilize an adjustable shock cord for the top adjustment that is similar to the UA gaiters. The lace hook is well thought out and keeps the gaiters in place on the top of your boot like it should. Kryptek definitely thought it through on these and is offering them in 4 different sizes based on shoe size. S, M, L, and XL.
When I first looked at these gaiters I was both surprised and pleased with how they were constructed. Rather than adding a panel of Cordura or another abrasion resistant material they doubled up the already durable material in the lower portion of the gaiter to help in this high wear area. They are very comfortable and easy to put on which is more than I can say for some gaiters I've tried in the past. They do seem to breath better than most gaiters I've tried which is always a welcome bonus.
The only thing I could find that I wasn't particularly fond of was the way the buckle is attached to the gaiter. It seems to me that it would be the weak link because it is attached via a lightweight webbing that doesn't look very stout. I could be completely wrong on this but only time and miles will tell. Overall I'm impressed with these gaiters and I would suggest them for anyone looking for a solid lightweight gaiter.
Black Diamond Apex Gaiter

The Black Diamond Apex Gaiters are the only gaiters in this comparison that aren't specifically marketed to hunters, but they are definitely on the most solid gaiters out there. They utilize a 3-layer Gore-Tex welded hardshell upper with a welded, double layer 600d abrasion guard that is darn near bombproof. It was designed to hold up to crampon use and ski edges which have no problem handling the rigors of mountain hunting. They attach with the typical hook and loop closure across the front of the leg. The boot strap is a High-Density, neoprene-coated nylon which is strong enough to hold up to the nastiest mountain terrain imaginable. Adjustment for the top of the gaiter is done via hook and loop and a simple buckle system. They are also available in 4 sizes as well to get the right fit for you. S,M, L, and XL. I recommend sizing up if you are at the top end of a size for boot size. I wear a size 10 Crispi Idaho and had to go to a Large in these even though the size chart shows size 8.5-10 should be a size Medium.

The construction of the Apex gaiters is superb. I tried to find flaws with these but honestly there are none in my opinion. They fit well but do run slimmer than most hunting gaiters so definitely size up if you are unsure. The Gore-Tex breathes just like it should and adds to the comfort as well. Everything on these gaiters has been well designed and thought out and it shows from the moment you put them. If you are fine with a solid black gaiter but want it to be nearly indestructible this is the gaiter for you.

Honestly if I had to name a few cons on these gaiters it would be their sizing. I'm not sure if mountaineers and backcountry hikers/skiers just have skinny legs but their sizing charts could use some work. The only other thing I can think of would be that Black Diamond doesn't really take a stance on whether they are for hunting/against it but there are a lot of hunters out there using their products because they are some of the best available.

Closing Thoughts

After having the chance to compare and review all of these gaiters I am thoroughly impressed with how far the design and function of hunting gaiters has progressed in recent years. I don't think you can go wrong with any of the gaiters I've reviewed here but I hope that this will help you discern which gaiter will work best for you and your intended use.