Did Sitka revolutionize a whole new era in the optics harness space? The Sitka Mountain Binocular harness is one of the most versatile pieces of gear here in 2020. Prior to receiving this binocular harness, my mind was pretty set on that a binocular harness is just a bulky uncomfortable necessity and there was no other way to carry your binoculars. This sleek design packs a punch and has many hidden features that have taken years of developing and testing to perfect.
Product Specs
The product itself comes in a Pyrite solid color, as well as Gore Optifade Open Country and Gore Optifade Sub-Alpine camouflage. Starting from the top of this harness and working down, the low profile straps are made to fit comfortably under your pack. These straps feel very durable and are also breathable with loads of adjustments to fit any body type.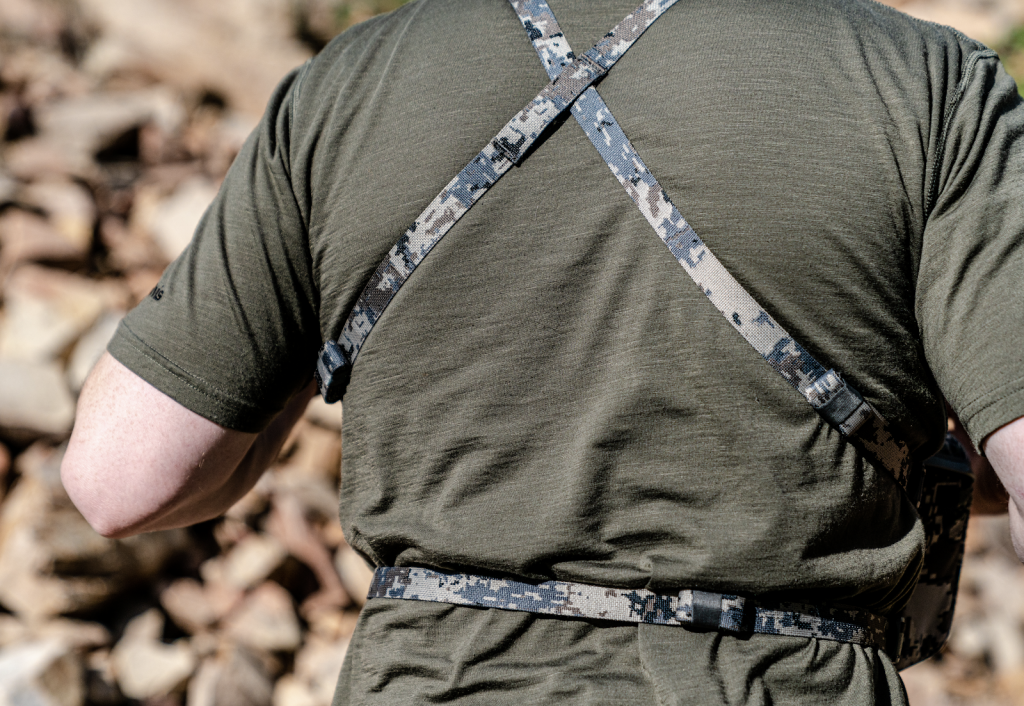 Using the same strap material, the Sitka Mountain harness uses a third strap to lock around your lower back for extra security and eliminates the classic "binocular bounce". The next unique feature is the closing mechanism. The Mountain harness uses both a silent magnet and a tension strap with two height adjustments for different sized optics.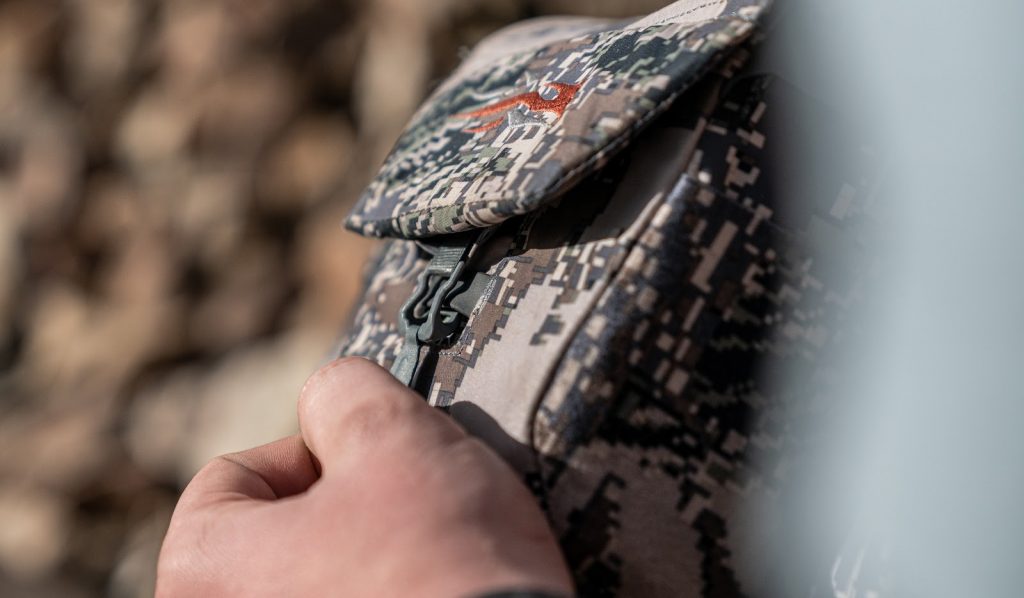 The top flap of the harness opens towards your chest. With small magnets in both the straps and the lid to keep your optics readily available. There are many other features that you will find on most other high end binocular harnesses that can be seen on this graphic below.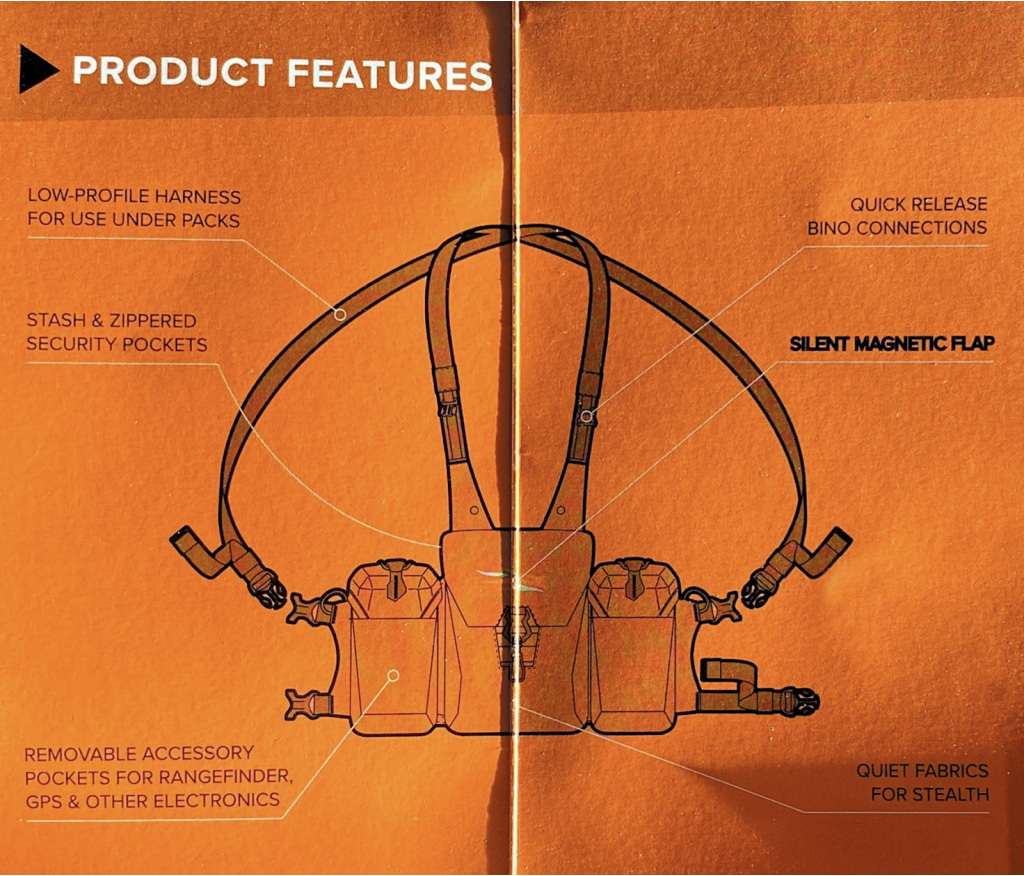 Hidden Features
On the back of the binocular harness you will find a sleeve which is a perfect place to keep your cell phone.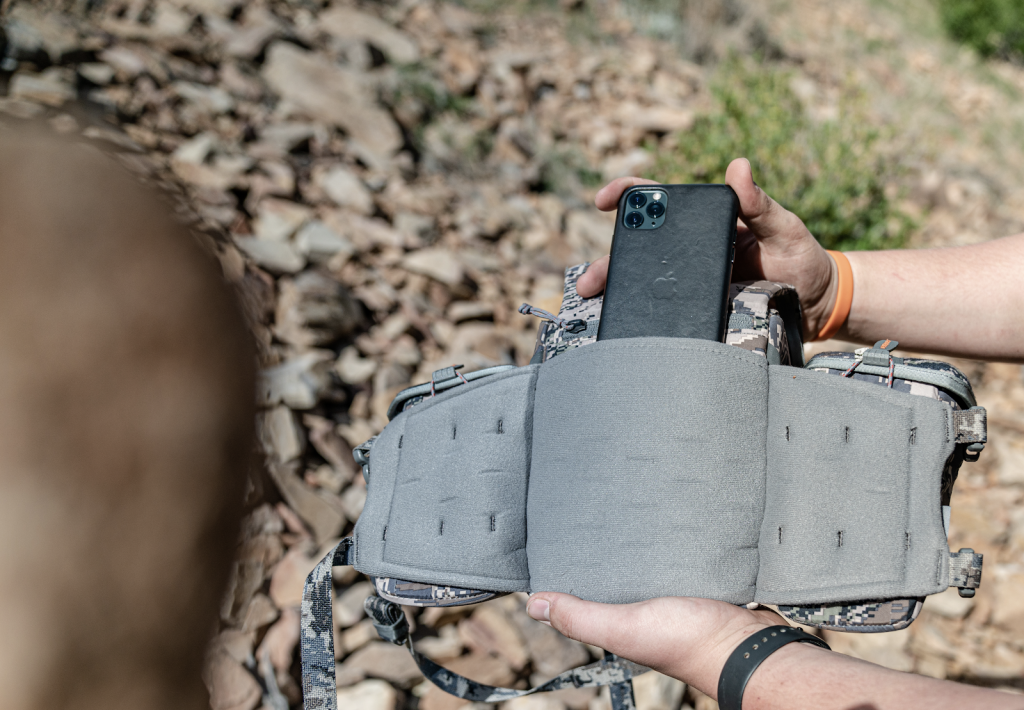 You can also find a small zippered pouch perfect for your hunting licenses and other valuables.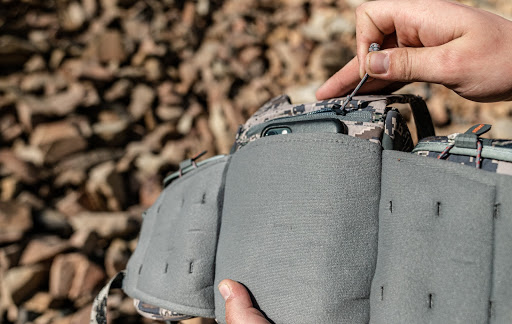 Last but not least, my favorite hidden feature is the included Sitka lens cloth, That is built into the harness.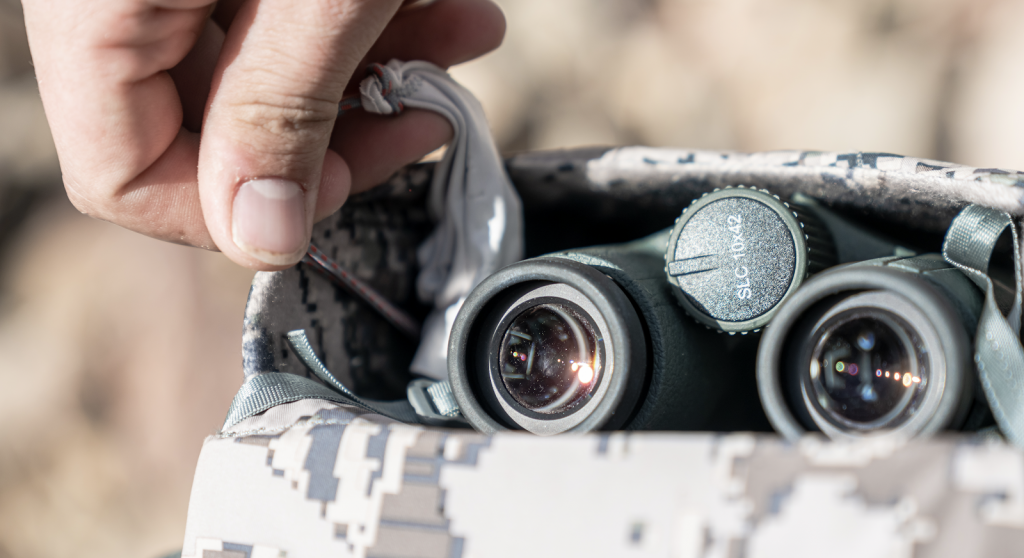 Field Testing
I have been running the Sitka Mountain Optics Harness exclusively for the last three months. Using it and abusing it in many conditions and situations such as snow storms, rain, and extremely dusty roads in the desert. In my opinion a binocular harness that requires more than one hand to operate should be used for nothing more than a paper weight. While turkey hunting in tight quarters this spring I found it a necessity to be able to access not only your binoculars but your rangefinder and front pouches that usually hold diaphragm calls quickly and quietly.
Putting the harness on is fairly simple, I tend to leave the entire left side buckled up so when I put the harness on it is like putting on a t- shirt. The quiet yet water resistant outer material seems very durable and is very appealing to the eye. Although the Mountain Harness is not completely weatherproof due to small gaps in the top flap to accommodate sized 10 power binoculars, I was pleasantly surprised at how clean and dry my optics would stay.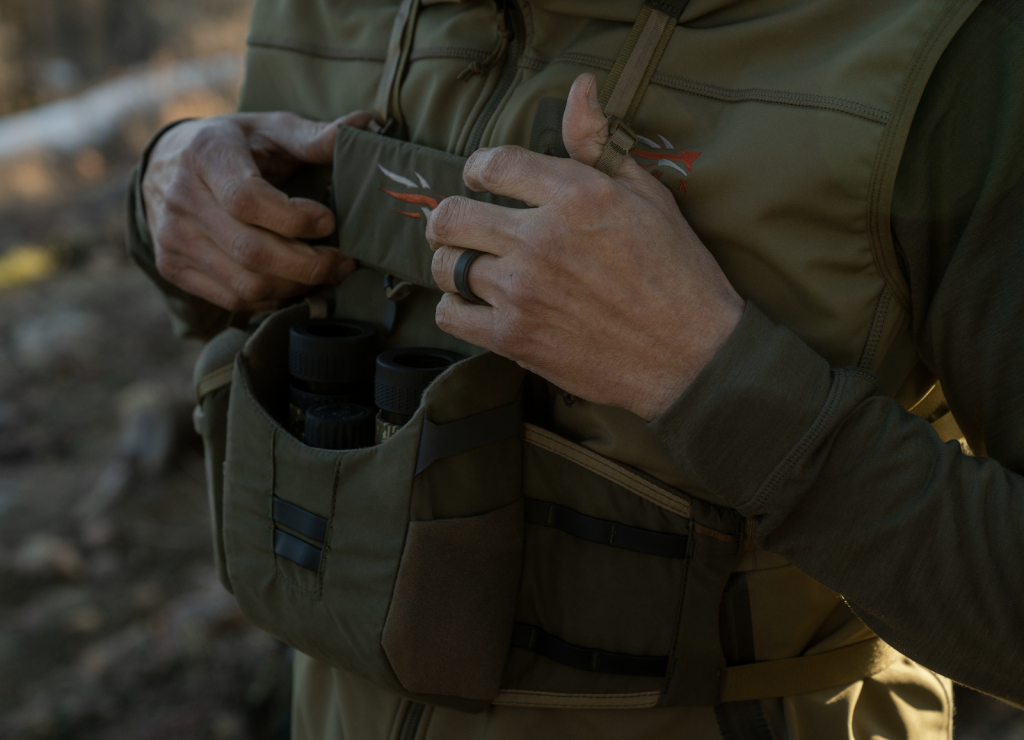 Pros
I really like the overall eye appeal of the Sitka Mountain Optics Harness. For the most part, it's very sleek and has a light-weight but durable design. It also has a strong water resistance to protect your optics. I love the amount of storage: four compression pockets on the front, one on each range finder and two on the sides of the main compartment. On the back, there's a large compression pocket that can hold my iPhone 11 Pro Max and a zip-up pocket that I use to hold a firestarter and my tag. Finally, two gold nuggets with this harness are the sliding tether that attaches to your binoculars for extended motion with easy use and an integrated mesh pouch on the inside of the pocket that has an elastic tether with a microfiber lense cleaner.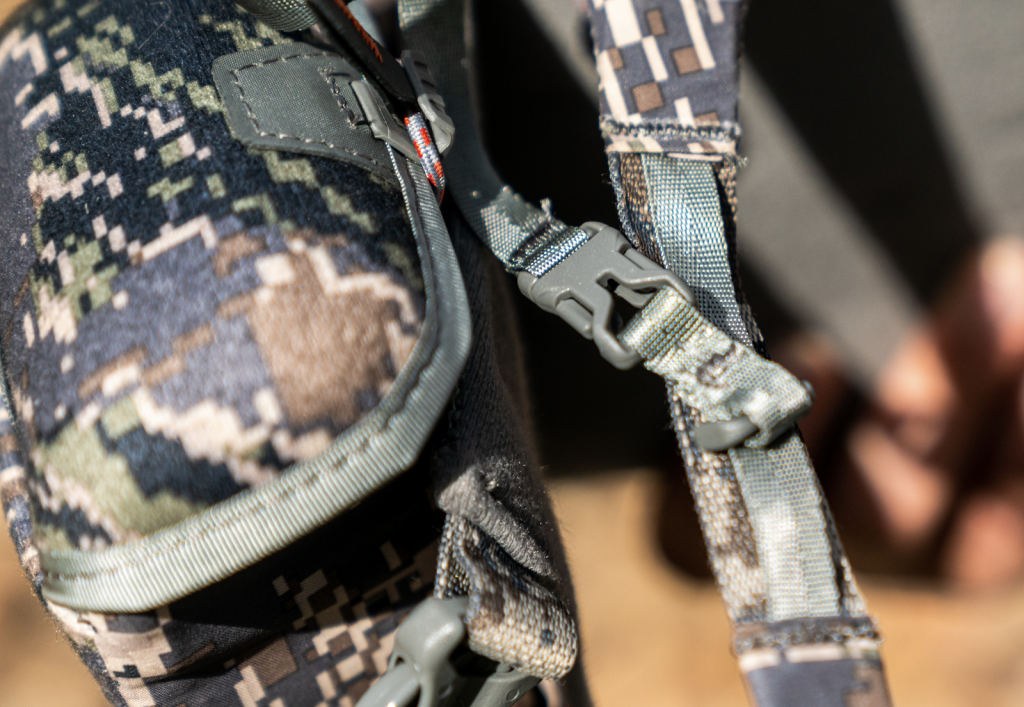 Cons
No product is perfect for everyone. For me, I prefer an optics pouch with a top flap that opens away from your body. However, Sitka answers this with a strong and quiet magnet close on the lid, so that was a really nice fix. The next thing that stuck out to me was that the rangefinder pouches seem a little too bulky for my taste. The bottoms are rounded which creates some wasted space due to the rangefinder not sitting all the way at the bottom. Finally, the wings of the harness are made out of a thicker material that's not very breathable and caused me to sweat more around my waist in the field.
The Final Say
Is this the best optics harness on the market? After field testing and really spending some time with this harness, the Sitka Mountain Harness is definitely top three on the market in my opinion. I love the customizability and sleek minimalist design. With so many hidden features and convenient upgrades to maximize any hunters efficiency in the field. However I did find the rangefinder pouches to be bulky and cumbersome to open and operate. But this can be fixed by simply adding on your favorite side pouches or rangefinder cases using molle webbing on the wings of the harness. I can see myself running this harness this season and recommending it to anyone looking to upgrade their optics harness!