Timberline Pant
Since Sitka Gear came out with the Timberline Pant it has become a tried and true favorite with a vast number of hunters around the globe. The Timberline Pant was created as a super durable and highly technical pant that can be used from mid-late season. The 4-way stretch material makes this pant extremely comfortable and allows full range of motion when climbing up a steep incline and crouching, crawling, or sitting. One of the coolest features is the waterproof/breathable nylon ripstop knees and seat. When you have to kneel down or sit and glass on wet or rocky ground you will really appreciate having it. The pant also features removable knee pads which are well designed and they will conform more to your knee as you wear them. They are available in solid colors as well (Lead and Moss) and the Optifade Open Country camouflage pattern.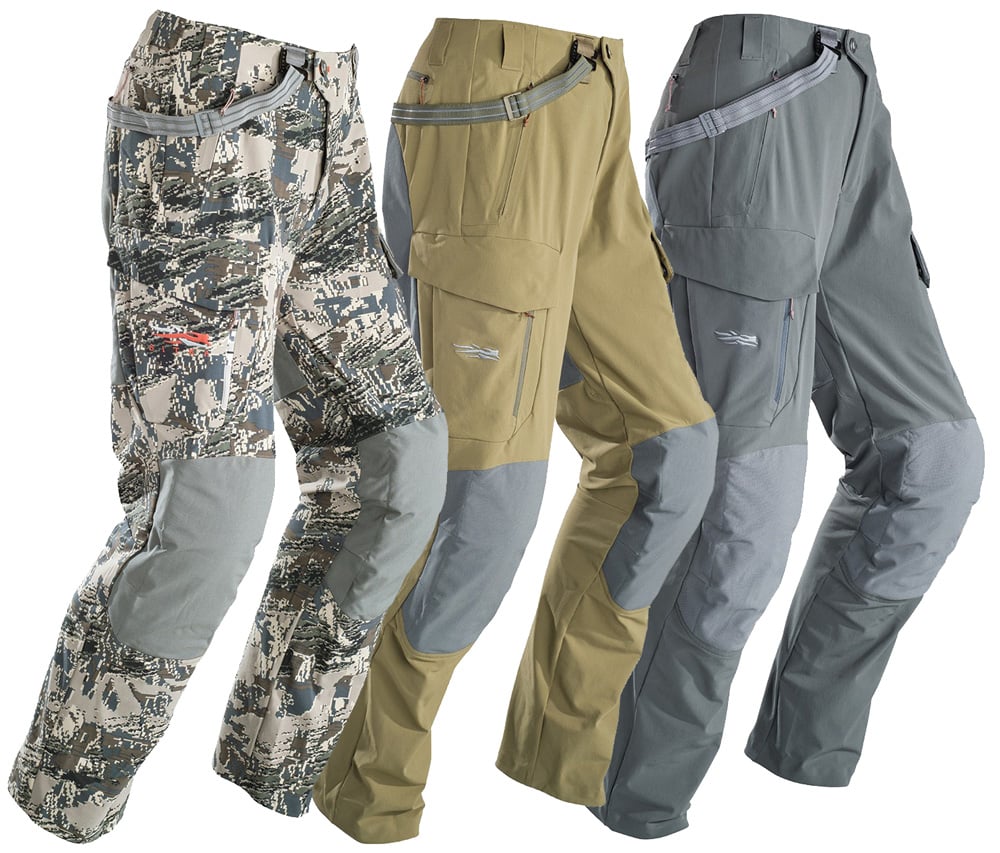 For 2016 Sitka did some refining on the existing design. They developed a softer and lighter removable knee pad, articulated the knees, did away with the old integrated belt so you can use most climbing style nylon belts, and moved the cargo pockets to a better position on the leg. The material is also new which adds to the comfort and overall performance of this already great piece. For those of you who prefer suspenders they include their comfortable and well designed suspenders with this pant. They are easily removed if you'd rather wear just a belt also.
I had the opportunity to test out the new version this season and so far I'm very impressed. They are definitely more comfortable to wear and the DWR is amazing at repelling moisture in mild rain or wet vegetation. The new cargo pocket placement is just right and you can get what you need in and out of them silently and easily without looking, which is how it should be. The pants themselves are very quiet compared to competitors pants that are similar in their performance capabilities. I never thought they were loud or noisy by any means.
The Timberline Pant would be too warm for most early season hunting situations in my opinion. I would definitely suggest them for any mid season hunt where the highs are lower than 65 degrees Fahrenheit. For me personally I can wear them without a base layer down to 35-40 degrees F unless I'm sitting still for hours at a time. Obviously you can get down to much colder temps by utilizing a quality base layer in conjunction, which is great for people wanting to do later season hunts in snowy conditions. I don't think it would be a stretch to say that these pants are the best thing out there for mid-late season active hunting such as sheep, mule deer, elk, and mountain goats.

Sitka added a new Timberline jacket to their Big Game line for 2016 which features GORE WINDSTOPPER which is seam-taped to prevent any wind from getting through while remaining breathable. The taped seams and the location of the seam away from the top of the shoulder also help maintain a high level of water resistance. The outer shell of the jacket is a High Gauge Nylon Face with knit backer which is extremely durable and lightweight. The shoulders and sleeves are a Nylon Stretch Woven shell with Lofted Micro Grid Fleece backer which helps make this jacket very comfortable and non-restrictive. This has a very nice and fitted drop away hood which will help keep those icy winds at bay as well as keep your head dry in a light to moderate rain/snow.
I have been using and abusing this jacket for the past several months in a variety of conditions and now it never leaves my pack. I've used this jacket from 11,000 ft glassing mule deer in the early morning wind, constant light rain and wet vegetation, to snow and freezing temperatures. As an active hunter this is my new go-to jacket, it breathes better than rain gear and unless it's pouring rain I prefer to use the Timberline over my dedicated rain gear. Like the Timberline Pant, with a quality base layer like the Sitka Core Midweight 1/4 zip I can stay warm and comfortable in frigid temps and roaring winds in the mountains.
Whether you are hunting bugling elk in September or hunting Mountain Goats in B.C. this jacket will definitely compliment your clothing system and will more than likely earn a place in your pack for a long time to come.