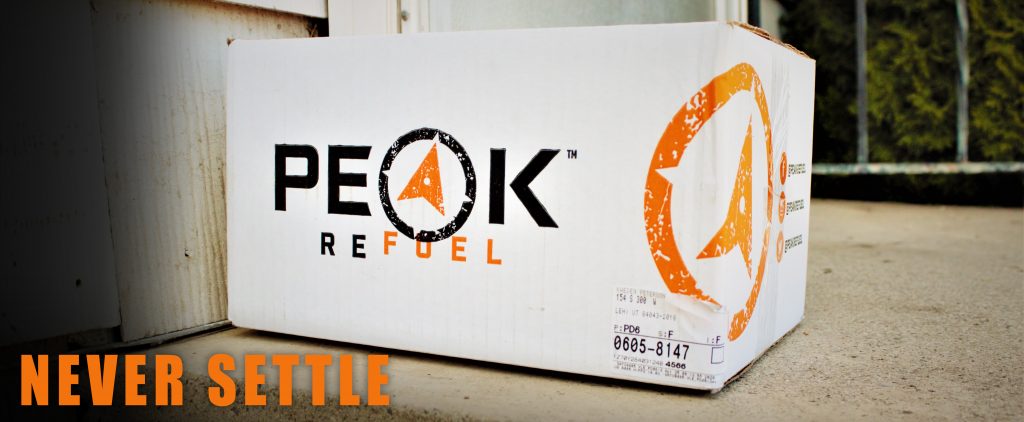 We need to talk about trends. The year is 2020 and you have been quarantined, social distanced, and terrified. With businesses shutting down and your house starting to feel like a prison, medical professionals have given the encouragement to go outside and take advantage of the fresh air. Great! Fantastic! You know, the outdoors that you enjoyed as a kid? There are millions of miles you can social distance in the outdoors. Here's the kicker: People tried it and decided it was too much work.
What?! Too much work? Surely there must be a simple way to enjoy the outdoors. I put out to social media why people were shying away from spending more time in nature. The most common answer: transporting, cooking, and the clean-up of food. Food! Of course! We LOVE food! Everything seems to taste better on the mountain, but how do you get it there? Coolers? They take up SO much space! My family consists of myself, my wife, and an 8-month-old baby. One of our latest camping trips we had two coolers and an industrial storage tote. FOR TWO AND A HALF PEOPLE!

Lucky for us, we found Peak Refuel. Peak Refuel is an outdoor centered company that produces dehydrated meals that are nutritious, delicious, and simple. Our last outdoor adventure's menu consisted 100% of Peak Refuel. We were able to consolidate down to a single cooler and one small tote. Cooking our meals consisted of a small Coleman grill and a Cabela's percolator that we took the insides out of. Talk about SIMPLE!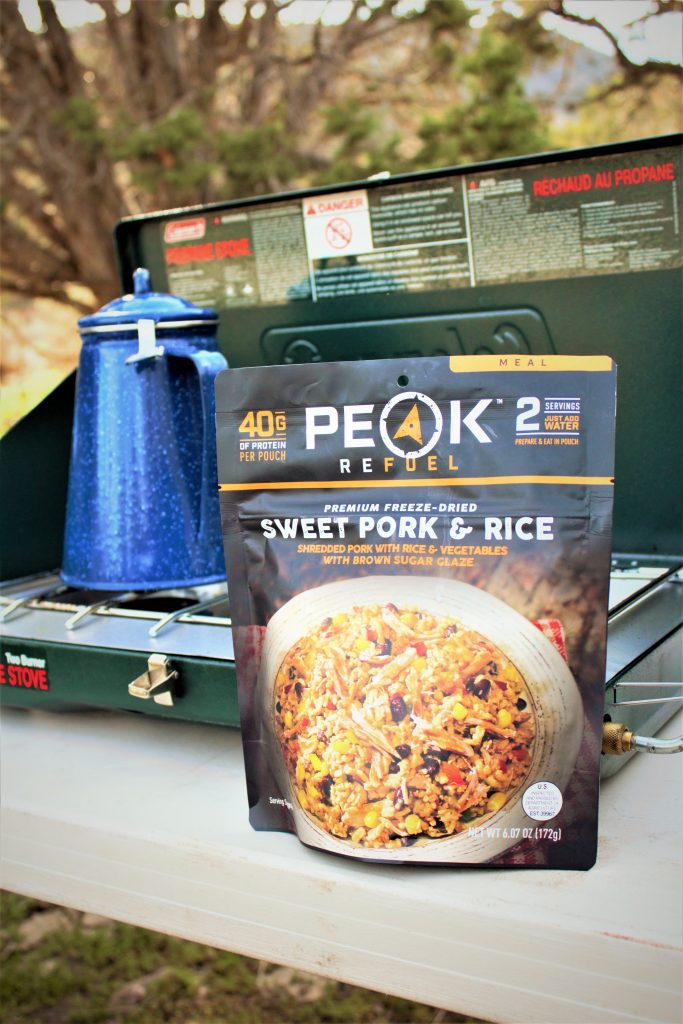 Cooking was so easy. We had cold water to add to the breakfast meals, which were ready instantaneously, and we boiled water for the other meals. The boiling meals took about 10 minutes to be ready. I don't know about you, but I have never had a meal of rice, chicken, and vegetables ready in 10 minutes. I always want my reviews to be open and honest. So, let's break down the positives and negatives:
From the start of the process, adding water is the ONLY ingredient. POSITIVE! Easy to pack or find and boiling it makes any water clean and usable. Getting the right water measurement can be difficult. NEGATIVE. We didn't have a measurement cup with us, so we used our baby's bottle for reference. However, our first attempt did not mix super well. When we errored on the side of more water, the better the mixture became. Not having any dishes to clean? POSITIVE! Now, the biggest question when it comes to eating: How does it taste? Well, that's a great question.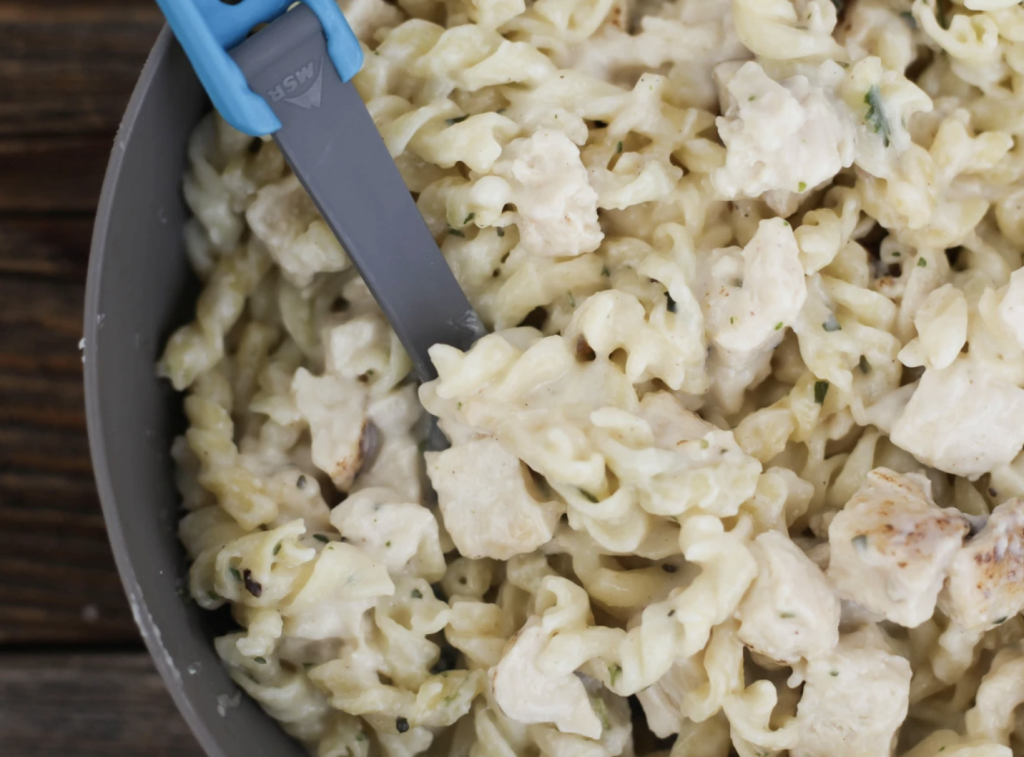 Like a lot of readers of this, I have spent a lot of time on the mountain. At the end of a long day in the woods, everything tastes good. After all the sun, miles, and playing around during the day the dirt on the truck would even taste good. Let me put it this way: Why would you settle for dirt when you can have a sensory of incredible flavors take over your mouth? Peak Refuel uses all-natural ingredients and, most importantly, they use real meat. I'll use an example: when I took the first bite of the Sweet Pork and Rice meal I was BLOWN away. I could taste each and every flavor individually in a combined bite. INCREDIBLE POSITIVE!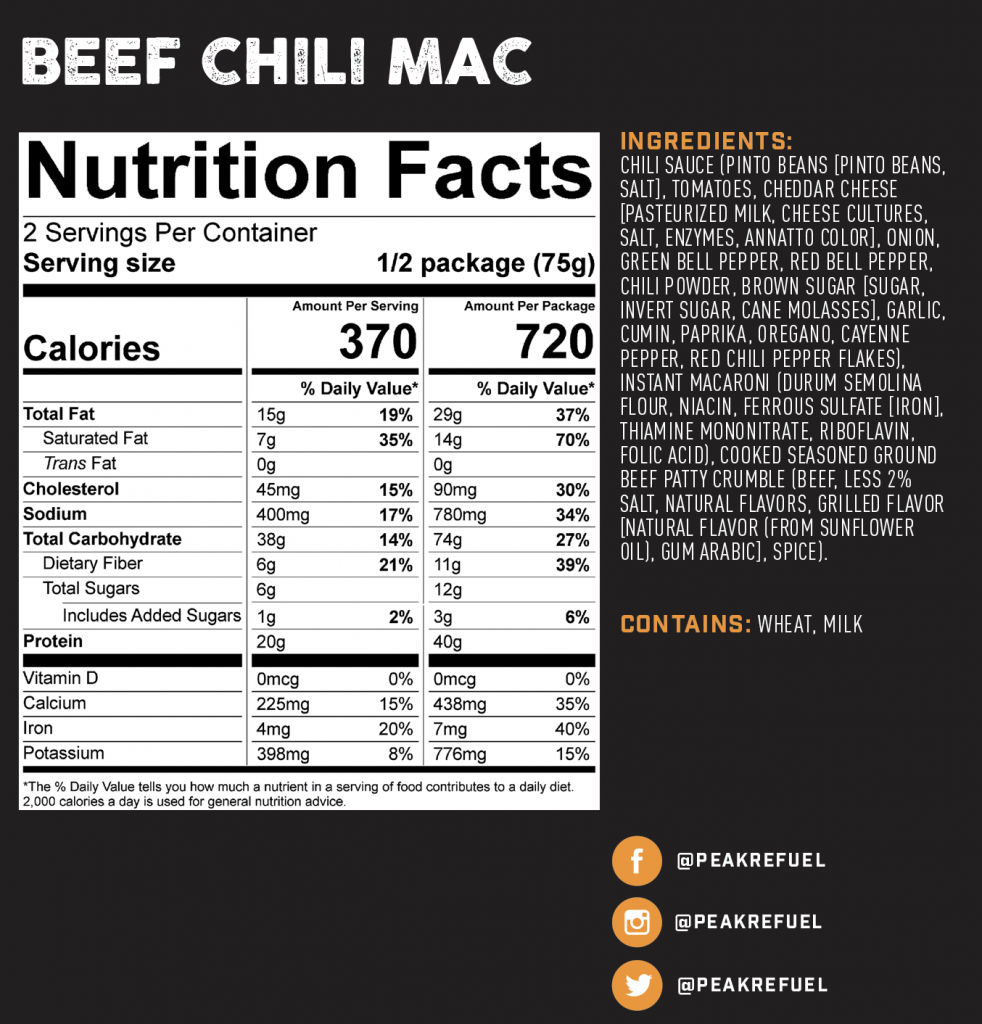 For those calorie counters and health gurus, Peak Refuel is full of nutrients. Most meals are broken down into two servings per package. The calories are just enough to replenish those lost during any outdoor adventure. The carbohydrates are right at an average for a meal of this sort, but the most important aspect is the protein. 20g per serving give Peak Refuel the ultimate edge over any similar product.
Peak Refuel products will reinvent how you experience the outdoors. Their products will make planning and packing for your adventures so much easier. This is all due to their focus on simplicity. Their simple, yet extraordinary, meals will not only help you and your family get outside more often, but they'll make it a POSITIVE!