1st Time Archery Elk Hunt | The Growth of Unsuccess
By: Chris Neff

   A couple weeks back I had the chance to go on a fully guided archery elk hunt up in Colorado with our warehouse manager Jason Stein.  Jason actually had quite a bit of experience hunting elk and I was able to learn a lot by watching him on this hunt but the coolest part is that Jason is hearing impaired. Let me just start by saying that Jason is a hunting idol of mine now.  Picture hunting without being able to hear a single sound. How and where would you know where to hunt besides what you see?  Every year he gets it done and he can even bugle way better than I can.  Try making a sound that you have never heard before and can't even hear yourself producing... It's pretty insane.  At first I was a little worried about how we were going to communicate but luckily we had an eight and a half hour car ride and he was able to teach me a bit of ASL and let's face it, when you're hunting there is little talking anyways and a lot of hand signs.  I was taught countless tips and techniques for hunting elk from both Jason and our guide Kyle and quickly realized that it was a completely different ball park then hunting mule deer, which I knew but I decided to keep a journal and record the events every day to share that with all of you.  Pardon the novice writing skills but feel free to kill some time and dive into my experience and how our hunt unfolded in Taylor Park, Colorado!  **For the sake of the Outfitters Privacy and Respect, I have changed the names of all the areas that we hunted**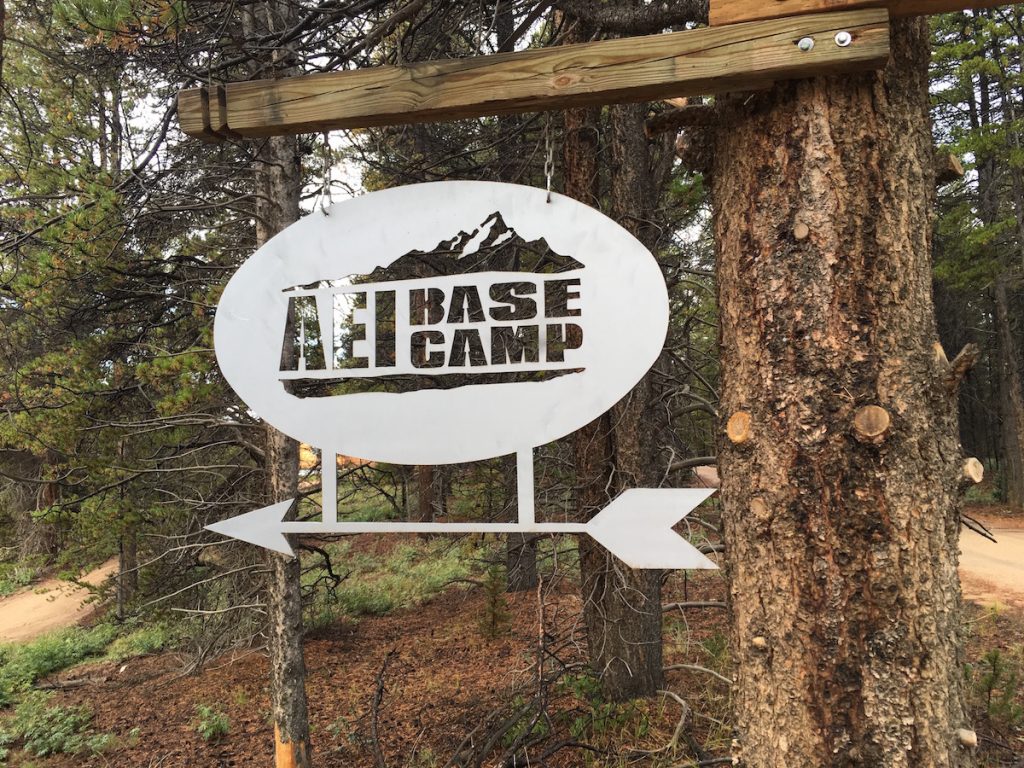 AEI Base Camp Journal
Taylor Park , Colorado
---
Night 1:
We left Salt Lake a little after one o'clock and got the truck packed, then headed off to Colorado.  Riding in a truck with Jason was pretty funny.  He gave me the freedom of listening to whatever I wanted on the radio since he can't hear a single sound but it felt odd listening to the radio with only me listening and I knew that parts of the trips the radio would flip channels as we hit the Utah/Colorado border so I stuck with music that I had pre-downloaded on my phone and for some reason I threw in my headphones like an idiot.  I realized later that I couldn't have weirded him out with my "screamo" style music since he couldn't even hear any of it anyways but oh well!  After a long and gruesome eight and a half hour drive, with switching off halfway, we finally hit Gunnison. The small town was actually pretty alive at night, at least for the middle of nowhere.  Jason and I grabbed some dinner, filled up the truck and embarked on the final hour to get to Base Camp. On the way up the twisting mountain road we saw a bunch of deer, a giant white weasel, and even a fox.  At the top of the canyon road there was a gorgeous lake which was as still as could be with the reflection of the moon.  As we approached the Base Camp, I quickly noticed that we climbed quite a bit of elevation and that we were in the high alpines, gods country, or better off "ELK" country. We pulled up to our cabin, unpacked our bags, took a quick look around and hit the hay.
Morning 1:
My alarm went off at 6:30 and after it did, there was no hope for falling back asleep.  I was up and excited as ever to get started! I decided to walk to the Lodge where they were serving breakfast since Jason was still asleep, which on the walk over I realized I should have probably woken him up since he can't hear an alarm, but he was always on time to work every day so somehow that kid gets up in time every morning. I decided to grab myself a warm cup of cocoa, take in the clean mountain air outside on the bench and get ready for our day.  I could tell that we had to have been at a pretty high elevation since at camp I already was getting way less oxygen than usual but we had only just got there so there was still plenty of time to acclimate.  We met the facility manager Tom who seems like a content and knowledgeable person about how things run here. He told us that we have the best/hardest working guide out there and if we have any chance it's with him.
After breakfast, Jason and I went back to the cabin and flung a few sticks to make sure everything was still sighted in. The targets were at 20-72 and we both were shooting awesome right off the back. The 72 shot is a mule deer that was quartering away with his vitals almost covered by a tree. First shot was a little nerve wrecking but I pin wheeled it right in the vitals and sent two right next to it. Jason's first shot was perfect, right in the vitals and his second was a little back. His last shot however caught a branch about right in the peak of his arc and broke it in two. We still felt pretty dialed and are ready to stick an elk.  Everybody has a distance in their head for what an "ethical shot" should be shot at but in Utah where we live, the Wasatch Front is steep, rugged and a lot of the time you don't have the option to get in close enough so most of us in Salt Lake practice at a 100 yards and beyond.  That might sound crazy to some and that doesn't mean I'm going to shoot an elk at 100 yards this week, practicing out at that distance just magnifies every little mistake that you make and allows you to really fine tune both your bow and yourself.  Plus it makes all the distances closer seem way easier to be accurate.
Lunch 1:
For lunch we ran down to the city to grab some snacks and drinks since we got in so late the night before and didn't want to stop. Gunnison is a beautiful little town and right as we came in we saw a Walmart so we drove in grabbed some stuff and then while we were in service range I had the chance to call my wife and hear her and my little girls voice. After that we went back up to camp, grabbed some lunch and met our guide Kyle. He seemed like a stud and had been watching a couple herds that he thought we could get in on. He said to get ready for a hike so hopefully I don't die in the morning.  He said I shouldn't have a shot farther than 50 so we should be able to get this done as long as we can find them. The only downside is that we start at 4 AM. Early to bed, early to rise I guess!
Night 2:
After everyone finished eating they did an orientation that covered everything about the camp and some guidelines. Kyle said that we're going to meet here at the lodge at 3:00AM, grab some breakfast, pack a lunch and head out to a place called Sunset. They all talk about how beautiful and perfect it is, almost like God spent an extra couple minutes just on the view. When we got back to the cabin it was about 80 degrees or so because of the old wood stove that is used to heat this place. It's definitely a little warm for my liking but thank heavens my room had a window so I was able to cool down and get some rest.
I've never had to go to sleep at 7PM in my life but honestly I was still a little whiplashed from our drive that it wasn't too bad. We hadn't even started hunting yet but scenarios and views of what I was hoping to happen tomorrow were running through my head. Who knows how I'm going to sleep but I have a feeling I'll be dreaming of Tines and Pines.
---
Hunt Day 1:
Oh man where to start. The morning approached as fast as you'd assume. We met at the lodge, ate some food and got in an Toyota Land Cruiser that had to have been built in the mid 80's, this thing was a tank! To summarize our first day we hiked a ton, and I mean a TON. We started at the bottom at the trailhead and hiked all the way to the top of the peak and hit Sunset.  It was pretty open on top and we could see quite a few bowls so we glassed for a couple moments then continued to traverse up to the next peak to get a better lay of the land.  Once we got to the peak, we took a little snooze, and surprisingly I actually had service so I was able to FaceTime my cute little family as we waited for the elk to start moving. After that we hiked and hiked and hiked. Besides that little snooze for an hour we hiked from 3:45 - 8 in case you need help counting, that means we hiked for close to 16 hours. We covered a lot of ground! Typically when I hunt Mule Deer in Southern Utah I go out for the morning, hunt for a couple hours then go back to camp and hangout then repeat the same thing at night so hunting all day was definitely a little new to me.  The worse part is that we didn't even see anything until the very end of the day and they were about 600 yards from where we parked. I'm still happy that I was able to familiarize myself with the area and if anything we were able to mark this place off the list. After we glassed a couple of bowls we decided to head down and make our way back down to the car. When we got back we had some dinner at the lodge, talked about the next day and went to bed. This time we were leaving at 3:30 AM.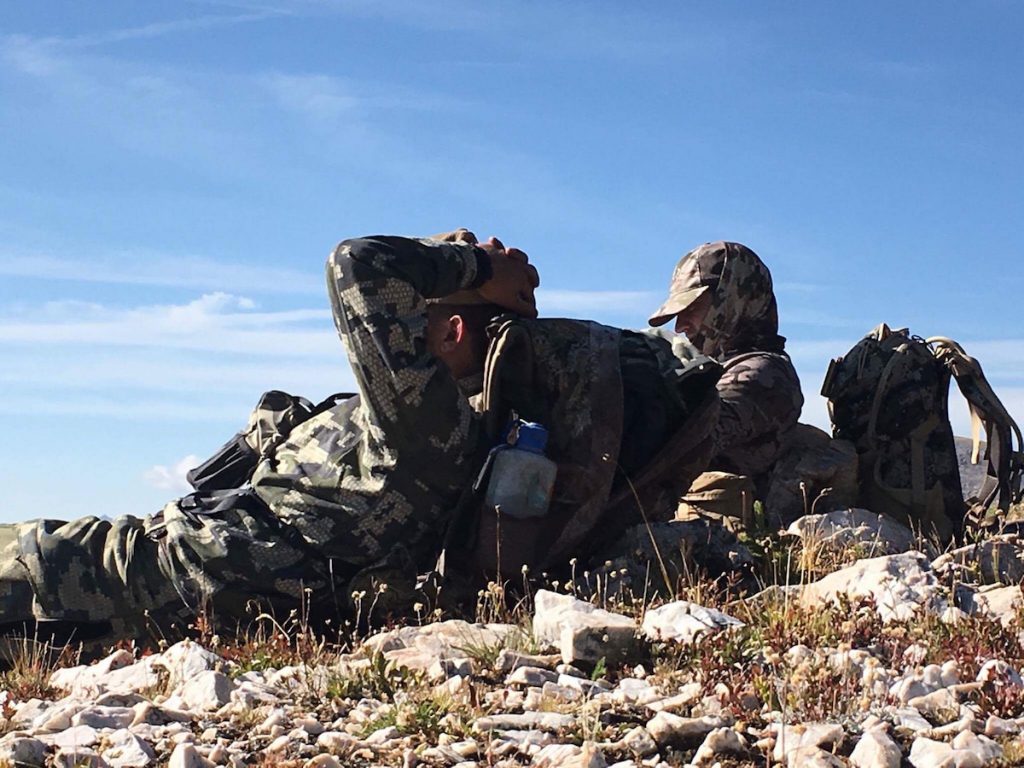 ---
Hunt Day 2:
AM-
Todays hunt was again unsuccessful but we did see a couple elk and some stellar Mule Deer studs. We actually found out that one of the guys in our cabin shot a massive Mule Deer the night before that actually scored about 198" which was insane.  We started hiking at 4 AM and since I was still recouping from the day before I was pretty tired, sore and could never catch my breath which slowed us down a little. Just before we hit the summit as the sun was starting to come out, we saw this light tan object with a dark neck, finally an elk! We got excited and started to pull out our binos to see if we could get a better look since it was still a little dark and it was pretty thick at the treeline but as soon as it moved, which was about 50 yards away we realized that it was a huge brown bear. No kidding, it's back was at my mid chest height. Where I hunt in Southern Utah we run into Black Bears every year so I'm used to seeing bears all the time while hunting but this was a BIG BEAR! After that little encounter we hiked around it and got to the summit, scoped out the land and found a bunch of signs. There were tracks and beds all around and you could even smell it.  We must have only missed them by a couple hours at most.  After glassing around we decided to head down the backside where we could spot a couple elk to a place called Valley Trail to see if we could get on them or find anything moving around. We didn't end up getting in on anything and nothing was moving around so we decided to head back to the lodge and grab lunch and check out another area tonight.  After we ate we headed back to the cabin and took a snooze with the help of MTN OPS Phenix!  That stuff was a miracle worker.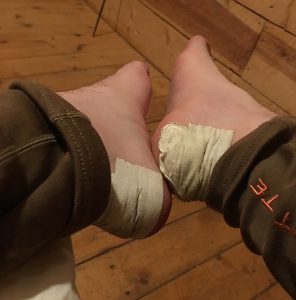 PM-
Afternoon hunt was a new twist. Instead of climbing up the mountain and back down, we had the guys here drop us off at the top of one of the peaks and then hiked all the way down. The road on the way up was pretty insane and I have no idea how that Land Cruiser made it through some of the parts but somehow we did!  We didn't see anything besides some bucks and does but we also got caught in a rainstorm which turned into a snow storm.
As soon as the storm started to settle, we heard it… our first bugle! My heart started pounding. I looked at Kyle and I could tell from the grin on his face that he was just excited as I was. Since the wind was pounding it was hard to tell exactly where it was coming from but we took our chances and snuck in the direction we believed it to come from. Unfortunately after a few calls with no replies we never heard anything else and decided to keep moving downhill. The change of pace of walking down all day instead of up was definitely appreciated. My feet have been cooking for how much we have been hiking and I've already had to tape my heels since day one so I don't get blisters.  My boots were performing awesome and the hot spots were user mistakes by keeping them too loose on the first couple of days but I have no clue where I'd be if I didn't have Crispi Hunting Boots on this trip.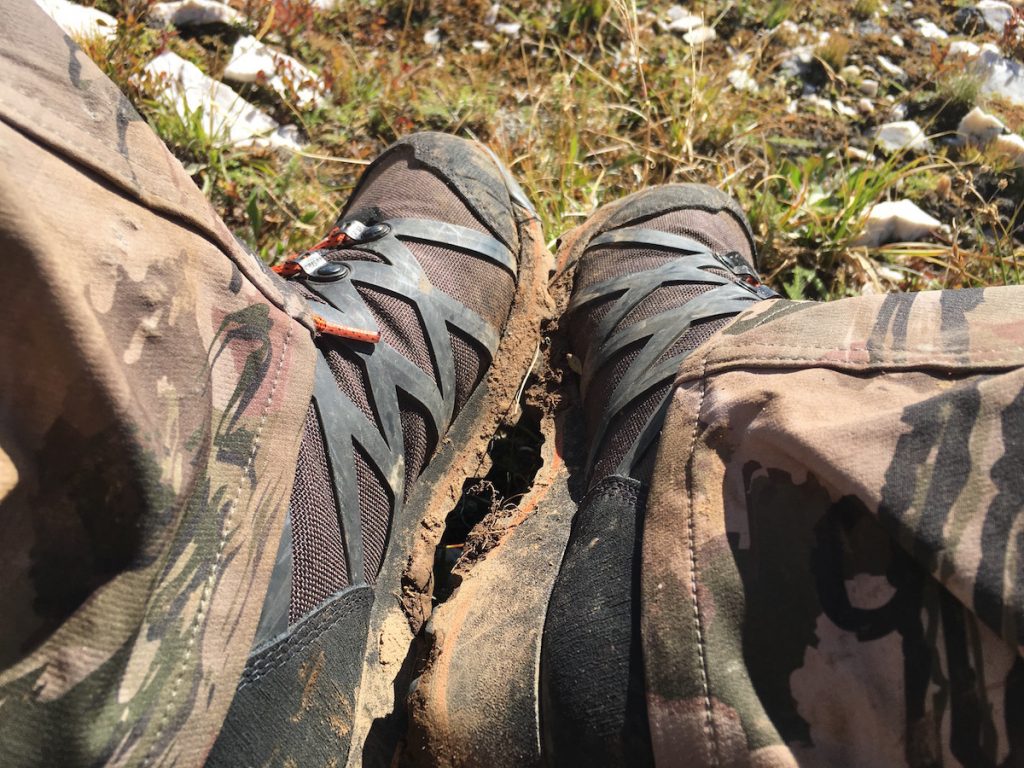 This whole time the deeper and higher we hiked my mind started to wonder how in the world we were going to get one of those big beasts off the mountain and after asking Kyle he told me not to worry because the AEI Camp actually had a pack out team. It's pretty cool, when someone gets something, the guide radios to camp and then they have a team of guys and gals who come and help you pack it out.  It was a big sign of relief to hear that because we were in there far.
If there was one thing that became clear immediately out here in Colorado it's that these mountains completely lost me. Multiple times my sense of "zero" or location of the truck was jumbled and even on our hike out I thought our guide was taking Jason and I in the wrong direction when in reality we were hiking straight down the drainage. Never had this ever happened to me so it was a little nerve wrecking but worse case if I ever got separated, I could always just hike downhill haha. Eventually we hit the base of the mountain and embarked down the dirt road to where the support team left the car. It was a long drive back to camp and we hit the cabin at about 10:30 or so. We were both so tired we pretty much passed out the second we hit the pillows.
---
Hunt day 3:
Full day-
This morning we decided to leave the lodge at 4 since we got in late the night before. I slept horribly and woke up with my legs and feet sore like no other. I couldn't imagine how bad my body would feel if I wasn't taking the MTN OPS Muscle Recovery (Phenix). I got my stuff ready and then Jason and I both went to the lodge to meet Kyle. Thank goodness the car ride to where we were going was about 45 minutes and while on the way I had service so I was able to text my lovely wife and let her know I wasn't dead since she hadn't hear from me for a whole day. We started hiking at 5 AM to the peak called Way too steep. It took us about three hours to climb up it, most of the last third being straight up.
My asthma was killing me on the trip. It wasn't as much as the endurance that was killing me but the actual oxygen count. When you have asthma your lungs take in less air when you do anything physical that gets your heart and lungs moving. Well… at 12,000+ elevation, there isn't much oxygen anyways so that with intense hiking really took a hit on my lungs.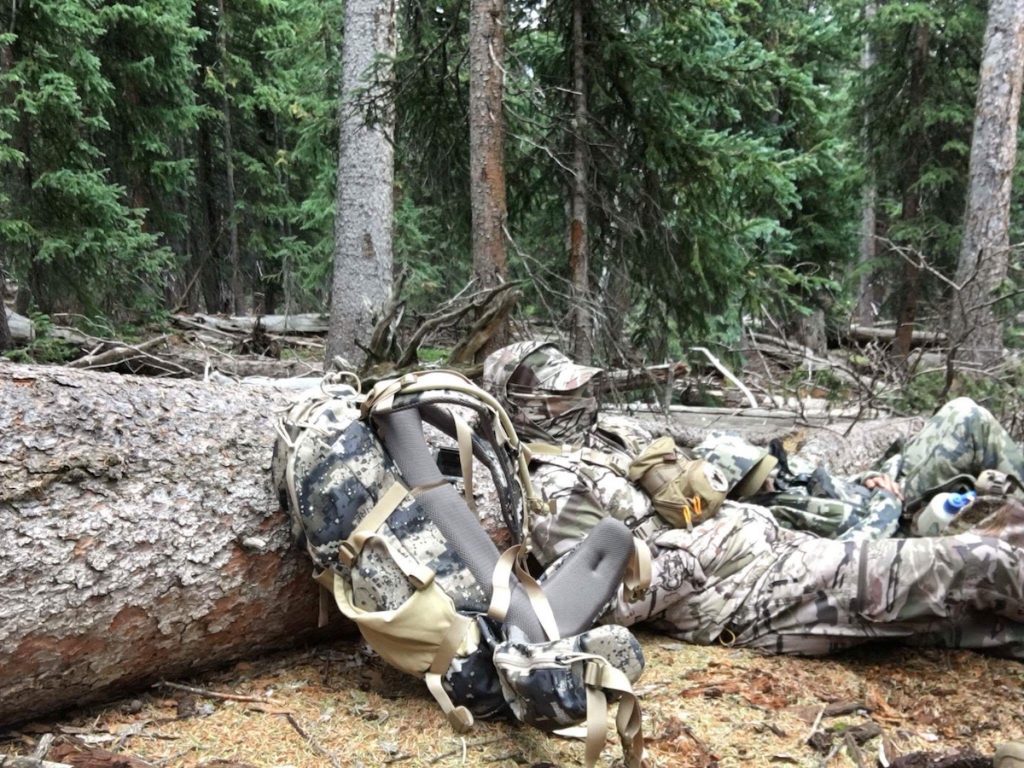 After a couple stops we hit the summit and decided to traverse from one peak to another. It was there that we saw two herds. One is behind us about 400 yards with about 10 elk with at least one bull and the other was about a half mile away on a bowl that another guide and hunter were hunting. That herd had about 30 elk but they were too far to make out how many were bulls but my bet was at least 4-5. We were going to head after them but it started to snow and they went deep into a pine drainage which took the length of the mountain. It was hard to say which way they went so we decided to stay on the summit and keep an eye out since we could see the whole canyon clearly for where we were glassing and we made great time getting to the peak so we had some time to kill.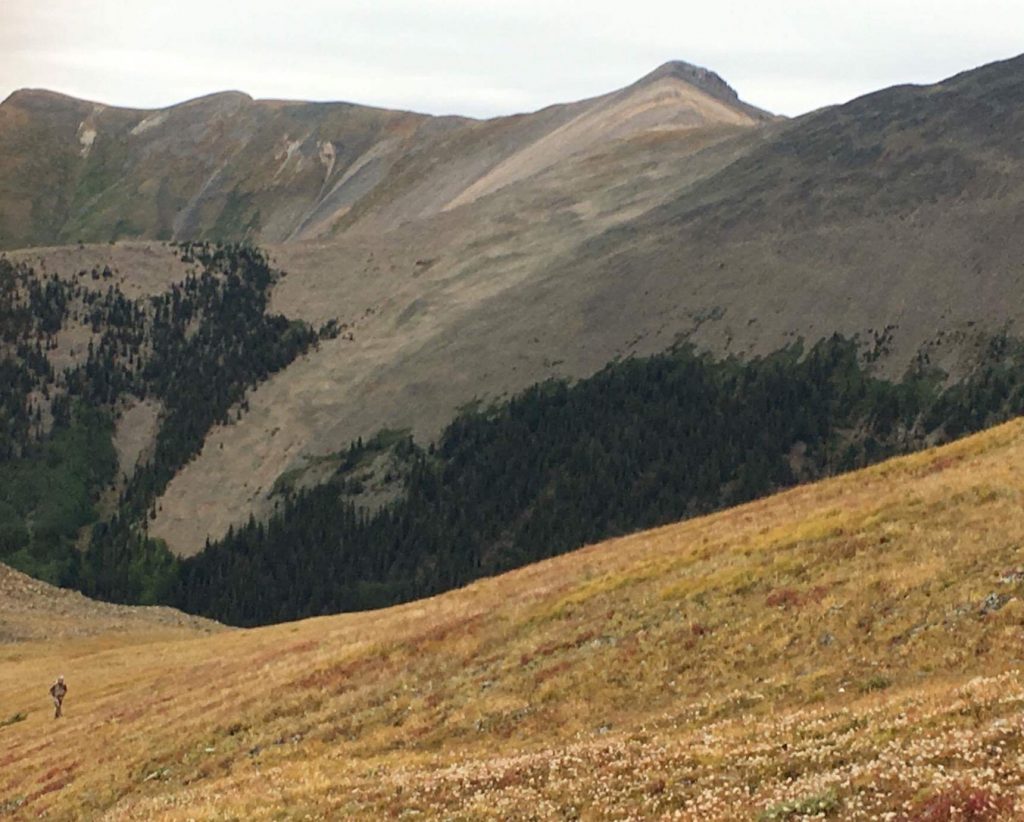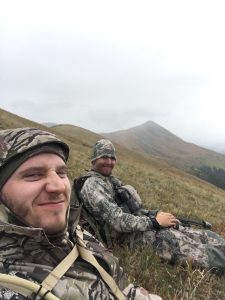 When we woke up we noticed a couple of the elk had wandered out but unfortunately there was a thunderstorm that was starting to head our way about 3 peaks south. Let me remind you we were on the tallest mountain with no trees anywhere close so we hurried and grabbed our stuff and booked it off the backside of the mountain towards the smaller herd since there was a tree line at least reachable in the amount of time we had. The mountain was almost straight down but we were able to descend it in about 15 minutes then we ran to the edge of the patches of trees where we saw the elk just earlier that morning.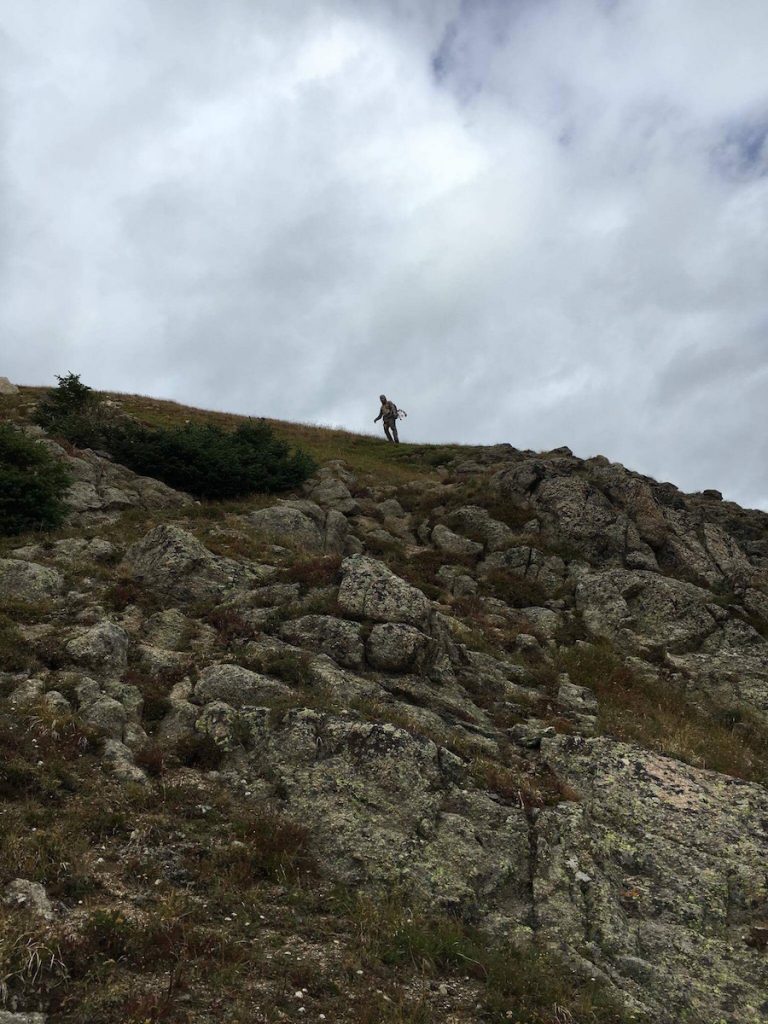 When we started going in the wind was blowing straight in and then all around. The storm was really messing with the wind direction and we knew they were about 300 yards north so rather than go in blazing and blowing our scent everywhere we decided to hold out and wait till the wind was a little more in our favor. Luckily the storm didn't come our way quite yet so the elk should start moving around 3:30 or so and we had an hour to kill before heading in.
Well we ended up getting in on a group of 5-6 cows and Jason and I already decided that starting today we'd take cows if we had an opportunity, that way we don't go home empty handed.
I had a 36 yard shot at a cow but it looked super small and we got caught in a staring match in the downpour, I thought it might have been a calf so I held back. We ended up getting in a staring match and I just happened to be in an opening during the downpour/stare down.  I didn't have time to pull out my raingear so needless to say, I was getting soaked.  10 minutes later the wind changed and they got our scent and ran off and while they did, I realized that she was just small compared to the others.  We then went on chasing them until dark which took us through some pretty rough terrain.  At some points I had to use my bow to help get on top of some rock faces which practically killed me but I was so wet and miserable, the condition of my bow was the last thing on my mind.  When we tried to sneak down and around them we actually came across what looked like to be a small cabin made out of logs. It couldn't have been any larger than a tool shed and I don't know how or why it was up there besides maybe to be used as a blind or cover in case of a storm but it was ancient and must have taken forever to build.
The closest we could get to them after that was 250+ yards because of a slate drainage that they ran to the top of leaving us no way of getting in there plus it had been raining till the end of night so we were all soaked from head to toe and freezing. Jason ended up nocking any arrow and ranging a cow but by the time he got his release on the string the cow and spike had already ran off.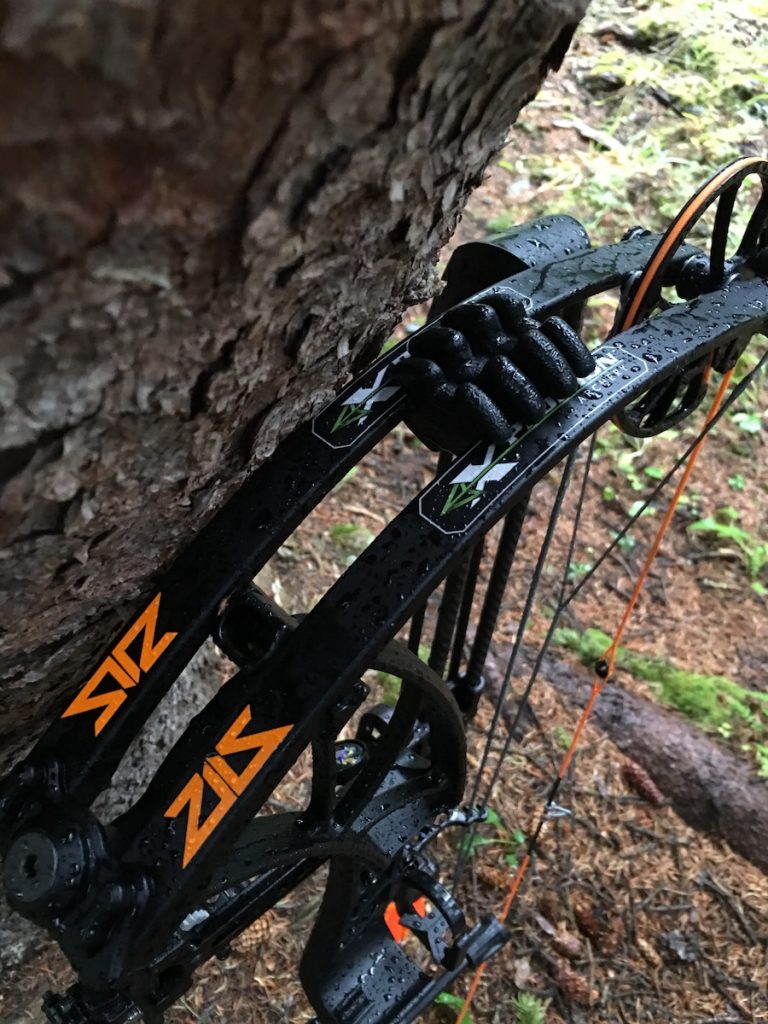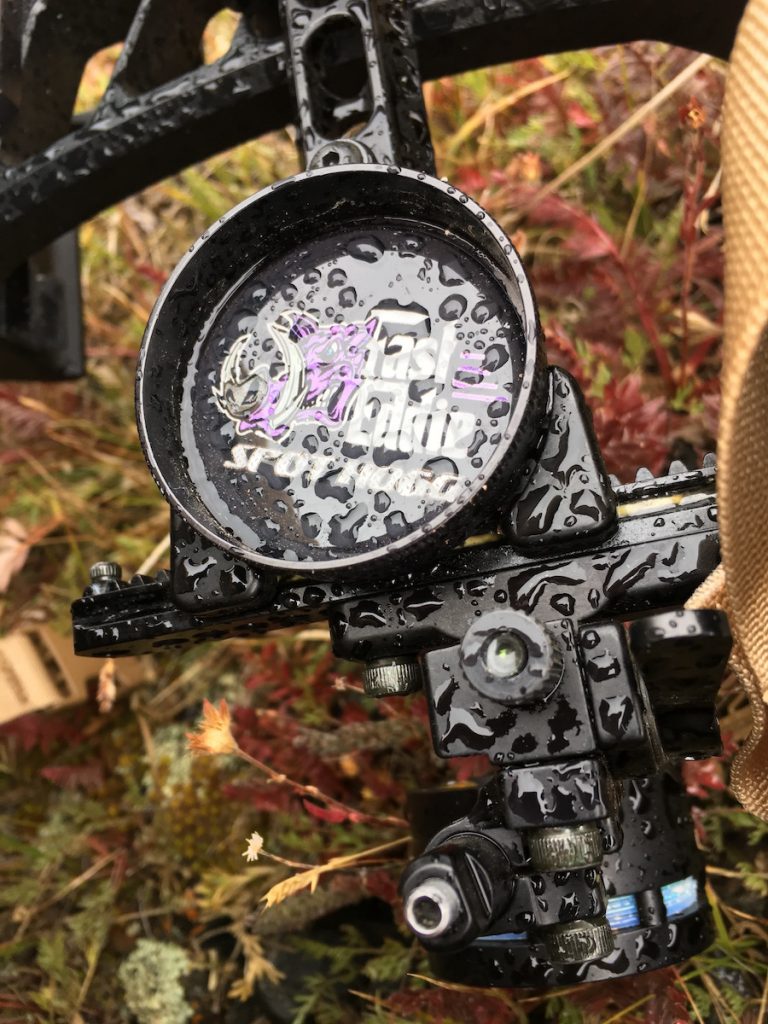 After that we had a long miserable hike back down the mountain to our pickup location. As we were hiking down the road towards the pickup location called Tanner Lake, we came across where the river goes across the road. We were all soaked and just hiked about 45 minutes in the rain and in the distance we could see our ride coming our way so Jason threw his hands in the air sat down. I took that as a sign that he was done.  He was wearing some boots that "claimed" to be Goretex lined but his feet were soaked and I could tell how sore they were getting from it all.  After he did Kyle and I walked over to where the river ran through the road and we noticed there was a huge porcupine walking through the center of the river. It's been years since I've seen one which was pretty cool. Once the ride came we all hoped in, wet, miserable and ready for a good nights rest.
That night I felt like garbage and my legs ache way too much so I might try to sleep in to give my body the serious rest that it needs. That way I wasn't slowing Jason and Kyle down and they could continue hunting. Elk hunting is tough and beats the hell out of you but I was hooked the second we heard our first bugle. The terrain is insane, you never sleep, your body aches but we all still do it because we know at the end of it all it will be worth it.  It's definitely a different ballpark then what I was used to.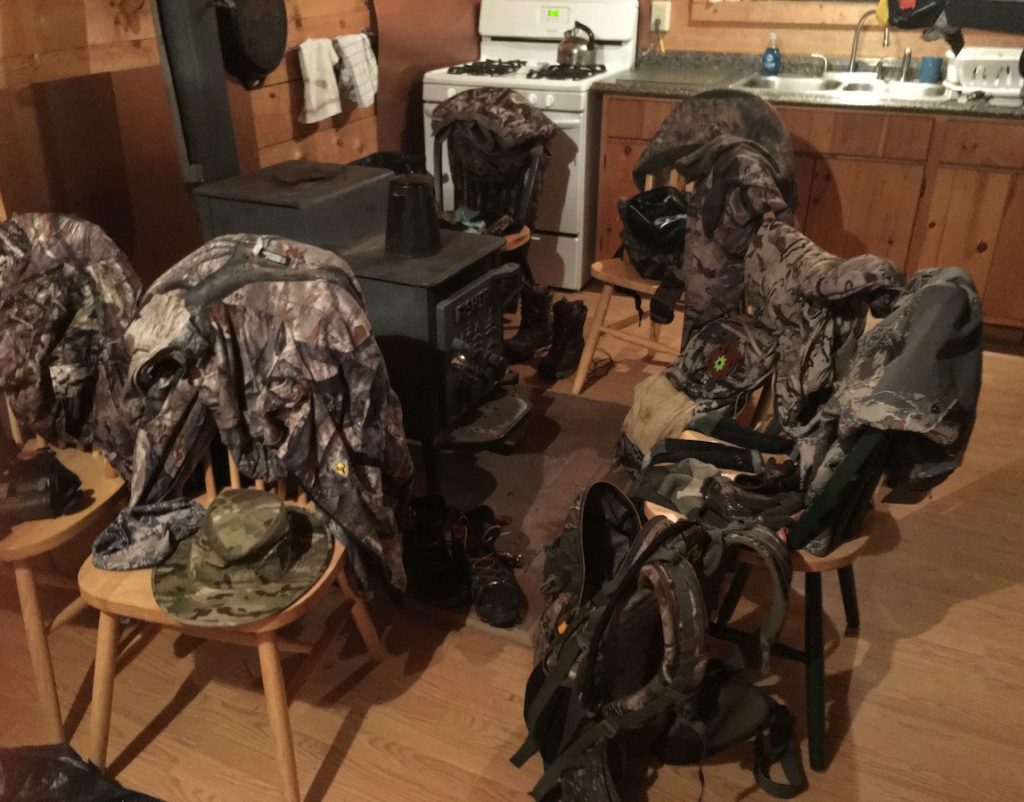 ---
Hunt Day 4:
This morning I decided to stay home. I should have been there to help Jason out and stuck it out but my legs and calves were so sore this morning I knew I would have just slowed then down. Before breakfast I ran to the lodge and used the phone to call my wife and then after breakfast I decided to clean up the cabin a bit since we had all left mud trails and everything laid out over the last couple of days. After the cabin was in tip top shape I relaxed in my room and gave my legs some serious down time and popped in a couple Phenix pills to help them recover a little quicker. Jason came back at about 11 and said that they didn't see a single elk and did a whole bunch of uphill climbing which makes me feel ever better that I stayed home. For tonight's hunt we're going to go to an area called Mine Valley. Thankfully we take the car all the way up and then drop into the basins so it should be an all the way downhill trip. That is until we have to head back up to the truck at the end of day... This is the same place we saw the herd of elk on the other ridge when we summited yesterday. The guide Dave that had actually been hunting in the same area all weekend saw them consistently coming there every afternoon and we're lucky enough he's letting us hunt the same area even though he's on the other side of the valley. Tonight should be promising though. We have a bit of overcast but I hope it doesn't rain again so we can get on them out in the open.
PM-
Well tonight was one of the coolest and most memorable hunting experiences of my life. We got to our spot and from the truck we could see about 30+ elk so we decided to give it about 20 minutes to see where they were headed then made a move. We couldn't tell if any of them were Bulls but we decided to head in anyways to take our chances. Before we headed out I popped two MTN OPS Blaze pills. I've been taking one a day and felt like it was helping but I knew I was going to need a little more umph. Man was that a bad idea... About 10 minutes later I started getting a burning sensation in my esophagus and my chest was getting really tight.  I kept hiking but as I started feeling worse and worse, I knew exactly what happened. I hurry and threw my pack down ran to a log, leaned over and ended up puking about 5-6 times. The Blaze is an appetite suppressant so what it does is expand in your stomach. It's also a fat burner and gives you a bit of energy.  Well I took two about an hour after lunch where I was already full so pretty much it was expanding at the top of my stomach so as my body rejected it immediately. After that I felt awesome though!!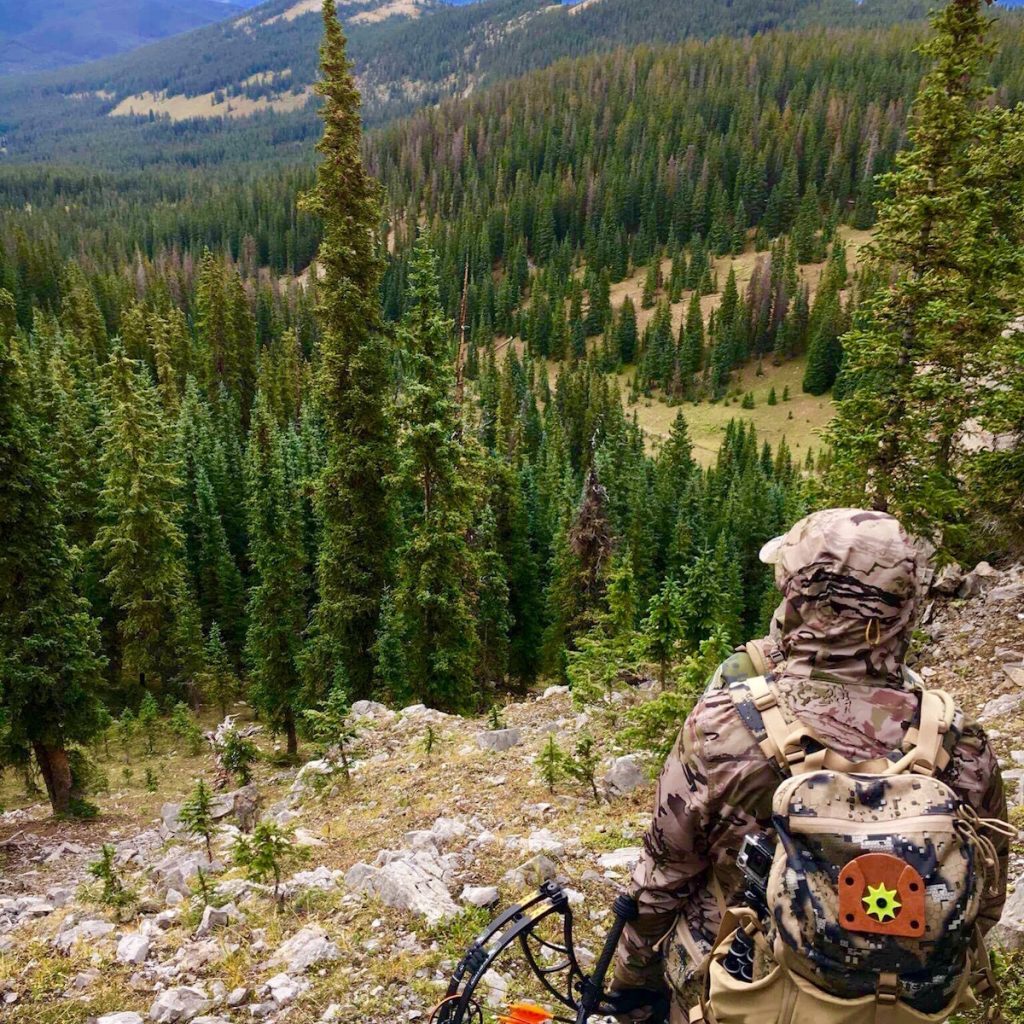 About 10 minutes later we ended up walking in on two Bulls. At the time I only saw the one and Jason already had an arrow nocked so I hurry and pulled out my camera to film the whole thing. Moments after the bull ran off and that was when I noticed there was actually two and Jason was aiming at the second bull and I had a perfect broadside shot at about 30 yards at the other one but thought Jason was already giving it a death wish. After about 30 minutes we started heading in more to the area where we spotted all the elk from the top and at that moment time froze.... The first "Real" Bugle of the trip... and I say "Real" because it was big, nasty and pissed! As soon as that bull let it out we all immediately started smiling, well besides Jason until I made out a pretty good pictionary interpretation of a Bugle.  Now it was getting exciting.  We snuck over this hump approached a gully and there the elk just started going nuts. We couldn't see a thing but they were bugling back and forth and responding to our calls. Jason was positioned higher above me with Kyle who was calling and I was about 15 yards below them. I hurried and pulled my rangefinder and ranged a couple places in front of me. I only got two spots picked out. One at 62 at the end of the meadow on the opposite end of the drainage and 40 where there was a little tree in the beginning. Then all the sudden branches started breaking and here came this giant bull... He was at least 350 or above and of course he came in a completely different window. I hurry and drew back, guessed the yardage at 54 since it looked the same as another, picked a spot behind his shoulder, took a deep breath and let it fly. It felt perfect. My pin held right on point, my breathing was controlled and the release was everything I could have dreamed of. Unfortunately the arrow went right over his back taking a couple hairs with it and after that he booked it down the end of the drainage and into the endless treeline that went down the whole valley. I felt so sick.... Here was my first chance to get it done and on a stud of an elk which Kyle said could have been a top 5 of their outfitter and I messed up the yardage. I beat myself up mentally for about 5 minutes but the bugling continued so Jason and Kyle were on the move. At the time I was pretty certain I shot over it's back since I heard it hit the bushes behind it but just in case, I decided to not shoot anything else until I knew for certain.
After a little bit of cat and mouse Jason had a bull picked out. He was about 40 yards straight on and we kept calling and chirping to get it to at least turn broadside but instead him and his 8 cows decided to book it straight up this face. Jason knew that this might be his last chance to get a bull down so he ranged them at 95 and let one loose. You might think that is far but here in Utah it is what we train for. We focus and train our form at 100 yards which enhances any mistake you make and allows you to fully tune your setups and more importantly, yourself. Kyle and I swear that we saw the bull limping but Jason said he thinks he hit the cow that was behind it in the back leg. He was pretty upset with himself and we could both see how much it upset him but after looking an hour for blood or his arrow in the dark with headlamps, which I forgot by the way. Luckily Jason brought two! We told him that we'd come back in the morning with some support guys and see what else we can find.  I didn't want to leave the hillside without an answer and I'm sure Jason felt the same but I thing we all felt that we were just wasting time since we could have walked over it a dozen times.  After talking it over for a bit we traversed back down the face to find my arrow that I shot at the big bull. We found it but it only had about 4-5 micro spurts of blood on the vane but that was it so it must has grazed the back and gave him a haircut. Nothing lethal whatsoever which was nice but at the same time I was a little bummed. After that we made our crazy hour and a half hike back to our car on top of the mountain in the dark. It's great to park at the top because of the awesome view and all but oh my hell, getting back up was intense. I was physically and emotionally drained.  I was out of water, my energy was toast and at the end I'm pretty sure I got on all fours.  We got back to camp at about 12:40, nothing to show for it besides the memories of the awesome day we just had. We're getting up at 6 tomorrow to go try to find Jason's elk then after that an afternoon hunt and that wraps up our time here at AEI. Now it's 1 AM. Time to get to bed and hope tomorrow that I'll be able to see that bull again!
---
Hunt Day 5:
AM-
Since we got in so late we ended up going out at 6:30. We went in again between Way too Steep and Mine Valley but this time took the ATV trail that ran right down the middle of the canyon. I don't think there is a bumpier road on the planet. It was so bumpy that it had actually completely loosened one of the screws holding in my sight. Thank goodness I noticed it and was able to grab it before it fell off the quad or else I would have ben toast! When we got to the basin we hiked up the hill and started looking for Jason's arrow or some blood. After about 15 minutes of searching we found it! Not even a drop of blood on it and the broadhead was mangled. I figured that it probably hit a rock and whiplashed the cows leg which was why it was limping. You could tell how happy Jason was when he found out. I'm pretty sure that cat barely slept last night, watching what happened over and over again in his mind all night. After that we started working out way towards 1Mile and immediately saw elk on a drainage about 500 yards away. We all got on our butts and slid down this mountainside that way we could go in unnoticed. We ended up splitting off and I went high and Jason and Kyle went low. When I got to the top there was about 20 cows and then two bull appeared one after another. One a 4-Point and the other a 5-point. They weren't even close to as big as the big bull I saw yesterday but at this point I was after anything with horns. I had a shot at any cow I wanted but was hoping the Bulls would come closer since they were moving around. They sat at about 120 yards and never came closer. I almost took a shot at the closer one because he stood broadside for about 5 minutes or so. I believed in my form but had only shot my Kudu point Broadheads out to 80 and wasn't sure how they'd perform at that further distance and didn't want to take a chance at wounding something.  Eventually the whole herd caught our scent, ran in the opposite direction and proceeded into a drainage on top of the mountain. We figured we'd go back to camp for lunch instead of pressuring them more and hope that they come back out later tonight.
PM Hunt-
For the afternoon hunt we went back to our usual spot hoping to kick up some Bulls but all that we saw was a group of cows and a spike way off on another ridge and then a huge group of elk back below where we had parked the night before, and of course, on the other side of the canyon.
We only had about an hour or so left of sunlight and there wasn't a chance we'd make it on either herds so we decided to grid the canyon back down to the car, hoping to kick something up. We didn't see anything but still had a heck of an experience on my first ever elk hunt. I huffed and puffed all over the mountains of Taylor Park Colorado and am coming home with tag soup but I still had an awesome and unforgettable time. This whole experience at AEI has been a huge learning curve and it has shown some personal things that I need to improve if I want to help myself be more consistent: learn how to judge yardage up to 60 yds, get rid of my gut and get in Elk Shape, get up early and get up on top. It sucks to have to leave in the morning because the staff up here has been so awesome they pretty much accept you into their family. But, on the flip side I can't think of anything I wanted more but to see my family again. I miss my wife and her cute baby bump, my crazy little girl who's been on my mind ever since I left, and the kicks of my son Bentley, tucked warmly and safely inside my wife's belly. Time to eat, sleep then venture on the way home.
Final day:
It's a little nostalgic and heart breaking to leave such beautiful country. The staff here at AEI did an awesome job and did everything in their will power to make sure you have a comfortable and successful visit. Kyle has a heart of gold and has to be one of the most physically trained hunters I've ever met. I'm pretty sure that guy would give a mountain goat a run for its money. I told him to keep in touch and when he comes to the Western Expo next year to hit us up and we can go out to dinner or grab a bite. Strangely enough though, I feel like I'm leaving home. I mean this has been my home for the last 6 days.  I've had such an awesome experience that even coming home empty handed, the lessons that I had learned in the meantime have made it all worth it. Elk hunting is nuts and is not for the faint of heart, at least if you ever want to be consistently successful. How many people can say that their first ever Elk that they drew back on would be a 350 class bull?  I wish I would have taken a picture of that beast but in the moment that was the last thing on my mind.  It had super dark horns since it was so wet and the vegetation was everywhere and whale tails that just about touched it's back.  It's G1/G2's were still pretty strong but it had massive royals that almost seemed to point forward a little.  That elk just set the bar high for the next bull to meet an arrow of mine but next time I'll be successful.  I'm going to take what I have been taught, gather as much info as I can from friends and fellow hunters back home and put it to good use next year here in Utah. I plan on coming back up here in the next couple of years with my dad to chase some Mule Deer or even take a second shot at Elk. Now it's time for the long venture home.
---
Gear that was used on my hunt: